WE have conquered all of Europe. I never want this to stop. Let's not fall flat on our faces at this stage. Let's win the fucking pot.
ALLEZ, ALLEZ, ALLEZ!
At each stage of this European Cup journey I've said to myself "just let us reach the next round". I've not asked for more than that. Just get out the group. Make the quarters. What an achievement that would be, first season back in the competition in an age. Then, after that, to reach the semis would be a thing. And duly we did. And now the final looms. But now, I want more. I want the fucking lot.
Part of me doesn't care about pre-1990 Liverpool anymore. Those lads, those managers, the trophies. That was a club I supported in another life. It's so very long ago now. I was 23 in 1990. I'm more than double that now.
The club I support now is a fantastic institution. It hasn't won leagues, but then few teams do. In recent times, only two teams really have. In 2014 we came so close, before it was cruelly ripped from us at the death.
The club I support now is good in Europe when it sets its mind to it. We won the UEFA cup in 2001. Won the European Cup in 2005, and reached further European finals in 2007 and 2016. Modern Liverpool is, in a way, even more about Europe than Bill Shankly and Bob Paisley's sides were. Of course, those two greats of yore were the men responsible for putting the concept of "Europe" into the club's DNA in the first place.
The obscene wealth of Roman Abramovich's Chelsea, Sheikh Mansour's Manchester City and Sky-era Manchester United have dwarfed our resources for too long now. It's not that we can't and haven't got to their level, it's just staying at the plateau once we get there.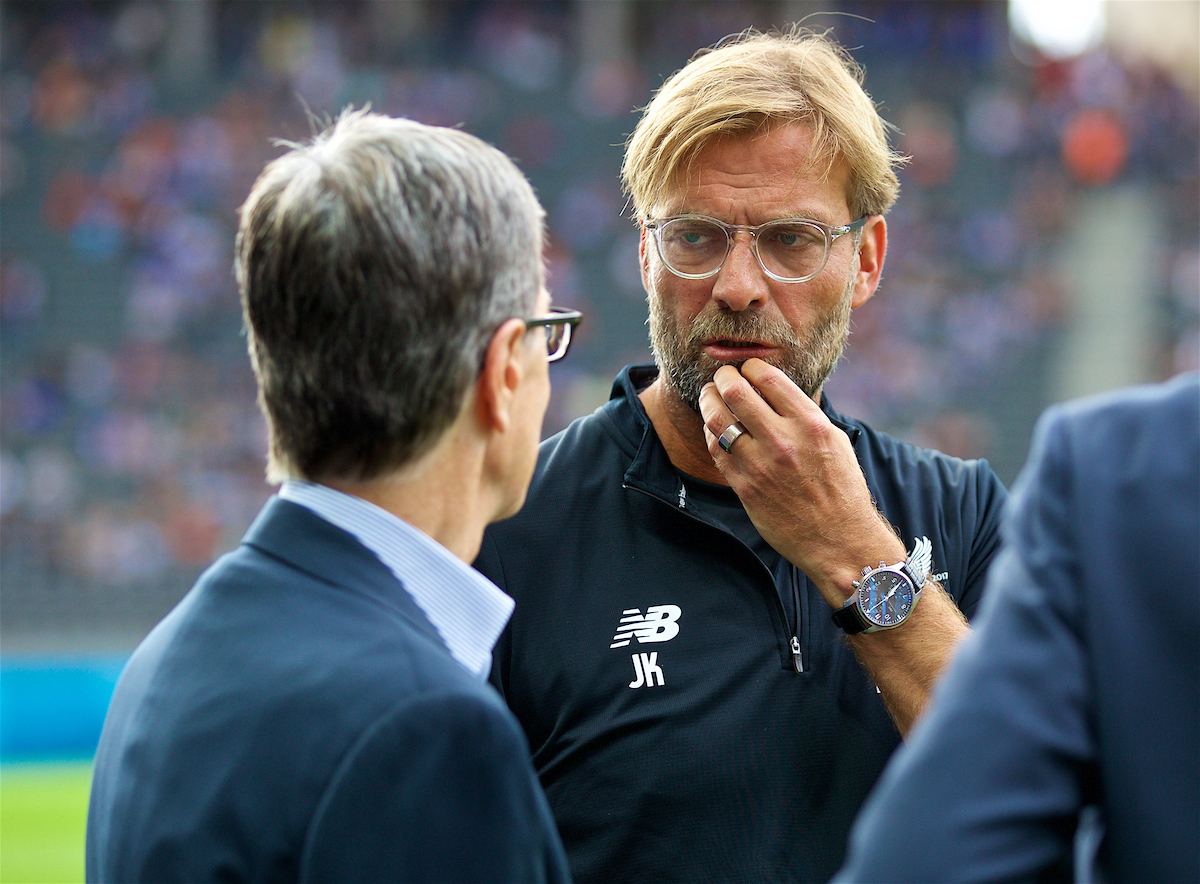 Take this season. For much of it we've looked the equal of an incredibly good Man City team. Like them, we've been the ones playing the football, scoring dozens of goals, and taking on all comers. We've even beaten City three times this campaign. But then we get stretched.
Klopp had to rotate seriously around Christmas time and in recent weeks because of the demands of the European run. He has not been able to bring in fresh players to replace first teamers on a like-for-like basis. Man City can do this effortlessly. They can drop out the best Premier League striker of the last decade (Sergio Aguero) and bring in Brazil's number nine, Gabriel Jesus, for Christ's sake.
Liverpool have drawn too many games this season, but in most cases it has occurred when the manager has not (in all practical terms) been able to select his best 11. Brendan Rodgers fell short of delivering Liverpool the league title in 2014 for similar reasons.
Legend will have it that Steven Gerrard blew that chance for the club by slipping on the Anfield turf in the key game against Chelsea. The reality is that Rodgers couldn't start two key stars of that campaign, Daniel Sturridge and Jordan Henderson, for that game, because of injury and suspension. When the chips were down, he also had no worthy reinforcements on his bench.
Liverpool's reality has been that the league is a bridge too far, and it has always been – in the modern era – a question of resources. There are some signs that the high ups at the club are now beginning to belatedly realise this and starting to provide the manager with the correct level of funds, although it's still not clear if this is actually the case while star players are able to leave for massive fees.
Europe is different though. European competition is cup competition. It enables us to target and preserve our best for the best. It allows to concentrate effort and harness the power of the crowd and our heritage. Liverpool's relative success in Europe is no accident.
So here we are again. Standing on the cusp of our destiny. The desire to achieve something massive seems to be in this group of players. From halfway through the group stage process there was a sense that these were men in a hurry. The 7-0 wins over Maribor and Spartak Moscow tell this story. The urgency that saw The Reds take a 3-0 half-time lead in Seville was part of it.
When the knockout phase arrived, Liverpool had no right to expect to knock out a feisty and strong Porto team, in one leg and on their own turf. Five-nil. Game over. Tie over. Next up, Man City and we're 3-0 up by half time again. Anyone still doubting that these were/are men on a mission?
Any other ideas were extinguished at Anfield a week ago as a rampant Liverpool tore Roma apart in a scinitllating hour of football the like of which I don't think Anfield has ever seen bettered.
At times the impatience, the sheer desire, to get the job done is also Liverpool's achilles. We leave ourselves emotionally spent too early in matches. What to do at 5-0 up? Not even the manager was sure. So he made some subs, the momentum was lost, and because Liverpool had achieved so much so fast in the game, there were still sufficient minutes left in it for Roma to attempt to grab a lifeline. Fate favoured them and at 5-2 down they remain in the argument as we approach this second leg.
We had to conserve bodies at the weekend and again it cost us points and has endangered our league objectives. This is the price we our constantly paying. We are left with thin resources of course but, as ever, also a massive cache of hope.
We don't sing about hope casually. We've always been a quasi-religious cause, and it's never more evident than when are on the brink of real achievement. Roma need snookers and goals. We have hope, prayer, and a lust for glory that won't be sated.
We're never gonna stop.
Predicted 11: Karius; Trent, Lovren, van Dijk, Robertson; Henderson, Wijnaldum, Milner; Salah, Firmino, Mane.
Kick off: 7.45pm, Wednesday
Referee: Damir Skomina (Slovenia)
Odds: Roma 27-17, Draw 58-19, Liverpool 28-17
🗣 @Carra23 on playing in Rome: "I don't remember the Stadio Olimpico being intimidating… it's not Anfield." ✊

Subscribe and listen to all of our Champions League buildup and reaction here 👉 https://t.co/JCi3zocNYl pic.twitter.com/PpGKITTZyJ

— The Anfield Wrap (@TheAnfieldWrap) 30 April 2018

Recent Posts:
[rpfc_recent_posts_from_category meta="true"]
Pics: David Rawcliffe-Propaganda Photo
Like The Anfield Wrap on Facebook