MANCHESTER is our Shelbyville. Our parallel universe.
To the untrained eye it all looks and feels quite similar. The streets, the bricks, the rain, the lads, the wind, the water, the girls, the food. The football.
The devil, though, has always been in the differences. I've grown up, in an adult sense, very much in the thrall of the two great northern bastions — Liverpool on the river, Manchester on the canal. Both are fantastic places. If you haven't spent time in either/both, you haven't lived.
I like to think I'm a seasoned traveller. I've been around a bit. I've been to prettier places, to settings on grander scales, but the north west's red bricks have so much substance to them. And they're beautiful too. Liverpool has its waterfront vistas and it's Georgian and Victorian-listed building stock, and Manchester has its sturdiness and iron, and arches and tiles.
And we both have football. Football is not an option in these spaces. Most countries, cities or towns, if you strike up a conversation with a stranger and get round to football, you present your interest in it as your hobby. Like swimming or stamp collecting. You hope the stranger is somewhere on your spectrum so that you can find common ground.
My Liverpool and Manchester aren't like that. You ask someone if they are blue or red without the requirement for any further context. Yes, it's like religion. Not everyone believes, but we've all got one.
I became aware from the moment I was aware of my support for Liverpool, that the power of this love was like a force. It demanded a counter force. An enemy that would destroy it. And that insurgency was Manchester United. Yeah, we had Everton too, but their proximity made them more like family. Bad family.
I came to define my Liverpool support by my United hate. It was neatly binary when I was child and a teenager growing up in the south of England. When I eventually came north, to live in Liverpool, and to regularly visit and occasionally work in Manchester, the relationships changed.
I used to love a Manchester night out. The best one I remember was on the eve of the replayed FA Cup semi final between Liverpool and Nottingham Forest in 1989. It was the fixture rescheduled because of the Hillsborough disaster just a month before. This time it wouldn't be in Sheffield. Old Trafford had been chosen as the neutral replay venue.
Me and my oldest bestie Giulio had both been at Hillsborough. We'd talked at length about whether or not we had it in us to go to this reimagining in Manchester. We decided we would. It felt like a chance to start again. Not to right a wrong or to blot out the recent past, but an opportunity to get back on life's horse. It had been a very tough month.
Looking back, I think we had been so drained that we had nothing left in us but to be positive. I think we were both naturally like that too. That's why we've been life-long friends. So we hatched a plan to not just go back to try and enjoy the football but to really go for it.
So we got a really shit hotel in Manchester on the night before the game and decided to go out on that town and to kip over afterwards. It was indulgent because home (Liverpool) was less than an hour away. But fuck it. Who was going to judge us?
I can't really remember much of what happened that night. I think we ended up in a very seedy nightclub on Piccadilly that was frequented mainly by women that Giulio categorised as "prisoner's wives". The place seemed one of opportunity and danger in equal measure.
We had a good weekend in Manchester. Manchester is great. And Liverpool won. A big win.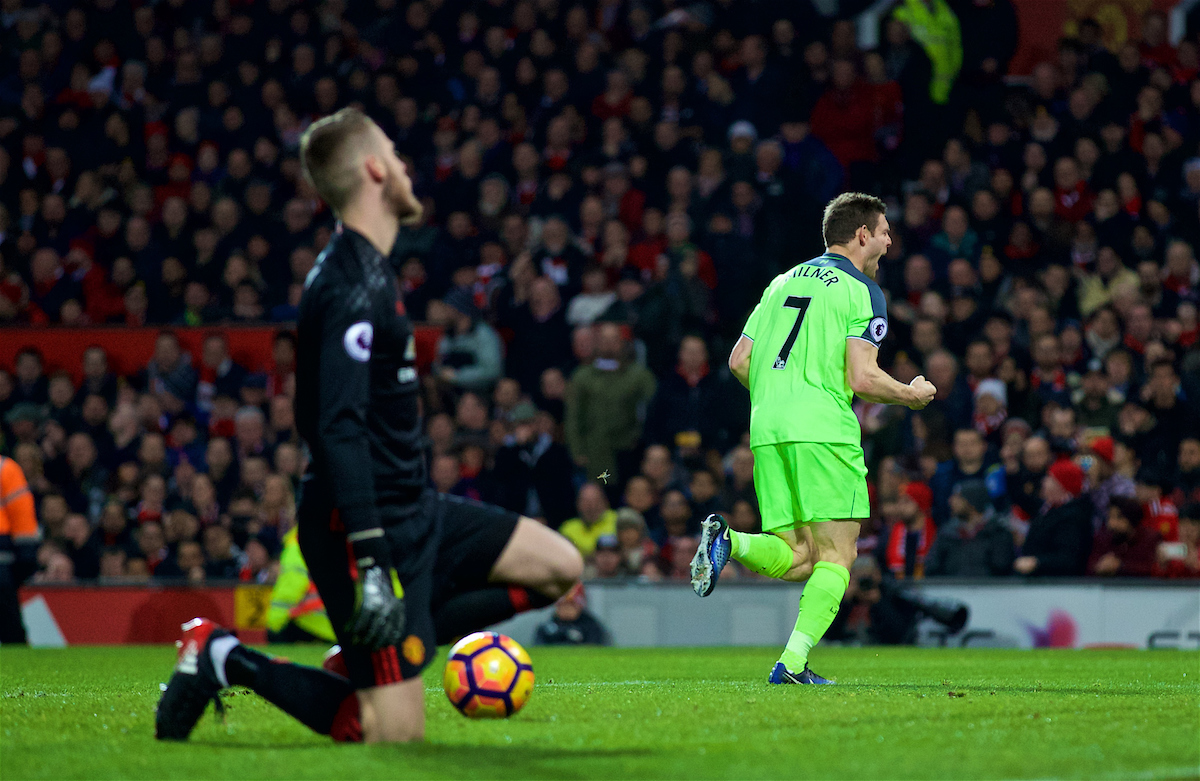 I'll be up at the crack of dawn this Saturday morning for yet another mission to Manc. Always to be savoured. The place if not that ground.
Jürgen Klopp hasn't had much of a chance to look round Manchester since he's been in the north west. He's really just seen the stadia. I hope he takes the time to give the town a go one day. Maybe after you retire, Jürgen.
Liverpool have often gone to Old Trafford with little to look forward to. It feels different this time. Klopp's Reds are good, very good, and very confident. Man United aren't the same as us or as they once were. They are strong, dangerous, but imperfect.
Their season played out in microcosm at Crystal Palace on Monday night — they huffed, puffed, flattered to deceive, disappointed but then dug in. Dug in and found a way to win. They have been doing that for an entire campaign and it may yet suffice to seeing them finish in second place to Manchester City.
Maddeningly, we seem to be better than them, yet we trail them in the league table by a couple of points. Liverpool's season is on the cusp of becoming a very good one. We may win no pots but to finish second and get to the latter stages of the European Cup would be the mark of a side primed to compete at the very highest level.
I'm done with forensically second guessing Klopp's team for this week. They're all good. I'll just offer up a prayer for the safety of our very best players. If our front three and Virgil van Dijk are on a pitch, we can beat anybody.
See ya Saturday, Manchester. We're coming to play.
Predicted 11: Karius; Trent, Lovren, van Dijk, Robertson; Henderson, Can, Chamberlain; Salah, Firmino, Mane.
Kick off: Saturday, 12.30pm
Referee: Craig Pawson
Odds: Man Utd 9-5, Draw 12-5, Liverpool 9-5
"Jurgen Klopp hasn't beaten Manchester United in the Premier League… so we could do with going there and getting that sorted!" 👊

🎥 Watch today's Talking Reds in full here 👉 https://t.co/k8AAi15T2R
🗣 Subscribe to #TAWPlayer here 👉 https://t.co/ZjTBNf5vDf pic.twitter.com/ILl6rz3Q4h

— The Anfield Wrap (@TheAnfieldWrap) 8 March 2018
Recent Posts:
[rpfc_recent_posts_from_category meta="true"]
Pics: David Rawcliffe-Propaganda Photo
Like The Anfield Wrap on Facebook