IT'S a longstanding problem in the modern era of football, and one which doesn't look like changing any time soon.
Just how does a young footballer make the jump from being a star of junior football to an established player for Liverpool or any other top club?
The topic has come up again mainly because there's nothing else to talk about while we all take a break from being like excited little kids getting ready for Christmas with the Manchester City game looming a week away, and no Premier League football to keep us occupied in the meantime, but also because two of our brightest young things — Dominic Solanke and Harry Wilson — have scored goals at international level this week, the latter scoring his first senior international goal, by way of a reminder of their qualities and potential.
I spoke on The Anfield Wrap's weekday video Talking Reds with fellow contributor Craig Hannan last week about the progress of Trent Alexander-Arnold in reference to an interview he did for the club's official website. There were plenty of interesting points covered but, of most interest, was the way in which Trent revealed that he, Neil Critchley and Alex Inglethorpe had made a conscious decision to switch his position to right back, because they could plot his pathway into the team from there.
They must all be delighted with how that decision has turned out, given the number of games he's played for the first team this season and how far his game has come in that time. We can all already see how he can progress from that position to one further forward, either playing in central midfield or as a wide attacker, as he has in his younger days. I've even seen debates about where he's best suited to, which speaks volumes for what he has done so far in the first team.
What an achievement that is for a 19-year-old, and a position I'm sure he didn't expect to be in by this point when looking at the potential path ahead last summer.
But, while we can rightly praise Trent and his youth coaches for the progress he has made, his path also raises an interesting point for his peers and anyone looking to replicate what he's done.
Trent had already played in a few positions at youth level before switching to right back, and his style of play and qualities meant that targeting a weak spot in the squad which also happened to be probably the easiest position to break a young player into any team was a natural decision.
The same can't be said, though, for the likes of Ben Woodburn or Solanke. As forwards, it's extremely unlikely that they would either want to, or benefit from, changing their game to play full back just because it presented the best route to the first team, regardless of whether that could then lead to a progression further forward in later years.
Lads who are scoring for fun at youth level, both for their clubs and countries, are hardly going to take seriously a conversation about playing right back, and they're unlikely to have the requisite attributes to thrive in that position at senior level anyway.
From their points of view, while it must be great to have a friend and peer showing that it is possible to break into the first team, they have both effectively been overtaken by someone who a year ago was behind them in the progress charts.
Woodburn had become the club's youngest goalscorer and had the whole country talking about him after also starring for Wales, and Solanke had starred in a World Cup win for England Under 20s, with various sources lauding Liverpool's signing of him and reporting that Chelsea were not at all happy to lose him.
But, in the words of Westlife, what about now?
Both Woodburn and Solanke have, to a certain extent, become the forgotten men. While a weaker squad last season at least saw the young Welshman gain experience on the bench, and on occasion actually making an appearance on the pitch, now that we've strengthened the first team he's not getting a look in and is unlikely to in the near future.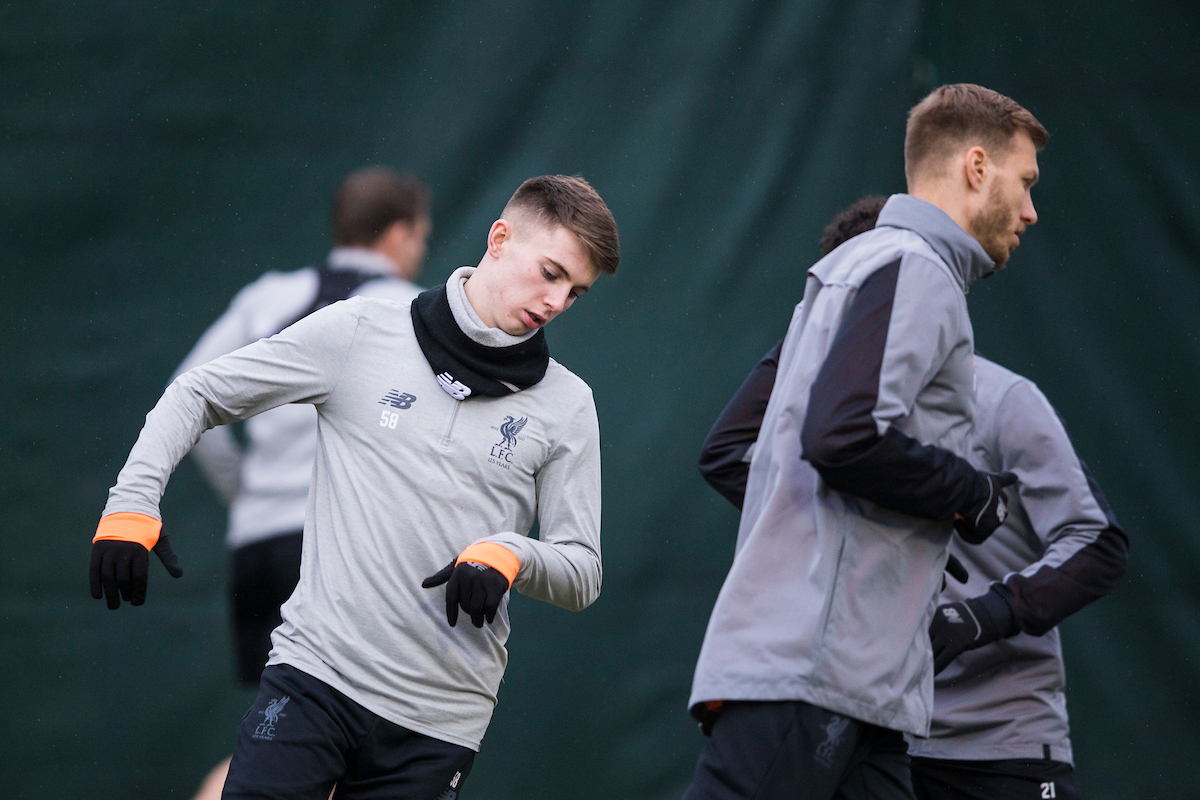 Solanke, having earlier in the season got his first start for the club and a handful of substitute appearances, now appears to have fallen behind a rejuvenated Danny Ings as Jürgen Klopp's first-choice attacking substitute.
His goal for the England Under 21s on Tuesday night must have been a relief to him as much as anyone else, reminding him that he is still able to score in an actual football team in an actual competitive game.
That has always been my issue with the choice to retain young players rather than allowing them to go out on loan to other clubs. While there are clearly benefits to training with the calibre of players we have in our first-team ranks, surely there can be no substitute for playing competitive football in front of real crowds, experiencing real pressure?
The likes of Solanke go weeks at a time without ever playing a full, competitive game of football, then tend to be thrown into the fire for 10 minutes as a substitute and expected to be at their best. No wonder they often appear rusty.
As a slight aside, one of my favourite ever shouts at Anfield was when Martin Kelly was returning from a year-long injury absence and someone in the Main Stand behind me shouted "Don't be rusty, Kelly", as if to get over his rustiness all he needed was a reminder from a retired accountant who'd hadn't done so much as jog to the corner shop for 40 years.
In hindsight, I wish I'd met that supporter and spent more time with him, his outlook on life might have been transformational. Imagine what else you could apply that logic to. It could cure poverty, starvation and politicians being general bellends in the course of a few minutes.
Back to the point, of all of the young players who are currently in our consciousness as being on the brink of the first team, Wilson could be the most interesting, and the starkest example of the problem that faces all elite football clubs.
What a lovely finish by Harry Wilson!

⚽ His first international goal and on his birthday too! #CHNWAL

@BBCOne Wales and @BBCRedButton

LIVE: https://t.co/vbCKkfButR pic.twitter.com/WlhR6WHbJH

— BBC Sport Wales (@BBCSportWales) 22 March 2018
Wilson has been a star of the youth setup for years. He's the type of kid we would have heard about even before social media and before every youth game was available to watch online. Like Woodburn who followed him, talk of these types of players has always worked its way around the city, usual driven by their goalscoring prowess.
Young Harry had the usual path of demolishing the youth leagues before hitting some hurdles, in his case injuries and an unfulfilling loan. From there he faced the task of rebuilding his confidence in the under 23s, which he did with aplomb, before heading on loan to Hull in January, doing amazingly well, scoring goals, winning games and, now, scoring on his international debut (albeit against China, who I'd fancy myself to grab one against).
But what happens to Wilson now? Could we all say, hand on heart, that we'd be happy with him as backup to Sadio Mane and Mo Salah next season? If not, and I'd guess that most of us who want to win the league would say not, what happens next?
I suppose the most simple answer is that he just stays out on loan, possibly at a Premier League or top flight overseas club, until such time as he looks ready for first-team duties. One of the many benefits of having Klopp in charge and backed by owners who see his tenure as a long-term project is that he doesn't need to be in any rush to get rid of players like Wilson.
He signed a five-year contract before heading out on loan so, provided that everyone is playing the same long-term game, he could be quite happy scoring goals for fun for other teams for a few years, safe in the knowledge that Jürgen and his team will be keeping a close eye on him, waiting for that moment when he's ready to be brought back into the fold.
It actually sounds quite straightforward when I say it like that. So that's settled then. Buy Timo Werner and Gareth Bale for now. Send Wilson, Solanke and Woodburn to Dortmund on loan for two years, then bring them back ready to win our third league on the bounce in the 2020-21 season.
Always nice to be able to sort out a problem.
Can someone send this to Klopp?
"The thing we can say with certainty about this transfer set up is that they never forget a face."

"The number of lads they've tracked for years and the number of lads they've gone back to is significant."

✍Subscribe to The Gutter: https://t.co/JaNSChm2u9 pic.twitter.com/1Ed0SEhY9x

— The Anfield Wrap (@TheAnfieldWrap) 22 March 2018
Recent Posts:
[rpfc_recent_posts_from_category meta="true"]
Pics: David Rawcliffe-Propaganda Photo
Like The Anfield Wrap on Facebook