IT'S about us. It should always be about us. But while he's kicking, a bit of it will always be about him.
It's small minded in extremis to give a shit about Roy Hodgson now. He is yesterday's man, if he ever was today's. He is not our business. Beating Manchester City in a European Cup quarter final is our business. Winning the Champions League is our primary affair. Hodgson only appears in our rear view because we still need the points. The points that he has. We must take all of them from him and continue our push towards our parallel aim of requalification for next year's Champions League.
Some of my best friends and fellow Liverpool fans detest Hodgson. I can't bring myself to. I think he's a man with a touch more substance than many of his Anglo peers and despite a spiky, irksome vulnerability, I don't think he's a bad person. A wholly inadequate manager for a team of standing with ambition, yes, absolutely. But a total fraud? A mean-spirited enemy of the people? Nah, that's giving him way too much credibility.
The now Palace manager eeked out a quietly fascinating career for himself in his prime. A long time ago. He tore up no trees in major leagues but he made a name in a few secondary outposts. In left-field locations. It showed that he had a sense of adventure. Something of the pioneer in him. There might be a statue of him somewhere in a park near a football ground in Sweden. The Swiss quite like him. He's affectionately thought of around Fulham way. He's the consummate notable fish in unremarkable ponds.
In a way, he's like those indie bands that aren't so terrible, then they eventually sell out and expose themselves as the crap mainstream shills you always knew they were. Snow Patrol. Hard-Fi. He's more like the Editors (who?). Just about credible simply because they've never broken through. Never really convinced anyone.
A few were kidded that his modest talents could translate to a bigger stage — the highups at Inter Milan, with the England national team and at Liverpool FC. I confess, maybe even me. For five minutes.
In public, before a microphone he is always mildly ludicrous. At best avuncular and a bit confused, maybe even unthreateningly charming. At worst, bitter, petty and very unattractive. What he never translates as is competent, inspiring or impressive. He never communicates as fit for purpose.
He was ours for six long months in 2010. All ours. How time dragged. How he droned and drained. He tried defiant. Presented always as defensive. Far from confident. No hint of a plan. And the results followed suit. Those dreadful, awful, crushing results. The man had Fernando Torres in his team. And Steven bloody Gerrard. And Jamie bloody Carragher.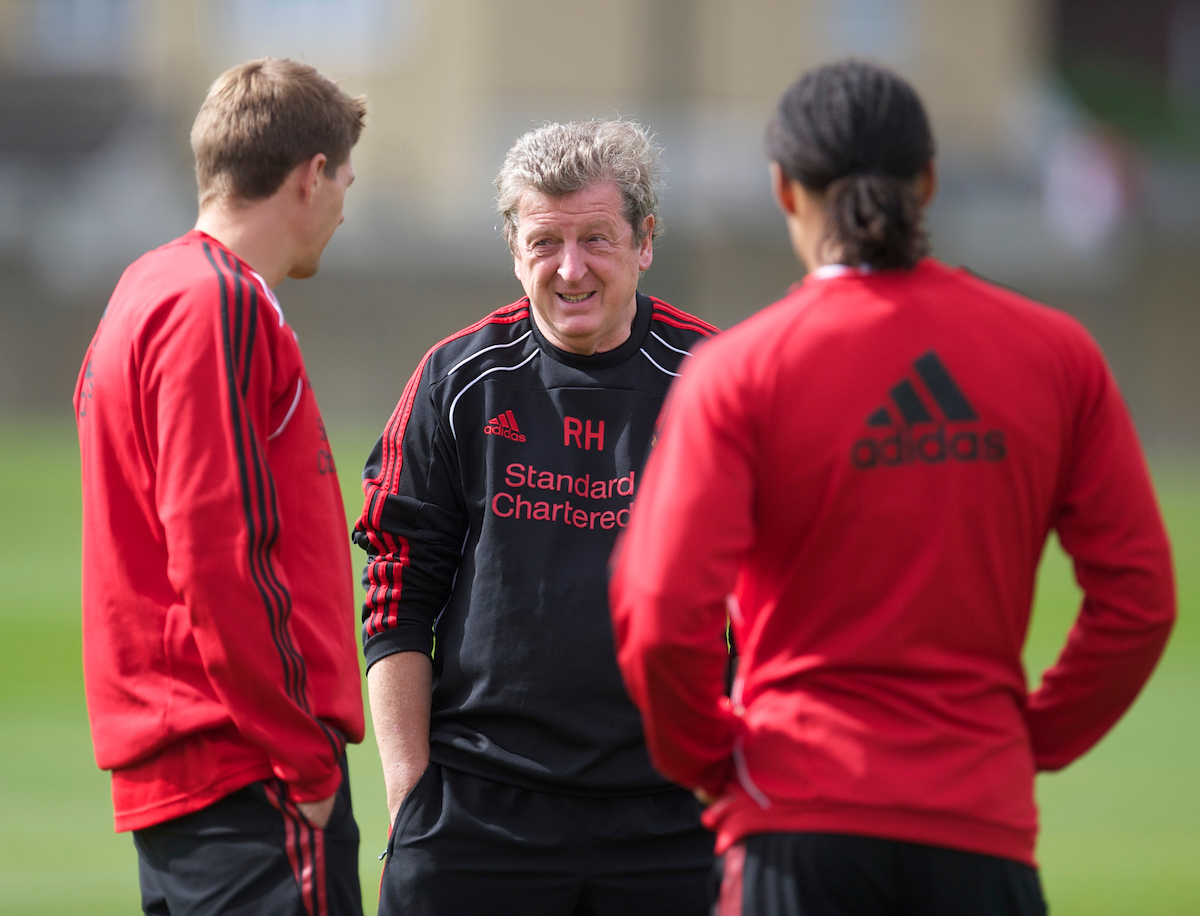 Dirk Kuyt was still good. Glen Johnson still a player. Pepe Reina a 'keeper. But he made their cohorts, their water carriers, look like the most lumpen yard dogs. To exacerbate, he added to the number of actual yard dogs, like Paul Konchesky and Christian Poulsen.
Hodgson took a sliding Liverpool — seventh place in 2009-10 from second in 2008-9 — and further greased the under carriage of the faulting red machine. If we'd been slipping and dipping under late period Rafa Benitez, we were simply hurtling towards oblivion under Hodgson.
Even now, it's hard not to still hold that phase and that feeling against him. All post-1990 Liverpool managers have ultimately failed. But all have had something to show for their endeavours first. All are remembered with respect and gratitude for their service. All except Hodgson. Yes, he was the wrong man in the wrong place at the wrong time, but what is so typical of him is that he looked that adversity full in the face and shrugged. Just accepted his fate. When the going gets tough, Roy has a sit down and a curse of his luck.
Want to see what the polar opposite of Hodgson looks like? It will be the fella in the away dugout at Selhurst Park this weekend. I'd not be so vain on our behalf to rule out the possibility of that atmospheric old ground raising itself and it's team to lay gloves on us this weekend, but nothing that occurs will change the truism that in every sense imaginable, Jürgen Klopp is the better man.
Klopp will not concern himself with Hodgson or his tactical proposition. That it will be conservative, and live only on the hope of Wilfried Zaha and a prayer, is foregone. They have some footballers there, but god knows you wouldn't know it. They are looking demotion square in the face and it would be a fitting conclusion, of sorts, to Hodgson's commitment to the underwhelming, if he was to cap his career with a relegation. Roy, bless his fatalistic cotton socks, would take that, in a way.
It's my hope that Liverpool are not distracted by the imminence of the Champions League first-leg encounter with Manchester City next week. I want and think The Reds may be inspired by its looming. As they were in thumping Watford 5-0. The spectre of Europe's top competition should act only as a reminder to the red shirts that they are now deservedly on a higher plane. That every time they cross a white line it is an opportunity to luxuriate in that fact. To want to prove and demonstrate that they are worthy.
Hodgson is a ghost. Let's render him invisible.
Predicted 11: Karius; Alexander-Arnold, Lovren, van Djk, Moreno; Can, Wijnaldum, Oxlade-Chamberlain; Mane, Firmino, Salah.
Kick off: Saturday, 12.30pm
Referee: Neil Swarbrick
Odds: Crystal Palace 15-2, Draw 4-1, Liverpool 8-15
"That's what we're there for. The opportunity to be part of one of those nights." 🔴

"The expectation of seeing a side that can go on to lift club football's greatest prize…" 🙌

Subscribe for all our Champions League build up and reaction: https://t.co/B1RLh3MvbA pic.twitter.com/EUlUrwJ6rs

— The Anfield Wrap (@TheAnfieldWrap) 29 March 2018
Recent Posts:
[rpfc_recent_posts_from_category meta="true"]
Pics: David Rawcliffe-Propaganda Photo
Like The Anfield Wrap on Facebook