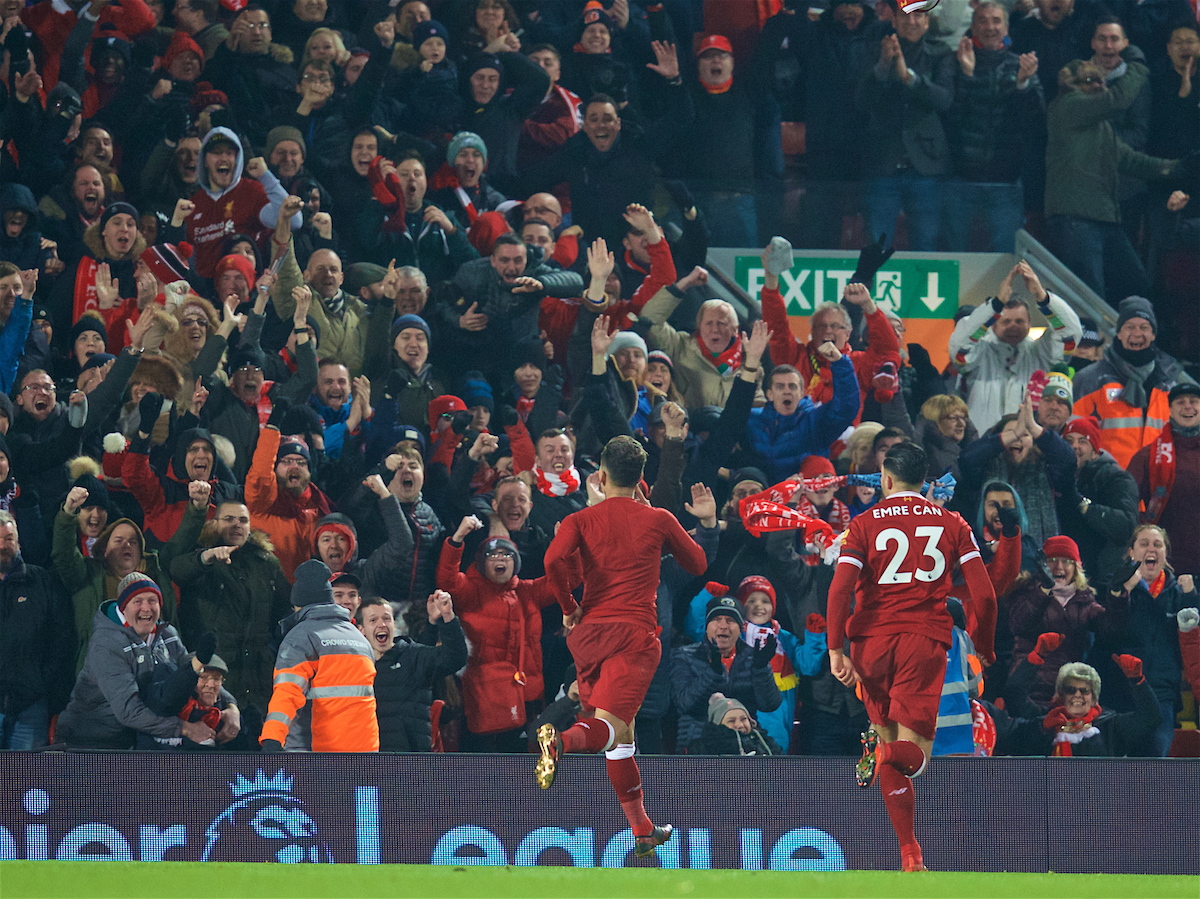 ANFIELD yesterday was the perfect storm of good atmosphere and good performance with one feeding the other to produce a gust strong enough to blow away Manchester City.
Fired-up fans desperate for a statement win in the stands working hand in hand with committed players equally motivated for victory. They inspired us and we inspired them.
How it should be. And how the manager wants it to be. So why can't it always be this way?
All over the pitch there were performances that inspired, none more so than Andy Robertson.
From the no-nonsense treatment of Raheem Sterling that eventually forced the Manchester City player's substitution, to the incessant harrying and pressing that at one point took him into the territory of the opposition left back, the £8million summer signing from Hull City summed up the spirit that did for the league leaders.
Importantly though, it was recognised in song by those who had paid for the privilege of being present in the stands.
"Oh Andy, Andy… Andy, Andy, Andy Robertson" isn't the most original of terrace chants but it doesn't need to be. It did the job – it showed the player his efforts were appreciated, it inspired, it added to his confidence and by the defender's own admission "it gives you goosebumps".
Robertson's pressing is even better with Swedish commentary. pic.twitter.com/c6v6ZM9594

— Kristian (@vonstrenginho) 15 January 2018
The Glaswegian, 23, who made his name at Dundee United before heading south to Hull added: "I can't thank the fans enough for their support since day one. That is the best [atmosphere] I have played in."
In a weekend when "banter" around Liverpool FC was pushed outside the ground and on TV in the form of a "funny" reworking of a song already in existence for Sadio Mane by a comedian from Cork, this was a reminder that fans inside the ground have a part to play that matters.
Jürgen Klopp's ideal on and the off the pitch can't be far away from what unfolded yesterday, from a midfield mucking in throughout, a frontline deadly when in sight of goal and supporters supporting; from the immaculate tribute to the passing of Tommy Lawrence, to the additional run through of You'll Never Walk Alone on the final whistle.
If you're out there digging in you must hear it, you must feel it, and when muscles ache and energy is low but you know you must go again wouldn't you rather be urged on by passion and support rather than frustration and fury?
And it's not just about us and our players. How does it make the opposition feel? Not all stories of the power of The Kop exist in ancient history despite the constant claims to the contrary.
As much as the eye-gouging pantomime villain is easy to hate, Jose Mourinho has repeatedly referenced the power of an Anfield on its game.
While at Chelsea, he said: "I like to play there, but I have to say that some people feel the atmosphere can be negative and affect the performance of the players. That's not my case. First of all I don't play.
"Everything about the day was superb – good performances all over the pitch, a great tribute to Tommy Lawrence, a fantastic atmosphere… 👏

🎥 Watch today's Talking Reds here – https://t.co/9Yy3nT5QoQ pic.twitter.com/WWd0A2JWWg

— The Anfield Wrap (@TheAnfieldWrap) 15 January 2018
"Secondly, I don't think it affects my players' performances, but in the past we have examples of it affecting performances, goals that are not goals, penalties given that aren't penalties."
The inference is clear. But Anfield needs to rise not only for semi finals of European Cups or a big tie with Borussia Dortmund, but also for the games dubbed routine or mundane.
Manchester City wasn't that. The threads around the game were many. Man City arrived with a 30-game unbeaten run, plaudits gushing all around. It was televised. It had been hyped. Liverpool would seek revenge for a hammering at their place. Man City would look to put right an awful Anfield record and draw level with the Liverpool class of 1987-88 while further emphasising their credentials as a force to be feared.
Throw in two of world football's top managers, rival cities, old money versus new money, big club of old versus big club wannabe and there was plenty to lift this fixture from the list and give it a special status. It was treated as such.
Nevertheless, Anfield did its bit, a fact recognised by a magnanimous Pep Guardiola after the match.
"We were involved in the environment from Anfield for many reasons and you have to try and be stable, especially for lessons in the knockout games in the Champions League," said the Man City boss.
"You can concede a goal but you cannot lose."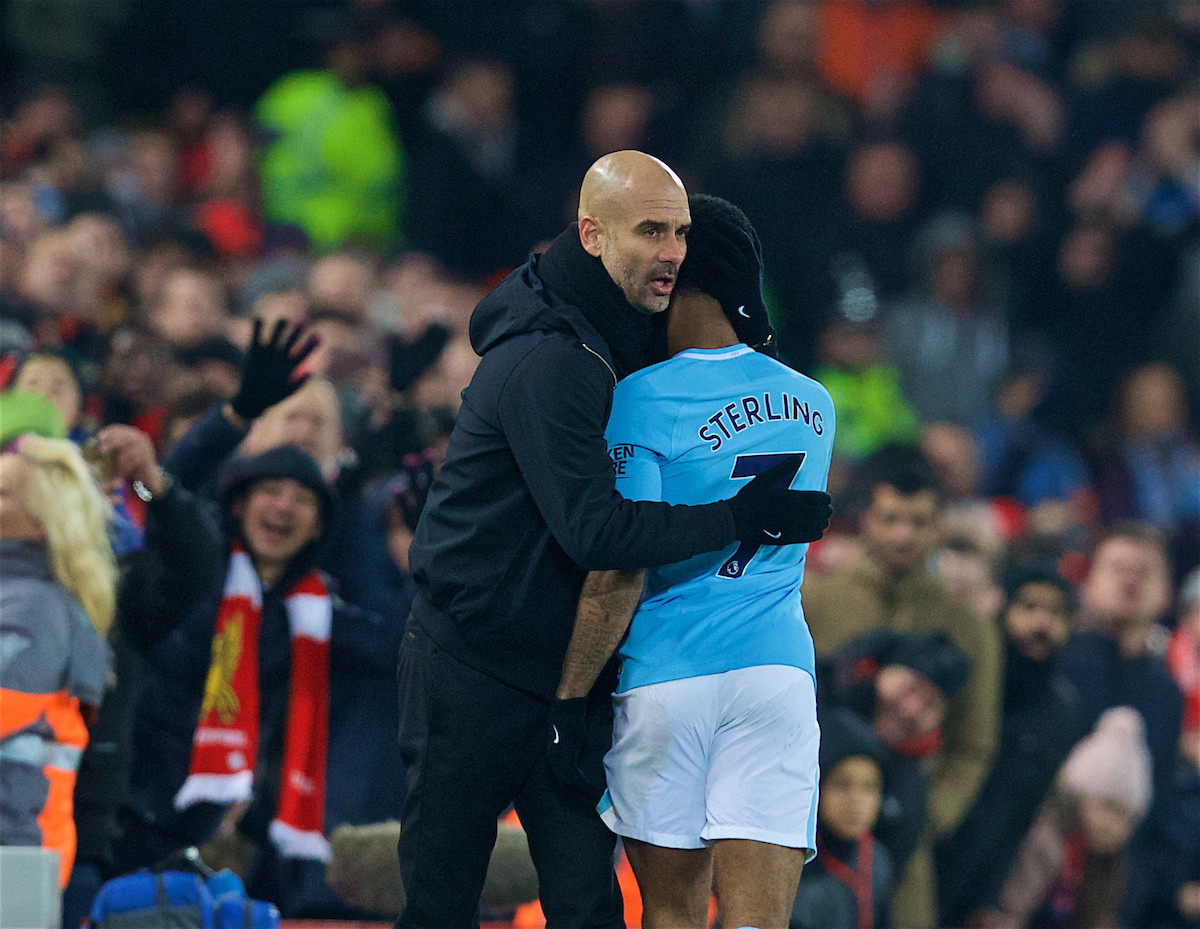 Reading between the lines, he appears to suggest the intensity in the ground, the volume, the edge engaged fans provides, got to his players.
Man City were booed. Liverpool were cheered. There were oles. The songbook was out. The crowd was partisan, as it should be but so often isn't. Every decision was appealed. Opposition players were chastised; Liverpool players were supported.
On the pitch, the men in red ran and ran. They chased, followed, tackled, stood firm and ultimately conquered. Despite having so little of the ball, it was a match in which Liverpool emerged as top dogs. The battle – if not the war – won. And every step of the way that effort was applauded and recognised by three sides of the ground.
For supporters and players then, why not more of that? Fans recognised effort and commitment so players should provide more of it. Players appreciate support and songs and recognition so fans should provide more of it.
In the endless, circular, and often tiresome atmosphere debate, it seems one of the simpler theories out there. Bits to be done on both sides of the white line that separates pitch from seat.
Same again for West Brom then? It's Saturday night after all. And who doesn't hate Alan Pardew?
Bob Paisley once said of The Kop: "The whole of my life, what they wanted was honesty. They were not concerned with cultured football, but with triers who gave one hundred percent."
Right now, it looks like we've got both. What's not to love? The Reds are coming up the hill, boys.
"It was partizan. It was what it should be as a football crowd. It supported our players, it booed their players. It appealed for every decision. Singing, shouting, screaming."

Subscribe now: https://t.co/CkGRoY9m3k pic.twitter.com/9SsGxLLwt2

— The Anfield Wrap (@TheAnfieldWrap) 15 January 2018
Recent Posts:
[rpfc_recent_posts_from_category meta="true"]
Pics: David Rawcliffe-Propaganda Photo
Like The Anfield Wrap on Facebook