IT'S the end of the world as we know it.
Liverpool falling. Falling, tumbling, spiralling, falling from grace. We're marching on Melwood, Anfield and Boston. The torches are lit. We're not doing it for ourselves, but for future generations.
Is it just us? Or do all supporters live in this coiled state? Living through the good times. Nodding at the wins, getting caught up in the wild wind. Then the change. It's as though we've been living for it. Losing, setback, change – all of these things seem to galvanise us most of all. It's as though we're not really there until it all turns to shit.
I've spent much of the late Autumn and early winter really enjoying watching my football team. We've seen the goals raining down. We've seen wins of a consistently emphatic style. Not many snide 1-0s or 2-1s. This Liverpool were winning by sevens, and sevens, and fives, and fives, and fours, and threes. This Liverpool had recovered from a slithering start to the season to become its form team with 18 matches unbeaten crowned by an emphatic and scintillating takedown of league leaders Manchester City.
Along the way we were making new friends and crowning new kings. Young bucks Joe Gomez and Trent Alexander-Arnold were emerging as real talents for the now and the hereafter. Summer signings Andy Robertson and Alex Oxlade-Chamberlain improved with every game and became first-team players. And then there was Bobby Firmino, kicking on, linking play, scoring goals, like we knew he always would. And then there was Mo Salah. Hitting the ground running faster than a cheetah. Banging them in at the rate of peak Lionel Messi and Cristiano Ronaldo.
October, November and December were good times to be a Liverpool fan.
Then that wind changed, and blew our minds so much that we seem to have lost all memory of what we were and where we came from. Yes, losing Phil Coutinho hurts, and two bad defeats in six days makes no one cheerful. But is it really all over? Have we gone from thinking we could top the "best of the rest" league and take all comers in the European Cup to doubting everyone and everything?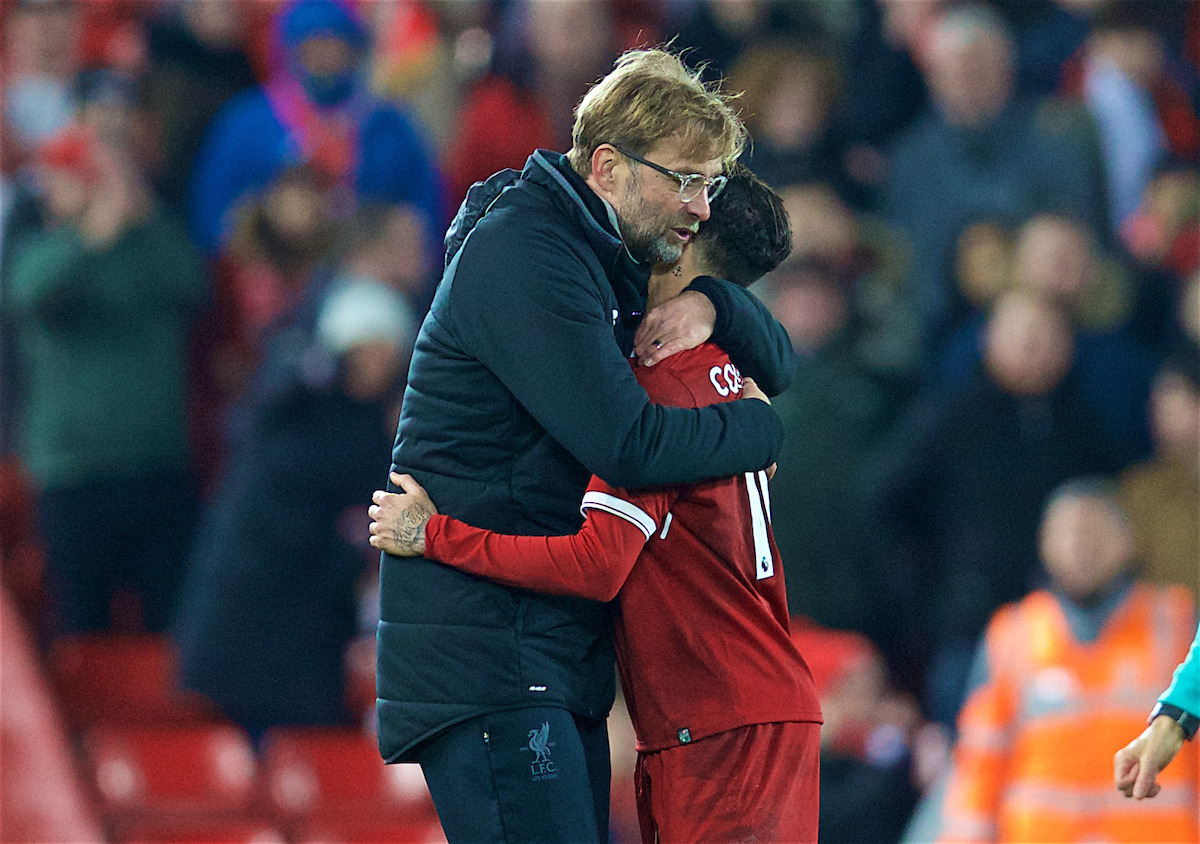 You can if you want. You can get on with hating on the men in the boardrooms, and you can start casting doubt on the wisdom of the manager – good man with all the tools and intentions – but leave me out of it. I've been at this too long and I know I'm not living forever. I got into this for the fun, and camaraderie and the suspension of reality, and the joy of living in the moment. I got into this for the blind faith. I'm a godless character but I yielded to The Reds when I was a kid and it remains one of my smartest moves.
I'd like some of you to stop being so bereft and doom laden. You're bringing me down, man. I can't tell you what to think but I can wish for some respite from hearing you thinking it aloud.
It's Huddersfield away on a winter's night. It's a top game in the top league, and Liverpool need a win. I'll be out of bed on the morning of the match bouncing with anticipation. Sure, in this form, the portents aren't great. It hasn't got restorative big fat win written all over it. But let's dream a little.
Salah is still the king in two lands. Firmino and Sadio Mane remain the best friends a natural born killer like Mo could wish for. In harness, these three are as good as it gets across the European scene. We are truly blessed to have them. We can glance over our shoulders at that little Judas who thought he deserved better, or we can choose not to look back. Am I being a hopeless optimist again? Yeah, I am. Glad I'm not you, if you're not.
Jürgen Klopp will wish the burden of the expectations of the transfer window farewell, and get down to the honest and real work of moulding something truly exceptional from the lumps of clay he's left himself with.
Some of these lumps have been injured or been restricted in their game time. Captain Jordan Henderson is back and he looked nice and hungry in his brief appearance against West Brom in the cup debacle. James Milner will likewise be champing at his bit and demanding a start ahead of the slightly lost-looking Emre Can and Gini Wijnaldum.
Chamberlain could probably do with a break if he's honest with himself, but his straight-swap deputy Adam Lallana has a fresh injury, so Alex will have to go again.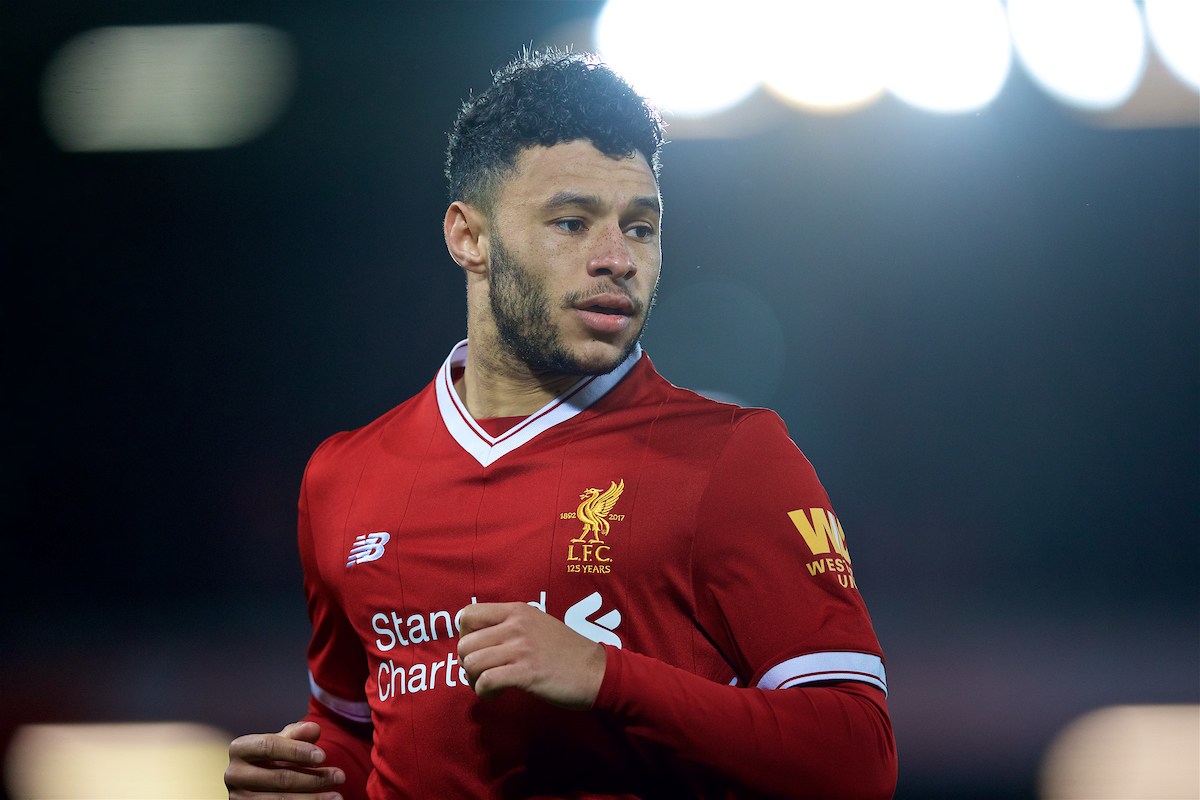 At the back, Klopp switches the full backs and brings in fresh legs, in Gomez and Robertson. Sure, it would be nice to be parading a shiny new Thomas Lemar-shaped star to lift all of our souls for the run in, but the hand we will play out this season with remains an incredibly strong one.
In dumping ourselves out of the domestic cups we've inadvertently cleared our path ahead. Somewhere down this road is a good season waiting to be arrived at.
Let's press on. Never look back.
Predicted 11: Karius; Gomez, Lovren, van Dijk, Robertson; Henderson, Milner, Oxlade-Chamberlain; Salah, Firmino, Mane.
Kick off: Tuesday, 8pm
Referee: Kevin Friend
Odds: Huddersfield 10-1, Draw 9-2, Liverpool 7-20
Recent Posts:
[rpfc_recent_posts_from_category meta="true"]
Pics: David Rawcliffe-Propaganda Photo
Like The Anfield Wrap on Facebook