IN the past fortnight Liverpool have travelled twice to the capital and, in Tottenham Hotspur and West Ham United, have faced teams at grounds which differ from the ones they're traditionally associated with.
I attended both games and was keen to see how they differed from both each other and their spiritual homes. Determined to keep an open mind and at least try to accept some level of change of the game, I was keen to see if there was any improvement on their old grounds.
There's already a prejudice at play though. I've always preferred the shabbier grounds and wide concourses and walkways tend to leave me cold. Oh, they're fine and it's obvious that most people prefer a bit of comfort in their life, but there's just something about an old ground. Maybe it's character, or the fact that it hasn't fallen under the wheels of an architect/planner somewhere, but I just prefer to be at something that was designed to watch a game rather than host an insurance convention.
Take the Emirates. It's a lovely place to watch football. The seats are padded and you can put your elbows by your side rather than into your neighbours' ribs. The veggie Balti pie is really nice too and the view is impeccable.
It's not Highbury though, is it?
Highbury was a wonderful stadium. Tucked into a rookery of houses just off the Holloway Road, it was both beautiful and plain. Love had gone into it. True, if you weren't on the Clock End and were unlucky enough to be in the stand to the left of that huge terrace, you couldn't always see the pitch such was the low-slung roof above, but it was a day out. You knew you'd been to one of the great grounds in the country. It meant something. It was their Anfield. Glorious, shoddy and yet somehow irreplaceable.
Of course, Tottenham's move is only a temporary one but it felt weird going to Wembley in a hunt for three points rather than a trophy or the right to play for one. Luckily, they've removed the hour of eardrum-splitting entertainment they usually shove onto the pitch before finals. There was no smoke, parachutists or people singing at you this time.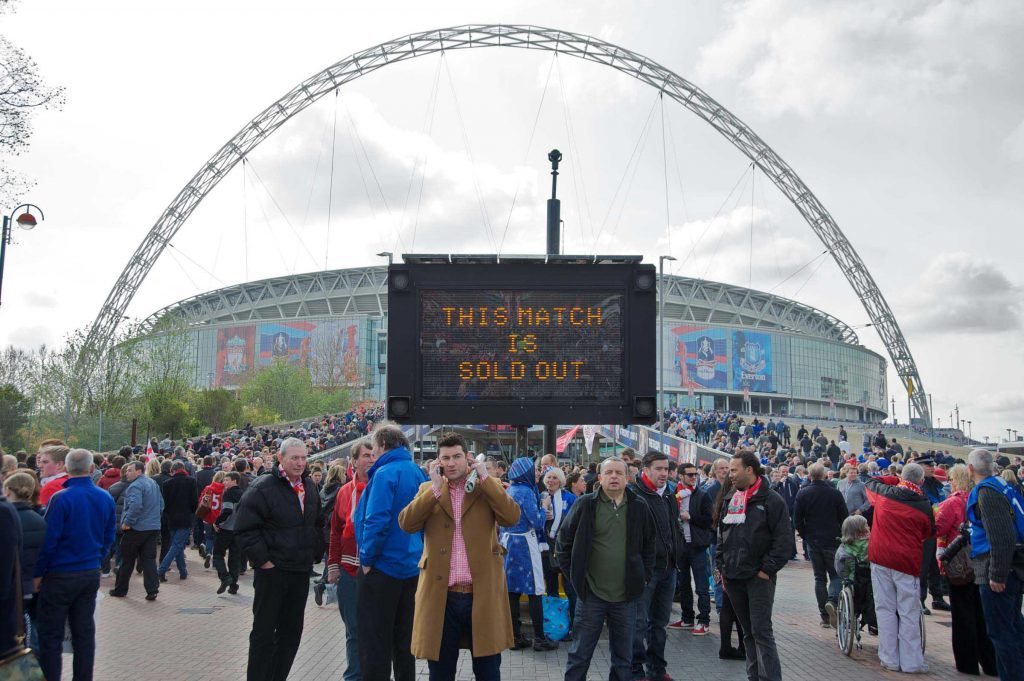 They'll return to White Hart Lane in due course and though Wembley is deemed to be the footballing paradise, I'll feel happier when they're back on the other side of North London. White Hart Lane in its old guise was one of my favourite grounds though it has lost some of its gloss since they've knocked "The Park" down (a pretty horrible pub, incidentally, but with a beer garden which answered perfectly on the odd occasion when we played them in warm daylight). It just seems a bit strange to play at a neutral ground and call it something else.
The London Stadium is something different. There will be no otherworldly home for West Ham United. This is it for them. That's "home" forever.
I don't envy them.
Again, I used to love Upton Park. It fitted every criterion. A little careworn, a tight terrace which was close enough to the pitch to hear the 'keeper berate his defenders. Upton Park was a proper ground with generations of shouts, victories and defeats soaked into the wood and steel. Near to a tube station and several pubs, it was always something to look forward to. West Ham v Liverpool meant something.
The London Stadium is exactly as it states. It is a stadium in London. All descriptions end there. There is nothing other than that. They might as well have called it "The Sometimes Football Stadium". I did not feel I was anywhere special. Oh, it's a fine place but it's not a football stadium.
I tried to work out where it had gone wrong. The pitch is close to the fans so it wasn't that. You can get a lot of people in and there are no poor views so what is it that rankled. I think it is this.
The concourse is too nice. Seriously. It's too comfy.
At Upton Park or Loftus Road, the standing area behind the terraces were/are tight so, to get a bit of room you'd get to your seat early and have a shout at the other lot. That starts off an atmosphere and come kick off you're onto something.
But with a fine selection of eateries and beer on tap it's easier to stay behind and have a chat with your mates. With seven minutes to go before kick off last Saturday the ground was still half empty. This has been a problem with Wembley too.
Upton Park could be a cauldron. The London Stadium is a cinema.
I'm fairly sure that the more hardened West Ham fans can't be delighted at that move. There's nothing to it. No soul whatsoever. I felt sorry for them – as many Reds feel an affinity with The Hammers (pass and move, good working class club, close to the docks etc.) – but once they started on the "we pay your benefits" and "feed the scousers" I thought back to Anfield and how I'd rather be at our true home than singing from an auto complete setlist in an echoless bowl.
And it could have been us. Remember this from 2007?
"The spade needs to be in the ground within, what, 60 days?"
Well, quite.
The redevelopment of the Main Stand has put pay to talk of a move away and, fortunately we will be remaining at Anfield despite the arguments that we need to move to compete. I'm not sure Liverpool would be Liverpool without Anfield. West Ham doesn't seem to be much of a West Ham anymore. They're just a faceless club to me now that they don't have the connotation with Upton Park. There's precious little soul in the game as it is and there's has gone in the name of progress.
But, that's to them and it makes me all the more grateful that we didn't follow suit with a ground move when the carpetbaggers were in charge. The prospect of an enormous bowl in Stanley Park with large screens depicting incongruent advertising (West Ham's advertises a Jermyn St tailor for some reason) would be too much to bear.
Anfield certainly has its problems but at least we get to sit or stand in our own home while we're wondering why no one is shouting and singing. I'd hate to be doing that in a place where no one is the slightest bit arsed about what the ground means.
We're an overly romanticised set of fans and are often accused of pouring on too much emotion, but with so many clubs moving away from their central core are we not losing part of the reason we joined this glorious thing for in the first place?
Away games are a chance to go into someone else's sanctuary and tell them that the scousers are here and we're going to take your points and dignity. It's hard to do that when the home fans aren't that bothered as they don't really see that as home.
When people come to Anfield and win I take it as a personal slight. They can't do that. Not on our ground. This is our turf.
I'm no great admirer of Fenway Sports Group but at least they've protected what is and shall always be ours. The second that goes, the grip of the intangible forces that makes Liverpool what it is in our hearts slips away a little more.
Be careful what you wish for.
Recent Posts:
[rpfc_recent_posts_from_category meta="true"]
Pics: David Rawcliffe-Propaganda Photo
Like The Anfield Wrap on Facebook