Mike Nevin reflects on why opposing fans hate Liverpool so much after the reds FA Cup tie vs Plymouth Argyle where anti-scouse songs rang around the Home Park. 
I MANAGED to get myself really wound up while watching the Plymouth cup replay in midweek.
What irked me most, amid the usual anti-Scouse song repertoire, was the way a consoling rendition of You'll Never Walk Alone – quite clearly aired to mark the passing of Argyle fan Daniel May during the original tie at Anfield – was booed and drowned out by a section of the home support.

Daniel's father Kevin had attended the first match on Merseyside and was at pains to thank Merseyside Police, as well as local fans he encountered during his hour of need, for the way he was cared for on receiving the news of his son's untimely death. There should have been no confusion as the lament offered by our travelling fans – on the 25th minute to recognise Daniel's age — was accompanied by a banner conveying the same message of sympathy.
Unless you're unremittingly thick, I fail to comprehend how this show of support was misconstrued. It was alright for us to join in with a minutes' applause for Daniel, but it was not OK to use Liverpool's most famous football song to consolidate our empathy. If it was misunderstood by some, I apologise.
But, I was left with one question in my head. You're Plymouth – not Everton or Manchester United – and in football terms we have little in common. We hadn't met in competition since both clubs shared status in the 1950s Second Division. Why do the strains of our anthem — Liverpool's defining song — even in clearly different, supportive circumstances offend you so much?
I'm prepared to accept not all Plymouth supporters reacted in such a crass manner – a minority is more audible than a silent respectable throng – but the familiar diatribe of antisocial chants aimed at our fans points to a wider skewed perception and enmity towards Liverpool and Liverpool FC that sticks in the craw.
Football is tribal, and while some chants are more unacceptable than others, it is very much what makes the sport what it is; what gives your insane bias to one club its rationale. However, I do wonder how Liverpool seems to engender a disdain all of its own and a copycat stream of abuse that seems fair game nationwide.
Suffice to say the media has played its part down the years. Mud sticks but in light of more recent struggles it's not unreasonable to expect at least a minor sea change in opinion. Not so, apparently. If anything, since the Hillsborough verdicts were overturned – an unwelcome little dig in the ribs for a growing moronic element in this increasingly putrid country — I detect a hardening of contempt in some quarters.
Even writing this column I fear some will trot out the well-worn 'self-pity' tagline that precludes the right to respond to the notion Liverpool, and by extension its football club, remains highly unpopular in this country. Anyone who has lived or worked away from the city will have encountered the lazy, downright fucking insulting stereotypes we're expected to laugh along with and take on the chin.
On this, witness Mr Charisma, Neil Warnock – in the post Plymouth analysis on BT Sports – insinuate that Liverpool is so backward, dark and grim, that we don't even have windows in our houses to cast any light on our pitiful domesticity. Warnock was flanked by two Liverpudlians, Gerrard and Steve McManaman and was able to just laugh off his clumsy woolyback jibe. God help us if we ever challenge those ideas for fear we'll be accused of being a whingeing Scouser with no sense of humour.
Reverting back to the football, how much longer must we listen to the ultra-tiresome Demba Ba chant aimed at a footballer who has actually now retired from the game?
When we 'nearly won the league' in 2014 I heard some say neutrals were behind Liverpool and, while I remained unconvinced of this at the time, nothing since has persuaded me to think the footy nation at large salivated over our near miss and flagellated themselves silly over Steven Gerrard's 'slip'. To be fair, it's a catchy, enduring little number for the witless sheep for whom the concept of personality is complete anathema.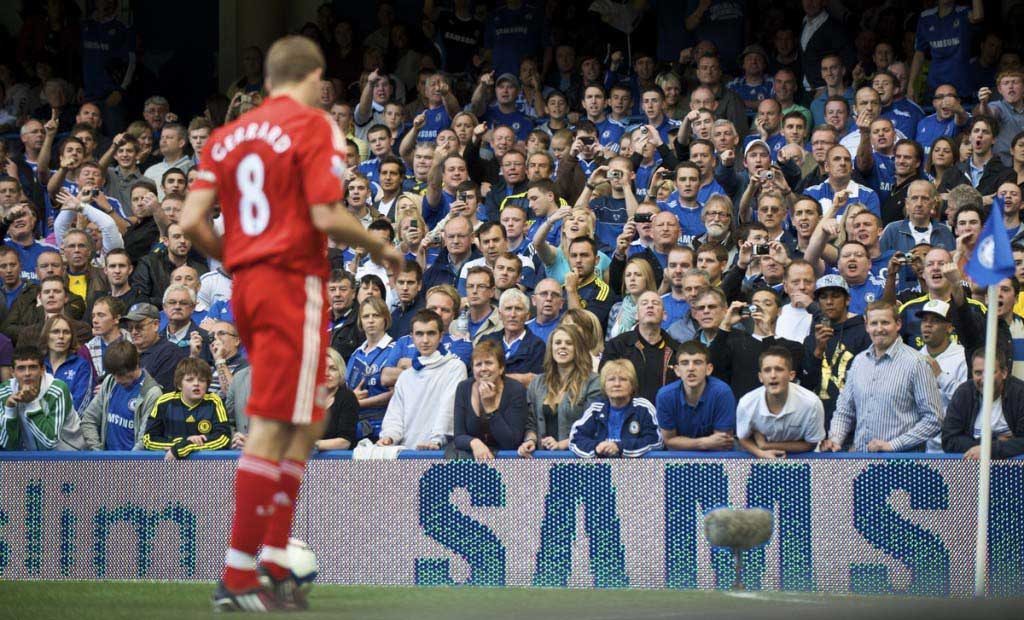 I can accept that in a society that is increasingly fuelled by 'the banter' – an old-fashioned piss-take to you and I – there is a comedy value in Gerrard's 'slip' but is schadenfreude all you've got left, lads? Will you forever remain strangers to original thought and maybe even some real humour?
Maybe I have to accept that a country and football community that delighted in Stanley Matthews winning his longed for FA Cup winners' medal in 1953 no longer exists. Perhaps the neutral is also a thing of the past.
If Jamie Vardy had missed a penalty denying Leicester last year's title, I doubt he and Leicester folk would have been subjected to such sustained mockery. Of course, Leicester were huge (trendy) underdogs last year, but so too (to a lesser degree) were The Reds in 2014. You might have thought more than just a few followers of the game here would have a welcomed a new name on the trophy to break up the latter day Premier League monopoly of moneybags United, Manchester City and Chelsea.
When John Terry, a man with more character stains than Ryan Giggs has title medals, fell over in Moscow and handed United their most recent European Cup, the country had more or less forgotten about it by the following August. Terry – and Chelsea fans – largely escaped the derision that we're still hearing week in, week out.
So, why do we have more than our fair share of haters? Why is the Scouse-ist song sheet as familiar as the hymn book from the days we all went to church? Why are inaccurate chants about unemployment, rats and council houses, Liverpool slums, and accusations of far worse just lobbed in and passed off as 'footy bantz'?
I'd like to think it was because my generation are shit scared of a potential trophy-winning renaissance for a club that scarred their childhood. Perhaps there is an element of truth in this; revealed in the latest form of mockery that we think "it's gonna be our year." What do you expect, dickheads? Well, one day soon it is going to be 'our year' and it's going to hurt.
The rest would prefer we merely accept our fate; just fall in and embrace the gallows humour of yesteryear's other fallen giants. No chance, lads. Football is meant to represent hope and optimism and there are better ways to have a laugh than to pogo round an away end in bad clobber 3-0 down singing "we're gonna win 4-3."
Maybe the truth lies in the fact that Liverpool has become a nationwide phenomenon. The Reds in the 21st Century have turned into the United of the 1980s with all the glitz, glamour and support and fuck all trophies.
There remains a local Mersey fanbase but our past success and with it our trendy heritage – plus our tragedy – has brought with it legions of supporters in every provincial town. Everyone from Lands End to John O'Groats probably knows a 'Scouser' – a term used to describe Reds followers who might never have even walked in the shadow of the city's cathedrals – and it doubtless rubs them up the wrong way. They've eschewed their local team in favour of The Reds, for right or wrong, and it grates a bit with them.
It's all rather lame; a bit pathetic. Such scorn, jealousy, entrenched misplaced hatred – whatever it is — soured what should have been a good moment at Home Park in midweek.
Sometimes it's good to remember that football is just the most important of the unimportant things in life.
Recent Posts:
[rpfc_recent_posts_from_category meta="true"]
Pics: David Rawcliffe-Propaganda Photo
Like The Anfield Wrap on Facebook