ANFIELD hosted an international Rugby League match on Sunday between Australia and New Zealand. The Aussies won the game 34-8.
While the action unfolded, anyone legally old enough among the 40,042 crowd could sip from a beer while sitting in their seat if they so wished. One spectator even posted a picture of themselves holding a bottle of lager on The Kop.
It doesn't seem a big thing written down. Because it's not a big thing. And yet, as The Kop has been alcohol-free for 31 years at Liverpool matches, it jolts to see that image.
It also begs the not unreasonable question: "Why aren't I allowed to do that?"
Having an alcohol drink during the rugby match was entirely the choice of the paying spectator on Sunday. And the logic for that appears to be: "rugby fans don't cause trouble".
If that very same person were to return to Anfield this Saturday at 3pm, sit in the same seat on The Kop, and sip the same bottle of lager they would risk arrest and a criminal record.
In fact, they wouldn't even have to make it that far to break the law of the land. The football fan has only to be in sight of the pitch at Anfield or any other ground in the professional game while being in possession of an alcoholic drink to be committing a criminal offence.
And why is it deemed so? "Football fans cause trouble."
That's it. Blanket statement. Generalisation. Stereotype. You can't be trusted to have a pint in each half of a football match because, regardless of background, colour, age or gender, one sip with the action in front of you and you'll be transformed into a Stanley knife-wielding thug.
That's the thinking, right?
People attending football matches were stripped of the pleasure of a pint while watching the match in 1985, when the Sporting Events (Control of Alcohol etc.) Act was passed by a Margaret Thatcher-led Government.
The act made it a criminal offence to:
Be drunk at a football ground
Drink alcohol within view of the pitch from 15 minutes before the start of the match to 15 minutes after the end of the match
Drink alcohol on certain coaches, trains and motor vehicles travelling to a football match.
When the act was passed, 31 years ago, the name of the game was in the mud and hooliganism was rife, culminating in events at Heysel when 39 people died and 600 were injured following a series of stampedes by Liverpool supporters at Juventus fans.
Such behaviour made it easy for the powers-that-be, and wider society, to portray all football fans as mindless drunken thugs hell-bent on trouble.
Earlier in the same month, May 1985, a 14-year-old boy died at St Andrews when police pushed back fans after violence between Leeds and Birmingham fans.
Post-Heysel, English clubs were banned from European competition and there was thirst from Thatcher to "restore the good name of British football and make football grounds safe places for decent people".
Announcing the 1985 Act, Secretary of State Leon Brittan said: "There is widespread agreement that alcohol is a major contributory factor in violent and disorderly behaviour in football grounds."
Brittan spoke of the concerns of control of drink and drunkenness and told of how: "Innocent people far too often have been put in fear by rampaging young thugs who have deliberately come for a fight, and not to see the game at all."
Perhaps more interesting, certainly with the benefit of hindsight with how things have played out since 1985, are Brittan's comments as to why the idea of a total ban on alcohol was ignored.
"The fact is that the Association of Chief Police Officers, with its members' extensive experience of policing the grounds of major league clubs, has told us clearly that it does not favour a total ban. In its view, strictly controlled drinking inside grounds is easier to police than increased and more dispersed drinking in pubs and in the streets away from the ground."
Yet that is exactly the situation around major football grounds in 2016. Has this act curtailed drinking around football? Clearly not. Pubs are packed before and after games while inside the ground bars are busy pre-match and at half-time despite the premium prices charged for a pint.
Meanwhile, away fans are drinking too. The act then is ignored. So whatever way you look at it, what's the point?
Recent flashpoints between fans at West Ham's new ground should not detract from the fact that violence at football matches in England in 2016 is rare.
Brittan emphasised that the 1985 act would apply to football, and football alone, because "violence of the kind we have seen on the football grounds is not habitual elsewhere".
In 2016 violence at football grounds is not habitual.
At non-league level, football fans drink while watching the game. If you visit a match in many places in Europe, football fans drink while watching the game. At Hamburg they even hand out free beer to fans when the home side scores a goal. On Liverpool's tour of Australia in 2013, 100,000 watched the Reds in the MCG. Huge numbers had a beer in their hand while doing so.
Yet here in England, the unspoken message that football fans cannot be trusted, week in, week out, whoever the opposition and whatever the match, remains.
Carling is the official beer of the Premier League. Heineken is a major sponsor of the Champions League. Budweiser sponsored the FA Cup, Worthington and Carling sponsored the League Cup.
For years, Liverpool had Carlsberg emblazoned across the front of their shirts, while across the park Everton remain sponsored by Chang Beer. They even have a mascot – Changy the Elephant – which is flying the flag for the club's Thai beer-producing sponsors while trying to appeal to the Toffees of tomorrow.
Alcohol and football have a very close relationship. You just can't drink it while you're watching the game in the ground.
Latest Home Office arrest figures* for football matches in England and Wales show 1,873 football-related arrests for season 2014/15 — an average of 4.9 arrests per 100,000 people attending a game.
A total of 412 of those arrests were for alcohol-related offences. When you consider how many fans click through the turnstiles up and down the country across the course of a season, it's not a big number is it?
Back to Leon Brittan in 1985. He said: "I believe that the measures that we are discussing today are in the interests of law-abiding supporters, the clubs themselves and everybody who wants to be able to walk freely about his town on a Saturday without fear or hindrance.
"Our objective must be to make football grounds safe places for peaceful citizens to go and take their families to enjoy a great sport."
Ignoring the separate issues of ticket prices and accessibility of tickets, it's clear to any regular match-goer at Anfield that it is a safe and family-friendly place. As Brittan desired, we are walking freely around our town without fear or hindrance.
An out-of-date law has little to no bearing on this. It's easy to pull out examples of isolated pockets of incidents involving football supporters and then say "see?" but it's easy to do that about anything. There have been incidents at rugby. There are alcohol-related crimes up and down the country every weekend.
https://www.youtube.com/watch?v=ueNt4KrsM24
Yet rugby fans have the freedom to drink when they choose around a match. For people attending any other sporting event — the cricket, where a boozy culture is celebrated, boxing, where testosterone can run high — the same applies. They are trusted to have a pint. And for those that go too far? Well laws already exist to deal with them.
So why now, in this climate, is there a need for a specific act targeting football to remain? Especially one that fails to achieve what it was put in place for.
In the academic paper, 'On the Lash – revisiting the effectiveness of alcohol controls at football matches' Geoff Pearson and Arianna Saleb highlight that for all the links made between alcohol and English football violence, the many occasions — including major tournaments like the World Cup in 2006 and the European Championships in Portugal in 2004 — when crowds of English fans that have been heavily drinking don't become involved in disorder are rarely accounted for in any discussion of the subject.
The paper also highlights other factors — the actions of police and other fan groups — in crowd disorder, which again are often lost in favour of pointing the finger at alcohol as a sole cause.
To briefly stray from the main point, the policing of Liverpool fans at Old Trafford is an interesting example of this.
The favoured tactic from Greater Manchester bobbies was always to keep Liverpool fans in the ground at the final whistle, sometimes for up to 45 minutes after everyone else had left.
The aim was obvious: to prevent clashes between rival supporters in what is traditionally an ill-tempered match. Yet there were by-products of this tactic — fans became frustrated and as such had a common cause. It was 'them' against 'us'. Manchester's police against Liverpool's fans.
Throw in incidents when police made it difficult to even go to the toilet and then you had a fired up mass ready to spill out on the streets and take on all-comers. Meanwhile, those not kept in the ground against their will knew exactly where to find Liverpool fans should they wish to seek them out.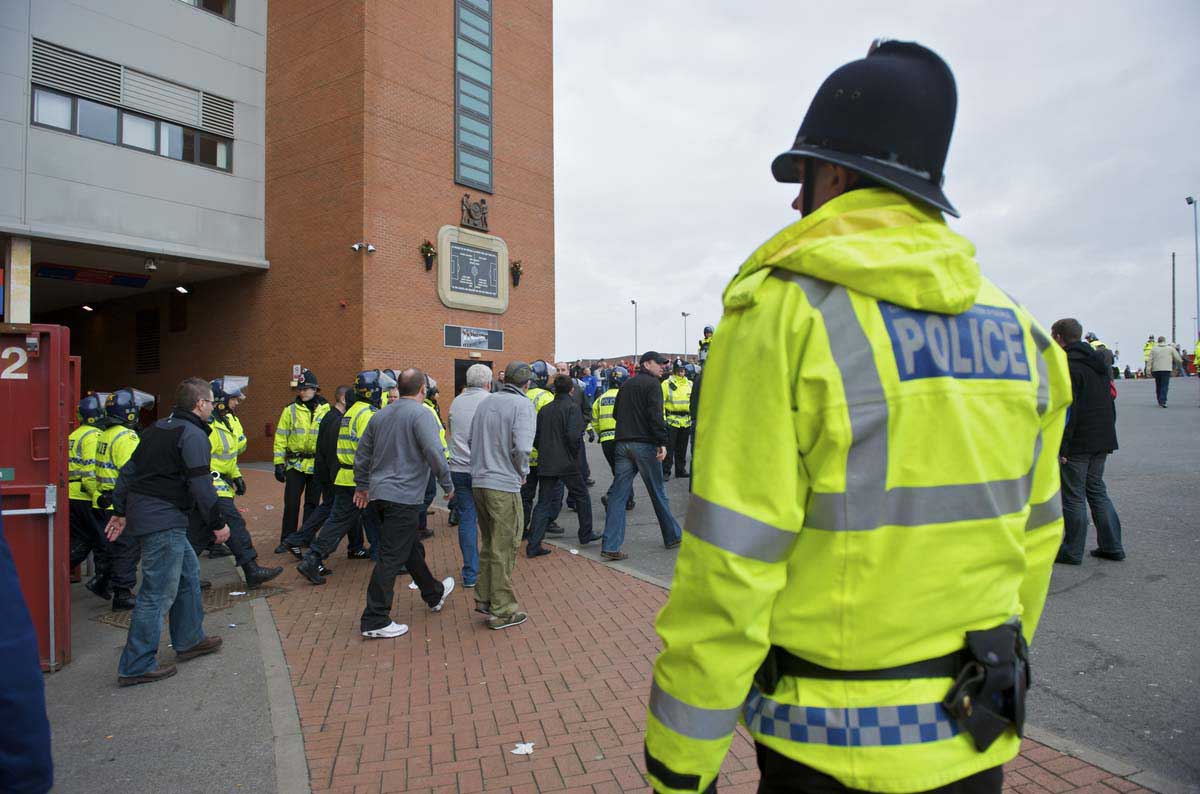 Compare and contrast to the strategy in more recent times when Manchester United and Liverpool fans have been allowed out of Old Trafford at the same time. You and your mates quickly become just a few faces in a 75,000-strong crowd trying to get away from Salford. A significant majority of that number will want nothing more than a couple of pints and a safe journey home.
Back to behaviour inside the ground, and attempts to control the levels of alcohol running wild in the bloodstream of supporters. Pearson and Saleb, having studied the behaviour of fans first hand (and this will come as no surprise to anyone who regularly attends games) found that many fans binged in the run up to the game, with "many still drinking from cans and bottles as they approached the stadium forecourt".
They also found that meant, shock horror, that rival fans mingle in pubs and off-licences near the ground right up until kick-off. For those that think every set of football fans need to be micro-managed to the degree that they can't drink a pint or two during the game, these revelations must come as a real surprise.
The conclusion of Pearson and Saleb was that alcohol bans in stadiums and on transport "had no effect on reducing the overall intoxication of fans".
In short, those that want a drink will drink. Is a constant unspoken fear of the extreme enough reason to keep this law in place for those that just fancy a pint?
For those — and there are many — that like to point out that football is a business there is also another aspect to this nonsensical law.
Right now, football clubs — in particular those lower down the food chain money-wise — are at a disadvantage not only in terms of lost revenue to the ordinary punter but also when trying to sell hospitality and sponsorship packages. Because let's be honest, the selling point for many wrapped up in that world is a decent day on the ale.
Outside of the football world, attitudes to alcohol have relaxed: the Licensing Act of 2003 opened the doors to 24-hour drinking but the justification was that it would lead to less binge drinking based on the once-familiar race to stock up and beat the final bell when bars called time.
The Sporting Events (Control of Alcohol etc.) Act exists then as a contradiction.
In Scotland, the ban extends further with no alcohol being served in grounds apart from in corporate areas. Support for that legislation to be scrapped came last year from a perhaps unlikely source in the then Prime Minister David Cameron.
Cameron, who admitted to drinking when he watches cricket games, said: "We should always try to treat people as responsible adults if we possibly can.
"We've shown with other sports and other fixtures that you can have a couple of drinks and behave properly and have a good game.
"I can't pretend that when I go and watch cricket it's an entirely teetotal experience and you can be there for quite a long time. Trials and evidence are the things that should lead us."
Treating football fans as 'other' has influenced some shocking decisions and behaviour from those in authority towards people who simply want to watch a game and dangerous perceptions about "football fans" clearly continue to exist.
But football in 2016 is not football in 1985 and the game should be policed accordingly. Another step in the right direction is lifting a restriction that no other sports fan in the country has to endure.
Football fans can drink coffee, tea or soft drinks at the ground while the match takes place. They should have the choice to drink a beer, too. As the Football Supporters' Federation repeatedly stress: watching football is not a crime.
* Since the article was published this morning the latest Home Office figures for football arrests for season 2015-16 have been released. The figures show 1,895 arrests in England and Wales for the season. Alcohol-related arrests have more than halved in the five seasons covered by Home Office data, down from 800 in 2011-12 to 373 in 2015-16.
Recent Posts:
[rpfc_recent_posts_from_category meta="true"]
Pics: David Rawcliffe-Propaganda Photo
Like The Anfield Wrap on Facebook