NOT every good season starts with a win, just as not every poor one begins with a defeat, but there are wins and there are statement wins.
Sunday felt like one such. A top-four opponent so one of the harder grounds to visit (Liverpool had won just once there before Sunday in 13 visits), new players bedding in, immense pressure on the manager as this term, by his own admission, really is on him and still the Reds came off the park with the points AND the performance.
In some ways it was also a case study in the state of the Liverpool union. Everything was there. Yes, we can score goals, yes we're susceptible to high balls into the box and, of course, there are times when the left back and goalkeeper are there for purely for decoration (Actually, that's a bit harsh on Simon. He saved a pen and the goal that was really down to him had more to do with Dejan Lovren practising lunges on the six-yard line).
Liverpool were blisteringly brilliant, Liverpool struggled a bit when Jordan Henderson was singled out for attention and Liverpool were occasionally awful when it came to blocking Theo Walcott in the penalty area.
But one of the more glorious sights was that of several Liverpool players arriving into the box to convert chances. Not two attackers while others waited outside to pick up scraps, but Reds actually looking to finish off a move.
Adam Lallana's goal was a notable example. He, along with Philippe Coutinho and Georginio Wijnaldum, were all in number nine positions when he struck it under Petr Cech. There were two other players following up too.
With no recognised striker on the pitch, this level of aggression was encouraging to say the least.
Then there was Sadio Mane's dance from the halfway line. Wriggling free from the meat in an Arsenal defensive sandwich he had the faith and ability to ignore the unmarked Roberto Firmino and smack it into the corner.
Liverpool's midfield are scoring goals again.
I say again as, for large parts of the last two seasons, we have neither had the firepower or, on the occasions when it has been available, the willingness to try it.
Cast your mind back to April 2015 and the FA Cup semi-final against Aston Villa when Brendan Rodgers chose seven midfielders across all three areas of the pitch while leaving Mario Balotelli, Rickie Lambert and Fabio Borini on the bench.
This may hark back to a European strategy of false nines but it buttered no parsnips when it came to the result. Liverpool managed just three shots on target in an embarrassing cup exit against a very beatable side.
For that system to work the midfielders have to be strong finishers and not the sort of players who endlessly pass it around until someone is brave enough to have a dig.
The first suggestion of the efficacy of this approach came with the walkover at the Etihad when Roberto Firmino starred as the leading man rather than the soon-to-be-departed Christian Benteke.
Similarly, the Belgian only featured late in the game in a similar performance against Chelsea.
He may have been without Daniel Sturridge, Danny Ings and Divock Origi for those games but Klopp has no problem with false nines or whatever the common nomenclature is these days.
This is very much a developing system. Since Luis Suarez's departure and Sturridge's 2014-15 injury Liverpool have relied on midfield and split strikers/number 10s to fill the goalscoring void and, in the main, it's been a work in progress.
Coutinho and Firmino gallantly stepped into the breach with 18 league goals between them last season, but with little help from elsewhere, or — at least — not enough help as it wasn't enough to trouble a European place.
Again, this is where positional classification becomes an issue. Are they midfielders, forwards or a sort of Peter Beardsley hybrid? Are they all three? I still don't know.
Further back down the pitch the problem was more marked. Emre Can and Henderson managed a paltry total of three league goals between them last season while James Milner's return featured more penalties than goals from open play. Obviously, you'd expect them to have fewer sights on goal but that's an awful return.
If you have two genius strikers putting everything away — as we did in 2013-14 — you can get away with that approach but, what with Benteke's fitful season and the Sturridge and Origi injuries It's little wonder that we finished as low as we did in the league.
It's here where Klopp's recruitment has been especially astute. He's identified the problem and addressed it with hard cash. Of the top 20 Premier League goalscorers last season only six were midfielders.
Three of them were arguably half-and-half players (Riyhad Mahrez, Andre Ayew and Gylfi Sigurdsson) and Klopp signed two of the remaining three. For the record, Wijnaldum outscored Dele Alli last year.
https://www.youtube.com/watch?v=Vhzio09Q1og
Maybe this is a new age where the lines are more blurred. I still don't know what I'd call Firmino and Coutinho's position. Wide in a forward three? Deeper lying? A 10 or even an outright striker in Firmino's case?
The truth is that he's all of those things. Is Henderson the two in a 4-2-3-1 formation or behind the forwards (without the goals)? Emre is usually played as a holding midfielder but there's a continued call to see him further upfield. They can't all be strikers or even fake ones.
Even Milner is apparently a left back these days. The definitions no longer work.
But what do we care if we have days like last Sunday? The results always come before the intricacies of analysis and if Jürgen can come out of this with a title then who's bothered if he goes a bit jazz hands on it?
But they have to score. As good as our forwards can be there's little chance of them knocking over 50 goals in to secure a title. At least two midfielders have to reach double figures. Maybe even three.
It's a different age but the best Liverpool side I've ever seen had goals from the middle of the park. The 1978-79 vintage had a midfield four which added to Kenny Dalglish and David Johnston's haul with 33 League goals. Terry McDermott (8), Jimmy Case (7), Graeme Souness (8) and Ray Kennedy (10) could all finish and weren't afraid to put their foot through it rather looking for yet another pass.
I've recently done a 'That's What We Call History' podcast about the 1981-82 season with Rob Gutmann, Mike Nevin and John Mackin. Neil made a point that the midfield chipped in throughout that campaign.
Ronnie Whelan replaced Ray Kennedy that season and was a mere pup but still scored 10 league goals. Terry Mac knocked in 14. In those days, Liverpool won the league because of the midfield as much as the genius of Dalglish and Alan Hansen.
That characteristic seems to have waned over the years. The 1999 Manchester United treble-winning side being a case in point.
Their midfield four of David Beckham, Roy Keane, Paul Scholes and Ryan Giggs — arguably the best 4-4-2 team in the Sky age — could muster only 17 league goals. It was still seen as the forwards' job to score and for the lads behind them to give them the bullets.
Similarly, if you think back to the white-knuckle ride that was our 2001 side, you might remember Danny Murphy hammering them in from all over the place. Nope. Murphy scored just four goals in the league that season.
It was Michael Owen and Emile Heskey who got the lion's share.
It was different on the continent. I can remember Marc Overmars being interviewed post-game in his debut season at Arsenal. The interviewer excitedly pointed out that he had just notched his 10th goal of the season and asked if he was surprised to have scored so many.
Overmars frowned at the question and muttered that double figures were about his level and he would be surprised if he hadn't gone above that. Arsenal won the double that year.
Of course, these were largely 4-4-2 sides with wingers and it's now a rare sight to see two teams contesting a game with a pair of out-and-out and strikers at either end. The game has changed to such an extent that everyone is sort of a forward — hence the justification of Alberto Moreno storming forward and leaving Walcott to his own devices.
I have some concerns about that approach, though I can't deny the excitement it brings. We tried to be gung-ho in 2013-2014 and it very nearly worked but that was with one of the finest and impudent strikers the ground has ever seen pulling off the impossible week after week.
The Crystal Palace 3-3, though there were extenuating circumstances for that game, showed just how it can go wrong. Rodgers liked to overload one end of the pitch in his second season because he always knew he had a chance of outscoring the gaps left by the back four/five.
As Neil pointed out on a podcast recently, midfielder Luka Modric — a regular starter at the European Champions — has never scored as many goals in a campaign as Martin Skrtel did in that season.
To emphasise the point, Coutinho and Henderson finished that season with only four goals apiece. It's difficult to grade Raheem Sterling and Steven Gerrard (9 and 12 respectively) as they played in so many different positions that year.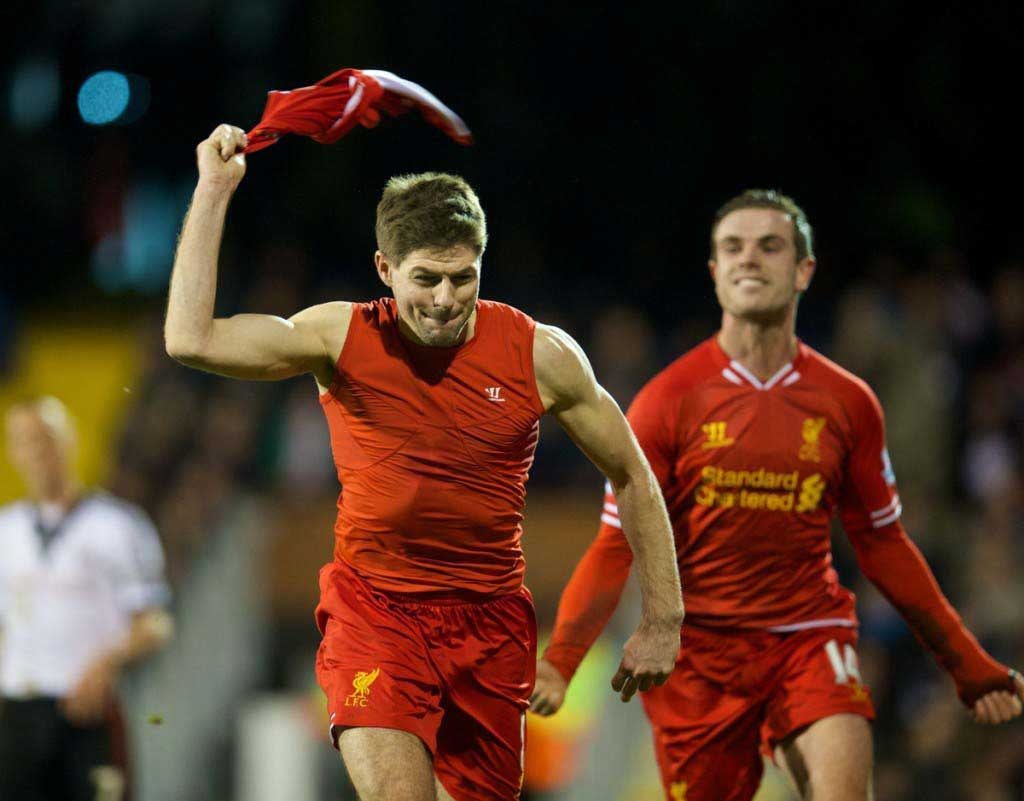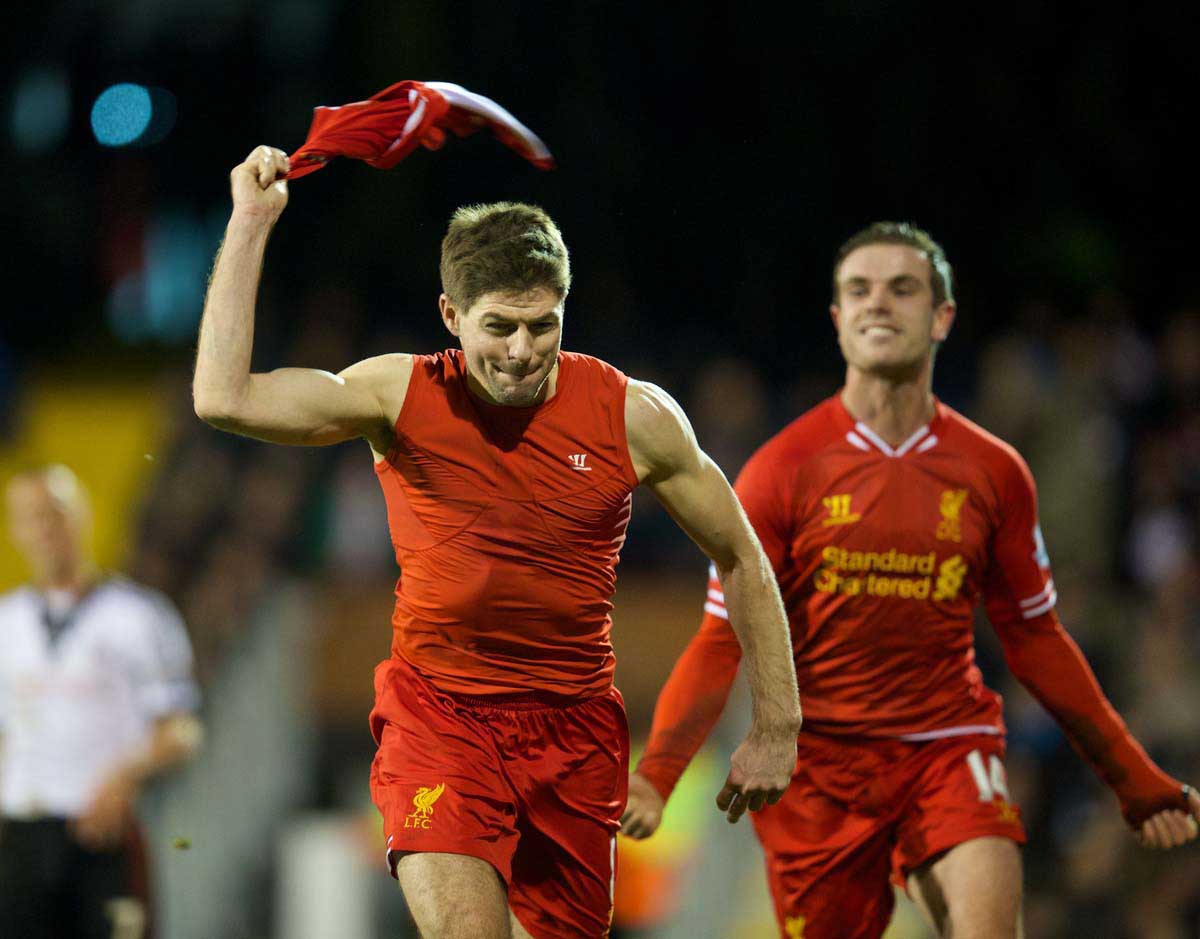 That was easily our most successful season in recent years and, for the main part, much of the midfield didn't score — mostly because they didn't really need to.
Bringing it back to today, if the other teams are still relying on their forward lines to bring home the cliché, particularly as our front line isn't too shabby (when on the pitch) and we can add goals from the middle third, we've got a chance of mounting a serious title charge. That's a major advantage over other sides.
I'll say this again because it cheers me. Sadio Mane may have started that game on the right of a forward three but when he took the ball for his goal he was in the right midfield channel like the wide man in a flat middle four.
He didn't cross the ball when he beat his men. He took it on because he knew he was good enough. Firmino was on his own and he just didn't need him.
In recent years we have had players who would have switched the play for little reward. Equally, last year, Adam Lallana would not have broke into box and chested down a ball eight yards out. We did not have a Wijnaldum player who would play high enough to give him the ball. Liverpool midfielders have been too scared to be that high up the pitch.
God, I could watch those goals a thousand times.
Two even three of those players with double figures and we could be onto something. We could change the focus of football again and re-introduce the importance of midfield goals.
That would really be something. Why not? It's worked before. We still need to defend though, lads. Let's try to remember that, eh?
For podcasts on every Liverpool game this season, transfer gossip, the lowdown on new signings and more, subscribe to TAW Player for just £5 per month. Minimum sign-up is just one month. If it's not for you, all you've shelled out is a fiver! More information here.
Our latest free show post-Arsenal is here – just press play!
https://audioboom.com/boos/4934670-show-me-the-mane