THE world has gone mad. Or rather, everyone in it has gone mad. Or, possibly, everyone in this country has gone mad — the ones who voted for a nice sachet of 'instant recession, just add water' especially.
The Tories are having another lovely game of 'who is the biggest bigot in a power suit' but are somehow managing to be overshadowed by a Labour Party putting forward the strongest contender for worst party ever since big Donnie Trump threw open the doors of Trump Towers and offered the first 100 party-goers a nice kiss on the neck and a free haircut.
In this brave new world, it seems to be absolutely fine to make an outlandish statement of pure fantasy relatively safe in the knowledge that no-one will be that arsed when it turns out to be bollocks.
This is mainly because our collective saturation point for breaking news was reached five days ago and to such an extent that we are all now basically hypnotised pets of some baldy little Aussie media mogul, trapped in a perpetual state of staring at our hands, whether the phone is there or not, muttering "for fuck's sake" over and over again.
I mean, look at some of this jibber jabber from the last few weeks. The Leave campaign painted on a battle bus that we should vote for Brexit so we could stop spending £350million a week on the EU and spend it on the NHS instead. That Battle Bus has disappeared quicker than Labour's Ed Stone, or access to Dr David Kelly's medical records.
Next up, Tony Blair stood up in the face of a report longer than the Domesday Book and basically said something on the lines of: "See that report there, with its two million words of evidence, carefully drafted and redrafted by a team of experts? Yes that one, that took seven years to write, take no notice of that. Oh look at that fella over there doing a cartwheel. Any road, I'm sorry and that but I was probably right yer know."
Never listened to an Anfield Wrap podcast? The latest free show is here. Just press play on the button below.
Andrea Leadsom has taken Big Tony's stance and raised the bar to glorious new heights and is now disputing audio evidence of her own voice saying certain words in a particular order as a smear campaign.
In the football world, Jose Mourinho, never a man to miss an opportunity to chat shite, sat in his first Manchester United press conference and with a straight face stated that his record at bringing through youth players was as good as the next man's, unfolding a pre-prepared list of 49 players he had promoted to various first teams during his career for their debut.
Almost half of the original list of players from his spells at Benfica, Uniao de Leiria, Porto, Chelsea, Inter Milan and Real Madrid made just one single appearance under Mourinho.
A further 10 played just two games. We can only presume it included any players he had signed during his career who went on to have a debut, such as the 34-year-old Zlatan Ibrahimovic.
It was within the context of the above madness that Mario Balotelli said the following: "On the scale of 0 to 10, I stopped at five, but I'll get to 10 eventually. I want to get there. I will win the Ballon d'Or."
Now I'm not saying that Balotelli is lying here. I think he might actually mean it, and genuinely thinks it could happen. But given the trajectory of his career in the the last two years and the manner of his performances during that time I think it is relatively safe to say that there is more chance of Jezzer Corbyn riding into power in 2020 atop the Brexit battle bus with nothing on but a pair of cream knee-high socks and a "Jez we can" badge covering his modesty than there is Balotelli winning the Ballon d'Or.
That's not to say that it is impossible. Of course it is possible. He has all the attributes required. He is tall, strong quick and can actually play when he wants to. During the early stages of his career his goalscoring record was pretty good. Rewind four years and he was coming out of a European championship with an enhanced reputation and bright future. The problem with him, for want of a better description, is that he is a bit of a divvy.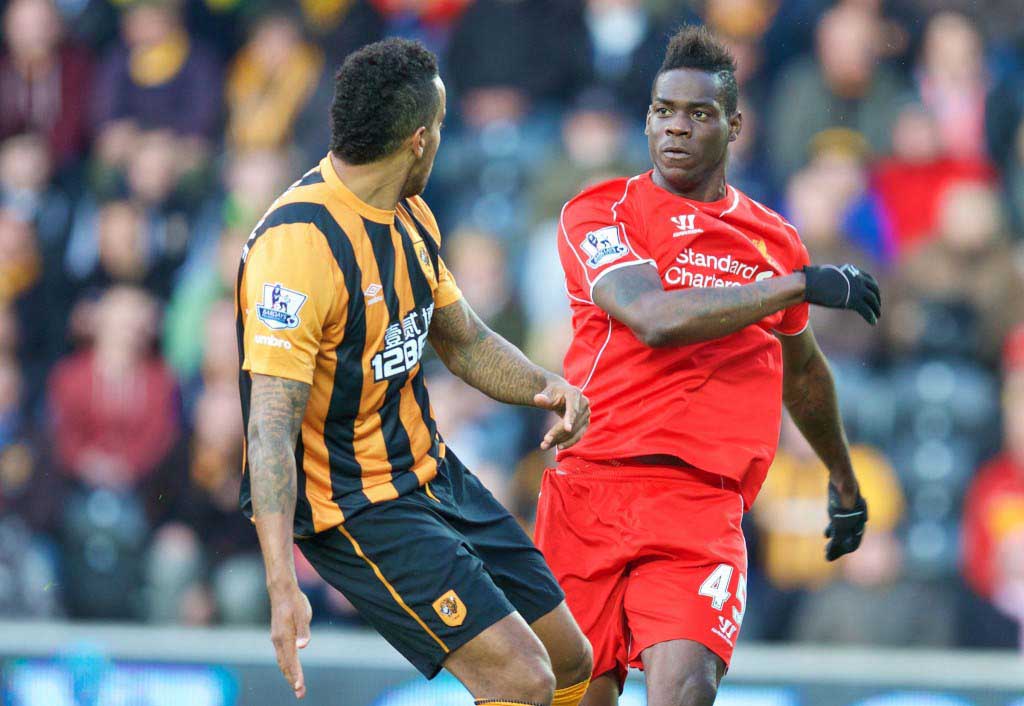 He has, by all accounts, the personality of a child. Unable to concentrate for long periods, unable to forgo any kind of distraction, he isn't a player that as a manager you could trust to carry out any kind of instruction. Someone somewhere with connections to the club, rather snidely, released some snippets to the media of his character once he had left for Milan last year, with the highlight being him lashing one in the top corner of his own goal from the halfway line. Supremely talented but unfortunately a divvy.
You could just as easily imagine him stood on the halfway line distracted by an advertisement hoarding as scoring.
What's that, bet in play now? Alright, I will… *Whips out phone and whacks 50 on himself to score*
He was, ultimately, shite for Liverpool in the 2014-15 season. The thing I remember most was the amount of times he would kill the game by getting on the ball, clearly in direct opposition to the instructions given, and larruping it over the bar or wide of the goal. Almost like someone had removed his superpowers and he couldn't quite believe it.
It got to the stage where it looked like he was second guessing everything he did, to the extent, and I don't think that this is an exaggeration, that he had forgotten how to kick it. Not kick it at all, but forgotten how he used to kick it. Watching him play reminded me of when Padraig Harrington decided to reconstruct his swing having just won a couple of majors and couldn't quite believe it when he put it back together and was shite.
If Balotelli is going to win the Ballon d'Or he is going to need to remember how to kick it, probably. He is also going to need to be better at football than Messi, Ronaldo, Suarez, Bale and literally every other footballer playing in Europe.
That's quite the ask if you aren't a divvy and can remember how to kick it, never mind if you are Balotelli.
Latest from Mario Balotelli. He's quackers…

Posted by The Anfield Wrap on Tuesday, 5 July 2016
He is also going to have to do it at a different club, what with The Reds telling anyone who would listen last night that a fresh start would be best for both parties after Balotelli was left out of the squad for the game at Tranmere Rovers.
That is a shame really for Mario as Klopp, more than most managers, likes his players to have character and Balotelli has certainly got that. What he doesn't seem to have, however, is an appetite for learning, working hard or the ability to contribute to a highly-structured team. Bit of an obstacle to getting a game for a Klopp side and a bit of a pisser for the winning of the auld Ballon d'Or.
Who knows though, eh? If the last few weeks have taught us anything it is that mad shit is going to happen and none of us are going to believe any of it possible. Get ready to stare at your hands again, "for fuck's sake" at the ready, as Balotelli leaves us on a free transfer, joins Middlesborough or QPR and scores 50 goals a season for club and country while Jezzer the conquerer Corbyn somehow not only unites his party but the country as a whole and storms into power on the crest of wave.
Jez you can, Mario.
For podcasts right through the summer on Liverpool past and present, transfer gossip, The Euros, the lowdown on new signings and more, subscribe to TAW Player for just £10 per month. Minimum sign up is just one month. More information here