ON February 21, 2015, Ken Meech, a 50-year-old sheet metal worker from Cleethorpes, travelled to London to attend the Barnet v Grimsby Town game.
As a Mariners fan, Ken — along with the 968 other travelling Grimsby supporters — wasn't going to miss this clash as the clubs were first and second in the league and, with only one automatic promotion spot available, defeat was unthinkable.
Upon arrival at the Hive Stadium, Ken, along with his friends, went to a nearby pub and had a few drinks — as thousands of people do on a match day. Nothing excessive. Just enjoying the day.
As they left, Ken spotted a party gift shop next door and wandered in. He came out with 15 inflatable sharks which, given the marine element of his club, he thought he would distribute to his friends as a bit of fun.
They were searched as they entered the ground and there were no complaints about the inflatables. The group duly took their places and watched the game. It was a tense affair. Grimsby led at half time only to concede an equaliser.
However, as the game reached the 90th minute, Grimsby midfielder Craig Disley netted from close range to send the away end into delirium.
Ken was at the front of the stand and was caught up in a crowd surge as fans ran from the terraces rushed to greet the celebrating players. Of course, Ken still had his inflatable shark and was jumping around as we all would in the circumstances.
As the scene died down, Ken was approached by a WPC and found himself being led away from the throng. Genuinely confused, he was taken out of the ground and put in a police van. It was there that he was told that he was being held for assaulting a steward with his shark. It transpired that he had accidentally struck the steward on the head during celebrations.
He was taken away to Harrow police station and questioned. As the police officers sat with him before his taped interview they giggled at the ridiculousness of the "offence" — only to change tone the second the recording began.
Several hours later, he was told that he was charged with common assault and advised to sign his bail conditions. These amounted to him being prohibited to enter the town centres of Grimsby and Cleethorpes for four hours either side of a home match. Ken explained that he couldn't sign it as he lived only 200 metres away from Cleethorpes town centre. He was also banned from attending any home or away game until the matter had been resolved.
Ken was told that if he didn't sign it or chose to contest it he would go to court. He had no choice and was subsequently bailed to appear in front of Hendon Magistrates Court the following month.
After waiting around for hours, he was finally released at five past midnight. London Underground closed at midnight. Ken's bed was over 170 miles away. Ken believes this was deliberate as a fellow fan, who had been arrested for a "pitch invasion" — he had been pushed onto the pitch — was released 10 minutes after him.
Ken returned to London to face the court. The inflatable shark was produced in evidence yet, despite the laughable idea that a cheap plastic toy filled with air was "waved like an axe" with intent to harm, Ken was found guilty of common assault.
He was given a 12-month conditional discharge, ordered to pay the steward £100 in compensation, £700 court costs and a victim surcharge of £70. As he left the court, Ken told journalists that he "felt a bit deflated".
Perhaps a more illuminating remark was, "I think if this didn't happen at football I wouldn't be here today, I'm sure of that."
Ken told this story at the launch of "Football Fans Not Criminals" in London. An initiative supported by the Manifesto Club, it seeks to highlight the plight of ordinary law-abiding football fans who are treated as criminals for merely supporting their team.
Football fans are subject to a series of special controls that do not apply to supporters of other sports. These include restrictions on movement before or after games, such as the Liverpool fans who were effectively "kettled" back from the Sunderland game, and denied even basic rights such as toilet stops.
More worryingly, there are several 'crimes' for which only fans can be charged.
Had Ken Meech accidentally struck someone on the head with an inflatable shark in the street, it would be unlikely that he would be so much as stopped, never mind dragged hundreds of miles to face court. Football fans are treated differently. The implication being that we are all potential thugs. Ken was suspected for being in the ground in the first place.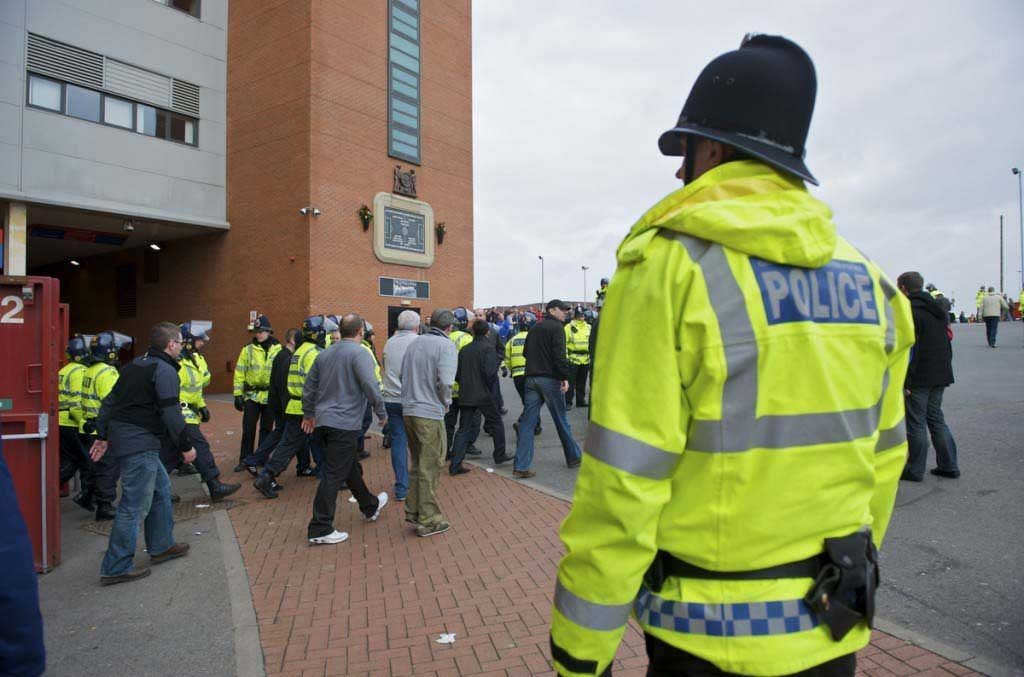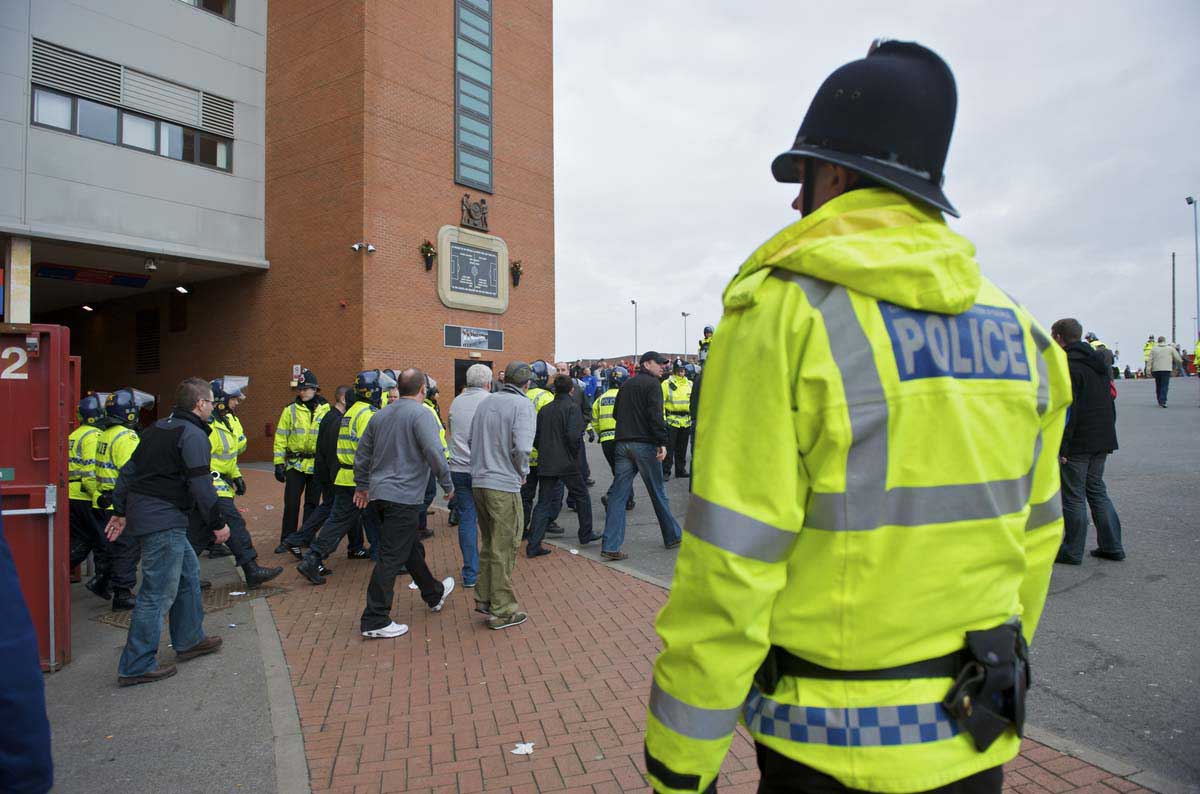 There are 11 laws which apply only to football fans, creating crimes which would not be an offence in a rugby or cricket stadium.
These include:
Indecent or offensive chanting. This is a greater restriction than to those applied to hate groups in the UK. This was created by the Football Offences Act 1991, which prohibited 'indecent' or racist chanting. The Offensive Behaviour and Threatening Behaviour Act Scotland 2012 created a special offence of 'offensive behaviour' if it occurs 'in relation to a regulated football match'.
Missile throwing. Fair enough, you'd think, but the missile itself is open to interpretation. You can't throw anything into the air. Not even chewing gum.
Encroachment on the pitch. This is not a crime in any other sport as it is a ground regulation rather than an offence. However, in football, it is illegal even if it's not even an invasion as such. This includes crowd surges or a peaceful protest. Merely stepping onto the pitch is in breach of the Football Offences Act 1991.
Possession of alcohol. This is not a crime in, say, any rugby or horse racing event but is for football fans. This includes carrying alcohol, being drunk in the ground and drinking in view of the pitch.
Possession of pyrotechnic devices.
Ticket resale or donation. Ticket touting is common in other sports but only in football is it a criminal act. It is an offence for somebody to give a ticket away or to advertise that they have a ticket for resale or donation. I think every fan I know has broken this 'law'.
Breach of Football Banning Order. These can be applied for on the basis of a conviction, no matter how spurious, for a football-related offence. Banning orders can impose restrictions on proximity to grounds, such as Ken's case, and even order a fan to attend a police station during the time of a game to prove they are not in breach. In some cases, passports can be surrendered if England are playing abroad regardless of personal circumstance. One man has recently lost work in Norway because he was not allowed to travel as England were playing away from the UK.
The "Football Fans Not Criminals" panel — consisting of author and co-chair of the Tottenham Hotspur Supporters' Trust Martin Cloake, FSF case worker Amanda Jacks (who talks about her role in the TAW show below), sports columnist Duleep Allirajah, Peter Lloyd, the author of Criminalising Football Fans: The Case Against Bubble Matches and Sarah Ricca, a solicitor for Deighton Pierce Glynn — told of the legal problems faced by modern fans and the unfair criminal reputation they carry.
Martin Cloake explained that one senior policeman in charge of a game recently told him, "I don't like football and I don't like football fans."
This attitude is not untypical, nor is it necessarily a throwback to a darker age. Comparisons with Hillsborough are obvious and, as Martin said, that disaster would not have happened in any other entertainment industry.
In the 1980s, crowds were there to be controlled, not safely stewarded. You were not a law-abiding fan going to see your team. You were a problem to be dealt with. You still are.
Peter Lloyd spoke of "bubble matches". These are games deemed as problematic for the police who subsequently have power to restrict fan movement — and even kick off times — to suit them.
One member of the audience told of how he was travelling to a Charlton game in the same train carriage as a group of fans who were not with him. However, upon arrival near the ground he found himself being treated as part of their group, shepherded into a designated pub where they were not allowed to leave regardless of who they were or who they were with.
That's a restriction of movement and civil liberties and would not be condemned had it happened to any other group in society.
Another member of the panel told of a Portsmouth group who were effectively locked into a nightclub while their transport was arranged. This sounds all well and good in some regard, but not when there were children in that party.
My favourite story of the night came from an Exeter fan at Millwall. His coach had been delayed on the way to the ground and he was not allowed to buy his customary match programme inside the ground. Not to worry, he was told, he could go on to the concourse at half time as there were plenty left.
However, when he went to see the seller he was told that they had sold out. He expressed his disappointment by saying, "Oh, don't be a twat." He was soon led away by a steward for having used offensive language. He was even removed from the ground.
Fortunately, in this instance, reason prevailed and he was allowed back into the stadium.
Duleep, a writer and Crystal Palace fan, made the point that some of the offences on that list are in direct opposition to the reason we go to the game in the first place. We like singing and telling the opposition fans what we think of them — maybe even our own players! We're allowed to drink by society because drinking is not illegal. We like to whirl our scarves around our heads after we've scored, yet these are not only frowned upon, but legislated against. Why are we treated this way and, as Amanda Jacks pointed out, why do we accept it?
I once wrote about my experiences at Old Trafford, when I was ordered into the ground by a WPC. I couldn't go in as my mate had my ticket. She then told my other mates to go in and leave me on my own. They did so and in the next half an hour the woman moved me from wall to wall for "safety reasons". I knew what she was doing. She wanted a reaction. She made no secret of my club allegiances and had no issue with the United fans shouting abuse at me once they knew whose side I was on.
Fortunately, I'm a big boy and can take a bit of verbal jousting. I can also recognise provocation when I see it. I smiled sweetly and didn't give her the reaction she craved. That's never happened to me while queueing to see a film.
So much of the problem comes from a media narrative. Sarah Ricca noted that the word "hooligans" was a media concept, not a modern day reality. In the same way black youths cobbled into the collective of "gang culture" and Muslims are lazily viewed as terrorists by a frightened middle England, football fans are seen as "hooligans".
That's a narrative that has been suggested and normalised by the more powerful elements of society. Football equals unrest equals thuggery. However, the figures don't even begin to back that up.
Last year, millions of people went to football matches. A total of 1,800 of those across 10 months were arrested, 300 of them for violent offences. Yet we are all guilty. We are all subject to police restrictions; we are all capable of being given a criminal record because we carry an inflatable toy. Let's remind ourselves that that "offence" was carried out by a 50-year-old former metal sheet worker and café owner, not Francis Begbie (below, lashing a glass).
The clubs themselves don't always help. Ken had no support whatsoever from Grimsby. However, as Martin Cloake said, they must be given a chance to act on our behalf. There are some examples of this. Brentford famously have a pub on each corner of the ground and choose not to restrict which one an away fan can drink in. Some clubs do listen.
Does yours?
As for Ken, he thought long and hard about giving up the game altogether.
Nearly four grand out of pocket and with a police record, no one would blame him if he decided to give his beloved Grimsby Town a miss from now on.
Fortunately, he's made of sterner stuff and decided that he "won't let them win".
This campaign needs your support so please help in any way you can by contacting Football Fans Not Criminals here and here.
This is important. This has gone on for far too long. We just like watching football. We are fans, not criminals.