LOOKING forward to the FA Cup game against Exeter City? I am. I mean, I'm not going much as I'd like to as the pay days between December and January are long and concerning so I can't justify the cost or time off work, but I'm looking forward to it all the same. Liverpool are playing so…
Are you going? Do you live in Liverpool? You don't drive? In that case I'll ask a different question.
Are you looking forward to the first half of the Exeter game? Because if you have to at least begin a journey back by train on the same day as kick off then that's all you're going to see.
The last train back to Liverpool leaves at 21.49 and takes a mere 12 hours 22mins to reach Lime Street. It will also incorporate two changes, one of which has a bit of a stopover.
I've looked it up for you. You'll arrive at Bristol Temple Meads at 23.12 and then, well, yeah, you'll have to wait around a bit — until 6.15 to be precise. Then it's just 40 minutes of hanging around Birmingham New Street before you'll arrive in Liverpool ready for the weekend.
It's going to have to be a hell of a first half to justify that.
If you want to take a direct train home — well, you can't as there's no such thing as a direct train from Exeter St David's to Liverpool, but there's a more palatable five-hour journey with just the one change.
I mean, you'll miss the actual match itself, but, what the hell, Exeter is a nice place. It's got a cathedral and some Roman ruins.
Any Everton in? Well, you've got Norwich away in the early kick off today. A bit easier that one, wasn't it? You could have got the 6.45am (two changes) to get in 45 minutes before kick-off. Or, if you fancied an extra hour around the city there was a nice, convenient service at 3.38. Well worth a bit of narcolepsy throughout the day.
Of course, if they made it a 3pm kick off you could have got on a train shortly before 9am but that seems to have been overlooked somehow.
There's an argument about whether this would somehow be okay if the train system were better. The BBC and BT Sport could shrug their shoulders and point out it's hardly their fault that there isn't a single direct train from one major UK city to another but it's not about that, is it?
The solution for them is a simple one. If you can't go then at least you can watch it on the telly.
Television. Aye, there's the rub.
Who honestly looks at Exeter v Liverpool and thinks that Friday at 7.55pm in a place where train travel is an afterthought is a good idea?
I'd love to be in that meeting — the meeting where game selection was discussed.
"Look, lads. What about Exeter v Liverpool? Could be a decent cup shock to start the weekend, yeah? Liverpool aren't always great and they won't fancy playing a League Two side. Surely that's an ideal start for three days of FA Cup football? Yeah, let's do that."
"Hold on, what about the fans? They can't travel back on a Friday night nor can they be expected to take time off work just because we said they could. Why not let them play on the Saturday and we'll just pick a local derby or something — Leeds v Rotherham, say — so they can still go?"
*silence*
"So, that's settled then. Exeter v Liverpool it is."
Of course that's paraphrasing but for all the good it's done us that's pretty much what's happened. Once again the match-going fan has been completely ignored.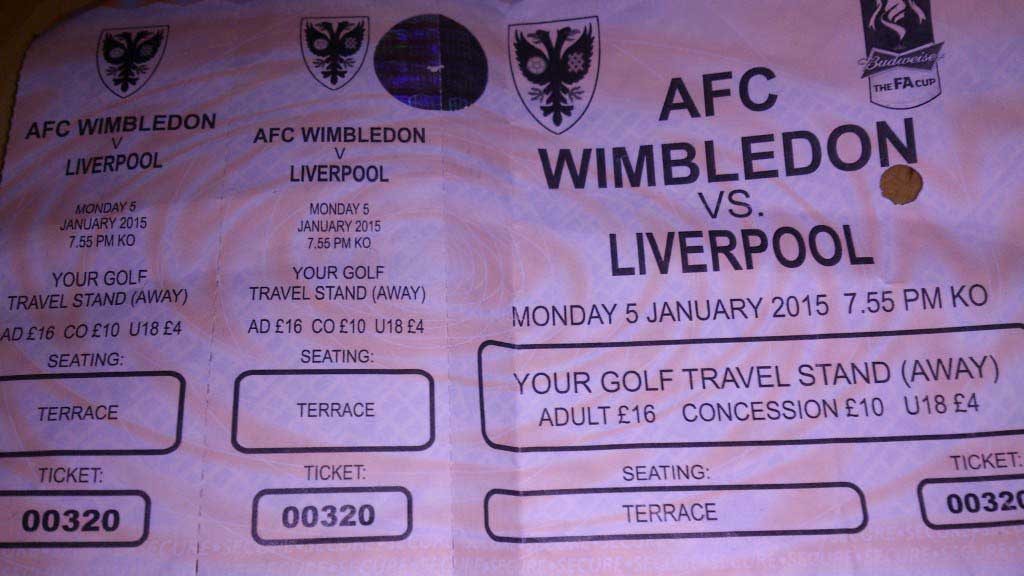 There's form here. Last season it was Wimbledon away on a Monday night and the season before that it was an early kick off at Bournemouth away.
Then there's the FA Cup finals. Unlucky, Hull and Wigan. There's a new sheriff in town and his name is 'Far East Markets and The Television Viewer' so the kick-off time has been moved until later in the day. If you want to come you'll have to get a lift or a hotel or walk home.
And the worst thing is that we take it. Exeter will sell out — no question of that — so nobody cares. The BBC see will talk about the tremendous atmosphere and others will talk about the great opportunity for locals to see the big teams play in their own backyards, but if you follow Liverpool around the country…well, tough.
I know there are people who will say, 'yeah, but you get to Anfield every fortnight so this is a chance for someone else,' but that would be to ignore the credit system, which means that you'd need buying history for the Wimbledon game and probably another game no one could get to just to get in, but, as I say, this is irrelevant.
Fans are irrelevant — or at least those who go to the matches are.
If you're a casual fan who wants to just sit down after The One Show and watch whatever game's on then your needs are more than catered for.
The BBC are bringing you a rare chance to watch Liverpool live on terrestrial television. Isn't that nice of them? Your hard-earned license fee at work.
But even this is fucked-up reasoning. The TV channels, like the clubs themselves, aren't interested in you if you're already bought in to the cause. They want new viewers, new consumers and new money. They've got you and me already so why throw money at that? Now they've gone early evening prime time to pick up more viewers.
And the thing is, they haven't. Think about it. If you finish work on a Friday and get a weekend off there's every chance that you'd like to go for a pint or whatever rather than return to the same telly you sit in front of on 'school nights'.
Which casual football fan would rush home to watch a game they're not overly arsed about if they know they can tape it and watch it later?
Think about that if you're at Bristol Temple Meads re-reading the match programme for the seventieth time. Someone, somewhere with a passing interest in the game and maybe someone who is considering supporting Liverpool and adding to our coffers, may be watching this live on the telly or will get around to watching it later. Warms the heart, doesn't it?
There's more to this though. This is just another year of the plan to re-invigorate the FA Cup. The competition is still going strong and means a lot to the football world. It will always be the great staple of the English game and one that is the envy of the world.
How do we know this? Because they tell us every fucking year. 'The magic of the cup." "The traditions of the FA Cup." Well, there isn't much in the way of tradition with 7.55pm starts on Friday nights.
They have to tell us that the FA Cup is still great because years ago the FA themselves effectively devalued their own competition by allowing Manchester United to chase more corporate money elsewhere.
Then they took away the 3pm starts and starting paying for Wembley by holding semi-finals there instead of holding them on other domestic grounds.
They've done all they can to fuck up a system which worked well for over a century. It's alright though. We've got a live draw now following the games — something else the match-goers can't see. Once upon a time it was done on the radio the following Monday. I suppose if they brought that back they'd move it to the BBC World service at 3.35am.
It is also worth remembering that this is the only domestic live football the BBC has, so they have to absolutely milk it at the cost of everything else.
But, what makes this more galling is the endless chin rubbing on pundit panels about falling crowds. Exeter will sell out — it has to — but income is finite and if people are happy to bear the journey and cost to drive and/or stay over it's usually at the price of another game elsewhere.
That's alright though as Anfield sells out anyway so it shouldn't effect the clubs.
Except it's not alright.
One day fans are going to be sick of being treated like this. Our love of the club may not wane but the game itself is under threat. Those who pay for tickets are drifting away as we're treated more and more shabbily.
Look at the flag issue. Joe Connolly, one of the lads who organises the flags, recently said on CityTalk that he knows people who are turning their backs thanks to the way we're treated and he's not alone. The game, the clubs and the TV people keep poking us to see how much we can take.
One day it will be too much. Not yet maybe, but one day.
But what happens if we all draw a line in the sand and give up the afternoons and nights following the lads around the country? We'll still miss the social side so we'll meet our mates in pubs and watch the team we love on the telly instead. So they've got us twice.
I just wonder what will happen when televised games show half-empty stadia. What will they do about "the best league in the world ™" and "the magic of the Cup" then?
Maybe they should think about that if they keep selling us shit as honey. Just a thought.
[rpfc_recent_posts_from_category meta="true"]
Pics: David Rawcliffe-Propaganda Photo
Like The Anfield Wrap on Facebook