I'M NOT going to Basel.
A week of tossing and turning. Thrashing in the darkness. Trying to still a restless mind.
I'm not going to Basel. I can't go to Basel. I really wish I was going to Basel. Circumstance is my enemy. You surely know me well enough by now, to know I'm not missing out on this lightly. You trust me here.
So where am I going to watch the final? No, seriously, where?
The event itself is beyond logic, beyond reason, in its importance. I haven't felt this way about a single football match since the European Cup final of 2005. Even Athens in 2007 or Chelsea in 2014 didn't shred me to absolute ribbons the way this game's imminence has. It's a bonus. It's a bonus we have to win. Tossing and turning. Cannot think straight. My teeth grinding. Sleepless.
Maybe it's because the years have been so lean. We've had lots of big matches to anticipate in recent times, but few so clear cut in their importance as this one. It's a fact now that this Europa League thing — can we call it the UEFA cup still, please? – is definitively the third-biggest prize in football. Let's go further — it's a good deal more important than either the FA Cup or the League Cup.
The additional element, introduced last year, of Champions League qualification for the winner, is not to be scoffed at. Of course the received platitude is that it's really just about bringing home the trophy. That wonderful, madly over-scaled silver vase with the nattily detachable base.
The glory is in lifting the cup.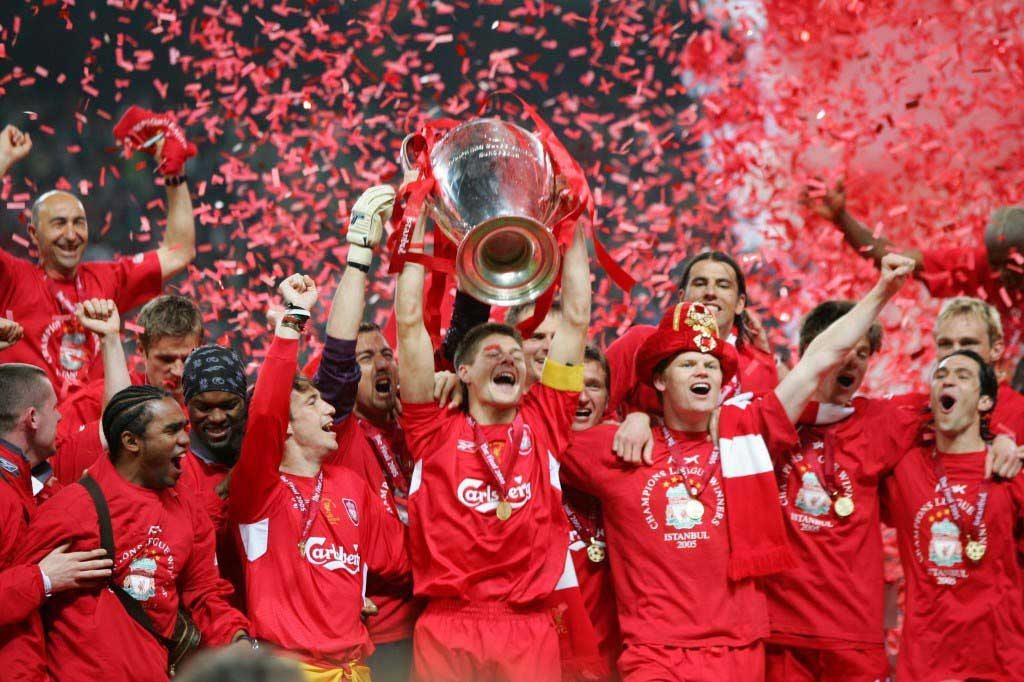 Glory, though, is intrinsically linked to the status it bestows. That's why winning the league is bigger than winning the League Cup. The former confirms that you are now, unequivocally, the best. The League Cup winner is a trophy winner. That and little more. The passer of a series of modest challenges. Like a driving test. A very worthy accessory. An achievement, but nothing to have a disco about. I wasn't up nights before Manchester City. Not like this.
The UEFA cup though. We know it's not the trophy that Shankly won in '73, or that Bob Paisley claimed in '76. It is though, up there with the prize Houllier captured in 2001. It remains what it has always been in absolute terms — a European cup.
There are no bad European cups. Even the old Cup Winners' Cup was a thing to win (the one thing we've never won, as it happens). All European trophy triumphs imply a journey. The overcoming of a series of challenges. Maybe just the act of getting into a contest with those from beyond your borders implies something akin to war. Suggests something anciently noble and a bit intense. The Eurovision song contest will always be edgier than the X Factor. A diplomatic incident, a cipher. I sit awake at night and think about European football and that now timeless association between Liverpool Football Club and European competition.
Yes, Manchester United beat us to the punch in winning the European Cup first for an English side in 1968, but Bill Shankly was truly the first manager from these shores to commit himself to the continent. He saw a simple fact that many little islanders couldn't grasp: That there was a big wide world out there and that 'they' might just have something to teach us.
He realised in his quest to get and keep Liverpool top in England, that this cause could be best served by the lessons learned from experiences in Europe. Bill saw so many gains to be made in Europe.
Beyond all this though, you sense he simply loved the romance of the journey; the ecstasy of the excursion, the intensity of the incursion. The colours and the lights. The planes, the trains, the automobiles. The flags and the mad hotels. The hostility and the comradery. Bill had known the tragedy of a Europe divided. He was determined to milk and relish all the opportunity and beauty of a continent finally at peace. Or at least only coldly at war.


I don't play the Shanks card cheaply here. It's a big year for us Europeans and Liverpudlians are the most European you can get. It's fitting that The Reds are back in a major final. I don't want to contemplate us not winning this, and yet again I can't imagine just how perfect victory might feel.
That is perhaps the most surprisingly incredible thing about the football fan experience. It's always like the first time.
There isn't a veteran of Rome '77, Wembley '78, Paris '81, or Rome again in '84 who will decry Istanbul in '05, because they felt a bit jaded by all that endless European Cup winning. I don't care if you were at Anfield for St Etienne in '77, Dortmund a month ago meant just as much to you. If it didn't, you weren't doing it right.
It has been a mad season. It has been a great season for me. Just like my first one. Win, draw or lose in Basel. I never think you can ask for more as a fan than being involved with a chance for silver glory on a season's very last day. We're already winners. The end is the end in itself.
One more night tossing and turning and given that we are all Reds here, I'll fess up now as to why I'm really not going to Basel: It's because of my two lads.
The eldest is 17 and has an A-level on Thursday morning. The youngest is seven and his mum won't let me take him out of school for the days needed to complete the Swiss mission. Fair enough.
Mates have said I should go anyway. I really wanted to believe them. This season's biggest win for me has been repeating a trick I first pulled off 11 years ago. It was 2004/05 and my Danny was just six years old. I started taking him to games with me that season, and by the second half of that year he was going to everything. My mission to brainwash him into becoming a Red had been an astonishing success. He was totally hooked by the close of 2005 and has remained so ever since.
The cruel joke in store for me was that it meant I had to miss Istanbul at the season's end. He was too young for a trip to Turkey of that nature, and I couldn't contemplate not seeing the European Cup through with him. We'd lived every round together. We'd sung and roared ourselves hoarse and mute in that semi-final second leg against Chelsea.
This year, I've worked on my youngest boy, Rafael (Rafa). He was going to homes with me before Christmas, but since the new year, we've been to virtually every away as well. I've watched his evolution from my little baby, pissing about with Super Mario on his Nintendo DS during games, to football man.


A football man who cried real football man's tears at Wembley in February when Liverpool didn't look like scoring an equaliser. A football man who shouts and points angrily when the ball is miscontrolled. A football man who, from nowhere, stood on his plastic seat, stuck up two fingers and screamed: "FUCK OFF" to the United end at Anfield, as Bobby Firmino banged in that second goal. That angry joy that celebrates goals which mean that ineffable something, that mean everything.
This season has become one where I now have two permanent football-going appendages, rather than just the one. Taking them to and enjoying football with the two of them has been wonderful.
I'm also beginning to see how my two boys are building a football loving/going/talking-about bond that will outlive me. It makes me happy, proud and sad. In equal doses.
I tell people I'm not going to Basel because I couldn't possibly desert my lads. Like it's something vaguely noble. The truth is there's no sacrifice at all. I'm just frightened of letting them go their own way. If I leave and go without them, then they have that shared experience without me. They share it and I am left out. They have it together. I act like I am being selfless when in fact I am being selfish. I want to share in their anxiety and joy, not have them share in mine.
It's the thing about parenthood that established parents never warn you about before you join their number. They tell you to forget about getting a good night's sleep. To forget about going to clubs any more, or having money in your pocket to spend on yourself again. They tell you about the joy and the strains. About how ultimately it's all worth it. They never warn you though, that one day you'll have to let them bloody go. To give them back. What a cruel pay off that is. What a sick joke.


I'm not ready though. Not this season, not for this one. This one will be ours together. I can't let myself go and I can't let go.
I'm tossing and turning because the game means everything. I can't sleep because the game is the story of how I am a different person – mortal and weakened. One day they'll go without me, not me without them. One day they'll be grown, separate, beyond my ken. I'll steal this unlikely European final as a bonus one for us and it is one I want to see the Reds win so, so much.
I grind my teeth because I need Liverpool to win for us, not just for me. Me and Danny and Raffy. All the us's in the whole wide world. It'd be easier if it was just for me.
I'm not going to Basel. I want us to be together. I wish we could always be together, watching Liverpool, celebrating goals, being joyous together. The realisation that it won't always be like this is the most bittersweet of them all.
So let's not mess about. Bring it home, Reds. Just bring it home.
We'll all go the parade.