Show them the way to go home,
They're tired and they want to go to bed (40 winks*)
They're only half a football team
compared to the boys in red.
Oh

THE greatest of football songs this. In fact, I'd go as far as to say it is my favourite.
Reasons as follows:
A) No one else sings it (In the age of the aggressive Sloop John B move to corner the market this matters, loads)
B) We only ever sing it when we are coasting and the game is won, therefore it is only associated with positivity in my head
C) It's the greatest of put downs. If this gets sung to you then you are getting battered and you can't even argue with it, you haven't even got a response. It's as cutting as it comes while being dressed up as caring. No need for swear words, no malice, nothing personal lads; you are just half as good as these magnificent lads in red. Why don't you go home for a lovely sleep eh, you need it don't you? Don't feel bad, these lads do it to everyone. Look at them.
What's that? You don't know how to get home? I'm not surprised mate, they have run you into the ground haven't they? Never mind, come here, I'll give you a lift in a bit. Don't thank me mate, it's fine.
* I used Adam Melia's 40 winks rather than the popular alternative because it's basically well better. The other detracts from the quality of the rest of the song. Seems a bit rash, a bit forced; probably funny the first time it was aired.
Anyway, the above was belted out in anger on about 80 minutes yesterday after big Ry Shawcross showed how hard he is by trying to kick Divock Origi off the pitch after the ball had gone out. The resulting 'show them the way to go home' was the perfect response, as was Divock's shake of the head and expression of a continually let-down teacher telling off the dopey jarhead at the back of the class who doesn't listen.
I read the other day that Shawcross thinks Ibrahimovic ruined his international career because he took the piss out of him for ten minutes a couple of years ago. Ry, I think it's probably more to do with your unrivalled ability to twat the ball into touch when under no pressure but you know, maybe I'm wrong. Either way, see you next year so we can send you home again, yeah? What, you won't know the way? Just follow the ball that you larruped over the Annie Road and then take a right onto the 62, Alton Towers is signposted I think.
It was a good performance from the experimental reds, with two full league debuts and seven changes from the Europa league positively impacting on our performance rather than the normal Thursday/Sunday tired legs, 40& less chance of winning jiggery which ultimately seems a bit unfair.
The change the manager makes at half time was as interesting as it was effective. A bit of a diamond shape with Origi and Sturridge up front. The work rate and movement of Origi and the craft and style of Sturridge was too much for them to handle. The manner of the pressing and the triggers for it seemed to be focussed on poor touches or isolated Stoke players rather than a continual assault.
Since he joined, Kloppo has continually stated it is not the distance covered or the amount of pressing, but the quality of it and the importance of ensuring the players press at the right times.
The second half felt like the first time we have really seen this at home this year. It might be that he has had a good look at the league and its limitations, learned from Leicester's success and was maybe having a look at setting us up to be similarly pragmatic when necessary.
Or maybe it was just a really good substitution and we shouldn't read too much into it. Either way it worked a treat. The reds seemed to take the ball off Stoke at will second half and were a constant threat on the break. Moreno was excellent, as were Joe Allen and James Milner and despite Imbula looking impressive, he was pretty much on his own.
While the match itself was as good as a home game against Stoke gets, the events off the pitch were a bit mad. First off, at half time, someone somewhere decided it would be a good idea to get a load of Norwegians onto the pitch to play a game of three-a-side in massive big puffer jackets called Zorbs.
While this was going on, George lost his senses and whacked One Step Beyond on. That was bad enough but I was just brushing off the shock when I turned to my right and noticed the silent fella who sits on the aisle seat staring at the Kop or me (I couldn't tell as it was just a glance), mouthing the opening section with an intensity and steely glare that was somewhat unnerving:
Well listen buster, you'd better to start to move your feet, to the rockin'est, rock steady beat, of madness. One step beyond.
Now this fella is either a massive Madness fan, or very good at guessing lyrics and a bit mental. To be honest I was a bit scared to make any further enquiries and promptly averted my gaze in the hope he would stop.
I was flapping about looking for something to take my mind off the Madness man when I spotted big fat Charlie Adam warming up on the pitch. Good grief he looks in bad nick doesn't he? I mean he has never looked in good nick but still it comes as a shock when you see him. Imagine Mark Hughes walking into Stoke on his first day as the manager and seeing Charlie returning from six weeks in Benidorm clocking in at 16 stone. I still don't understand how we paid money for him and then convinced someone else to do the same.
The biggest achievement of Mark Hughes' managerial career is that he manages to look more and more like an old woman every time you see him. The second best was his decision not to put Adam on today. It was best for everyone. We didn't have to watch him plodding around the pitch reminding us that our greatest ever player and the man we refer to as King thought it a wise decision to sign Charlie and even went to the trouble of going to pick him up to take him to his medical.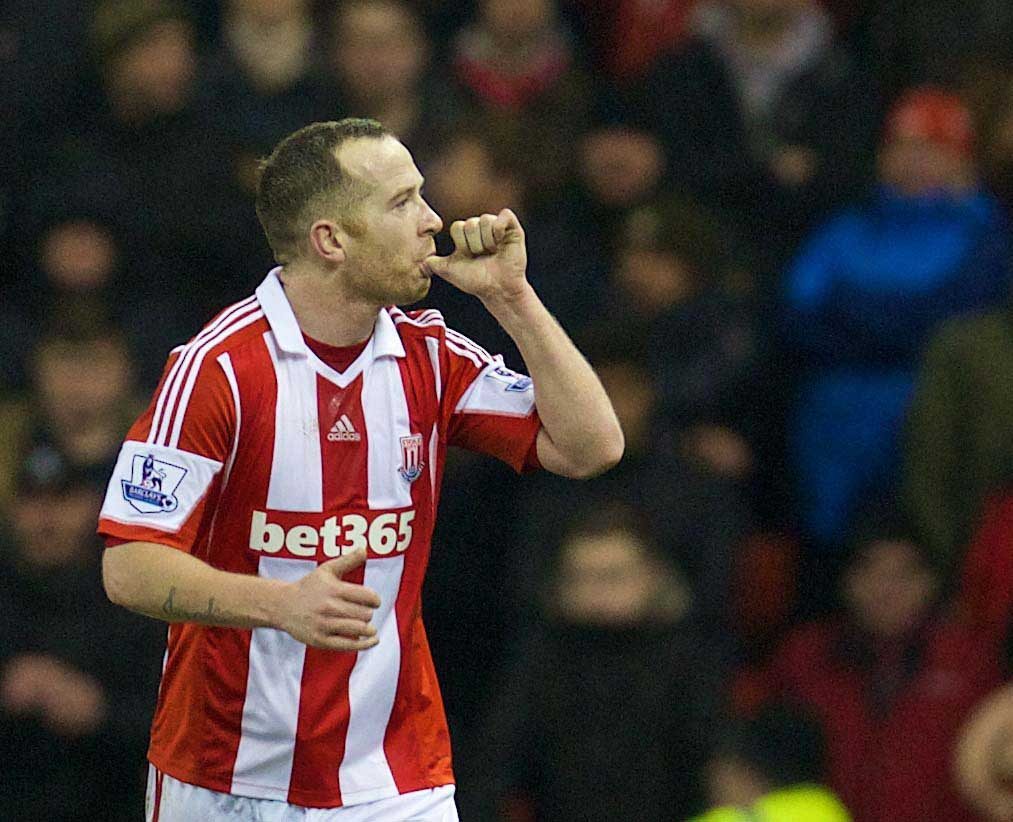 They didn't have to put up with him plodding around the pitch and whacking it into the Kemlyn at every opportunity.
The decision was the kindest for Charlie though. Rather than plodding around the pitch, whacking it into the Kemlyn and fretting over whether his emergency fried egg would be alright stored in his sock, he was able to relax on the bench and eat it at his leisure. The kind of man who thinks every meal in the world is bettered by the addition of a fried egg, I think we can all agree it would be better if he just retired and opened his fried egg shop in Blackpool so we won't have to look at him anymore.
Sorry for bringing Charlie up, everyone. Try to think of something nice to get him out of your mind.
Thursday night, 85 minutes on the clock, show them the way to go home rings around Anfield, a yellow mess on the pitch in front of us.
Let's go, red men.
 Pics: David Rawcliffe/Propaganda