IN the days after Johan Cruyff's death, many of the obituaries were decorated with some of his most famous quotes about football.
"Choose the best player for every position, and you'll end up not with a strong XI, but with 11 strong ones," he said.
"In my teams, the goalie is the first attacker, and the striker the first defender," was another observation.
"Why couldn't you beat a richer club?" he questioned. "I've never seen a bag of money score a goal."
And then he complained: "I find it terrible when talents are rejected based on computer stats. Based on the criteria at Ajax now I would have been rejected. When I was 15, I couldn't kick a ball 15 metres with my left and maybe 20 with my right. My qualities, technique and vision, are not detectable by a computer."
It is difficult not to think about Liverpool FC when reading these statements because they are particularly relevant to its present position: how it operates, how it arrives at decisions, and why it has fallen behind.
And yet, the most pertinent remark of Cruyff's — directly related to Liverpool, was a criticism delivered 15 years ago this week when, having secured a goalless draw in the Nou Camp, he described Gérard Houllier's team as "horrible" to watch and one that was "incapable of making three successive passes."
https://www.facebook.com/TheAnfieldWrap/posts/1251418031554460
His earlier admittance that "Quality without results is pointless," before adding the "Results without quality is boring" caveat, proved to be true in relation to Houllier, specifically because long before his departure from Anfield three years after what he preferred to describe as a "courageous" performance in Barcelona, the question marks over the matter of style had lingered for some time and they contributed considerably to the way it all ended for him at Anfield.
At his introductory press conference, however, Peter Robinson, the chief executive, had described Houllier as a "relentless moderniser" as well as "the man we need" and for Liverpool Robinson was right, regardless of the fact Houllier ceased to be that man by 2004.
Houllier transformed Liverpool, making them a European force once again and yet, the managers who are the most flexible in what they do and say while maintaining their principles are the ones who last the longest. Ultimately, Houllier was not able to win the greatest honours for one reason or another.
Borussia Dortmund v Liverpool: What Can The Reds Expect?
Presently, there is a feeling that Liverpool, with Jürgen Klopp in charge, need to make the same step that Houllier was able to deliver: by signing better and more experienced players that will set the standards for younger ones to follow; by winning trophies that will give confidence and rise to the belief that his way is the right way.
Klopp said ahead of the League Cup final that it did not matter how Liverpool won, "only that we win."
He did not care either in Augsburg, for example, that in recording a very different type of goalless draw to the one Houllier claimed in Barcelona all those years before, Liverpool completely stunk the place out en-route to progression.
Klopp, indeed, was right to be pleased because for five or six years now, Liverpool have failed at travelling abroad only to return to Merseyside with their hosts, like Cruyff, protesting about the smell left behind.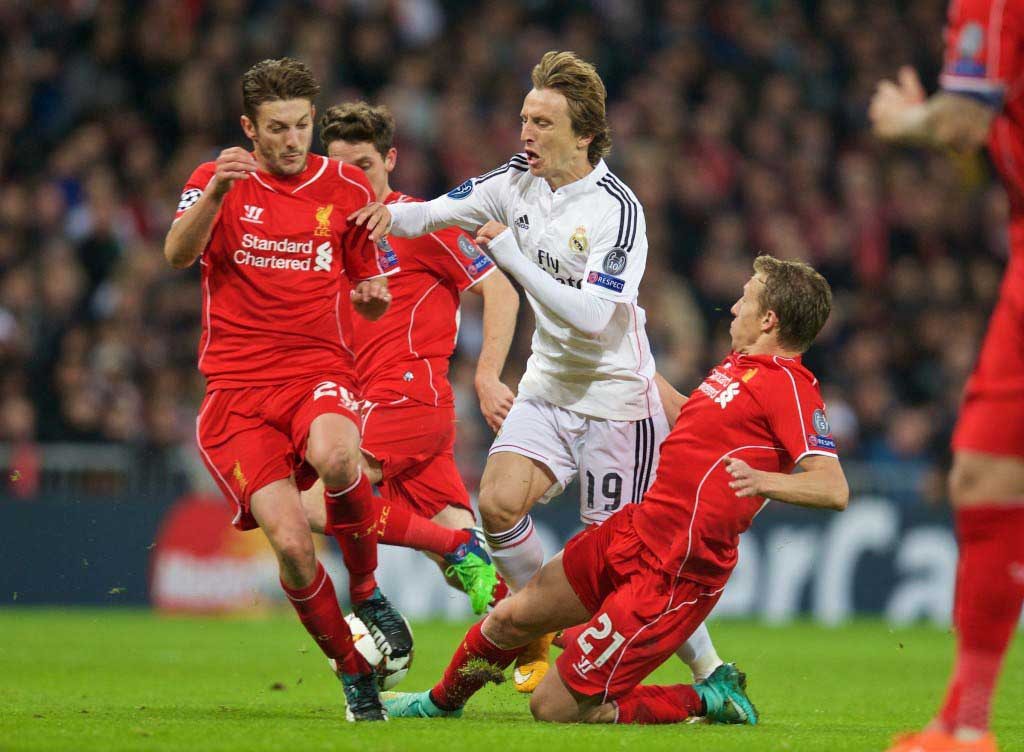 Twenty-six years without a title means that history will judge any Liverpool manager from here by what he does in the league and yet Europe can still be his undoing.
For many, Brendan Rodgers's defining decision as Liverpool's manager was his team selection at the Santiago Bernabéu in 2014, when he seemed to throw in the towel before a ball was kicked, which suggested he was struggling to balance the twin demands of domestic and European football.
That week, it would have been understandable if his entire squad felt at best confused or at worst incensed because he dropped all of his supposed key players before reinstating them the following game at the expense of those who had supposedly performed so "magnificently" in the Spanish capital.
Subsequent decisions may have meant the evaluation was viewed as a protection of status rather than an offer of genuine credit.
By failing in Europe, Rodgers quickly ran out of excuses when fortunes dipped in the league.
No matter the desperation for a title, his story reflects the risks of attempting to prioritise when you are Liverpool's manager, especially if you are yet to prove you are capable of winning anything.
This all details why Liverpool's game in Dortmund is so important.
Maybe you shouldn't pay too much attention to social media engines like Twitter but if you take what people say on there at face value, it seems it is the modern way to judge players by only two categories: outstanding or atrocious.
The ones that divide opinion the most appear to be Mamadou Sakho, Alberto Moreno, Jon Flanagan, Emre Can and Daniel Sturridge. Then at opposite ends, there are Philippe Coutinho (apparently outstanding) and Simon Mignolet (apparently atrocious).
Nobody seems to recognise that considering the mood, is it really any surprise that Liverpool are ninth in the league?
Maybe the reality is right in front of them: that split opinions about Liverpool's players tells that they are neither outstanding nor atrocious but rather, simply average — mid-table.
What is certain is that a European quarter final in Dortmund gives a lot of these Marmite individuals a second chance to show why they are, in fact, good enough.
Failure to beat a flat — bordering on demotivated — Manchester City side at Wembley would have been viewed as damaging had a more favourable outcome a few days later against the same opposition at Anfield not materialised — an outcome which supposedly said everything about the true character of a resurgent Liverpool when it probably revealed more about current attitudes at City.
Maybe no Europa League tie in the competition's history has been anticipated with as much enthusiasm as the one in Dortmund.
Come tomorrow night, the whole world will be watching Klopp, so in turn they will be watching Liverpool against arguably the strongest opponent they have faced since the German landed on Merseyside.
A draw or a win would be the surest sign yet Liverpool are becoming more streetwise under Klopp. Ultimately, a loss — certainly a bad one — would confirm just how far behind they are from where they wish to be.