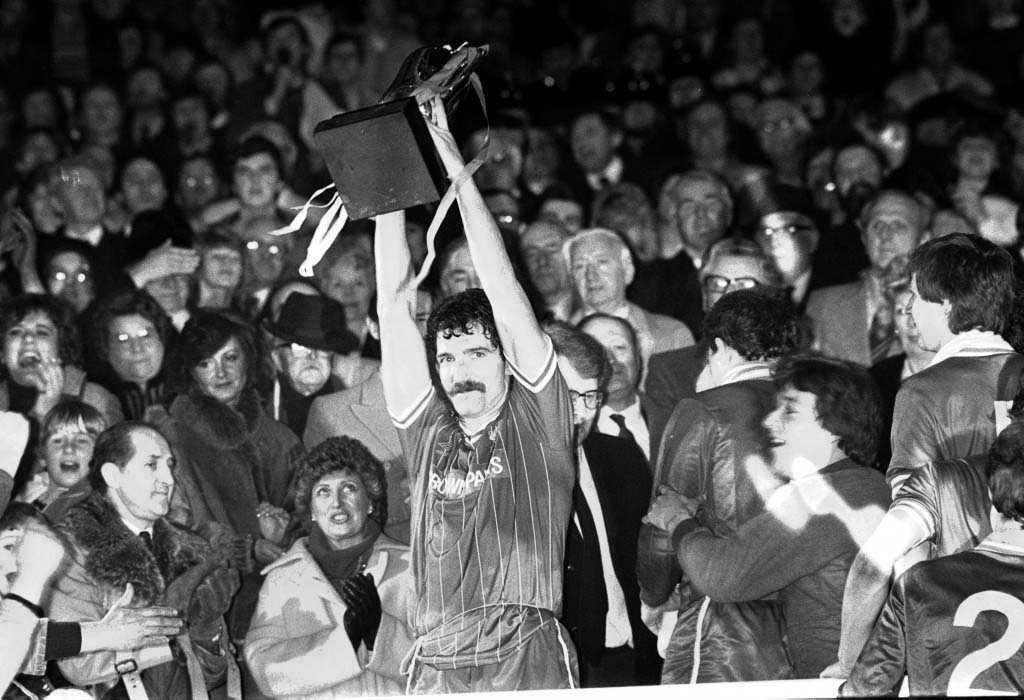 THEY said it would never happen again.
A once-in-a-lifetime event.
An opportunity for a public display of civic unity.
A chance for an entire city to stand together and say, "You know what? This is us. You can knock us down, you can walk all over us. But you won't beat us. You'll never beat us."
It's rare that a football match transcends its sporting constraints to become a symbol of wider social truths. Nowadays it's just about impossible.
It doesn't fit with the branding or the homogenisation of the game. Sky have spent a lot of money to mould us into accepting their idea of what football should — and shouldn't be — about. They aren't about to see that threatened by upstart supporters with a heightened sense of local pride and an axe to grind.
That's why the 1984 League Cup Final, the first all-Merseyside Wembley occasion, was so significant. For once, the actual football seemed like an afterthought. Liverpool, the city, was under attack, the target of a political ideology that dealt with its opponents like a wrecking ball deals with a derelict tower block.
At Wembley, we could show that we were still standing, that the spirit of the city prevailed.
It's been 32 years now. The city, and its football clubs, have gone through a lot — triumph, tragedy, hardship, regeneration.
In an age of media saturation the derby has become less parochial and more of a commodity, with a corresponding erosion of the good humour that once held sway. It's possible we'll never get that back.
But for everyone present at Wembley that sodden Sunday in March half a lifetime ago, something of the spirit of 1984 will always remain intact.
So put on your customised bobble hat, trim the muzzy and come with me to a far-off time, when trophies flowed like pints of Higsons and Merseyside's "managed decline" was considered as legitimate government policy.
A bit of context before we proceed. By 1984 Liverpool was a city under siege. At least that's how it felt.
Scarred by social unrest, demonised by the media, abandoned by the government, Liverpool's economic decline was in danger of freewheeling out of control.
Unemployment wasn't just a threat, a bogeyman lurking in the shadows waiting to steal your livelihood, your dignity; for many it was a way of life. More than 20 per cent of the working population was jobless. One in five.
Imagine that level of helplessness, that uncertainty. That despair. The Boys From The Black Stuff was more than just a television series; it held up a mirror to a community being ripped apart.
The city was crumbling. Factories closed and were left to rot. The docks lay idle and neglected. Entire estates became boarded-up wastelands. It was all a million miles from the glossy tourist hub of today.
This was Liverpool, 1984. Where the prospect of an Orwellian nightmare had given way to a Thatcherite reality which, for many, held even darker terrors.
And yet, in the midst of the bleakness, pockets of light shone through.
The city's musical heart was beating with a vigour not seen since the heady days of Beatlemania. For a generation of alienated young Merseysiders, exercising the creative impulse was the best way to escape the grind of the dole queue. The roll call was a lengthy one.
The Bunnymen had the critical acclaim and the credibility. Wah! had the soul and, in Pete Wylie, the city's most convincing star-in-residence.
Frankie Goes To Hollywood achieved massive commercial success and, in the process, became an accidental cultural phenomenon. Many more stood in the wings, vying to be the city's next break-out act — Dead Or Alive, The Icicle Works, China Crisis, The Pale Fountains, The Lotus Eaters.
With the triumphant Story of the Blues, Wylie even presented a manifesto of defiance that encapsulated the spirit of the time:
"First they take your pride, turn it all inside. And then you realise you've got nothing left to lose. So you try to stop, try to get back up. And then you realise you're telling the story of the blues."
He wasn't talking about Everton.
And that was the other thing we had, the thing we always had: the football.
In the early 80s, football represented one of the few escapes from the grey drudge of everyday life.
Whereas today, spiralling ticket prices have effectively put attending Anfield beyond the reach of large swathes of the young and the economically disadvantaged, back then you could get a place on The Kop and a lukewarm pie and still have change from a couple of quid.
With most games being 'pay on the gate' affairs you didn't have to plan your attendance six months in advance, either.
Truly different times.
The game wasn't the same family-oriented, revenue-driven behemoth that we've now grown to accept. It was still very much a primal, communal, working class, almost exclusively male activity.
While elements endure of football as an agent of social unification, the gang mentality that it fostered, the sense that you were part of an unremitting wave of like-minded contemporaries, an integral part of your club's identity, has inevitably diluted.
One thing remains unchanged, however. And as long as there are people in this city, a competitive instinct and a ball on the grass, it'll always be the same.
You're either a Red or you're a Blue.
The 1980s were a good time to be a Liverpool supporter. An endless procession of trophies, a cavalcade of wonderful players and a dominance that we thought would never end. It was a dominance that reached its apogee in the 1983-84 season.
As we steamrollered our way inexorably to an unprecedented treble, nonchalantly swatting away domestic rivals while overpowering the best Europe could offer in their own back yards, a feeling persisted that was hard to ignore. An unspoken apathy was on the rise.
We'd won so much and established our supremacy so unequivocally there was a risk that it was seen as just par for the course. That flush of excitement, the unbridled joy of winning, had given way to assured expectation, even entitlement.
The successes of Shankly, then Paisley, now Fagan, had led us to the brink of complacency as a fanbase. We were in danger of taking it all for granted. What we needed was a fresh challenge.
Read: Liverpool 1983-84: I Don't Know What It Is But I Love It
Who better to provide it than our next-door neighbours?
As 1984 began, Everton looked a club in crisis. After two-and-a-half years in charge, Howard Kendall's future was being openly questioned by the Goodison faithful.
They sat sixteenth in the table, a mere six points above the relegation zone. The New Year's Eve home fixture against Coventry was witnessed by just 13,000 disgruntled Evertonians — a dour goalless draw confirming the wisdom of those who stayed away.
Unless salvation could be found in the domestic cups, it seemed certain that Kendall's tenure was to end in the kind of failure that had become all-too familiar.
And yet…
Unlikely as it appeared, salvation was forthcoming.
A stray back pass by Oxford's Kevin Brock, nine minutes from the end of their League Cup quarter final, allowed miniature irritant, Adrian Heath, to poach a priceless equaliser and secure a place in Everton folklore.
That was, as every Evertonian would happily concede, the turning point.
Instead of facing a search for a new manager, they found a renewed purpose and consistency, and established a framework that led them to two titles, an FA Cup and a European trophy in the next three seasons.
Thanks a bunch, Kev.
But that was the future. The present, as both teams successfully negotiated tricky League Cup semi-final ties, revolved around the small matter of Merseyside's first ever Wembley cup final.
Make no mistake, this was massive. The entire city was enveloped by a frenzied giddiness, as the prospect of 'that London' succumbing to a Scouse invasion captured the imagination of all.
Here was a chance to show Thatcher, and the rest of the nation, that she hadn't crushed our soul, that our spirit was unbroken. And we were going to do it on her doorstep. Beautiful.
So, as the anticipation grew, Red and Blue put their differences aside to map out the joint exodus. The 100,000 Wembley capacity was never going to be enough to satisfy the demand for tickets. Favours were called in, word was put out, long-lost friends tracked down on the off-chance they might have a spare.
And on Sunday, March 25, the streets of Liverpool were deserted. Coaches, trains, cars — each teeming with red and blue hats, scarves and flags — converged on the capital.
There was none of the hostility we have now become accustomed to — a bigger picture was at play here. Participating in history, sending out a message to the world. Merseyside — united, unyielding, bloodied but unbowed.
The camaraderie was captured in a Granada documentary, Home And Away (video above), which followed a mixed group of supporters on their journey south.
Although certain parts jar the sensibilities of the 2014 viewer (most notably, a pub-full of Scousers gleefully blasting out the indefensible 'Munich' song, and some pretty unpleasant rape 'gags'), this was a fairly accurate portrayal of what going the match was like at the time — the bevying, the singing, the luxurious moustaches.
Seriously, you can count the number of lads without 'taches on the fingers of Roy Munson's bad hand.
After all that, it was perhaps no surprise that the match itself was something of an anti-climax. On a sodden pitch, neither side could establish lasting superiority. Though massive underdogs, Everton perhaps edged the first half, pressing and harrying an unusually sloppy Liverpool.
With chances at a premium, one moment of controversy dominated the half-time conversation, as referee, Alan Robinson, effectively secured his place alongside Clive Thomas on Everton's Most Hated list.
The tediously busy Heath beat Grobbelaar to a loose ball and scooped it goalwards, only to see the unruffled Hansen block on the line via a combination of thigh and hand. A penalty? Don't be silly. Cue 30-plus years of Evertonian outrage.
As the game progressed Liverpool established a degree of supremacy, without ever functioning at their fearsome best.
Rush, for once escaping shackles, put an instinctive chance over the bar from inside the six-yard box; a weaving Rubble run, taking him past half the Everton team, ended in a shot which evaded the bottom corner by inches.
With the two midfields largely cancelling each other out, a dour battle extended into extra time and, perhaps inevitably, neither side was able to make a decisive intervention.
A draw was the only fitting result. As the teams took off on a joint lap of honour, Wembley shook to the sound of 100,000 voices soaring in unison, as much a chorus of defiance as a show of fraternal togetherness: "MERSEYSIDE, MERSEYSIDE, MERSEYSIDE."
The coaches and trains and cars — teeming with red and blue hats, scarves, flags — pulled out of the capital.
The 'Friendly Final', as it came to be known, with just a hint of condescension, had sent an unmistakeable message to the government, to the rest of the country, to the world — "this city bows to no-one."
Three days later, hostilities were resumed at Maine Road, Manchester. A first-half strike from Souness was the difference between the teams.
Liverpool had captured their first trophy in a season of unparalleled success.
They said it would never happen again.
A once-in-a-lifetime event.
As it turned out, they were wrong. Two years later, with the two teams firmly established as the finest in the land, Liverpool and Everton contested the FA Cup final. On a memorable day, Kenny's men secured their first Double in style, as London was once more submerged by a red and blue sea.
But in terms of history, precedent and social impact, the 1984 final was the one that blazed a trail. As a show of pride, as a sign of dissent and as a 'V' sign to the ruling powers. Realistically, we're not going to see that again.
Football as a political statement?
Only in Liverpool.