THERE are moments when we doubt Wembley. Like when they needlessly play semi-finals there. Like when we sense the smugness in its association with a national side we feel little affinity with.
In these moments, Wembley, you seem so very far away.
Then there's the Wembley that's in the DNA. Certainly in the Liverpool Football Club DNA.
The Wembley that got claimed by Scousers in the 80s as 'Anfield South'. The Wembley you told your ma about. The Wembley she put the champagne on ice for. The Wembley we descend upon like some mad flotilla of trains, coaches and other automobiles. A collective memory from our granddads at Dunkirk.
Something like that.
I like that Wembley was spawned in 1923. In the post First World War-era. In a moment when everything had begun to feel a little bit better.
It was orginally called Empire Stadium. It was kind of a last hurrah for that dying monolith. We think of football as having been around since the dinosaurs. In actuality it's only really been with us only since our great great grandparents' time.
Giving it a national home in 1923 was very much a marker that the sport in Britain had arrived and would endure.
Liverpool v Man City: A weird Wembley showdown
Liverpool v Man City: What can we expect?
Wembley was probably the first serious football ground in Britain to situate itself as all new ones situate themselves now by default. It was more or less the first stadium to be built in the middle of nowhere.
Not even people who live in Wembley know where it really is. It's in London, but miles from anything that's in London.
Unlike its modern heirs though, Wembley had and still has more sense of place.
The thing I always liked about going there was that the approach to it seemed to go on for ever. The sprawling forecourt. That whole Wembley Way thing is great. Not if you're late to get to the game or desperate for a piss, because it seems to go on forever, but if you get there early and want to take the whole day in.
When I was younger so much younger than today, the great thing about Wembley was that you could be there even when you couldn't be there. The TV made it so.
That whole day BBC1 and ITV devoted to FA Cup finals. Their cameras presence on the approach to the stadium, in the dressing rooms, on the being-watered pitch, in the Royal Box, in the stands. Everywhere. Their men and their lenses, our eyes.
I preferred Wembley when the seats were kind of white and blue, with relatively little red. It's too red now. We'll be bringing our own red thanks. It looks like the Emirates.
When it was paler it was better. White towers, whiter shades of seating. Sitting, raised — a white citadel on a grey white concrete mountain. Like the ground they play at in heaven.
All this. All that, and we got to win trophies there, too. The happiest day of my life was spent in Wembley Stadium as a 19 year old at the 1986 FA Cup final.
We came from behind at half time to a Gary Lineker goal to murder the Everton blues second half and walk off with the Cup and the domestic double. With our greatest star — Kenny Dalglish — on and off the pitch, our first ever player-manager, beaming in that Wembley sunshine as he lifted the FA Cup.
It was a definitive fairytale season and a no messing magical day. Heck, it was plain downright glorious.
So bring on your Champions league qualifications, I'll tolerate your Cockney Englanders by the score. Don't tell me though that cups don't matter or that it's the League Cup or just a semi final, or that it's simply not all that.
Wembley Stadium is the symbol of winning things in football. It is the icon of achievement in the sport in this country. You go there to get anointed. To get made. To get smothered in the glory.
No-one can ever take Wembley from me, or from you or from the Liverpool way. We're going to Wembley once this year. We will again in future years. Because it's in our DNA.
And here's a collection of more Wembley ruminations and memories from Reds from here, there and everywhere. Plenty of them a damn site more cycnical than my hazy cheerleading for the place.
Enjoy it, and them.
"Do I need to wear a suit?" – Ben Johnson
The new Wembley stadium, the home of football.
Built at a cost in excess of £800million, it is heralded as one of the best stadiums in the world, a comfortable, modern, luxurious environment to watch football.
Except for me the Wembley experience is incredibly underwhelming.
I've been three times since it was built; both finals in Kenny's last season and the debacle that was the Aston Villa semi last year.
On every occasion the atmosphere has been shite, particularly before the match with some absolute whopper of a local DJ counting down the minutes to kick off by playing Mumford and his shit lads at such an obscene level that the residents of northern France think a load of posh farmers are invading and are attempting to steal their land by deafening then into submission with a bit of banjo plucking.
Big football matches — finals, semi finals — do not need an atmosphere generating for them.
It is literally one of the biggest games of the year and we are there to show our support, scare the opposition into submission and be part of this great gang that will drive our team to glory.
This attempt to manufacture an atmosphere just serves to stifle the one the fans are trying to create.
Before the penalty shoot-out in the League Cup final against Cardiff City, Wembley played a sound effect over the tannoy to build suspense like it was a frigging horror film.
We know we are meant to nervous, lads. It's a cup final and it has gone to pens for fuck's sake. Pack it in.
It's very comfortable though, isn't it? I mean the leg room is such that I could, for example, chop one of Mumford's lads legs off and stitch them on to mine, like some weird human centipede banjo farmer experiment, and still have more room for me and my spare legs than I currently do in the Kemlyn.
That's part of the problem though, isn't it?
I was sat on row nine behind the goal last year and it felt like I was at the back of a rather empty Kop.
I didn't have to stand up to let anyone walk past, but I also couldn't hear what the fella on row 14 was saying so eloquently about Brendan Rodgers and his teeth.
If I couldn't hear him, then it's a fairly certain bet that the players on the pitch couldn't hear anything.
Probably a good thing for the Villa game, but not so when you are trying to encourage your team.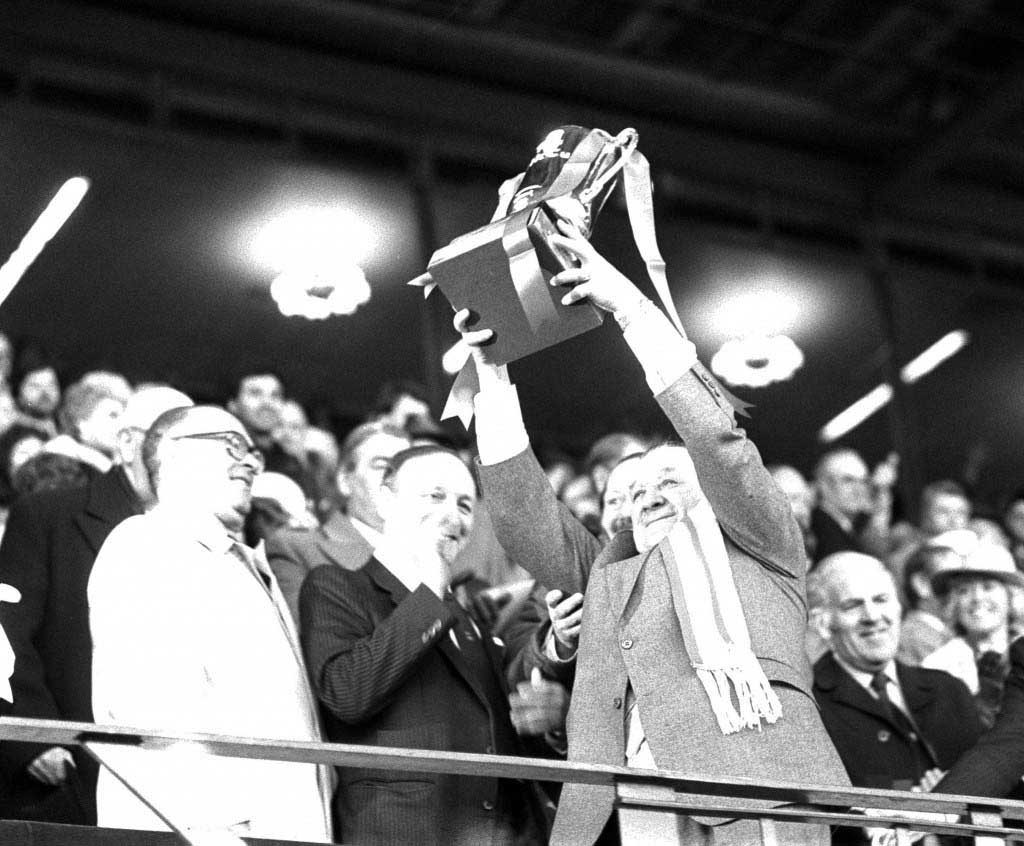 It seems to me that new Wembley has been built as the ultimate day-tripping consumer's paradise. A lovely, comfortable experience, full to the brim with places to eat and drink; a nice environment to visit for a day out — a bit like Chester or going to the pictures.
That's great if you are going to watch Springsteen and want a nice sit down. Not so great for football fans.
The main purpose of a fan during any visit to Wembley is to support your team to win. Wembley hasn't been built for supporters, it can't have been.
Old Wembley was a special place, worthy of visiting. The toilets were awful and few and far between but so what? One of my earliest memories of the old Wembley is watching two fellas pissing against the wall of the toilet and then deciding to have a fight using their lads and the associated urine as golden lightsabers until they were both soaked. They looked like they were having such a lovely time.
The atmosphere was great then because it was allowed to be. And it was boss the way the players climbed up through the fans; actual fans with a good spec, to lift the cup rather than some CEO who is too full to sing or clap.
Nobody who ever went to the old Wembley was overly bothered by the lack of comfort because their primary aim for the day wasn't to have a nice sit down, to listen to to some first-class shite pop music or to have some £12 fish and chips with a side of tartar sauce.
This new stadium is a massive indictment of the state of football in this country and what it stands for.
Hold a mirror up to it and it seems to me that it is built in the image of the FA itself; a self-serving organisation with a central focus to look impressive and powerful. It doesn't really care about the atmosphere or the authenticity of the event it is there to stage.
The FA has created a stadium that is designed for a global television audience — to appeal to UEFA and its commercial partners.
Build something that costs nearly a billion English pounds and it's no surprise that you are going to have to get a return on that investment. It doesn't matter that you have to dilute the importance of your showpiece competition by staging semi-finals at Wembley, you need the money
It doesn't matter that you have to take every opportunity to get a return or you will go bankrupt. It doesn't matter that every game becomes an opportunity for you to bleed the punters dry.
It is what it is — a big shame. And it's not for me.
After the last time, I decided I'd never go again; I'd give it a miss, watch the next one at home or in the boozer — I'm not being part of the charade again.
"Wembley, Wembley, we're the greatest team in Europe and we're going to Wembley…"
Are we? Oh alright then, fuck it, it won't be that bad again.
Perhaps the result last time coloured my perception.
Yeah, book me on the Vengabus, Copey. 
I'm after two, not fussy where. If someone can box me corporate all the better. Club Wembley? Happy days.
Do I need to wear a suit?
"Wembley has escalators now" – Karl Coppack
It has worse things, too, and, let's be fair, some good stuff. But it's always the escalators that surprise me. St James' Park has a lift (advisable given the oxygen deprivation in the away end) but escalators seem a bit more showy.
What else does it have? Loud motivational music. Very, very loud motivational music. It has poetry before the game (or at least it did in 2012) and a soldier bringing the trophy on to the pitch.
I'm not sure I like that but finals have always had pre-match gubbins.
Before the 1988 FA Cup final a Liverpool and Wimbledon celebrity team played a match. The lad who was married to Gail in Coronation Street came onto the pitch with a succession of somersaults.
Very impressive.
Halfway through he lost confidence and fell flat on his arse. It brought the loudest cheer of the day. I'd take that over parachuting sky divers any day.
What else does new Wembley have? Well, it's a hell of a ground. Not one bad seat in the place. I've sat in all of the stands and the view is unrivalled. It's like a big cinema.
But one thing it doesn't have is memories.
I was there when we lost to Villa and for the 2012 League Cup final. I had chronic food poisoning that day with a tumble dryer for a stomach. I was the only person who grimaced when the whistle went for extra time.
People danced about when we won while I sloped from my seat, walking like Steptoe.
Old Wembley meant much more. Everyone around me knowing that Aldridge would miss in 88. A man fainting on me due to heat exhaustion in the same game.
The nine-foot grock when I was in the Everton end in 89 who warned me not to celebrate if we scored only to find me practically on his shoulders when Aldridge netted four minutes into the game.
Then there were non-Liverpool games. Tranmere's two play-off finals in the early 90s and the odd England game.
The only non-Liverpool game I've been to at this incarnation of the stadium was Darlington v Mansfield Town in the FA Trophy Final in 2011 — a game so dull that I've just had to Google the score (1-0 to the Quakers).
No queueing, no bother, no football and no crowd as such (24,668). I can't believe I didn't see you there.
But it's good to be back. I'd happily just concentrate on the league, but while we're in transition (again) I like a Wembley final to punctuate the season. Trophies are important. It's why we're here and, more importantly, it a day out.
A day of flags, missed trains and 80,000 people thinking that the Bobby Moore statue is a good place to meet. It's not the same now. There's no more hours of build-up, helicopter views of coaches or brass bands on the pitch but it's still something.
It's a shame it's succumbed to razzmatazz and has gone backwards despite attempting to be progressive. It's a rusty relic despite its new once glory. It's Ozymandias's statue.
Wembley has escalators now.
"Crying on the coach" – Paul Johnson
It's 1987, I'm eight years old and my dad comes into the living room and smiles. "Do you want to go to the final?" The final he'd got two tickets for was against Arsenal in what was then the Littlewoods Cup.
Having missed out on going to the 1986 FA Cup final, this was to be my first visit. I remember struggling to sleep the night before through excitement.
Seeing the famous twin towers for the first time was special. The pre-game atmosphere also lived up to my imagination.
The match. Rushie scores. 1-0. Game over. But Arsenal score twice and win. Sitting crying on the coach home wasn't what I'd expected my first Wembley trip to end like.
However, it only made me want more. That's what Wembley does. It puts you close to greatness or failure.
Two years later I make my return for the 1989 FA Cup final. Being only 10 years old, I didn't fully grasp the full extent of what had happened at Hillsborough.
The game meant a lot to me so beating Everton 3-2 felt great. I had my first Wembley win.
I don't return to Wembley for '92, '95 or '96. Then we go to Cardiff loads and win. So my next trip to Wembley is for Cardiff in 2012. We won, scraped it on pens. No real greatness though. New Wembley doesn't seem to have that buzz I felt when I was eight.
The visits for Chelsea 2012 and Villa last season certainly didn't have a buzz. But I'm here now, getting butterflies for Sunday. City. Wembley. Up the Reds. Greatness?

"Quarter to nine at The Rocket" – Ben McCausland
"Quarter to nine at The Rocket," Mick says.
The "Arl Arse Calculator" in my head whirs into life as I multiply the number of pick-ups prior to this (four) by the average delay at each stop (15 minutes, using my own standard lateness as the barometer) and I immediately move back Mick's deadline to half nine.
Before any of you take me to task over my maths, I have had to subtract a potential delay due to one of the scheduled pick-ups being LITERALLY Kevin's front doorstep. Not even Kevin can manage to be late for that one.
This deadly game of coach cat and mouse could be seen as risky, especially for a final, but I know they won't leave without me.
I wish I could say it was my sparkling wit and knowledge of the game the lads fear they will miss out on throughout the day but, alas, no — it's just I'm bringing the ice for the cooler boxes and they wouldn't dare leave without that.
Our coach for the big day is not our usual awayday bus of Irregulars, but is a reunion of our last bus to Wembley for the Villa semi-final — an eclectic mix of old and young.
We'll have Callum Curo leading his little firm of 10 and 11 year olds, just starting out on their lifetimes following the Reds away from home and OAPs trying to pay Mick for the bus with their bus pass (pack it in, Dad).
We'll have local celebs (young Charlie Tyrell, recently seen posing up a storm with Jurgen and a flag in an Augsberg hotel lobby and TAW's very own John Gibbons, recently seen posing up a storm, well, everywhere), some of Row 60's finest and a smattering of "finals only" kind of awayday Reds just looking for a good day on the ale.
This being a cup final, formations are vital. We'll probably set up with The Olds up front, where they can read the papers in peace, pack the middle of the bus with youth and energy and leave the Row 60-ers at the back where we don't have to run much.
After leaving The Rocket at half nine, we've got a big 90 minutes to get through before the first stop off on the M6 toll.
Adrenalin is going to be pumping and emotions will be running high but its important that no-one does anything stupid that rules them out of the rest of the day. Adults — stay off the shorts at this point. Kids — take it easy on the Haribo.
We've got a long day ahead of us and we don't want anyone peaking too early.
I think all coach drivers have a deal with the services on the M6 toll that if they stop there they get a free fry-up because EVERY SINGLE driver stops there (which should make for an interesting 20 minutes or so mingling with the City fans themselves en route).
It was weird and tense enough when it was all Scousers on the way to the semi in 2012 so God knows what it'll be like with Mancs.
Back on the bus and before you know it the kids will be shouting that they can see the arch, then it's time for everyone to pile off and get the obligatory group photos in front of the ground.
After photos it's time to find a pub for a sing-song. I think we are in a new end this year so no Crystals Nightclub this time. I'm sure we can find somewhere equally as dreadful to pass a few hours though.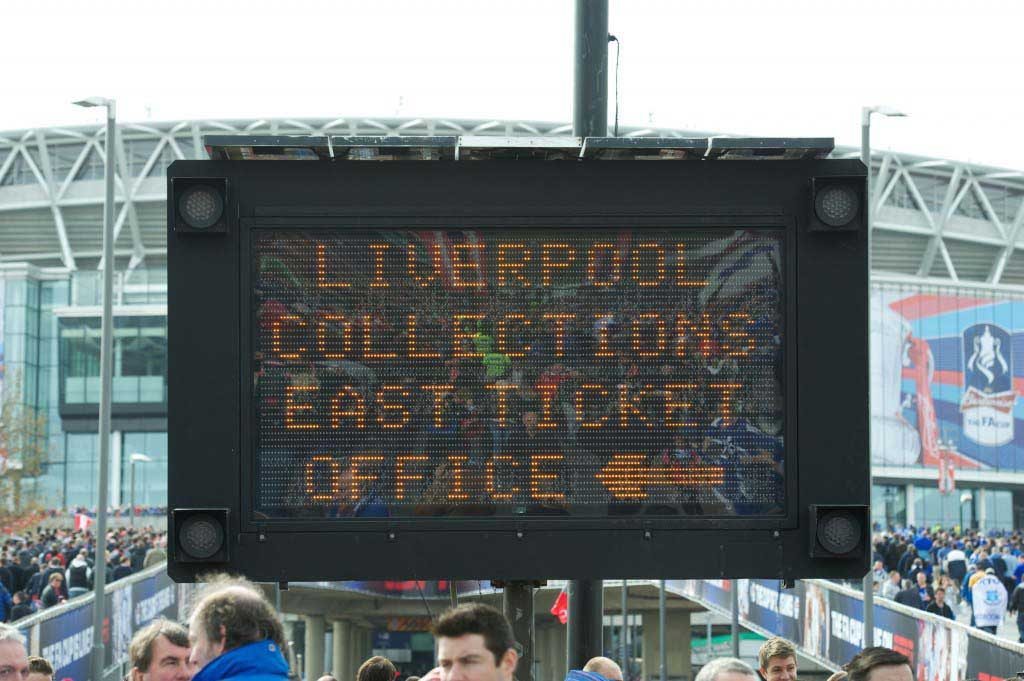 Post-match the bus will start off one of two ways.
Lose and there will be a loud, shouty inquest. Players' entire careers will be written off, refereeing decisions bemoaned and Ian Ayre will get called for everything.
Win and there will be an odd lull in the atmosphere. There will be hugs and high-fives as people get back on the bus but no mad celebrating. There is always a come down to begin with as people recover from the big explosion of joy in the ground.
Bragging texts to workmates will be sent, match reports will be read and Ian Ayre will get called for everything.
Whatever happens, these atmospheres on the bus won't last for long. By the time we snake our way out of the car park and head for the motorway the party will begin.
From that point on the journey will become a blur of singing, conga lines and serious waffle getting talked.
Occasionally, I will catch a glimpse of a signpost or landmark that will give the journey context and I can calculate how long is left.
Signpost for Milton Keynes:"Ahh, we've barely got out of Wembley yet. WEEEEE'RE ON THE MAAAAAARCH….."
A turn-off for Coventry: "Sound, three more hours easy. Still cold these Stella, well in whoever bought all the ice"
Walsall's ground: "Good hour and a half yet. Hope we get them in the cup one day, love to go there."
Stoke: "Fucking Stoke. Shit, that's not fair now, them Stellas still cold?"
And then it will appear. In all its blue and yellow glory. Mocking me, blowing a raspberry at my fun.
Reminding me that it's work in the morning, and not to bother opening that next (still ice-cold) bevy.
Fucking IKEA.
IKEA at Warrington, Sunday night at sometime around 11pm, will hit me like a blast of cold air. Ten minutes from there and I will be stopping the party and disembarking the bus after another successful Mick Clarke tour and doing the always freezing walk back to ours to try to get my head down before what I can only assume is going to be a thoroughly unproductive day in work.
Saying that, we could always sneak a couple in town instead, couldn't we, lads?

"Having a Wales of a time" – Craig Rimmer
My first taste of cup final day was a trip to watch Gerard Houllier's Reds claim the League Cup against Birmingham City in 2001.
By then the famous old twin towers were already half demolished, and English cup finals had temporarily relocated to south Wales and the Millennium Stadium.
Cardiff was great. An atmospheric and modern stadium, built to a budget, and located slap bang in the centre of a perfectly-sized and friendly city. For a time it became a second home.
I had to wait for my first taste of Wembley. The old stadium's expensive and lengthy makeover combined with the Reds not being very good to deny me a first trip to NW10 for what seemed like a lifetime.
Wembley Stadium may as well have been the stuff of mythology and legend.
My first trip up Wembley Way to watch the Reds had to wait until 2012, and the League Cup final against Cardiff City.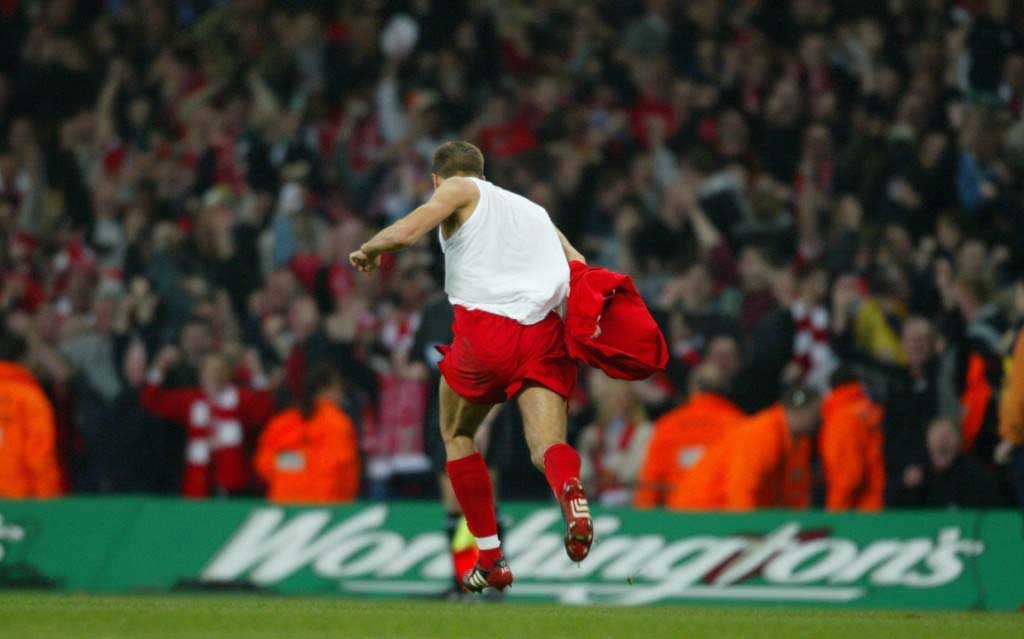 By then the twin towers had been displaced by the arch, and the crumbling concrete by plush corporate seats and eight quid burgers. The stadium itself is fine – modern, slick and awe-inspiring, if a bit too cavernous and lacking in intimidation.
I'd probably sooner a trip back to Cardiff this weekend. But, Wembley is less the stadium or location itself, and more what it represents to Liverpool fans. It's the pint beforehand, the walk down Wembley Way and the recollection of glories past.
We go again.
"A special non-descript place" – Sachin Nakrani
"Where you from?"
"Kingsbury."
"Oh right. Where's that?"
"North London. Near Wembley."
"Wembley?! As in the stadium?"
I've had this conversation loads of times with loads of people and by now, as I enter my mid-thirties, you'd think I would be sick of it.
Sick of knowing people are more interested in the area next to where I was born and raised rather than the actual area I was born and raised. 
But I'm not. Not one bit.
Wembley is the most special, non-descript place in the world. Three-bed semis, council flats, kebab shops, bus stops and a massive football stadium, where the World Cup was won, dreams were made and the Reds first ruled in 1965.
I've always taken pride from the fact it is located "down the road", one Underground stop and a walk away from the house where I first kicked a football and fell in love with the sport.
If you stand in a certain spot and crane your neck high enough, you can see the tip of the arch from Kingsbury High Road. Imagine that, being able to see an iconic structure, on top of an iconic venue, from the place where you used to buy sweets and CDs, where you used to walk home from school and loiter with your mates as you chatted about girls?
That's why Wembley is so special to me — because it's part of me. 
Saying that, it took me long enough to actually see a match there. In fact, the first time I entered the stadium – the old one, with the twin towers – was for a Michael Jackson concert in the summer of 1992.
I'd wanted to go there a few months earlier to see Liverpool play Sunderland in the FA Cup final but couldn't get a ticket, as had been the case for the 1990 Charity Shield, when we were champions and the Mancs were Cup winners.
I couldn't get a ticket for the 1995 Coca-Cola Cup final, either, or the FA Cup final a year later, and by then, having turned 15 and become insanely infatuated with the Reds, I was starting to think I'd never get to see them play at the famous footie stadium near my house.
A fear that grew when England's domestic finals left north London and moved to south Wales at the turn of the century.
We returned for the 2012 Carling Cup final and guess what? I couldn't get a ticket. But then came the all-Merseyside FA semi-final and this time I refused to be denied — I was going. A press pass was secured via work, as was the case for the final against Chelsea a few months later.
Last April, I then went for the first time as a fan — sadly it was to watch that shite of a semi against Aston Villa.
And now we're back, and I've got a ticket. A ticket to watch my team play in my neck of the woods. A boyhood passion combining with a boyhood existence. Love and life. 
Where am I from? I'm from Kingsbury. It's near Wembley. Yeah, the stadium. I'm from near the stadium.
Additional pictures: Submitted by author, PA Images