ANOTHER Wembley date for the Reds!
Jürgen Klopp could barely watch Tuesday's victory on penalties over Stoke that sets up an intriguing clash with Manchester City. In his post-match interview he dismissed winning in the shoot-out as "just luck" but a trawl through our history suggests there's far more to it than that.
Liverpool winning penalty shoot-outs has become cultural; one of strongest enduring and crucial traditions of the football club. Players and managers come and go; indeed the cast of supporting thousands in the stadium evolve and rotate, but when it really matters, we all know our place, appreciate our role and have no equal when it comes to getting the job done from the spot.
Our last three trophies? All won on penalties. Champions of Europe? Twice crowned after the "lottery" of a shoot-out. Our overall record since a 1974 Charity Shield win over Leeds in Bill Shankly's last match, reads: played 17, won 14, lost 3.
If your toss-up mantra is "tails never fails" you would be hard pressed to enjoy the same ratio of "luck" on the spin of a coin. If penalty shoot-outs really are a game of roulette played on grass, then the outcome for LFC is heavily more red than black. As Klopp would say, it's a record that is pretty "cool".
Perhaps it's the indelible imagery of our successful history in the shoot-out that has fostered the tradition; a subconscious mindset that wins out over luck. If you want that summed up, think of Jamie Carragher urging Jerzy Dudek to "do a Grobbelaar" in Istanbul.
Twenty-one years on from Brucie's "spaghetti legs" in Rome and we've got a Polish lunatic acting the goat in goal. On both occasions, the world's best, Bruno Conti and Francesco Graziani (1984) and Andrea Pirlo and Andrei Shevchenko (2005) were sufficiently spooked to fluff their lines. For some reason, fans tire of hearing about "Istanbul" but this precious little vignette of the past shaping the present is unparalleled in football history.
It those are the most iconic of Liverpool shoot-out images, it's easy to conjure many more.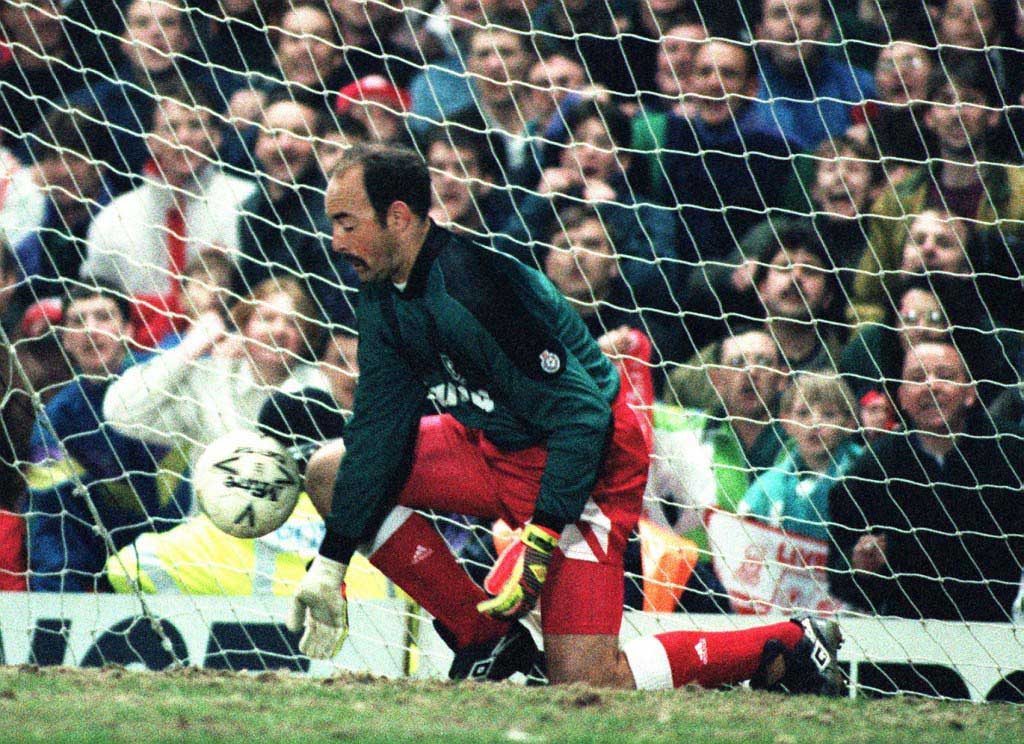 A weary Graeme Souness, his un-tucked shirt completely covering the shortest of shorts, despatching the perfect Roman penalty between the angle of post and bar. Here was a man apparently playing in his undies yet still managing to be the epitome of cool; strolling off with the European Cup in his briefs.
Then there's Alan Kennedy on the same balmy night, wheeling away in disbelief after clinching the win over AS Roma. Clearly no celebration planned; his inelegant jump for joy nearly rupturing both cruciates. His untrusting, ungrateful team-mates? Nowhere to be seen; all running round in a daze, incredulous that erratic old "Barney" hadn't blazed over the bar.
Picture the scene in Cardiff, venue for shoot-out glory against Birmingham City in 2001 that laid Treble foundations. Penalty virgin Carragher, with a run up as long as a fast bowler, slotting home to equal mirth and relief.
Then there's Rafa Benitez, sitting cross-legged like a Buddha on the Main Stand touchline against Chelsea in 2007 as the shoot-out unfolded in a Champions League semi. Rafa claimed he was crouched to allow fans behind him an unobstructed view but he was clearly engaging the powers of a higher force, perhaps karma for Mourinho crimes against football, as Pepe Reina excelled and Dirk Kuyt rammed home the winning penalty.
Of course, and just for balance, there is always an anomaly. Step forward Roy Hodgson, drenched to his leathery skin but his iron hair still in situ, as "formidable" Northampton bucked our penalty trend in 2010. If our absurdly good record in this format is all about custom and the Liverpool Way then it is entirely apt that the Liverpool "outsider" shall remain synonymous with our most notable failing.
As extra-time ebbed away on Tuesday, despite our past record, I feared the worst. With Simon Mignolet, a man living on his nerves in one goal and the young, athletic Jack Butland in the other, a buoyant, dominant Stoke had to be favourites.
Then something happened. Mignolet made a decent, if routine save. Then, a cross taken with rare assurance, and a counter attack triggered without delay through a quick release. Despite some isolated ironic cheers (if you are doing that in the ground, do please fuck off), the maligned Belgian grew a bit. He had done something right, perhaps for the first time in weeks. Maybe it was just me, but the relief in him was palpable. Suddenly, there was hope.
The crowd play a massive part in this, too. We're more steeped in this penalty lark than the players.
As much as the club tells us all new recruits are imbued with our history, those books and DVDs remain in cellophane on lavish shelves while they scratch their balls and watch all manner of shite on Netflix. Boyhood Liverpool fans, my arse.
Imagine the face on Emre Can if he came round to ours and I put on my old Betamax Football Focus videos. He doesn't know what he's missing though; Dean Saunders actually looking like a competent striker during the penalties against Portsmouth in the 1992 FA Cup semi.
Back to the shoot-out theme and the part we play as fans. We're at our very best when it goes to penalties. As much as Dudek's Papal blessing and sacred fingertips shredded Milanese nerves in Istanbul, It was the shrillest din of 40,000 professional whistlers from three sides of the ground that ultimately broke AC Milan's resolve.
We've carried that passion into every shoot-out since. Even poor Carlisle United, on the first step of the road to Wembley this season, got it good style from our crowd. We seem able to cast off the torpor of a bad performance (and Tuesday was bad) and treat the penalties like an entirely separate entity that is influenced hugely from the stands. Even if the players aren't fully aware, the winning expectancy that comes from the supporters transmits to the pitch.
Even losing the toss for choice of ends seldom brings deliverance for our opposition from the torture of the Liverpool foghorns. Against Stoke, Anfield again created that deafening backdrop and our goalkeeper was sufficiently inspired to make a brilliant winning save from Mark Munieza. The crowd influencing the results of football matches. Who knew?
Klopp was asked by a TV reporter ahead of Tuesday's win, "Have you practiced penalties?" His answer was "No, but the players have." Cool.
If it goes to pens at Wembley on February 28, have faith. And get whistling.