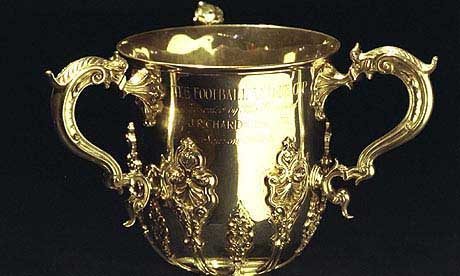 THE League Cup can provide magic from nowhere. This is my favourite thing about it. It can become a laugh — Clinton Morrison showed how that is meant to work; it can spiral out of control — Arsenal can come to Anfield and score six; it can supply a sudden thumping — Fulham and Stoke can attest to that.
It is the competition you are most meant to enjoy, I suspect. I think the weather is something to do with that. I associate it with unlikely things happening in the freezing cold, the driving rain, the ruthless wind or all three combined. The weather plays its part. Walk on through a storm — you've no idea what will happen next. You will be cold…
…Kick off delayed by 80 minutes at Villa Park in December 2002 and it is freezing. It is freezing and the game kicks off after 9pm. This is only 13 years ago, and things like this don't happen any more. Liverpool are in the midst of their grimmest run since Souness. Possibly even grimmer because of the context — on November 2, Liverpool are seven points clear. By the time this game kicks off Liverpool are fifth, five points off the top. In league games they are played six, lost five, drawn one. And the football is horrific. There are no laughs.
And finally the game kicks off. And it kicks right off. Vassell scores to give Villa the lead. Danny Murphy, probably playing the best football of his Liverpool career, evens it up with a free kick. Baros scores and Steven Gerrard makes it 3-1 Liverpool. But then, as the clock goes past half ten, Villa grab two back. Murphy makes it 3-4 and the Liverpool end is in raptures. A crazy game isn't going to midnight. No extra time in the freezing cold. No penalties in the freezing cold. Liverpool come away with the spoils before returning to league drudgery.

Southampton will play a strong team. There is little doubt about that. They played a strong side in the previous round against Aston Villa. Nick on The Coach Home was emphatic about it — they fancy this, they want this and they will be selecting and approaching the game accordingly. Pelle will be back. The mercurial Tadic might just start, Clasie should start. On the South Coast, this is a big deal, a big noise. Expect them to push for this against Klopp's men.

This is the other thing about the League Cup. It means different things to different teams at different times. This is its x-factor. There can be a side that takes it that bit more seriously, or that is able to focus a few more of its best players on the game. Sometimes this is a Chelsea, set up for an early season blitz. Sometimes this is a Bradford, slaloming its way through to an unlikely final. Sometimes it is Liverpool…
…An unlikely win at Manchester City under their belts, Liverpool entertaining the newly-minted Mancunians at Anfield in the second leg. Anfield wanted this. Liverpool wanted this. Kenny Dalglish wanted this. Suddenly, like an earthquake, Liverpool had to make this final.
But more than any of the above, Craig Bellamy needed this; wherever it came from that night Craig Bellamy played his socks off. He was a man possessed. There was no way Craig Bellamy was going to allow anything other than Liverpool progressing. It was an act of supreme footballing will. And without having seen his every game, it was almost certainly his last great game of football. He gave everything that night — more than any player I have ever seen, he left it all out on the pitch. There are a ton of reasons why he might have done that. It was the season of Gary Speed's tragic death. It was him facing the club that had let him go. It was him playing for Liverpool. Him playing for a Liverpool managed by Kenny Dalglish. It might have just been his raw innate desire pushing forth. Whatever it was, and I truly hope it was all the above, it will go down as one of the truly great individual performances at Anfield.
Yet Klopp has made interesting noises. It may just be a bit of toffee, but this is now about playing the strongest team in a circumstance which takes into account the previous game and the next game. While he has players on the way back they may not have the 120 minutes he is already thinking the game might demand. He's right about that. This one has extra time all over it.
He's also right when he says we are still a long way from the final. The press conference he gave today is the cagiest he has so far. The league table won't have escaped his notice. He can make changes and get a win. He won't be the first Liverpool manager to do it and he won't be the last.
Shankly never took this competition in the least bit seriously, for instance.  Since Paisley Liverpool managers have tended to take it pretty seriously. For me the best approach has been to play a rotated side but ensure they are drilled to within an inch of their lives. Weaken the team but strengthen the players. What you could call the Benitez…
…Dudek, Henchoz, Warnock, Raven, Whitbread, Diao, Nunez, Biscan, Potter, Sinama-Pongolle, Mello, Welsh, Smyth, Partridge.
The names don't roll off the tongue through this glorious history of ours, yet what a win this was. Heading down to a a strong Spurs side. Spurs selecting King and Keane and Carrick and yet these young boys in Red overcame. They vanquished this Spurs side on penalties. Despatched them and they were never second best but they were drilled to within an inch of their lives. This was the last eight of the competition as well. They went, they wore Liverpool Red with pride and in doing so made everyone proud. 

There is more than one way to skin this cat. That's the point of the League Cup. I wouldn't expect Klopp to go as weak as Benitez in 05, but there shouldn't be the pressure to go super strong, not with it being Liverpool's fourth game in 11 days. Already there is confirmation that Adam Bogdan will start in goal. It seems certain Daniel Sturridge and Jordan Henderson will be on the bench. Philippe Coutinho is a doubt.
It's the League Cup. Anything can happen. Let's just enjoy it as the journey it is.

Match details: Kick off 7.45pm, December 2, 2015. Tickets: Sold out. Live on Sky Sports 1.
Last match v Southampton: Premier League – October 25, 2015: Liverpool 1 (Benteke) Southampton 1.
Odds: Southampton 17-10, Draw 21-10, Liverpool 7-4.
Injured: Sakho (knee), Gomez (knee), Ings (knee).
Referee: Robert Madley.
[rpfc_recent_posts_from_category meta="true"]
Pics: David Rawcliffe-Propaganda Photo
Like The Anfield Wrap on Facebook