LUCAS  has been a Liverpool player who has always had more meaning attached to him than many that he has shared the pitch with. He's a footballer with signifiers. You can probably tell the story of this football club through him over the last 10 years far better than any player.
It's Lucas that comes on for Steven Gerrard in a Merseyside Derby to calm things down. It's him who gets booed onto the pitch as Rafa Benitez's player when the madness was at its height. The Brazilian stood for the lazy inaccuracies of pundits around Benitez when, for instance, Jamie Redknapp forgot Lucas, not Xabi Alonso, had played against Manchester United in the 1-4 of 2009. Lucas was top of Christian Purslow's ridiculous list to be got rid of, a list which stands along with a dossier and alongside a managerial appointment of everything that was wrong with everything.
Lucas probably epitomises most of what was very good about Kenny Dalglish's half season in charge and it is probably his injury which fatally undermined Dalglish's full season in charge — a League Cup game too many which suggests the danger of taking the cups too seriously versus the league. His return under Brendan Rodgers was meant to signify a new footballing era with the manager talking him up on arrival but another injury undermined all that along with Rodgers's first three months.
From there Lucas starts against Spurs in 2013 before losing his place and getting injured again in January 2014 before returning and looking leggy in a leggy side in the run in.
https://www.youtube.com/watch?v=YUClozk2qRk
It's Lucas's leap into the crowd against Aston Villa last January which means everything, as much — if not more — than Rickie Lambert's actual goal. He has a nibble, he can't get in and so he launches himself among the most joyous of Reds on one of those days which remind you just why football is magic. His return to the side, and Liverpool's returning solidity, and his sheer exuberance in sudden clear and obvious victory. This was, from nowhere, a Liverpool team you could get behind.
Lucas's performance against Chelsea at Stamford Bridge in the League Cup was marvellous — a masterclass in thinking your way through a very fast game. This was a Lucas Leiva Liverpool team. Then another injury at Goodison before re-emerging to a 1-4 defeat at Arsenal with everyone moving past him and past them. Lucas and Liverpool then knuckled down to win at Blackburn but the season petered out around him.
And now it is reported he may well want to go. This is completely understandable. The start against Stoke City looked like it was his to lose and he lost both it and a place on the bench. There was surprise from many on TAW at how critical those of us who went to Swindon and did the post-match show were about Lucas's performance but he really did look off the pace when they were playing around him. However this criticism and the eventual loss of place might be slightly harsh. What isn't harsh is the reality that it is difficult to find a regular place for him in a midfield that would expect Milner, Henderson and Coutinho to start every week and has arguably another four pushing for inclusion behind them. The manager not including Lucas can be understood, the player being furious with that decision likewise.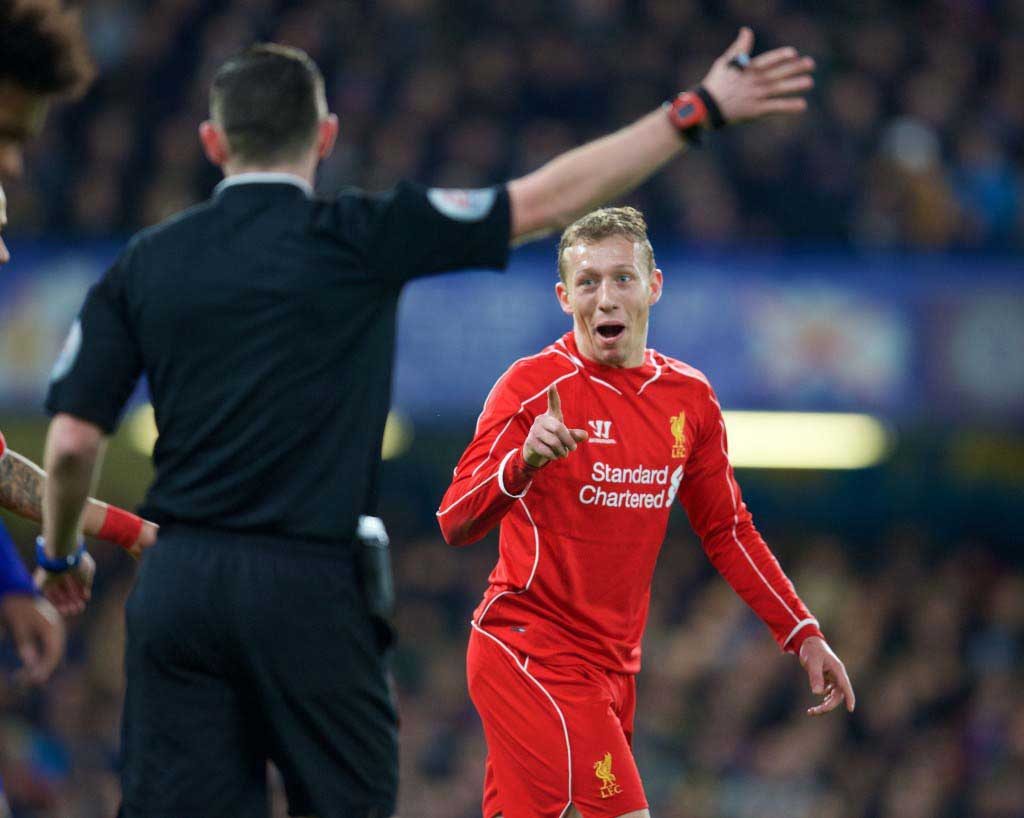 Lucas Leiva deserves to play games. He should play games. He is a very good, very intelligent, experienced footballer who shouldn't be mooching around waiting to be given one start in four. There are many teams in this league and across Europe for whom he would be a starter. Starting would also help him get his full sharpness back and could see him end up with fewer injuries.
If I were feeling greedy I'd argue we should force him to stay, wind his contract down, use him for those odd games, having him be the set of stabilisers he's been for this team and manager before. The safety net. I'd want him to be at our beck and call for when we need him. Because we will probably need him if he goes. There'll will be a day, a game, a moment. If he goes, you'll say at some stage this season and next, wish we had Lucas now. Wish we had Lucas for this last 20. Wish we had Lucas for Sunday.
Because Lucas still has meaning. And his departure would have meaning, in a strange way perhaps even more than Gerrard's whose legs had simply had enough. His departure would be that there is a football team that needs to go without him for better or worse, a football manager that's made a choice that he can't allow himself to break glass and reach for Lucas and must instead find different solutions, trust different players and be moving forward.
If he stays great stuff. If he goes he goes in the greatest of grace. Not many you can say that about. The story of Lucas Leiva is about hard work, intelligence and redemption. There have been highs, there have been lows but there has always been a fundamental decency. We'll always have Villa.
[rpfc_recent_posts_from_category meta="true"]
Pics: David Rawcliffe-Propaganda Photo
Like The Anfield Wrap on Facebook