ON current form, if the once famous Anfield roar really was our "Twelfth Man", he would have been ignominiously hauled off before half-time never to pull on a red jersey again, writes DAVID WEBBER.
Blame for his decline is usually attributed towards the iPad-wielding tourists, or the out-of-towners, who sneak out early to beat the traffic that gridlocks the streets of L4 after the full-time whistle. Every fan however — whoever you are, wherever you're from and wherever you sit — has a duty to get behind the team and the boss. Before kick-off, during the game, in fact, right up until the final whistle. I'll give you half-time but, as Chelsea found out last weekend, only when the ref blows his whistle.
That's your role. Bomb forward as much as you like Moreno lad, but you've got a defensive responsibility, too. It comes with the ticket. Whether you're a veteran season-ticket holder, a member just glad to get a seat, or a visitor to Shanks' bastion of invincibility, cheer, sing, wave your scarf. Just get behind the lads. That's your job.
A nadir was reached yesterday in the Annie Road End. Not the greatest seats in the house, but who cares, right? The Reds on an unbeaten run, Chelsea dispatched at the Bridge, and a tricky midweek trip to Russia expertly negotiated. We're set up nicely to finally get a decent result against Palace.
In the end, the result is a huge disappointment. Palace probably still can't believe they've nicked it, but they are both solid at the back and clinical up front. Meanwhile, for all our neat play and pressing, our defensive frailties and inability to score come back to haunt us. Again. Still, there's definite progress from earlier in the season.
Not that any of this appears to register with large swathes of our home support. You'll Never Walk Alone sounds routine rather than rousing, while what should be a poignant rendition of Scouser Tommy is met with bemused indifference. The Palace fans on the other hand are in good voice. Unlike a certain other team from the capital, they're far less interested in our players than they are backing their own.
Again, something our lot seem to have forgotten to do. When Klopp took charge last month, he noted the lack of belief among his new players. When only a crocked Sakho and goalscoring Coutinho receive any acclaim from the crowd, it's not hard to see where that mental fragility might stem from. Just imagine what difference a song for Lallana, Benteke or Ibe might do for their self-confidence. They'd be running through walls.
So what has replaced our once "famous atmosphere"? The Palace fans packed in the far corner of the Annie Road are raucous, and while their repertoire isn't particularly original — I'm irked that they appear to have nicked our Lucas song — it's effective in both getting behind their team and pissing off some of our lot.
"Fuck off, Palace," one solitary fella sitting two rows in front of me yells over to his right.
He's joined by another fella towards the back. It's repeated sporadically throughout the game, each time eliciting a murmur of giggles at the very naughtiness of it all.
Yet "Fuck off, Palace" represents the denouement of Liverpool's claim of having the "Best Supporters in the World". It's the equivalent of going to a Beatles gig, expecting them to play A Day in the Life only for John, Paul, George and Ringo to instead start flicking Vs at the audience. Or worse still, Ob-La-Di, Ob-La-Da.
We're better than this. We're Liverpool Football Club. That's what you signed up to when you bought a ticket. We're 18 leagues, five European Cups. We're the best football team in the land. European royalty. Too many teams in recent years have turned up and we've let them do a number on us in the stands. We've got the best songbook around. No-one else comes close. You'll Never Walk Alone. Fields of Anfield Road. Scouser Tommy. A Liverbird Upon My Chest. Poetry in Motion. And they're just the classics.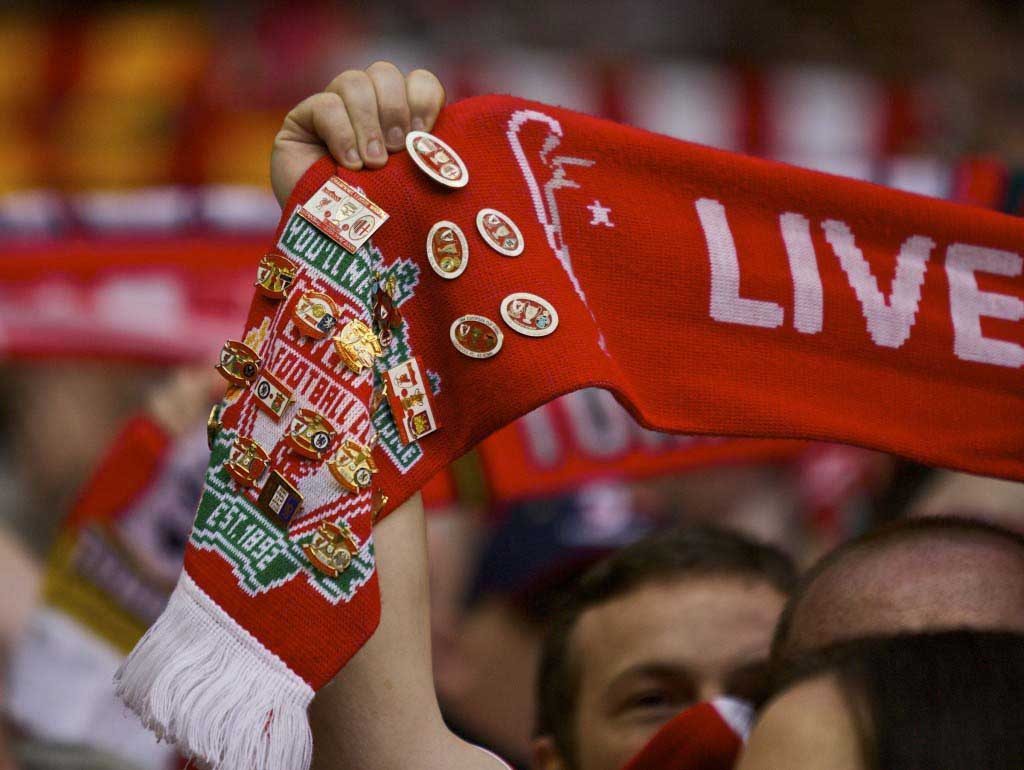 You can blame the ludicrous increase in ticket prices, the lack of kids in the ground, and the rapidly shrinking Scouse demographic. These are hugely important issues that FSG needs to address. The point though is this. Rarely is the Anfield songbook opened nowadays. Those fans that are filing through the turnstiles are not singing, and amidst all the finger-pointing and blame-shifting, those match-going supporters have to front up and play their part.
When visiting fans ask "Where's Your Famous Atmosphere?" it sounds like they're taking the piss. Beneath that bravado though there lies a deep-seated disappointment that they're not being treated to our European royalty. Whether it's Barcelona or Barnsley, Juventus or Yeovil, opposition teams and their fans alike should be blown away by the ferocity of our songs. They want to hear it. The Redmen on the pitch want to hear it. Kloppo wants to hear it. The millions of Reds worldwide watching the game on the telly want to hear it. Give them what they want. We should all be walking out of the ground with our throats hoarse and our heads buzzing.
We expect our players to give everything on the pitch. It's about time we turned up, too. The "Twelfth Man" is struggling for form. Some might say he's suffering a bit of an identity or even existential crisis. Maybe so, but the only identity that really matters is the Liverbird upon his chest. Let's sing for that if nothing else.
Up the Reds.
* We've been shortlisted for Podcast of the Year by the Football Supporters' Federation. Please vote for us here! Don't let Alan Davies win!*
[rpfc_recent_posts_from_category meta="true"]
Pics: David Rawcliffe-Propaganda-Photo
Like The Anfield Wrap on Facebook