IN a new regular TAW feature we ask: "What if…". So many things in football hinge on moments, on split-second decisions and on judgement calls, including buying and selling players and appointing certain managers (or not). To kick things off, David Segar goes back to 2003 and asks: What if Liverpool had signed Cristiano Ronaldo?
——–
THIS week sees the release of a feature-length motion picture about the self-proclaimed (and to be fair, Ballon d'Or proclaimed) best player in the world, Cristiano Ronaldo.
The film, simply titled "Ronaldo" (which I slightly resent as we all know the real Ronaldo is the former Inter striker who used to cause havoc with his Brazilian mates at airports), follows the Portuguese star over a 14-month period, taking in the Champions League and World Cup, but largely centres around him lifting the Ballon d'Or ahead of his rival Lionel Messi.
It is a fitting film about a man who has always appeared to treasure personal success over team, but also gives an insight into the drive and dedication it took to elevate him to become not just one of the greatest players of a generation, but of all time.
He may be an ex-Manchester United player, he may be "the winker" who knocked England out of the 2006 World Cup, he may very well be the most arrogant man on the planet, but by golly is he good with a football. To paraphrase an old adage, is it "arrogance" if you can back it up?
The 30-year old has posted some frankly insane numbers in recent years, having scored 326 goals in 315 games since his move to Real Madrid in 2009. This season he's been a bit quiet by usual standards, but has still managed 13 in 16.
However, as with every great story, it could have been so different, in particular in 2003 when an 18-year old Cristiano was being offered to all and sundry in Europe as the next big thing from Sporting Lisbon.
https://www.youtube.com/watch?v=cukO8nM3bWw
Of course he ended up signing on the dotted line for United after they lodged a £12.2m bid and promised the youngster that he'd play in at least half of first team games (injuries permitting). But as Phil Thompson, Liverpool's assistant manager at the time, mentions in his book, Stand Up Pinocchio, discussions had been going on at Anfield about bringing him to Merseyside.
Thompson wrote: "One star who got away in surprising fashion was Cristiano Ronaldo, who shocked us when he signed for Manchester United in August 2003 for an astonishing £12m.
"I say astonishing because we had been offered the player for £4m. A number of people still pull me up and ask why we didn't sign the young star. It's well known that I watched him. I would like to tell the real story behind it.
"Yes, he was good. Portugal had two starlets, Quaresma and Ronaldo, who played right and left wing for the Under 21s. I saw them play and both were very good. It was a toss-up as to who was the best.
"I was then invited to watch Sporting Lisbon play Porto in the last game of the season. Ronaldo was playing for Sporting. Tony Henry, the former Manchester City player and agent with Paul Stretford's Proactive Agency, was on the phone on a regular basis to see if we would take Ronaldo and asking if he could take us to watch him.
"I met Tony at the airport and travelled to Porto. I met the player's Portuguese agent before watching the game. Ronaldo was quite good, but not as impressive as the first time I saw him. Tony was pushing the boy and saying he was a talent. He was saying: "He'll only cost £4m." He added: "It can be paid over the course of his contract at £1m a year."
"He also said the player wanted £1m tax-free. I said: "The boy is only 18. That is a massive problem." but Tony suggested it was negotiable.
"I returned back the following day impressed with what I had seen and mentioned it to Gerard. He said: "I will ask Rick." We didn't have a lot of money, but it could have been sorted by spreading things over the four years.
"We had just signed Florent Sinama Pongolle and Anthony Le Tallec, both on far less than Ronaldo's aspirations. They were also two talented boys. We would have had anarchy if the other players had found out how much we were considering paying for an 18-year old kid in Ronaldo.
"We looked for a compromise. Ten days later I was sitting in a lounge at Anfield having some lunch and looking at the big TV screen. Up came the news that Manchester United had signed Ronaldo from Lisbon for £12.2m. Gerard and myself nearly choked on our food.
"Gerard said: "Contact Tony Henry." and I went straight out and rang him. I said: "What happened? More importantly, what happened with the price?" He said: "After you had been with me, I got a phone call the following week and was told to drop everything on the deal. Hand on heart, I really don't know what happened."
"I went back and told Gerard the story. What happened God only knows. For the fee to jump from £4m to £12m, especially as they seemed so desperate, was surprising to say the least. You can imagine the shock on our side when the deal was done. There lies another story."
Before his deal at United was signed, sealed and delivered, Ronaldo himself appeared to be up for the move to Anfield, and is quoted as saying at the time:
"Liverpool are one of the best clubs in England and it would be a dream for any player to represent a club of such traditions… I will have to hope they make an offer that is good for both Sporting and myself."
It has been said by Spanish football journalist, Guillem Balague, in his new book, Cristiano Ronaldo: The Biography, that the Reds offered 8million Euros for his services (around £4m at the time). However, they were not the only team in for him, with Juventus, Barcelona and Arsenal also showing an interest.
Balague says that it was actually the Gunners who came closest to getting the Portuguese before United played Sporting in a pre-season friendly. Ronaldo tore them a new one, and Alex Ferguson immediately put the wheels in motion for the youngster to be signed by the Old Trafford club for three times what Liverpool were willing to pay.
We often wonder "what if" in football. It can create raucous debate in pubs up and down the country, and one of the big "what if" questions that Liverpool fans ask themselves is, what if the Reds had signed a young Cristiano Ronaldo back in 2003?
Ferguson was more than true to his word and gave Ronaldo 40 games in his first season, in which he scored six goals, including one in the FA Cup final win over Millwall. It wasn't an overly productive season, but it was a crucial one in the learning phase of his career.
United could afford to carry him though, as they had enough match winners elsewhere in the form of Ruud van Nistelrooy, Paul Scholes, Ryan Giggs and, err, David Bellion. They finished third behind the 'invincible' Arsenal and a newly wealthy Chelsea.
Liverpool came in fourth, albeit a whopping 15 points behind United, and in place of Ronaldo, Gerard Houllier had just signed Harry Kewell, who in spite of having a reputation for being somewhat of a flop at Anfield, was Liverpool's joint-second top scorer that season with seven goals.
Houllier also had Vladimir Smicer, Anthony Le Tallec, El Hadji Diouf and Steven Gerrard who could all play wide midfield. Would the Frenchman, or the Anfield fans for that matter, have had the patience for Ronaldo's impudence?
He was fast developing a reputation for being too much of a showman. His highlighted hair, which made it look as if he'd had a fight with a bowel of Super Noodles and lost, and his insistence on doing 40 step-overs when only one would have done, meant that by the end of his first season there weren't many tipping him for his eventual super-stardom.
I can only imagine what Steven Gerrard and Jamie Carragher would have made of the incessant step-over Ronaldo of 2003-04. He'd probably have handed in a transfer request at the end of that first season after getting a kicking in training every day.
As Ronaldo grew from a skinny noodle-haired show off into a muscular Premier League title and Champions League winner, the Reds changed manager, won a Champions League, won an FA Cup, and developed a fantastic spine including Pepe Reina, Carragher, Sami Hyypia, Xabi Alonso, Javier Mascherano, Gerrard and Fernando Torres.
However, danger from out wide remained a problem, with the likes of Luis Garcia, Dirk Kuyt, Ryan Babel and Albert Riera all providing flashes, but none really becoming top level match-winners in the way Ronaldo had by that time.
The Liverpool side of 2008-09 that came second, with Ronaldo instead of Kuyt or Riera, on paper, could have achieved incredible things. The previous season, he had scored 31 goals in 34 games as United had won the Champions League thanks to a John Terry slip, but in 2008-09 registered only 18 from 33.
Still very impressive, but having the likes of Wayne Rooney, Carlos Tevez and Dimitar Berbatov certainly allowed the wealth of goals to be shared.
However, Ronaldo was only getting around six assists a season, showing that he was very much developing into a player who wanted to be the end of a move, rather than the start of one. Given how much of Liverpool's attacking play went through the Gerrard and Torres bro-mance at the time, it's questionable whether the plusses of Ronaldo's efforts would have negated what those two brought, leading to the team perhaps not necessarily exceeding what they ended up achieving anyway.
There is also the question of how Rafa Benitez would have used a Cristiano Ronaldo in his time at Liverpool. When the Spaniard first came in, Ronaldo was still very raw.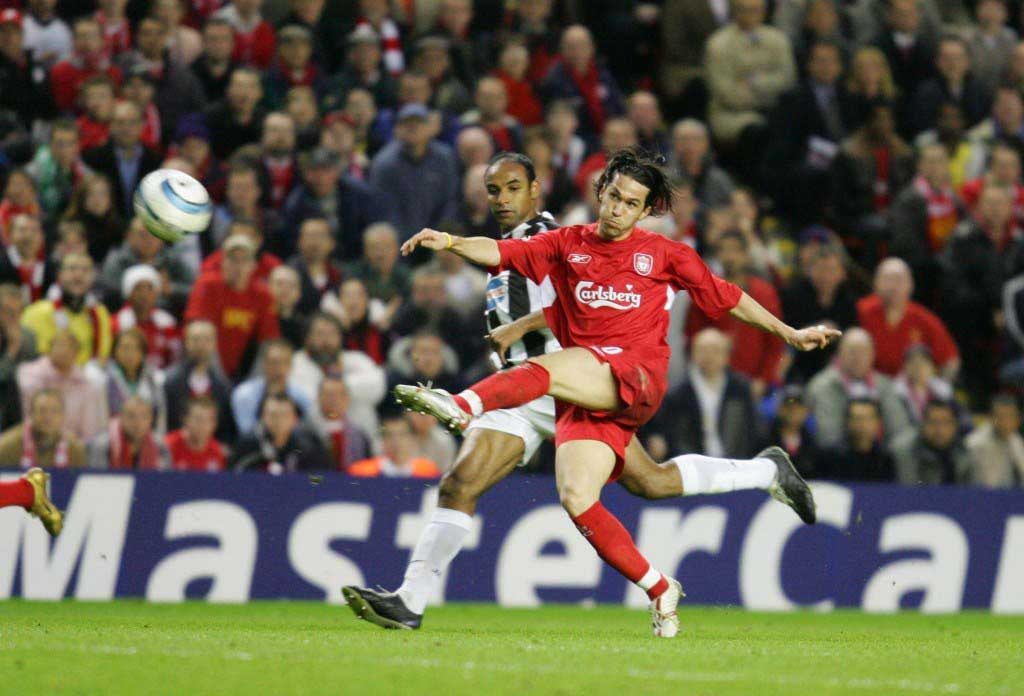 Garcia was the man given the licence to do what he wanted, and while he was never really going to bother the Ballon d'Or judges, he certainly gave the fans some memorable moments and scored goals that enabled major trophies to be won. Whether Benitez would have predominantly chosen Garcia or Ronaldo at that time would have been crucial in the development of the Portuguese attacker and the team as a whole.
Benitez is now managing Ronaldo at Real Madrid, and it appears as if he is struggling somewhat to get the best out of him, albeit the issues are different now compared to what he would have faced earlier on had he had Ronaldo at Liverpool (age, position, somehow even bigger ego than before).
The former Reds boss is known for preferring substance over style, and while Ronaldo's numbers are about as substantial as you'll see, his lack of willingness to track back, particularly early in his career, would have been seen as a big negative in the eyes of Benitez.
Even if Ronaldo had been a success at Anfield, and reached the heights that he managed down the East Lancs Road, the inevitability of it all is that he would still have ended up in the all-white of Real Madrid, and possibly even earlier than he eventually did.
Then there would have been the question of whether Liverpool could cope after losing such a talent, as there was of United once Ferguson, who wouldn't have sold a virus to Madrid, sold them his best player for an eye-watering £80m.
We are all fully aware of the difficulties the Reds have had following the departure of Luis Suarez, and even United couldn't manage to stop themselves from falling back post-Ronaldo, losing out on the title to Chelsea the following season.
When you talk to Reds fans about this subject, many are of the opinion that it was a good thing Ronaldo never plied his trade in L4, given his levels of arrogance, his 'all-for-me' attitude and his dodgy underwear commercials (he'd have made the Spice Boys look like vikings by comparison).
I can see that argument, but on the other hand, in spite of all that, United fans still idolise him to this day, and for one reason only. He scored lots of goals and made them successful. That's what this game's really about.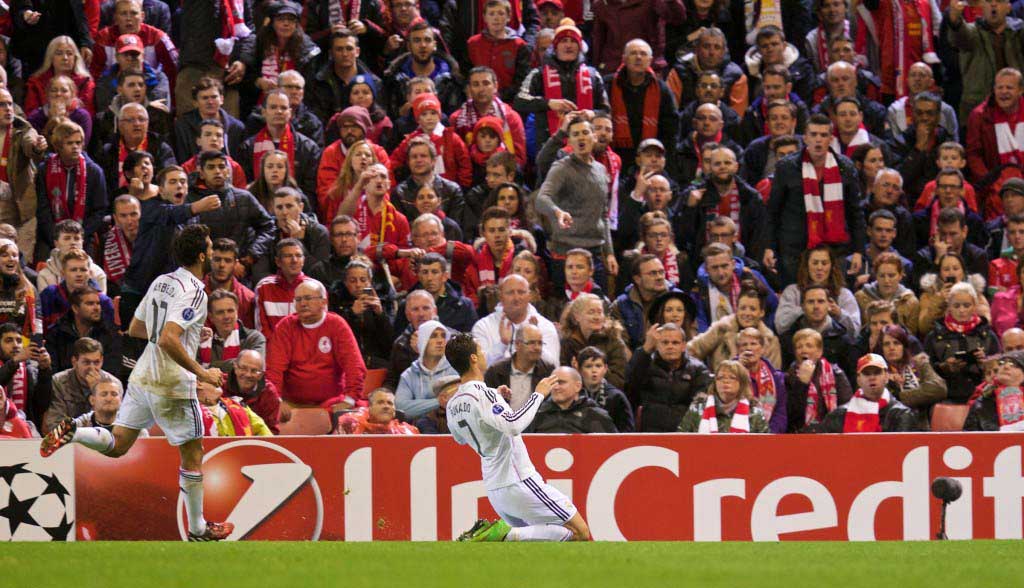 Look at Suarez. Nowhere near as much arrogance, and comes across as a far more down to earth person and 'cool guy' as the current boss would likely label him, but he did some pretty terrible things while at Anfield, and we loved him all the same because he was boss. Do you honestly think we'd have afforded the same benefit of the doubt to someone like El Hadji Diouf?
On the balance of things, it would almost certainly have been the right decision for Liverpool to sign Ronaldo before United did. I'm not so sure he would have become the player he is today, or that he would have been as successful at Anfield, but a large part of the reason for his rise has been his own work ethic and determination, so he surely would have played a big part in any team Benitez would have put together.
I doubt Rafa would have indulged him as much as Ferguson did, and it was surprising to see at the time how much the Scot let him get away with, especially when he made a career out of letting players know who was boss and giving far more experienced players shorter shrift. He clearly knew what he was doing though, as Ronaldo thrived and to this day speaks very highly of his former United boss, calling him his "football father".
One crucial thing about Ronaldo being a Liverpool player at that time is that it would have stopped him from going to United. His importance to that side, especially in his latter two years, allowed Ferguson the time to reshape the rest of his side so that he wouldn't miss Ronaldo too much once he inevitably left for Spain.
Liverpool's title rivals in 2008-09 would have had far less bite, and who knows, may even have fallen off their perch.
It wasn't to be though. Ronaldo went to United, succeeded, then went to Madrid and became one of the all-time greats.
Never mind, I'm sure in 2027 we'll all be queuing up to watch Ibe: The Movie.
Then again, Jürgen Klopp will no doubt still be his manager and will never allow such blatant self-indulgence.
* We've been shortlisted for Podcast of the Year by the Football Supporters' Federation. Please vote for us here! Don't let Alan Davies win!*
[rpfc_recent_posts_from_category meta="true"]
Pics: David Rawcliffe-Propaganda-Photo
Like The Anfield Wrap on Facebook