THE chief executive of Liverpool Football Club, speaking to anyone, anywhere, ever in public in the internet age is news. It will be picked up by someone, somewhere and arrive back on the doorstep, neatly packaged in soundbites, ready to digest.
Or, in the case of Ian Ayre's ill-judged comments at the weekend, as a flaming dog turd left burning on the L4 doorstep, ready to be unknowingly stamped on barefoot in the crueller version of the traditional knock and run.
Ayre, speaking in New York on Saturday at Blazer Con, an event centred around the globalisation of the game, is quoted as saying: "We have the enviable position of selling out every game but not having the route in to have a 12 or 13 year old come.
"Local supporters groups want to discriminate against travelling fans to get more Scousers back in Anfield. Stadium renovation could help."
Liverpool FC know how important public statements are, hence the staff spin-doctors and communication chiefs on the pay roll. Ayre will know, too, not least because as a senior executive he will be more than aware of the image and messages the club wishes to convey.
They read what we say on Twitter, remember?
So what was the point of this public brain fart (initially reported on Twitter as it happens)? Especially when, in the same interview, Ayre added: "Being a Liverpool fan is more than football, it's about being part of a family."
Well it's not feeling too family-like when the most senior Liverpool-based club executive is making broad-brush statements about discrimination, is it? Particularly when some of the groups he appears to be pointing the finger at have members worldwide in their number.
– Listen to the full podcast FREE.
It appears to suggest a section of support are a problem when in fact most fans just want to see something approaching fairness in regards to ticketing. The problem, of course, is the different perceptions of fairness, but most seem to recognise the issue of getting children and young fans in the ground as part of the ideal.
Ayre himself made a suggestion around the idea of distributing tickets to young fans when games haven't sold out. Logistically, that is likely to be a late decision and warrant distribution among fans local to the ground, supporters who can travel quickly, easily and cheaply to Anfield. A ground in Liverpool. Discrimination, or just plain common sense?
Ayre seems to suggest a small-mindedness from local fans and undoubtedly some do dream of some kind of exclusive utopia warranting postcode checks, Scouse lingo tests and a once over from the Fashion Police before fans are allowed to set foot on The Kop.
But back in the real world, most get it. We know. Liverpool Football Club is a global brand. According to the official website the club "…has just over 200 Official Supporters Clubs all over the world in over 50 different countries."
A "supporters all over the world" scarf has recently been revived by Hat Scarf Or A Badge, an Anfield-based supporter-run merchandise shop. The same design was a scarf and car sticker in the 80s/90s, one I spotted daily on Merseyside. Despite the endless, and tiresome narrative, there are plenty of examples of local fans taking pride that their club is a worldwide name and draws support from across the globe.
Where the waters muddy is when there is suggestion, or evidence of, a lack of fairness — around pricing, around access, around opportunity for the next generation to choose Liverpool not Everton, another of Ayre's own anecdotes in the Q&A. He had the opportunity to become engaged in football at a young age. As a Scouser. At Anfield. People he is now seemingly pointing the finger at simply want the same for their children.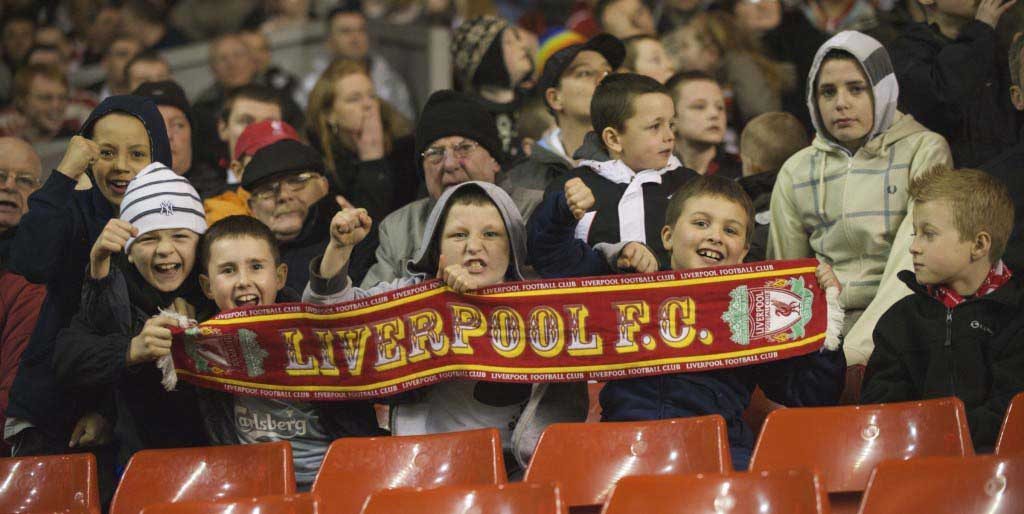 What is also strange about Ayre's comments is the idea of "not having the route" for young fans. I don't think anyone is suggesting that all the answers are easy, but it is up to the club to at least try to balance opportunities for corporate and community, young and old, foreign and local. At the moment, given the level of discussion, it doesn't feel like that balance is being achieved.
For many, the club's — and the Premier League's — aggressive marketing abroad has not been backed up with a suitable solution to meet the demand on match-days, nor has there been a true declaration of where priorities lie when the ground swells in size.
The club has only the sixth largest stadium in English club football as things stand — behind Old Trafford (76,100), The Emirates (60,432), The Etihad (55,087), St James' Park (52,401) and The Stadium of Light (49,000) with an official capacity of 45,362.
That figure will increase to 54,000 on completion of the Main Stand during the 2016-17 season. Both Spurs and Chelsea have planned bigger grounds, with the former's at a far more advanced stage than the latter's. Meanwhile, Liverpool still aren't sure if they'll extend the Anfield Road with planning still at the outline stage and a big, fat "might" leaping from FSG's club site Q&A back in July (imagine they answered some difficult questions one day…).
Anfield then will boast the same capacity as West Ham United, who will kick off 2016-17 in the 54,000-seater Queen Elizabeth Olympic Stadium.
The Londoners have already made their intentions clear price-wise. Every season ticket band will reduce, with a new-entry level season ticket being introduced costing £289 — the cheapest in the Premier League.
All season tickets for Under-16s will be cut to just £99 — the equivalent of £5 per game.
The Hammers, rightly, are cashing on the PR of this decision already. It's listed on their website, with the club describing itself as "the first Barclays Premier League Club to use the increased broadcast revenue for the 2016/17 season to cut ticket prices for supporters".
Liverpool could break from the shackles of the cartel, too. Liverpool could set away tickets at £20. Liverpool could sell its policy of railing against prices to the football world. It chooses not to.
Instead, a visit to Liverpool's website tells a very different story about its plans for the bigger Anfield. There, the push is for Main Stand hospitality packages, ranging from "Club Level" at "approx £2,500-4,000 per person" through "Premium" which is "approx £5,500-8,500 per person" to "Executive" at "£13,000 per person".
And the "ordinary" tickets? How many? How much? In the FAQs section, a question around general admission and season tickets is listed, dated December 2014, with the answer: "The Main Stand will become one of the largest all-seater single stands in Europe, providing approximately 8,500 additional seats within the Stadium and increasing the overall capacity at Anfield to roughly 54,000.
"At this stage it is too early to provide an exact breakdown of seating/ticketing allocations; however we anticipate that half of the tickets will be hospitality and the remainder will be split between GA and Season Tickets. Further details will be available in 2015."
We are in the 11th month of 2015. Where are the promised details?
West Ham is a different club in a different place but it competes in the same league as Liverpool. The challenges for Liverpool are clearly different but if supporters are feeling discriminated against, is it really other fans that are solely responsible for that feeling?
West Ham season ticket holders are being invited to bring with them two individuals as new season ticket holders at the new ground. Liverpool have closed the waiting list for a season ticket with the club not accepting new applications.
The members scheme is saturated and oversubscribed, too, yet the best stadium solution was the same as West Ham's, according to the club.
And that's not just a sleight on the current regime. Anfield not being able to supply demand is a problem that has dated back generations.
Writing in the Liverpool Official Handbook, season 1971-72, then club secretary Peter Robinson said: "When I'm asked what the biggest problem is for Liverpool, I can say — promptly — that it's too many people chasing too few seats. Probably we're the only club in the country in this enviable (or unenviable) position, for most clubs have the problem of EMPTY seats.
"Completion of the new stand means the 5,000-long waiting list for season tickets will be cut…but although the new seating will make some inroads, there will be more than 3,000 on the list. But, as ever, we are all doing our best for the fans who Liverpool. And we thank them, and hope they will continue to give us their support."
We have. And yet now we have club suits telling us we are discriminating against each other. Discriminating because we want to corner some tickets. Because there aren't enough to go around. Whose fault is that? Supporters groups have never had the opportunity to make decisions on stadium solutions.
Meanwhile, Liverpool continues to partner with Thomas Cook for "match breaks" costing up to £300 for a game to be part of (their words) "undoubtedly one of the best atmospheres in World football".
It's a practice that has previously been criticised by Which? Magazine, with the publication highlighting mark ups of "up to 325 per cent" when compared to DIY purchases of ticket, hotel and travel.
Liverpool has also failed to address the plight of 17-21 olds, as detailed in Mike Nevin's open letter on tickets regarding his son, Sam, in April.
As Mike detailed: "Sam, turned 17 in December last year and is now being asked to pay £725 versus the £200 he paid last season when Liverpool Football Club finally introduced a junior price for under-16s in The Kop.
"Prior to that, after 14 years on the waiting list, we had no option but to pay a full adult price for his first two seasons. That in itself was ridiculous but after a lifetime on the waiting list — since the day he was born — it was a price pill we had to swallow, albeit paid for by benevolent grandparents."
If we're getting into discrimination, it doesn't feel like it's a tit-for-tat argument the club is going to win anytime soon. Not when its prices discriminate against many of the people that live in the city it operates out of.
Perhaps next time, Mr Ayre could choose his words more carefully. Because we read Twitter, too.
* We've been shortlisted for Podcast of the Year by the Football Supporters' Federation. Please vote for us here! Don't let Alan Davies win!*
[rpfc_recent_posts_from_category meta="true"]
Like The Anfield Wrap on Facebook