HE'S not the worst human being in the world, José Mourinho. There are more despicable characters.
Don't make me list them.
Try saying to a fellow Liverpool fan that you wouldn't have minded José managing our club at some point. A few souls will nod and smile wryly, but a majority will lose it with you. It's unlikely that you'll get any sage reasons for the despisal that will be all too apparent, but rest safe that you will very likely get to hear the C word spoken with real commitment and due venom.
Yes, his Chelsea teams have been something of a nemesis to Liverpool Football club over the course of the past decade. Having said that, LFC have also managed to play the role of significant thorn in his side too. It isn't as though he gets to routinely laugh in our faces. We tend to make him sweat.
The English press pack don't detest José the way he is broadly loathed by the LFC community. Quite the opposite. They have trained themselves to be in fawn mode when he enters a room. There is a determination that he will light up the space. He will deliver copy. He understands his role and they love him for it.
This trade has allowed the man to have them off with the most outrageous series of bullshit soliloquies the football universe will ever see. The crazy unspoken deal between Mourinho and the media permits The Unhinged One the platform to offer up any level of extremist nonsense, but as long as it is accompanied by a smirk, a wink, an eye twinkle, or a Mussolini stare it is allowed to rest as another sublime slice of Mourinho-ese. An inherently worthy thing.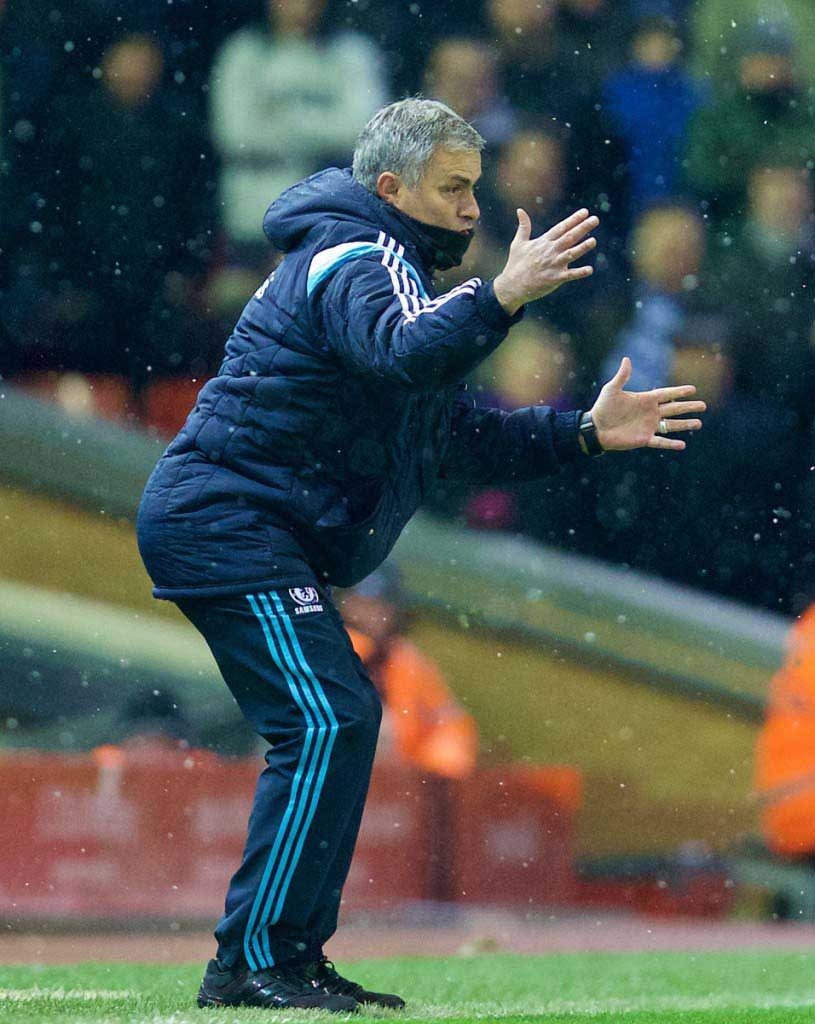 Maybe it's a Liverpool pysche trait that it instinctively baulks and rebels against this form of consensus. Even more lines of garbage have been filed in generalising the Scouser's spirit than in chronicling Mourinho's genius, but its not a poet's excess to generalise that the Liverpool mindset is pre-set to anti establishment. Roy Hodgson's proclivity for being a press pack poodle had his card marked early enough for him. Being a media suck-up rarely plays well on Merseyside.
Fortunately, the omens are that we won't have to be having any 'would you have Mourinho?' conversations in LFC related environments any day soon. The Daft One has seriously soiled his own cage. His legacy at Chelsea, a monument he seemed to be completing the rebuild of so effortlessly, now seems foundation-less. A whole structure, which as it transpires, was all byzantine bauble and no trousers.
Terry's finished. Ivanovic gone. Hazard lost. They all look more than a bit broken. This is the proverbial best time for Liverpool FC to be going down their manor for a rumble. We're no lookers ourselves but we can still fantasise about the day that our team will morph into the gorgeous reflections in Jurgen Klopp's mirror. Our trajectory feels like its gently in the ascendency. It may be the slowest take off on record, but we sense we will get airborne surely enough.
Mourinho tried to crapola his way into making Chelsea's midweek League Cup exit being something of an achievement. That may wash when you're on your perch, but down amongst the mortals it just hollers desperation. The Chelsea about-turn must come. They can't stay mired to the bottom third of this premier league. No champions have ever sustained an existential crisis this profound for an entire season. It's inconceivable that Chelsea finish below sixth. Isn't it?
It would be nice for our ends if they could save their moment of clarity and resumption of something akin to normal service for a few weeks yet. It would be nice to have points distance between us and them. Heck, it would be just nice to win a league game.
Mourinho, like Klopp, will be aware that a trying nine days awaits. The Chelsea man may even feel his midweek Champions League date (next Wednesday) is the most important of his next three fixtures.
Mourinho didn't exactly go weak for the League cup game with Stoke in the week and he will be mindful that he will not want his star men to be running on empty by next Wednesday.
Klopp made 10 changes against Bournemouth from the side held at home by Southampton last Sunday. He played Roberto Firmino into form and fitness with 86 minutes at Anfield on Wednesday.
Jordon Ibe too was sparky and will have given his manager another new offensive option. Divok Origi is keeping the number nine berth warm for Sturridge or Benteke by stealth alone. He is being asked to do a lot of running for a 20-year-old fledging and Klopp may have to decide whether he risks a below full-fitness Benteke or persist with a kid with little left in the tank.
In all likelihood, Liverpool will see a pragmatic and solid approach as preferable to a gung ho blood sensing one. Chelsea are more than capable of giving Liverpool a rebound hiding. That would be no use to anyone at Anfield. A stoic rearguard action, followed by the introduction of potent subs for the last quarter of the game may be a game plan, though predictable, worth resorting to.
If Jürgen Klopp is to be the manager whose side deliver the coup de grace to Mourinho's career, expect the Liverpool man's glee to be tainted with an afforded moment of reflection. Klopp, who saw his own legacy at Dortmund diminished in his final season, knows more than most that a tribal messiah is something to be. And that when that family loses its faith in you, nothing will ever be the same again. The Liverpool manager badly wants this win, but he will feel for Mourinho as he watches him grimace, pirouette, and exhort from the touchline. As he watches a kindred spirit raging against
the dying of the light.
The Liverpool eleven to put José to the sword ?
Mignolet; Clyne, Skrtel, Sahko, Moreno; Lucas, Milner, Can; Coutinho, Lallana, Benteke.
[rpfc_recent_posts_from_category meta="true"]
Pics: David Rawcliffe-Propaganda-Photo/Press Association 
Like The Anfield Wrap on Facebook