THE dress rehearsal phase is well and truly over. This is now a live situation for Jurgen Klopp. You don't just roll into town with the billing he's enjoyed without facing a swift day of reckoning. Liverpool have won just three matches in 13 games this season, against Stoke, Bournemouth and Aston Villa. That's rubbish. We need to see a winning football club again.
A victory over Southampton on Sunday would calm all the nerves. The draw against Tottenham Hotspur in North London last week was achieved with a style that so refreshed and was so replete with hints of better days to come that the paltry return of one point — for all that endeavour — barely seemed to register. The draw a fortnight before that (at Everton) was nothing to be ashamed of either. Yet quietly a season is passing us by.
Klopp has been parachuted in to set a bomb off beneath an underachieving but talented squad of players. The positivity of the men-as-machines performance against Tottenham was deflatingly encored by an all too familiar face of this modern Liverpool in the midweek home draw against Rubin Kazan. It was a showing that belonged to another age. An era that we hoped had ended when Brendan Rodgers was finally rendered from his misery just three massively long weeks ago.
Yet the death of hope is far from upon us. The Anfield crowd were frisky and ready to co-operate on Thursday night. They just needed any kind of encouragement. An early goal or two on Sunday and the roof could come off. We're Jurgen's believers and and remain in a highly suggestable state. If this Liverpool team wants it enough it will find an audience that is more than receptive and ready to be swept along.
In some senses, competent and omni-dangerous Southampton are just the right challenge. Not so good that a dominant Liverpool couldn't suffocate and squash them but not so fragile as to diminish any achievements. All kinds of a win will more than do against this opposition.
https://www.youtube.com/watch?v=1YCWKX2VW4Y
In recent weeks, Liverpool have faced a procession of opponents who could be comfortably typecast as lambs to the slaughter. Norwich, Villa, Carlisle, Sion and Rubin Kazan should all have been put down with a quiet ruthlessness. Minimum two-goal cushions should have been being hurled around everywhere. Yet just one of these theoretical make-weights were actually beaten at Anfield (Aston Villa by a 3-2 scoreline).
There is no doubt Southampton will offer a significant threat, but that should suit. Their boss Ronald Koeman is no bus parker, and sides lacking edge and confidence  in front of goal (like Liverpool right now) need room to work in.
Just like Liverpool, the Saints have taken 13 Premier League points from nine games, topping the Reds in the table on goal difference having scored seven more goals (15 versus just eight).
Very recently they looked sublime, as Jose Mourinho and Chelsea would witheringly testify having been on the end of a 3-1 defeat at Stamford Bridge. Make no mistake, Southampton could seriously expose and embarrass Liverpool this weekend given any encouragement.
Yet a heavy defeat to Everton on home turf, and draws with Newcastle, Watford, West Brom and Leicester, when the Saints threw away a two-goal lead, should give Liverpool hope in their hearts.
Lose though and Klopp could well be facing his most difficult start to a Liverpool week come Monday. The soul searching may need to begin in earnest.
https://www.youtube.com/watch?v=NvaHKGrbtoQ
But let's not dwell on this scary prospect longer than is necessary. We all want this honeymoon party to get started and to last forever. No better time. No better place. Although the draw with the Russians in the week was dispiriting, ardour is not necessarily dampened. The team should be getting stronger. Strikers, goals scorers, star players are readying themselves just off stage.
We all hope (and pray) that Daniel Sturridge is not back on that injury-brief-hope-of-recovery-then further-setback cycle that has so blighted his recent career. We need to see him looking bouncy and box fresh after a week off with what the medical experts call "a bit of a sore knee". Sturridge is the key, he's the pivot and talisman for this nervy Liverpool side. News of some fluid on said knee joint has nerves jangling again though.
Also vying for starts and reboots of nascent Liverpool careers are the summer's showcase signings, Roberto Firmino and Christian Benteke. Both have been missing for a few weeks now. Without particularly exciting any one, it has to be conceded, neither looked too ring rusty in their comeback cameos in midweek either. There were signs of better days to come.
In a fantasy sense, it remains hard not to get excited about the potential of a Liverpool side that could harness the simultaneous energies of a front four of Coutinho, Firmino, Benteke and Sturridge. If it were up to us humble punters, surely the temptation to throw the four of them in together on Sunday would be irrestible (doubts surrounding Sturridge not withstanding).
One of the things that will come to be missed about Brendan Rodgers is that there was always a suspicion that his inner child could never ever resist the prospect of throwing all the forwards in. Big pictures and tactical pragmatism be damned.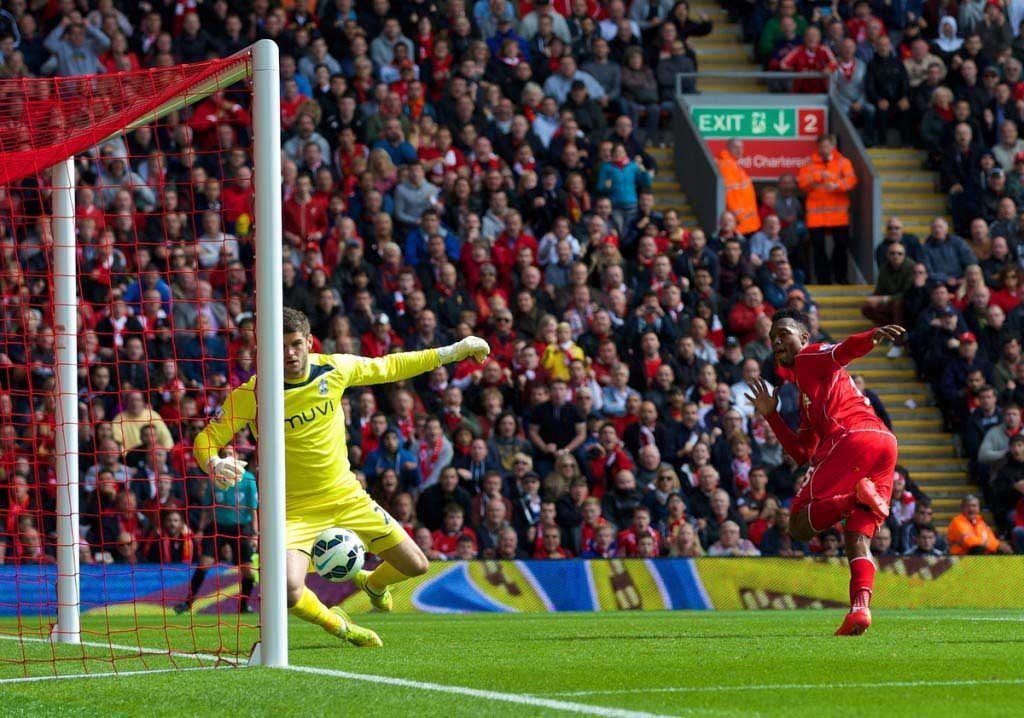 His successor, Klopp, talks the emotional game that Rodgers usually defaulted to walking. Klopp will look to channel the excitement of his first league home fixture and encourage a display of attacking verve that has only been hinted at so far this season.
Perhaps this is not the occasion for a tenth-placed Liverpool side to cut loose, but more one about bringing home those precious three points safe and sound, with the minimum histrionics. To this end it seems likelier that we will again see  solidity in central midfield, with Lucas Leiva, Emre Can and James Milner again forming the base of Klopp's Christmas tree formation.
Ahead of this steady pack it gets more interesting. Coutinho and Firmino getting all Brazilian behind a Benteke shaped battering ram is a sexy prospect. Having said that, Adam Lallana was Liverpool's best performer in midweek, and he would be surprised to be culled for players who have only shown for 20 minutes in the last month or so.
The option remains for Klopp to abandon the security of the 4-3-2-1 and opt for a 4-2-3-1, and permit himself the luxury of another forward. This would be a riskier strategy against no-mugs Southampton, but it would allow the accomodation of all his best fit attacking players, and potentially provide the platform for this side to finally show its creative and goal-scoring teeth.
If Jurgen is feeling bolder still he may look to the pace and unpredicatability of either/both of Jordon Ibe and/or Divock Origi. The manager tellingly refused to rule out a twin striker approach. Partnering Origi and Benteke feels synergistic on a couple of levels. The boys have worked together before for Belgium, but they also have differing but complementary skill sets. Crudely speaking, they look a perfect nippy and large combination.
All this said, there has been a degree of conservatism in Klopp's first two selections as he seeks to feel his way into his new role, and it would be something of a surprise if things were suddenly shaken up just for Southampton's sake. When the push comes to the shove expect this starting 11: Mignolet; Clyne, Skrtel, Sahko, Moreno; Lucas, Can, Milner; Coutinho, Lallana; Benteke.
INJURIES: Henderson (foot, November 21), Flanagan (December), Gomez, Ings (ACL, unknown), Rossiter (hamstring, unknown).
LAST MEETING: Southampton o Liverpool 2 (Coutinho 3, Sterling 73), Premier League, February 22, 2015.
MATCH DETAILS: Kick-off 4.15pm, live on Sky Sports 1. Tickets: Sold out.
ODDS: Liverpool 10-11, Draw 5-2, Southampton 3-1.
[rpfc_recent_posts_from_category meta="true"]
Pics: David Rawcliffe-Propaganda-Photo
Like The Anfield Wrap on Facebook