It almost doesn't matter who he really is. It's what he represents that counts most. All the cliches. We don't like losing. We don't like being looked down upon. Forever being re-classified. We've been getting told for 25 years now that we're no longer a big club. That we've got no right to dream our dreams. Then periodically, we awaken, and shock the lot of them. Smack them all between the eyes. A treble here, a European Cup there. Almost the best league title-winning side of all time.
Brendan Rodgers walked the Liverpool walk for 18 months of his 36 in total. In time we'll come to see that this was enough for his legacy to be always respected. Placed in its proper context.
It's Klopp's time now. He will be burdened with all the unreasonable expectation that comes with our territory. The thing is — and the reason why he is such a sublime fit for us — is that the man is made for unreasonable expectation. At least that's the impression he gives. Those intense smiling eyes. That maniacal grin. He wants it as nasty as it can get. His shrink may tell a different story but for Liverpool Football Club and all who sail in her right now, his is the aura of a man with unbridled self confidence. A man without doubts.
From the distance we've been afforded up until now Klopp appears almost a caricature of a great football manager. A method actor in the ultimate role written for him. His screen presence is so voluminous it makes Jose Mourinho look like that charisma-free no-mark that Ricky Gervais trots out on Sky every now and again. Watch Klopp in front of a television camera. He's actually quite scary. Imagine what he does to players.
He feels so perfect for Liverpool Football club in 2015 because he comes gift wrapped as Shankly-esque as it's possible to imagine. Google him. I'm sure you have. You'll find anecdote after apocryphal tale about his legendary keeping-it-real exploits.
He wouldn't train at the Emirates before a Champions League game with Arsenal, but took his side to a local park to train instead. He walks home after the match, alone with his thoughts and his ruck sack. He doesn't wear a suit, and rejoices in being a bad scruff. He took his team on a pre-season camp to the Swedish wilderness and denied them electricity…and food. Well, he made them fish for it themselves from a nearby lake. And they didn't hate him for it.
Our Jurgen — boy that feels good right now — is a bit of a God-botherer if truth be told. A deeply religious Protestant man. Still, his faith has instilled in him a zealatory that he seems to have applied to the art of football managing. He had an epiphany as a young coach, that appears to have shaped his career. Get on this (he's talking about his time at Mainz and his reverence for that amazing Arrigo Sacchi-inspired AC Milan side of the early 90s):
"Even though we were in the second division we were the first German team to play 4-4-2 without a libero. We watched this very boring video, 500 times, of Sacchi doing defensive drills, using sticks and without the ball, with Maldini, Baresi and Albertini. We used to think before then that if the other players are better, you have to lose. After that we learned anything is possible — you can beat better teams by using tactics."
Wow. That last bit. That's what makes him Liverpool's man. Liverpool Football Club cannot win an unfair game — where four of the world's top seven richest teams play in the same league — without divine intervention. Klopp may have worked out a way.
With a wage bill less than QPR's he took on and overcame the leviathan that was, and remains, Bayern Munich. Cynics may say it's a one-team league like the Scottish Premier but just imagine if St Mirren emerged now to not only challenge Celtic and become the country's No.2 team, but to actually overhaul them and to win two titles. And then to top that by getting to the Champions League final, leaving the likes of Ronaldo and Real Madrid in their humble wake. You'd fancy Liverpool getting their coach in, wouldn't you?
Read Klopp interviews. What comes through relentlessly is that he wants to win, but win in a certain way. He wants to prove something to someone. To his mother, to God, but most likely to himself.
This lad is an elite European coach. One of a select group of about half a dozen managers working in the world game today. The other five only take jobs with clubs that guarantee squads and trophies that will further enhance their already muscular CVs.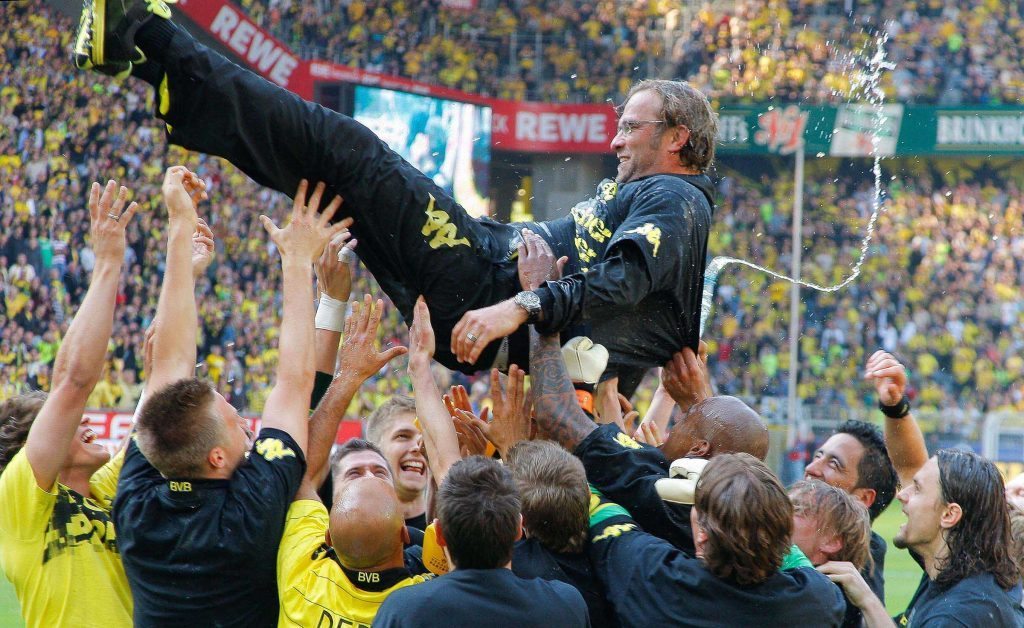 Klopp doesn't seem to need that in his life.
He is truly a throwback. A contradiction in many senses — for instance he seems to have no problem being a shameless shill in doing adverts for some heavy weight corporations (Puma, Opel and others) and yet it is hard to escape the conclusion that here is a man on a mission that represents something more honest.
By the time Klopp's predecessors have come to appreciate this, the burden of that realisation has broken them. No-one is the same after Liverpool. I think Klopp knows this. I think that's why he wanted our job. He is a man who will have done his homework. He will know the history. He will have researched our sub-cultures and customs.
Nothing though can fully prepare him for our reality, though.
This is real world now, Jurgen. This is not a drill. We will bury you if you fail us. But win for us and return us to the promised land — not halfway, but all the way — and you will truly walk with gods.
Statues will be erected to you, children will be named after you, hairstyles and leisure wear will be worn in your image. Strap yourself in, lad, it's going to be mad. Enjoy it regardless.
TAW Player: Raphael Honigstein on Jurgen Klopp
[rpfc_recent_posts_from_category meta="true"]
Pics: PA Images & David Rawcliffe-Propaganda Photo
Like The Anfield Wrap on Facebook