IT was always going to be this way. That we would end up living in this half light. There was a moment , after the quake of the 6-1 lashing at Stoke in May. After the swell, and in the after-shock, when a decision might have been taken. It would have been an emotive one, a cruel one but not an unfair one. Had they taken our manager out to the back yard, positioned him against the wall and shot him. Until he was dead. He'd have taken that then. Those of us who have projected ourselves into the trench with him would have taken it then, too.
But Brendan Rodgers survived. He made changes, bought new players and life coached himself to a new place. It looked like it might all work — for about three weeks.
Now the rebels are at the gates again. This time they are angrier than before and armed to the teeth. He simply cannot survive this phase, or at least if he is to, we will need to be talking about a turn around as historically monumental as Howard Kendall's at Everton in 1983. Kendall and his then Chairman Phillip Carter stood on a precipice with fans so disgruntled that Goodison was all but wallpapered in leaflets from groups calling for their immediate exits. One game was won and a season and an era were born. Cups and titles followed. The greatest time in that club's history.
This won't happen for Rodgers. That kind of lightning simply doesn't strike often enough. Now every new set back is as calamitous as the 6-1 at Stoke. It was foretold (by the entire universe) that Rodgers could not survive a poor start to this season. It was foretold that, because of the harsh way in which the fixtures had fallen, that fate would most likely deal the Liverpool manager a deadly blow, even before the clocks went back.
What has surprised has been the manner of this manager's stumble into that inevitable abyss. We knew it would require a special resurgence for him to send a new team out into theatres at Arsenal, Manchester United and even Stoke again and come away with spoils. We didn't expect near total capitulation at our home bastion though. We simply didn't expect Anfield to fall so cheaply. A narrow slide under a closing gate secured a fortunate 1-0 victory over freshmen Bournemouth, but in 3-0 defeat to West Ham, in drawing 1-1 with modest Norwich and against League Two Carlisle a fuller, sadder picture, was revealed.
Some might say there is something of a poetic symmetry in it being Aston Villa that are scheduled now as the next visitors to Anfield. Time and time again over the past few years they have proved a nemesis to Liverpool managers, and to Brendan Rodgers in particular. Villa, despite their own perennial travails, have never concerned themselves that they usually encounter Liverpool sides full of bounce and brio. In fact they have routinely harnessed and stolen that energy and turned it to their own advantage. When Anfield expected the last team we ever needed were Villa.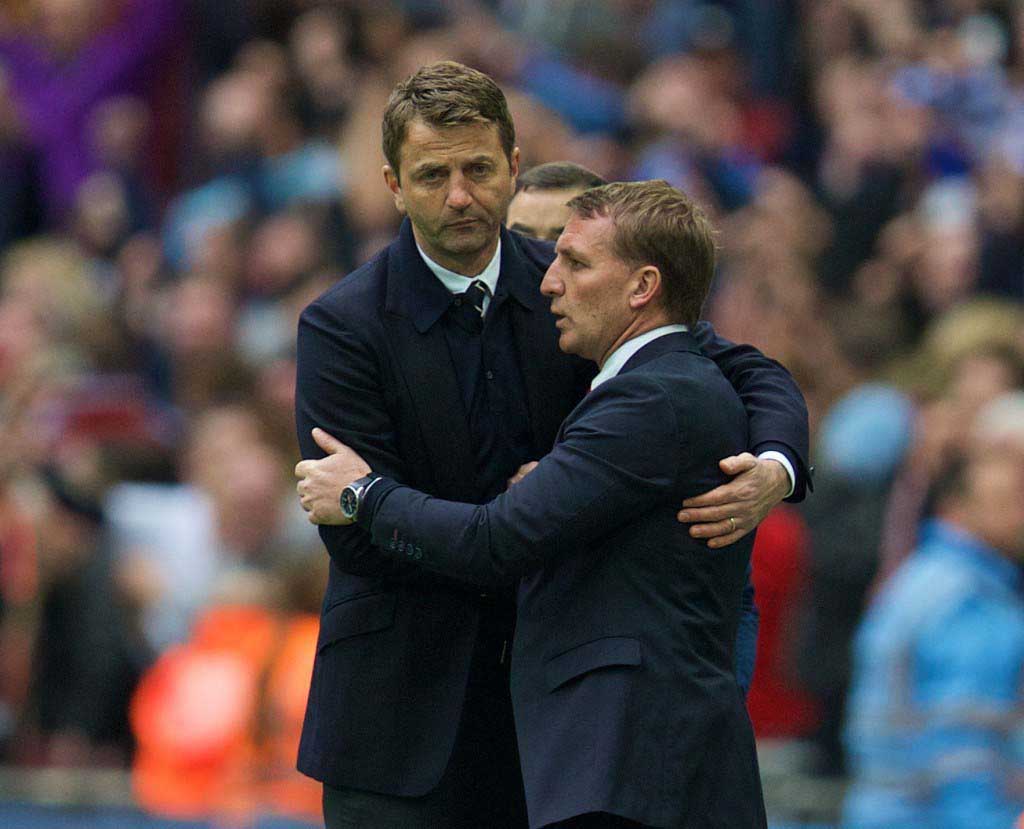 So the ironies are now in full effect. Brendan Rodgers needs a result like no manager has ever needed a result before. The Villa will be salivating. In church halls and public houses across the Midlands, choirs of Villains are practising their war tunes. "You're getting sacked in the morning." "This is a library." All the classics. All the hits.
This then could be Brendan's last stand. It is likelier it will be one in a series. To extend the metaphors of war and violence one last time, let's picture him as that guy in those movies, riddled with bullets, grimacing, stumbling, falling, sinking to his knees in the dust. Taking an age to just bloody well die.
Not that it seems to matter too much now, but the current incarnation of Aston Villa are a bigger pile of shit than is customary. They've picked up just the one point in their last five Premier League games. Sherwood the charlatan, the blagger extraordinaire, the show of a manager that he is, has had his 'being found out' phase. He'll outlive Rodgers, but not by much. Getting something at Anfield may extend his top-flight managerial life by a good half dozen games more than it should.
In terms of resources available to the Liverpoool manager, Christian Benteke, Roberto Firmino and Dejan Lovren have all joined captain Jordan Henderson on the casualty list. But with Danny Sturridge now back and Danny Ings firing there is a sense, despite the gloom, that this Liverpool squad might just put in a performance one day soon.
The three at the back system looks to be back, with whimper not a bang yet, but nevertheless here to stay for the immediate duration. Mad to say it, but the back six seem to already pick themselves — Mignolet 'protected' by the trio of Emre Can, Martin Skrtel and Mamadou Sahko, in turn flanked by Nathaniel Clyne and the somewhat reborn Alberto Moreno.
Similarly the central midfield pairing is by default Lucas Leiva and James Milner, unless Joe Allen has shown enough in his recent return to training to merit a Premier League start.
Assuming no relapses, Sturridge is again the spearhead of the attack and it would be oh so fine if he could get off the mark early. It cannot be stressed enough what having the real Danny Sturridge could do for Liverpool Football Club right now. It was such a shame that post-Norwich we couldn't have been talking about how his 60-minute cameo was a subtly sublime taster of the joys that might lie ahead (if he stays fit). Instead Mignolet's flappy hands, the profligacy in front of goal of others, and talk of more nails in the manager's coffin became the themes of the day.
Philippe Coutinho, despite a strange game last weekend and in the League Cup, should also be sure of his starting place. That leaves the only real decision for the manager to make in choosing one man to either directly partner Sturridge, or assist Coutinho in behind him.
Benteke would have loved to go to work on his ex-manager Sherwood in a fixture that he always excelled against Liverpool for Villa. Fitness (hamstring) will leave the big signing kicking his heels. Ings looked really bright for 45 minutes against Norwich, and his first goal was taken with such composure that it surely won't be too rare an event.
The former Burnley striker's all-round spark, movement, aggression and no little pace, suggested that there may yet be a significant role for him in a season in which he was tipped to merely play an understudy role to primary strikers Benteke and Sturridge. It is a mark of the scale of impact he had last Sunday and in midweek, that the likes of Adam Lallana, and £30m pair Roberto Firmino and Benteke would have fallen behind him in the pecking order regardless of form or fitness.
All of which adds to the aura of a strange unreality around the club at the moment. There's that quiet intuitive feel that this collection of players have a real show in them, and that this is a Liverpool squad replete with options. Yet they can't buy a win.
The papers are speculating that Rodgers will need three straight wins to keep his job. The manager would empty his Post Office savings account to buy one victory right now. It may arrive for him this weekend, but it is hard not to suspect that for his cause it will come as too little too late.
ODDS: Liverpool (6/11), Draw (17/5), Aston Villa (13/2)
OVERALL RECORD v ASTON VILLA: Games played: 189, Won: 92, Drawn: 40, Lost: 57, Goals scored: 331, Goals against: 264.
LAST MATCH:  Liverpool 1 Aston Villa 2, FA Cup Semi Final, April 19, 2015, Wembley Stadium.
[rpfc_recent_posts_from_category meta="true"]
Pic: David Rawcliffe-Propaganda Photo
Like The Anfield Wrap on Facebook