SOME fans want Jurgen Klopp. Others want Carlo Ancelotti. Not so many want to stick with Brendan Rodgers, it seems. With daily debate over the manager's future dominating Liverpool supporters' timelines, we asked regular Anfield Wrap contributors and writers for their views. Should Rodgers have been sacked in the summer? Should he be sacked now? Can he turn it all around? This is our third and final part of this feature. Part one is here. And part two is here.
GARETH ROBERTS — @robbohuyton
1. Should Liverpool have sacked Brendan Rodgers in the summer?
Yes. To me it felt like it had run its course post-Stoke City and it was time to hit reset — new man, new ideas, fresh approach. Make it all feel bright and hopeful again. Jurgen Klopp felt like a gettable upgrade — and one that would reunite the fans, understand the city, lift the collective spirit and maybe take us somewhere. Liverpool demands a figurehead as a manager, someone who fights the corner and comes out swinging. Rodgers has hid under a blanket since the summer. It's not what we're about.
The team sleepwalked its way through the final stages of last season and it was depressing to watch — the manager seemed to have run out of ideas, or ones that worked at least, and even with the chance of saving the season with Champions League qualification the collective heart to go and do that just wasn't there. Mitigate all you like, but to throw away top four because you can't beat West Brom, Hull, Palace and Stoke? It's not good enough. And it's hardly asking the earth to beat sides like that.
Throw in the piss-poor attempt at qualifying from a more than doable Champions League group and that final-day 6-1 humiliation and I just felt it was going to be hard for Rodgers to re-emerge in a new season and convince everyone — players, fans, media — that he was the man. What can you do or say any different? It needed freshness. Now we have stale.
2. Should Brendan Rodgers be sacked now?
Unless there is a sudden and dramatic upturn in results, yes. I think all the 'worst side in 50 years' stuff is well over the top. There are some decent players at the club. Like fans, they could be lifted by a new man, with new ideas. Rodgers seems uncertain in what he is doing, evidenced by the formation changes, the switch of heart on Lucas and the rest. I think he's floundering, confused by what is going wrong and how to fix it. It's a shame, because we've played some fantastic stuff under him. I just think he's too far gone now. I don't see how he pulls it back. If he does, well go 'ed, Brendan. It will be miracle-like. And it will mean Liverpool are winning on a regular basis — which is what it is all about and what it will always be all about.
3. Are you confident Brendan Rodgers can turn things around at Liverpool?
Not really. As I said above, I think he's unsure about what to do for the best. He's hindered by his own over-thinking. Unlike many others, I don't think he's a chancer, or a fraud. But what he is a young manager who is possibly a bit burnt out by the whole situation now. Talk is that he's tried to delegate more this season, taking a step back and leaning on his coaching staff a bit more. It's not working. Sometimes it's best to draw a line under it. A break could suit everyone. It's us not you, Bren, and all that.
JAMES DUTTON — @jrgdutton
1. Should Liverpool have sacked Brendan Rodgers in the summer?
Approaching an answer to this question by separating the context of the start of the season is incredibly difficult. Given the end of last season perhaps a slow start should have been expected? The 6-1 defeat to Stoke changed everything and exposed Rodgers to a lot of vitriol on social media and in the stands. Before that I hadn't really given much thought to him being sacked, after that I was led to thinking there's no way he could come back from such an embarrassment. But, the sentimental fool that I am, I felt he deserved another run where some of the legitimate excuses for the debacle of the 2014-15 campaign could be forgotten.
2. Should Brendan Rodgers be sacked now?
No. It's funny isn't it, but after a summer of saying "no more excuses" there are plenty already. Daniel Sturridge is back and Rodgers has shown what can be achieved when he gets a run in the team. Jordan Henderson has become the Sturridge of this season, injured in mysterious circumstances and then out for two months on his return to training. He's brought new coaching staff in and signed loads more players so he needs time for them to bed in. But the overriding context suggests he shouldn't last much longer. If he can't get results or performances by the Merseyside derby it's hard to see a way back because Liverpool have been conceding too many and scoring too few for too long now.
3. Are you confident Brendan Rodgers can turn things around at Liverpool?
He's done it before but I'm not so confident anymore. Everything seems to have turned on him again. Mike Nevin had it right on a recent podcast when he said he looked like a man who had lost the courage of his convictions. He's looked lost since the end of the 2013-14 season, a man haunted by his defeats more than is perhaps necessary. A young, vibrant, idealistic coach has become one who looks to keep things solid and play percentages. If he can't turn things around I'd rather he tried something different, go down fighting, go down not wondering rather than the endless meandering football of recent weeks.
MIKE GIRLING — @mikejgirling
1. Should Liverpool have sacked Brendan Rodgers in the summer?
Yes, once you start getting battered it's game over. The 1-3 to Crystal Palace followed by the 6-1 at Stoke. It's not repairable.
2. Should Brendan Rodgers be sacked now?
Yes, there are at least 2 very good proven managers on the market who are significantly better.
3. Are you confident Brendan Rodgers can turn things around at Liverpool?
I'd say he has a five per cent chance of turning it around and only a fool would bet on that.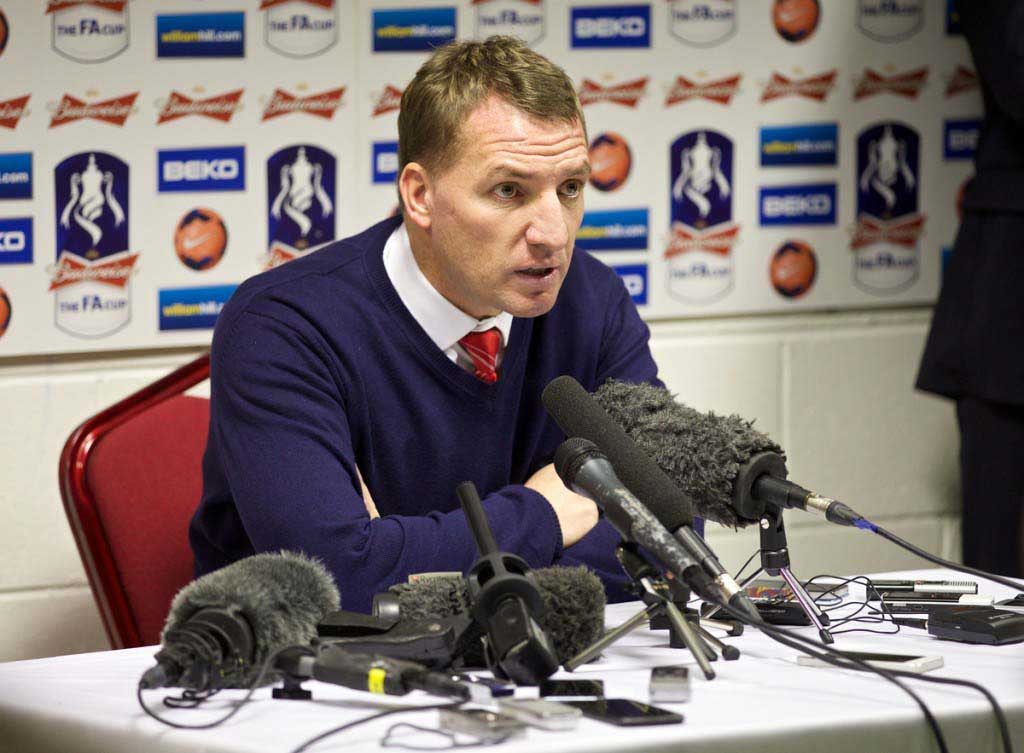 PHIL BLUNDELL — @PhilBlundell
1. Should Liverpool have sacked Brendan Rodgers in the summer?
It's a tough one for me, I could take him or leave him in the summer. And while it sounds very much like fence sitting, I was fine with keeping him. But if we had have got rid I wouldn't have been upset in the slightest. Losing 6-1 is unacceptable and the way we downed tools in the last six weeks when a good run would have seen us get fourth wasn't anything like we should be seeing. The positives of 13-14 and the negatives of 14-15 created two arguments that I wouldn't do any more than draw with in a debate.
2. Should Brendan Rodgers be sacked now?
I don't really see how sacking him at this very point would make much sense. Not because I think we're a great team or anything like that, I mean that I don't see how the people who decided to stick with him in the summer, to give him three new coaches, to give him a lot of new players, and also supposedly to give him more control in general can turn around this soon and change their mind so quickly. I think that lack of confidence in their own decision making would be a bit worrying.
It's not been a stellar start to the season by any stretch of the imagination, but to make a judgement now I feel they'd have to have absolutely huge evidence from the first six weeks to make that change. Do they have it? I don't think so. Two wins and a draw at Arsenal was encouraging as starts go, West Ham was abject and United poor but if we used results away at Manchester United in the last 10 years as a gauge of how the manager is doing, we'd have had about 10 different managers in the last 10 years, and then there was Sunday, which I didn't really think was particularly bad. So for me, it would basically mean sacking the manager for the West Ham game.
You can't sack a manager on the basis of one game. People will link it to last season, but I think you have to have a degree of separation. If you give the manager what we gave the manager in the summer, you can't sack him after six league games. It could get worse, and if it gets worse, you get rid in November, or December. You'll know then that it's beyond saving. The only reason I can possibly entertain for sacking him this very minute is the sheer volume of people he's lost in terms of support. And that's without even talking about the blind hatred some people have for him.
The time for this question is probably two months off.
3. Are you confident Brendan Rodgers can turn things around at Liverpool?
I'd like him to. I really would. People seem to be hung up on needing to like him and I don't get that. He's actively trying his best for the good of the club, he isn't on a sabotage mission so he isn't worth of the levels of revulsion that he is on the end of in certain quarters, but people aren't seeing things logically at the minute. There's absolutely no basis for walking out of Anfield on Sunday and proclaiming the performance "terrible" — that isn't to say it was a good performance, but there were signs of improvement.
The fact that people were walking out, telling everyone how bad it is, tells you what he's up against. There's no slack. And no team has ever been successful in that type of environment.
I'd absolutely love him to turn it round, because as Steve Graves said in Part 1 I like watching Liverpool win football matches. Do I think he will? I can't see it because I think he's up against too much, under too much pressure, but regardless of that two goals in three games against teams who will finish in the bottom 10 is not encouraging.
Bournemouth, West Ham and Norwich were games he absolutely had to send out a message. And we got four points. They're the games where he turns it round. And so far, he hasn't. Thirty per cent of the games at Anfield against the bottom 10 have gone in all likelihood and they've yielded four points. It doesn't look good for him. For all the talk of the difficult away fixture list to start the season, that was countered with a soft set of home fixtures. If you can't win your home games, there's little down for you. And I'm afraid it looks like his days are numbered. So in short, I'm not very confident.
PAUL COPE — @Paul7Cope
1. Should Liverpool have sacked Brendan Rodgers in the summer?
No. I'm sticking to my guns on this, and will do even if he ends up being sacked this season. The right decision in the summer was to stick by the manager that they had appointed who had come so close to winning the league in the most unlikely fashion in 2013-4.
Given that the owners have obviously taken some responsibility for the problems we experienced last season, I think they were right to give him another chance and to support him in the transfer window.
I said pre-season that if we are ever going to win the league again we're going to have to do things differently to Manchester United, Manchester City, Chelsea and Arsenal who all have far more spending power than us.
Whether people like it or not, the main way you can stand out from the crowd these days is to give your manager time to get things right. Anyone who has looked back at Ferguson's early years at United will see how similar they were to Brendan's early years here, including him finishing second in the league early on with a huge proportion of their fan base wanting him to be sacked shortly after.
I'm not saying that Rodgers will be as good as Ferguson, but then Ferguson might never have been as good as Ferguson if he'd been sacked after three seasons. I've heard shouts that FSG need to show their strength by sacking him which baffles me because it takes far more strength for them to stand by him than it would to sack him. Sacking an underperforming manager is the easiest thing in the world for owners to do to deflect any criticism from themselves. Sticking together and trying to learn from their mistakes shows much more strength.
2. Should Brendan Rodgers be sacked now?
No. They shouldn't have sacked him in the summer and I don't think that anything should change just a few games into the season. I'm the biggest culprit of getting carried away pre-season about what can be achieved going into the new season, and I think we'd all agree that we had a pretty successful transfer window, but the reality is that with a number of new faces in the squad there was always a risk of another settling in period being needed.
The loss of Jordan Henderson has been a big blow to the manager but there were signs on Sunday that things were starting to come together. If you watch that match again without the emotion of the live event and the desperation of wanting to win, there were actually some really positive signs including loads of real chances being created in the box, Sturridge coming back from injury and Danny Ings showing a real hunger and desire to lead the line the way a certain lunatic South American used to.
Before everyone starts shouting at me on Twitter, I'm not for one second saying that Ings can replace Suarez, but from what I've seen he's the closest player we've had since Luis left to someone who will hassle opponents and never give up on anything, which sets the tone for the rest of the team. He kept three or four balls in play at the weekend which he had no right to, and we created chances from those situations. Ings getting a run in the team with Sturridge getting back to fitness could actually be the catalyst we need to start playing exciting football again.
3. Are you confident Brendan Rodgers can turn things around at Liverpool?
I wouldn't go as far as saying I'm confident he can, but I definitely think he's still got it in his locker to turn it around and for us to go on a good run.
He's shown in the past that he can ride the crest of a wave so I just hope he can build on the last two games with a win against Carlisle and another against Villa.
If we can get two wins before the derby and score a couple of goals in each game, all of a sudden the press (if not the fans) will be talking about being unbeaten in four and going into the derby hopeful of a result.
Win the derby and we could see another run starting, but only if he commits to us scoring more goals again. My concern is that the pressure around his position and the club will prevent him from really letting loose with his formation and team selection, and my opinion is that the way he saves his job and turns this around is to convince everyone that he's still capable of putting out a team that can score fours and fives in a match.
Even the most cynical Rodgers hater will struggle to argue for him to be sacked if he gets back to that football, but it's easier said than done in the pressure cooker of Anfield when so much public opinion is against him. The biggest thing everyone should remember is how quickly things can change in football, even for the very best players and managers, so I wouldn't write him off just yet.
NEIL SCOTT — @66zimbo
1. Should Liverpool have sacked Brendan Rodgers in the summer?
Realistically, yes. Within three days of the Stoke game. Not just because losing 6-1 to Stoke should never, ever be the kind of result that we shrug off and accept as something that happens now. Although that is reason in itself.
And not just because it was the culmination of a season that held all the appeal of Katie Hopkins picking dog-shit from her hair. But because it symbolised everything about a club that has quietly teetered into mediocrity, from the top down. Owners. Manager. Players. It was confirmation that the idea we should always look to be the best, always see ourselves as competing at the very highest level, has been abandoned.
Obviously this reflects deep-seated problems at the heart of the club and can't be solved just by replacing whoever happens to be manager at the time. But at least it would have been recognition that things needed to change. As such, the decision not to act came as no great surprise.
2. Should Brendan Rodgers be sacked now?
I don't hate Brendan Rodgers. I just want him to win games for Liverpool. That's the bottom line. I'm not arsed about all the other noise, deafening, insistent, angry as hell and thirsty for blood. Just win games.
I go into each game now and I don't see us winning. I don't see a plan. The players look confused and edgy, desperate for someone to put their trust in, to get behind, on and off the pitch, but no-one's standing up. How do you come back from that? So yes, sack him. Sack him now.
But there's something else. I've always hated those clubs that publicly get behind their manager in the summer, then chuck him out the window before the clocks go back. It smacks of panic and muddled thinking. And it makes it seem like you don't know what you're doing. Not a good look for hard-nosed businessmen (because ultimately, that's what they are) like FSG.
And, the other issue, hovering above all this like a massive balloon with Jurgen Klopp's grinning face on the side, is who you get as a replacement. Do we go balls out for the Teutonic Flavour of the Month? Do we press the reset button & go for a Rodgers Mk. 2, someone like Garry Monk (Ricky Wilson on crack)? Do you end up with someone nobody really wants because the shouts for change eventually become too loud to ignore?
Instinctively, I want that change too. But without addressing the other issues at the club, the lack of direction, the recruitment strategy, the paucity of ambition, the unbalanced, leaderless, screamingly average squad, it's a sticking plaster on a severed jugular. So, that's kind of where I am.
I can see him riding it out till Christmas. But if the derby goes badly, all bets are off.
3. Are you confident Brendan Rodgers can turn things around at Liverpool?
In the short term, he might. He'll pick up a few wins, interspersed with a few defeats. Rinse and repeat. Every promise of a bright new dawn dashed. And we end up back at the same place. Agony prolonged for everyone.
One of my big problems with Rodgers is, for someone who prides himself on his tactical acumen, he doesn't half get out-thought a lot. Every manager can lose games. But the manner of our defeats in the last 12 months is telling. We've been out-maneuvered by people like Warnock and Allardyce and Pardew (twice) and Sherwood and Hughes and Bruce. We haven't just been beaten. We've been countered, blunted, made to look bereft of ideas. By managers who, with the greatest of respect (sure) aren't getting a sniff of a top four job anytime soon.
That's as damning as any statistic you can throw about.
He may yet make us all look like dopes. He may prove that 13-14 was the norm not the anomaly. And I'll be happy if he does because none of this is personal. Not for me. I just think it's become too entrenched now to be recovered. Too much hatred, too much vitriol, too many questions without an answer.
We all need a lift. We all need to get back to enjoying the game. We all need someone to get behind. Right now, that's not Brendan Rodgers. Does anyone think it ever will be?
[rpfc_recent_posts_from_category meta="true"]
Pics: David Rawcliffe-Propaganda-Photo
Like The Anfield Wrap on Facebook