AND so to Stoke. To finish what they started.
Bad days in football come in all shapes and sizes but proper spankings tend to take familiar forms. The day after you feel like you're waking up in hospital following a trauma you can't permit full recall on. What happened there? What happens next? Will I ever be the same again?
Brendan Rodgers will never be the same again. He's all but said as much. Stoke was his Waterloo. He was that lad at the battle of Hastings who ended up getting shot in the eye with an arrow. There was no coming back from that. Only exile/death awaited.
Then he wakes up. Bolt upright. From his nightmare. Eyes bulging, cheeks blowing, sweat pouring. Six one! He screams. A reassuring arm restrains and comforts. Don't worry Brendan. It's all going to be OK. They didn't sack you. I know. Unbelievable. Calm down. Get up. Get dressed. You go again.
This time it will be better. It can't be worse. This time Emre Can won't be playing that game too far, in that role too abstract. He won't play. His time will come though. Sakho too, in the centre of that defence at the Britannia in May, should be spared a return to the scene. Moreno's dwindling stock is in freefall and he is likely to be usurped by a man minor. Joe Gomez will get the nod at left back and Joe Gomez won't let himself or anyone else down. Joe Gomez is ready.
In midfield Liverpool will need to be wide awake this time. Henderson, Lucas and Allen looked as grey and lethargic a midfield as Liverpool Football Club has ever let step forward in its name. They made Charlie Adam and Nzonzi look like creatures from another dimension. This time neither Allen nor Lucas will feature. Nor for that matter will N'Zonzi.
This time Liverpool come recharged. James Milner will buddy up with Jordan Henderson and front the resistance. Milner will not be found wanting. He can't do it on his own, but he'll have a fair crack at it if needs be. We shouldn't over burden new men with expectation but the sense is that Milner has come too far, and is too seasoned to not relish new challenges and pressures. Whether he'll be part of stoic rear guard action or a lung busting surge into penalty areas remains to be seen. He'll take up Gerrard's mantel. It will be fascinating to see how far it takes him.
The hope and the expectation is that Phil Coutinho will sit deeper than required for the majority of last season. We've seen Coutinho the impish jinker, creator, scorer and all round wunderkind, but perhaps now we will be witness to the emergence of Coutinho the midfield general. The organiser, the prompter, the controller of matches. There are now enough potential options ahead of Coutinho that perhaps his vision can truly be brought to bear witness on a more expansive game. If he is to find a permanent home as part of the middle three then he'll need to show a combative streak on a more regular basis than when required solely for pressing duties in more advanced positions. No better proving ground for mastering the darker midfield arts than a Britannia bust up.
If the back five and the middle three look reasonably fair set for Rodgers as the campaign begins then there are possibly more questions and more answers facing him in selecting the attacking element of his rebooted Liverpool. Fitness and form are big factors ahead of the Stoke encounter and there's already a sense that — with options aplenty — that these could remain arbiters throughout the season. As Adam Lallana or Bobby Firmino could discover tomorrow, pedigree and price tag won't earn first dibs on a starting 11 berth.
The expectation is that we'll see Jordon Ibe's frightening potential given an opportunity to rise or to fall in an arena that won't permit a raw 19 year old to baby step through the contest. The boy has looked the ace in Liverpool's pack in pre-season, and there is a sense of true pressure on him now to emerge as leading man for this team. It's an unfairly premature status that may have similarly prompted Raheem Sterling to seek a more reasonable environment. Let's hope that supporters can permit Jordon a fair ratio of average to good showings this season. If the midfield battle is again lost at Stoke, then so too will be the offensive three, and Ibe as the lad with the thinnest resume and collateral may well be cast as scapegoat. Let's hope his blistering pace, strength and desire to get on the ball and impact football matches prevails and that come 6pm Sunday evening we're worshipping a new star rather than witheringly doubting a talented teenager.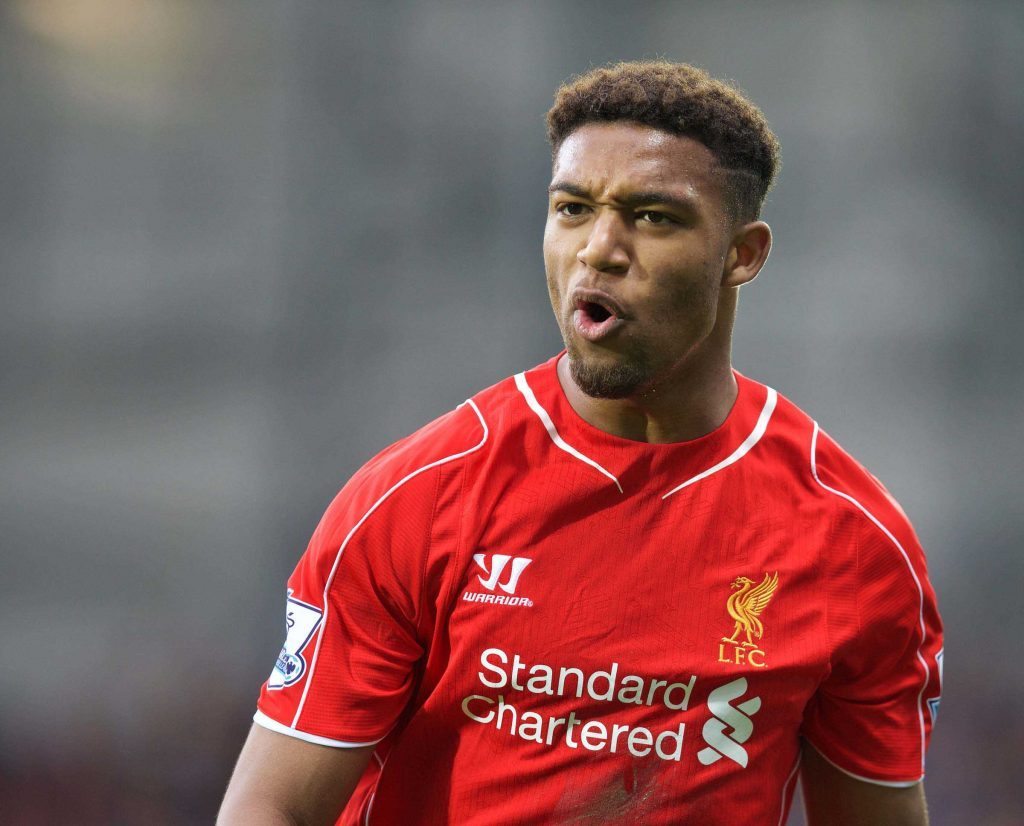 The probable selection of Ibe alongside the summer's star buy, Christian Benteke, promises a marriage of contrasting styles and demeanours. The nippy, whippet Ibe, the darting, weaving foil to Benteke's more measured stride and imposing stature. Both are capable of the unpredictable and remarkable and there looks at first glance to be the potential for something of a partnership to emerge. Ibe will seek space and quality time with the ball in wide areas, while Benteke may well lurk more patiently in fox holes and uncertain corridors deep inside the penalty area. His ability in the box to bring a the ball into his orbit is something that may greatly assist Ibe's quest for 'end product'. Villa fans will attest to the fact that the ball comes to Christian Benteke/Christian Benteke doesn't need to come to the ball.
The eleventh man could be any man. The favourite to take his place in tandem with Benteke and Ibe is Lallana. One of those conspicuous by his anonymity during the 6-1 debacle. He too has had a productive — goal scoring — pre season, and he could, like Ibe, take his form and his potential to complement Benteke into the Stoke match. The fear remains though that he takes too many touches, and lacks the routine quality of pass required to carry the number 10 position as if he were born to it. Rodgers likes him though. Rodgers sanctioned £25m being spent on him. He won't disregard him lightly.
If Lallana doesn't start it will be because the manager has seen enough this week in training to be convinced that £29m Roberto Firmino is fit enough and ready to commence a career as Liverpool FC's new best player. He looks like he has the tools in his box. It would be ace to see him given the chance to go to work on Stoke with them. If only for an hour. Rodgers' teams are better taking control of games rather than trying to win through attrition. Unleash a front three of Bobby F, Ibe and Benteke and let's see what kind of a summer these Stoke defenders have had. In this triumverate is the potential to rip the Premier League apart. Can Brendan — at his best: mad, attacking, gambling Brendan — resist such a temptation? I hope not.
Up the Reds.
Pics: David Rawcliffe-Propaganda Photo
Like The Anfield Wrap on Facebook