"CITY is a massive club", was the cry from Mancunians of the blue persuasion, years before Emirates riches were ploughed into the somewhat soulless surrounds of Eastlands, the new council-owned home of Manchester's hitherto poor relations.
The claim — made purely on the basis of a loyal, unswerving but mainly parochial support — that a club without a League title since 1968 or a major trophy since 1974 was mocked by their all-conquering neighbours, and by fans all over.
In the 1980s, when we recognised English football's "Big Five", Manchester City, oscillating between the top flight and second tier, were nowhere to be seen. In the years before the creation of the Premier League, a quintet of clubs deemed to sit at English football's top table listed Liverpool, Manchester United, Arsenal, Tottenham Hotspur and Everton.
The ownership and investment of Sheikh Mansour since 2008 has thrust Manchester City — mirroring Chelsea's Roman Abramovich's decade-long, rouble-encrusted crusade — into a perennial, almost unchallenged spot in the 'top four' of English football aligned to qualification for the all-consuming Champions League.
Liverpool of course, in recovery from the ravages of the Hicks and Gillett ownership which ended in 2010, are now struggling to recover a place in the elite that was taken for granted while Rafa Benitez was at the height of his managerial powers. Istanbul in 2005 and the subsequent development of the squad under Benitez made Liverpool into a force in Europe that went beyond qualification and saw a bona fide challenge for Champions League honours over five consecutive seasons. At the peak of these "golden years" it was seldom debated that Liverpool in the modern era were anything but a "big club".
Admittedly, under the cautious and relatively conservative stewardship of Fenway Sports Group the landscape has changed somewhat. Liverpool finished last season in sixth place, the glorious 2013-14 season looking more and more like a remarkable anomaly, and a significant number of Liverpool followers seem happy to concede without argument that Liverpool no longer fit the description of a "big club".
Many fans gloomily see the Reds heading for Premier League "also-ran" status; a place in the hierarchy on a footing with counterparts sustained merely by a traditional, loyal fan-base and sepia-tinged memories of halcyon days firmly in the distant past.
The sales over the last half decade of Xabi Alonso, Javier Mascherano, Fernando Torres, Luis Suarez and — probably this summer — Raheem Sterling add fuel to such chat, and it would be futile to argue that Liverpool don't now operate at the mercy of clubs with greater financial clout.
There is irrefutable evidence that the club has had to accept working to a different model, and become a selling club when it comes to the crunch, with an eye on young talent and resale values.
However, talk predicting the Reds plumbing the depths in the near future of Everton (trophyless since 1995), Spurs (most recently League Champions back in 1961), annual relegation candidates Aston Villa and rudderless Newcastle (who have not hoisted silverware since the 1969 Fairs Cup) is not only defeatist, but also nonsense.
Liverpool FC dwarfs these very worthy, traditional clubs in every conceivable sense and we should make no apology for it. Yes, my bluenose mates, that's a little pat on your head for reading this and obsessing over Liverpool and not worrying about Bobby M.
However, Liverpool supporters so frustrated in the wake of last year's heartbreaking title near miss seem far too ready to accept their fate; too willing to lay down and be trampled by the nouveau riche of west London and east Manchester, an evolving, financially-sound Arsenal and the Manchester United monolith. The modern fan seems incapable of seeing a better future and is mired only in gloom.
When Gerrard Houllier said au revoir, Michael Owen absconded to Real Madrid in the summer of 2004 and Steven Gerrard considered jumping ship at the same time, how many would have predicted Liverpool would end the following season as European champions? How many envisaged five years of competing with — and beating — the likes of AC Milan, Internazionale, Barcelona and Real Madrid?
Liverpool remain a big cheese; in football things can change — and quickly. Similarly, when Jamie Carragher took his final Anfield bow, who foresaw the tyro manager Brendan Rodgers taking a team who had limped home in seventh place in his debut campaign to within an inch of the title 12 months later?
What sets Liverpool apart from the Premier League ghost ships that represent Goodison, St James' and Villa Parks is a global appeal that still offers the Reds a genuine claim to rival Manchester United as the biggest name in English football. There will always be some lunatic — and I give you the much-missed Suarez — who can be seduced by the lure of our heritage, the famous red shirt and the strains of You'll Never Walk Alone. For the here and now, the signing of Firmino is the representation of the very same dreams and songs to sing.
We're mocked for clinging to our history and the growing narrative from Evertonians — and those from further afield — is that we're "deluded". But take a step back and think for a moment why we generate such annoyance by claiming "this could be our year". Rival supporters go absolutely ape-shit because deep down they fear it might be true and there's relatively recent evidence to support that claim. Speak to a bluenose or a United fan and ask them about springs of 2005 and 2014 (admittedly stories with contrasting endings) when Liverpool came from nowhere to give them an endless run of sleepless nights. They hated every minute of it; Liverpool fans' "delusion" bringing the night terrors and the cold sweats. Our rivals dread the moment it all clicks into place for the hated Liverpool and it is bloody annoying to hear us talk ourselves up.
For me though, far too many modern Liverpool followers now want to distance ourselves from our past, to accept the media line that all we have is our history; that it's embarrassing to hark back to days of yore. I'm afraid that is absolute bollocks and I'm not having it.
One of the most prophetic banners I've ever seen was in Istanbul (inserts apology here to the misery arses who want to forget that night) and it read: "Forget not the past, for in the future it may help you grow." Not a bad mantra for life, never mind football.
I'll ask this question: would that Liverpool team have walked out in Istanbul — assuming they had got there in the first place — with the same belief that our name was on the cup; that winning it for a fifth time was our destiny without a stadium bedecked in banners depicting the triumphs of 1977-84?
Would Liverpool have ridden quite so spectacularly, the wave of euphoria that encircled Anfield during 2014 had it not been for the yearning and historical resonance of that long wait for a first league title since 1990?
The answer to those questions should be an emphatic 'no', unless you're of the opinion that football is an exact science. It isn't. The ball is round.
Rather than shying away from the glories of yesteryear, remind people that Liverpool remain the most successful club in English football; 41 major trophies still eclipses United's 39. I think that's enough to accept we're a big club. Take it from me — the reaction you get is hilarious. It's the wind up of the century, no matter who they support.
If it really does sicken you to embrace the club's heritage — and let's not forget there's a story that predates Rafa Benitez, Kenny Dalglish, even Bill Shankly — then there's still ample statistical evidence to support the stance that Liverpool remain a big club, among the biggest in fact.
I'm no great fan of the rankings that place us in the top 10 of sports franchises for worldwide Twitter and Facebook followers, but only the coldest analyst wouldn't account for the legions who accompany the Reds on those pre-season tours and support Liverpool from afar. The sights in Melbourne, Jakarta, and Bangkok during pre-season in 2013 were astonishing and set an upbeat tone for the rest of the year.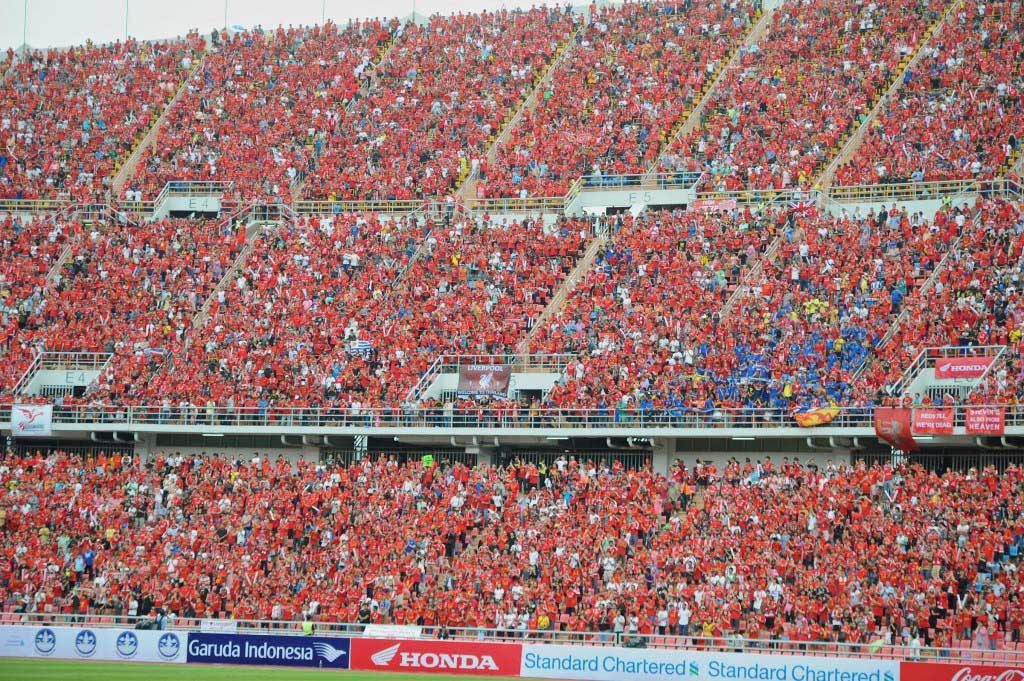 Expect a repeat this summer as the squad fly off to prepare for the coming campaign and don't underestimate the impact seeing such fanaticism has on the players, as long as they can harness that energy in the right way. Hopes are that players do not obsess over the goldfish bowl that is life as a Liverpool player. The shirt is heavy enough; perhaps the one valid reason not to overly dwell on the past.
In terms of cold hard cash; revenues and turnover, the latest Deloitte league tables rank Liverpool FC the ninth richest club in the world, albeit behind United, City, Arsenal and Chelsea. With the right leadership looking forward — and there is some evidence to suggest we're improving on this front — growing commercial and matchday revenues should prevent the gap widening. If the club can continue to exploit the vast global reach the club has generated through the worldwide exposure Liverpool FC commanded during more successful times, then the future can still be bright.
The rising hulk of the new Main Stand, which will form one of the largest single structures in European football, is proof that FSG are in tune with the need to grow Liverpool's matchday revenues closer to our rivals in the pursuit of the top four, although a suspicion remains that the plan is overly conservative.
Such is the reach of Liverpool FC; such is the size of the brand (if you're using Fenway speak) that an eventual Anfield capacity of 60,000 barely touches the sides of the desire countrywide and worldwide to watch the nation's most romantic football club. Romance and emotion seep from every pore of Liverpool FC in the modern era, perhaps erring on the side of saccharine, but there's an opportunity for the football club to embrace its past.
Those at the helm should look to promote a new vision that peers into the future from a heritage standpoint — not unlike the city in which we play our football and gives the club its name.
Liverpool FC is, will forever remain, and should always promote itself as second to none; that is not up for discussion. What remains for debate is whether the football club has people in charge, saddled only by passion, who share that vision and desire.
[rpfc_recent_posts_from_category meta="true"]
Pics: David Rawcliffe-Propaganda-Photo/PA Images
Like The Anfield Wrap on Facebook
Subscribe to TAW Player: https://www.theanfieldwrap.com/player/subscribe