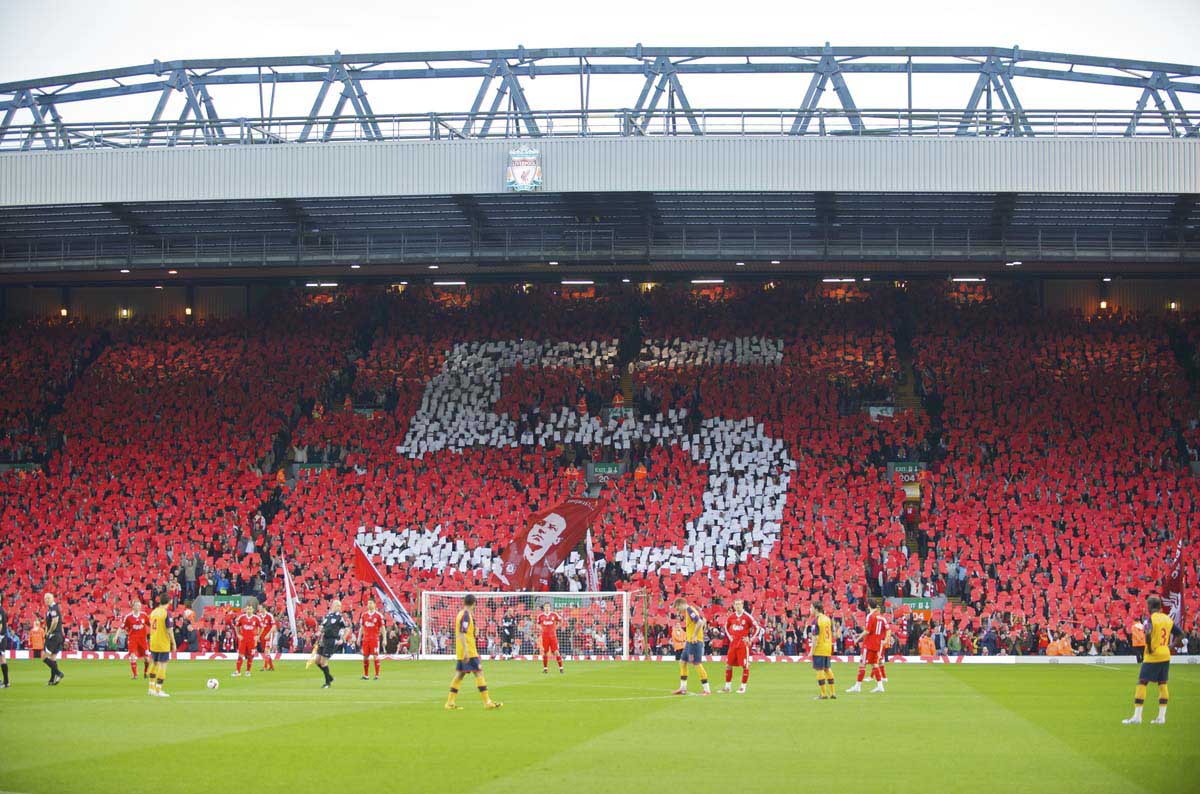 AS a Bristol City fan, my first visit to Anfield was as a teenager in November 1977, writes JON DARCH. It was John Toshack's last game before leaving to take over as manager at Swansea. Kenny Dalglish gave Liverpool an early lead, but City's Gerry Gow beat Ray Clemence to level the scores. That's how it stayed and I went home content that lowly City had managed to get a point against the European Cup holders.
I also went home hugely impressed by the atmosphere at Anfield that day. And it was no special day for your club. Not a big European night. Not a Merseyside derby. Not a game against United. Just a run-of-the-mill First Divison match against the equivalent today of perhaps Burnley or Leicester. Despite this, The Kop had been in fine voice, with its songs and chants barely stopping from start to finish.
Fast forward nearly 40 years and I see Liverpool message boards and sites like The Anfield Wrap full of discussions about the lack of atmosphere at Anfield. Complaints about tourists on The Kop. Moans about spectators more interested in taking photos than in cheering on the team. Concerns about the difficulty in getting 'singers' grouped together. And, of course, concerns about the cost of tickets.
Football has changed. Anfield has changed. The Kop has changed. And not all for the better.
It's great that fans are now provided with facilities fit for human use and no longer, as was so often the case in the past, caged in like animals on crumbling terraces with no shelter from the elements and only the most basic of amenities. But the improvements in stadium facilities have come at a cost. A gentrification of the crowd, a loss of atmosphere and an outrageous increase in ticket prices out of all proportion to the rise in average earnings.
Back in 1977 when I made that first visit to Anfield, I was at university studying German. Over the years since then, I've watched a fair bit of football in that country, where in 1998-99 their top Bundesliga clubs were presented with a problem. UEFA announced that in future all games in their club competitions would have to be staged in all-seater stadia. One response to that might have been for all major German clubs to make their grounds permanently all-seater.
However, German clubs are controlled by their members and their members highly value fan culture, which includes retaining standing and keeping football affordable for all. So the clubs were never going to remove standing at their domestic matches. They therefore had to find a way to provide standing for their passionate fans behind the goal for a Bundesliga match on a Saturday, while conforming to UEFA's all-seater rule if they then played in mid-week in Europe. And so the 'rail seat' was born.
The atmosphere at German grounds has thus never been stifled by any domestic all-seater policy. Grounds like Borussia Dortmund's have now, dare I say, probably stolen Anfield's erstwhile crown as the stadium with the best atmosphere in Europe. And full adult ticket prices for the Yellow Wall at Dortmund remain only £13, a cost everyone can afford.
So, what can we do to get the atmosphere back into our grounds in England and not least at Anfield? How can we make football the people's game once again?
As a member of the Football Supporters Federation and with my interest in what's been happening with rail seats in Germany, I've become heavily involved in recent years in the FSF's 'Safe Standing' campaign. The name of the campaign is actually unfortunate, as it implies that some standing is unsafe. However, we're rather stuck with it (it originated, in fact, as a campaign by Man City fans ahead of their move to what is now the Etihad, when the campaign was called 'Standing Areas For Eastlands', and later morphed into the national campaign). A more accurate term might be 'safer seating', because that is what rail seats will provide.
Stadia will still be all-seater, i.e. they will have seats throughout every stand. But in those areas where fans like to congregate to stand and sing, rail seats will make them safer by providing a continuous waist-high rail along every row to prevent any tumbling over low seat-backs into the row in front when wildly celebrating a last-minute winning goal.
Since 2011, my 'Safe Standing Roadshow', four rail seats on a small demonstration stand that dismantles for transportation and goes into the back of a mate's white van, has helped to explain the rail seating concept to club executives, fans, the media and politicians up and down the country.
As a result, the 72 clubs of the Football League have now mandated their executive team to seek government permission for the running of one or two trials of rail seating. The Premier League clubs have not yet taken a formal vote on how they wish to proceed, but their level of interest and support is just as great — privately if not, in some cases, publicly.
A few trials, probably in the Football League initially, would enable ground operators and safety authorities to determine best practice (How high should the rails be? Should fans be required to stand at a specfic seat? Would unreserved seating work better? Should capacity be limited to one fan per seat space? Or would the extra room created by the lack of protruding seats facilitate a modest increase in capacity? If so, to what extent and how should it be ticketed?).
Only after evidence of what works best has been gained from such trials and duly set down in the relevant regulations, would I envisage the green light being given to other clubs to install — if they so wished — rail seats for standing fans at their grounds. At this stage, therefore, all the campaign is asking for from Westminster is permission for trials to be run.
To my mind, creating a designated area where all those fans who prefer to spend matchdays actively participating in the theatre of the occasion rather than passively sitting back and waiting to be entertained would be guaranteed to improve the atmosphere. Nothing kills it more than having the enthusiastic singers dotted around a stand, unable to get anything going in unison. Conversely, nothing creates a greater sense of community, than having all like-minded fans grouped together.
And the fans in such an area, just like those now in pockets on The Kop and in most of the away section whenever Liverpool are on the road, will naturally stand. How else can you sing your hearts out for the lads? Given that this is the case, it makes sense to ensure that the accommodation provided for them is fit for purpose. A point made a year or so ago in a video filmed at Anfield for BT Sport by Liverpool fan Tony Evans. Tony ended his video by saying: "while people stand at football matches, and they always will, we need to do the safest thing. And the safest thing is safe standing."
So rail seating will make standing fans safer and undoubtedly help to improve the atmosphere by acting as a magnet to draw like-minded fans together. But will it also reduce ticket prices?
Ultimately that will be down to the clubs, but I believe there is a good chance it will. For two reasons. Price elasticity is one.
Although at Bayern Munich, for instance, you can pay as much as €70 if you want a seat along the side of the ground, you can also get in for just €15, if you're happy to stand behind the goal. In other words, the cheapest ticket costs about 20 per cent of the dearest ones. For category A games at Anfield this season the range from top price to bottom price has been £59 to £46. In other words, the cheapest ticket costs a whopping 80 per cent of the highest price one. That pricing is not very 'elastic'!
Many clubs recognise this and would like to offer a broader spread of prices. But they have a problem. They have only one 'product' on offer: a conventional seat. If Liverpool charged, let's say, £20 for a seat on The Kop, you can well imagine that somone paying £59 for essentially the same 'product' in the Main Stand might well get a bit miffed. That would create pressure to cut prices at the top end of the price range as well, which clubs are naturally loathe to do.
However, if the 'product' being offered by clubs behind the goal was one that is of no interest to spectators sitting in the main stands alongside the pitch, those fans wouldn't be bothered about the price being charged for it. A very different product, i.e. a rudimentary metal seat, can thus be priced at a much lower level, without creating any pressure on ticket prices at the top end of the range.
The second reason I believe that rail seating could lead to lower ticket prices is the potential increase in capacity that it offers.
The next time you're at a match, take a look at your seat. You'll see that the bracket supporting it and thus the seat bottom itself protrude a long way into the seating row even when the seat is tipped up. The curved back of the seat in front also eats into the space on your row. Rail seats do neither. The flat metal seat folds up flush between the 5cm upright, so much more space is left free along each row. This means that instead of having one single line of fans standing shoulder to shoulder behind each row of rail seats, you can potentially have some fans standing towards the front of each row and others standing towards the back.
In Germany, where the rows tend to be a bit deeper than in our grounds (certainly than in our older ones), they often accommodate two lines of fans in this way, i.e. a ratio of two fans per rail seat. Current UK guidelines for the number of standing spectators per square metre in lower league grounds, rugby stadia and racecourses suggest that 1.8 fans per rail seat would be the equivalent recommended comfortable capacity in a ground of typical UK configuration. 1.8 fans paying, for instance, £26 each, produce more revenue for the club than one fan paying the current seat price of £46. Another good reason to believe that rail seating could lead not only to an improved atmosphere, but reduced ticket prices as well.
All of this, however, is conjecture right now. Before we get to the stage where clubs are able to consider what they would charge for tickets for a rail seating area, we need to get to the stage where the government gives them the go-ahead to consider installing such seats.
Read: Where's our famous atmosphere – Liverpool, Nostalgia and 'Real Fans'
And to get there, we believe that the sensible next step is for a few, closely monitored, strictly controlled trials to be run at a handful of Football League grounds. The last government, however, was very reluctant to allow such trials.
One reason they cited was their belief that Liverpool fans would be against this. I think they got that wrong. I believe that Liverpool fans are actually open-minded and willing to see carefully run trials take place, recognising that they will deliver key data to help take the debate forward and potentially make our standing fans safer, improve the atmosphere and lower ticket prices.
I'd like to see the atmosphere at Anfield get back to how it used to be when it was the envy of the world. When I first visted, for instance, in 1977. If you would, too, and you agree that a few small trials would be a useful next step, please take a second to answer the question below.
[yop_poll id="49″]
[rpfc_recent_posts_from_category meta="true"]
Pics: David Rawcliffe-Propaganda-Photo & Stadionwelt.de
Like The Anfield Wrap on Facebook