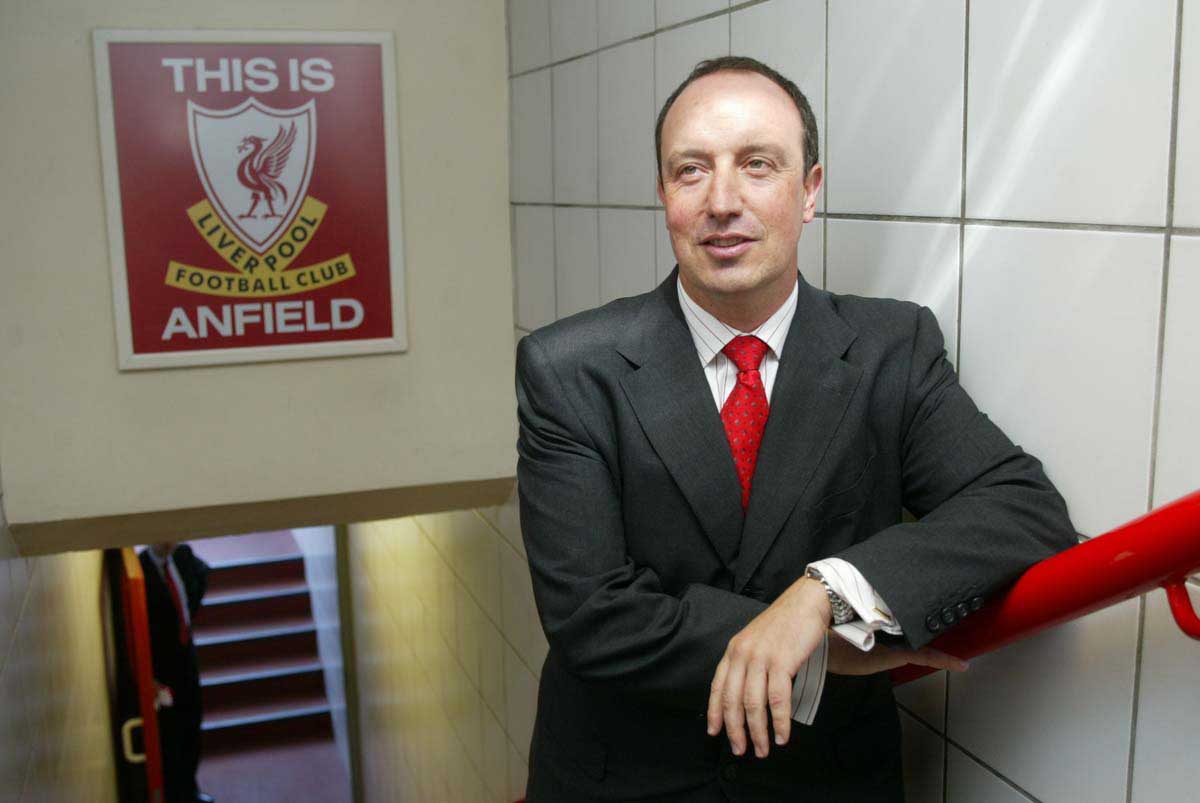 I *LOVE* Rafa Benitez. I love the bones of him. I'm willing to bet I'm in the top one percent of worldwide Rafa lovers. There are basically his kids, Montse and Antonio Nunez that I'm prepared to acknowledge might be ahead of me. It's important to know this. Because I hope so much Rafa Benitez doesn't replace Brendan Rodgers as Liverpool manager this summer. So, so much.
I mean, I hope no-one does. I hope the club keeps its head. However, if it does do something hasty (not quite as hasty as sacking Benitez in 2010 or signing Andy Carroll but something significantly hasty) then Benitez should be avoided at all costs. But there is tons of talk from tons of Reds. Tons of talk and odds as low as 4/1.
There are two strands of thought behind why Benitez should be dodged. Strand one is as rational as Benitez the manager. Strand two is as emotional as Benitez the man.
Here's strand one — the extremely rational, sitting like Buddha while pens are happening case:
We need to be able to win the league. Any change of manager needs to be and should be predicated on that — the belief the current incumbent won't win the league and that a replacement can be lined up who can be reasonably considered significantly more likely to do so. We need to be good enough to win the league to be at all confident about finishing in the top four (Arsenal came fourth last season with 79 points, every side currently above us will be gunning for the title next season) and we just need to win the league so we don't all go stark raving mad.
Rafa Benitez hasn't won a league since 2004. And since 2004 he has only genuinely challenged for one league title, at Anfield in 2008-9. We're now six years since a Benitez team had an interest in a league title in April.
Are there mitigating circumstances for this? Of course. But there are ongoing mitigating circumstances now at Liverpool. We have an abundance of mitigation, none of which can be thought to be reasonably be addressed by simply changing the manager. In short, any league win is likely to come despite the mitigating circumstances not due to them being alleviated.
Essentially Benitez has, at Napoli, failed to challenge, not win, but challenge for a title in a league with only one financial giant in Juventus. At Liverpool there are three financial giants to overcome, plus Arsenal, en route to any title. There's not a body of evidence that suggests he's a certainty to be able to do that.
There's a body of evidence to suggest he'd win a cup at Anfield. A body of evidence to suggest he'd get us some great European success.
I'm not interested in European success any more. I'm not interested in cups. I want the title. Nothing else. The title. Anything and everything else needs to be secondary, merely a stepping stone on the way to a title. The whole football club should aim for nothing else.
Benitez's genius — for he is a genius, one of the few there are in football management — lies in knockout football. If I had to pick one man to coach a team for a game if my life depended on it, I'd pick Rafa Benitez. If I had to pick a man to do the same over 38 games, Rafa Benitez doesn't currently make the shortlist.
Benitez might no longer look like tomorrow's man, but he isn't yet yesterday's. He's a very good football manager, capable of true greatness, but unlikely to be able to create the sort of freakish anomaly of a football team that could make Liverpool champions. He hasn't looked like doing it at Napoli at any stage.
I don't need to speculate about working relationships. I don't need to put Benitez down. His track record over the last 10 years suggests he is no surer thing for the Holy Grail than Rodgers. In the two seasons he surpassed 80 points at Anfield he followed it up dipping beneath 70. And in one of those seasons we got to a European Cup Final. Because Rafa Benitez is terrific; great at European banquets with fine wine. But less good at bread and butter. And bread and butter is the one that we want.
Onwards to the extreme emotional, crying while I leave Valencia case:
There are times when I wonder whether there is some sort of collective amnesia given the clamour around Benitez. A significant portion of the support both in the ground and on the forums etc despised Benitez. I don't know exactly why they did (too clever for his own good, stubborn, media pressure, the malaise that sets in around Liverpool managers when they look like they can reach the promised land but can't quite get there) but they did. They really did. They hated him. It isn't too strong a word for the level of irrational bile thrown at him. Benitez was hated. There is nothing to suggest it would be any different a second time around. In fact, there is a lot to suggest it would be worse. We're madder now. Older (in the ground) and more short tempered than ever. Throw Benitez into that mix — the gnarly, needly, marvellous, magnificent swine — and what happens when he, like any manager, can't consistently work miracles?
For the reasons set out above in the rational part there is no guarantee Benitez could even get Liverpool challenging and every month that passes which could, in some way, any way, be construed as failure by a notable section of the Liverpool support would be construed as failure and for the second time Benitez would be damned for it.
I've no interest in spending 2015-2020 the way I spent 2005-2010 — defending a good man I love from bastards. Bastards in the press. Bastards who are our opponents and rivals. But worst of all a worldwide diaspora of bad, bad bastards in red; a spread of bad, bad bastards from L4 to Llandudno to Los Angeles. It's exhausting enough defending a good man I don't love from that same type of bastard now.
So no. No, no, no. Not this. Not now. Not now when only one trophy will do. Not now when it has never been harder. Not now when more than ever we seem collectively hell bent on demonstrating we don't deserve nice things. Not now.
SUBSCRIBE: The Anfield Wrap's TAW Player is now live – exclusive content for subscribers
[rpfc_recent_posts_from_category meta="true"]
Pics: David Rawcliffe-Propaganda-Photo
Like The Anfield Wrap on Facebook