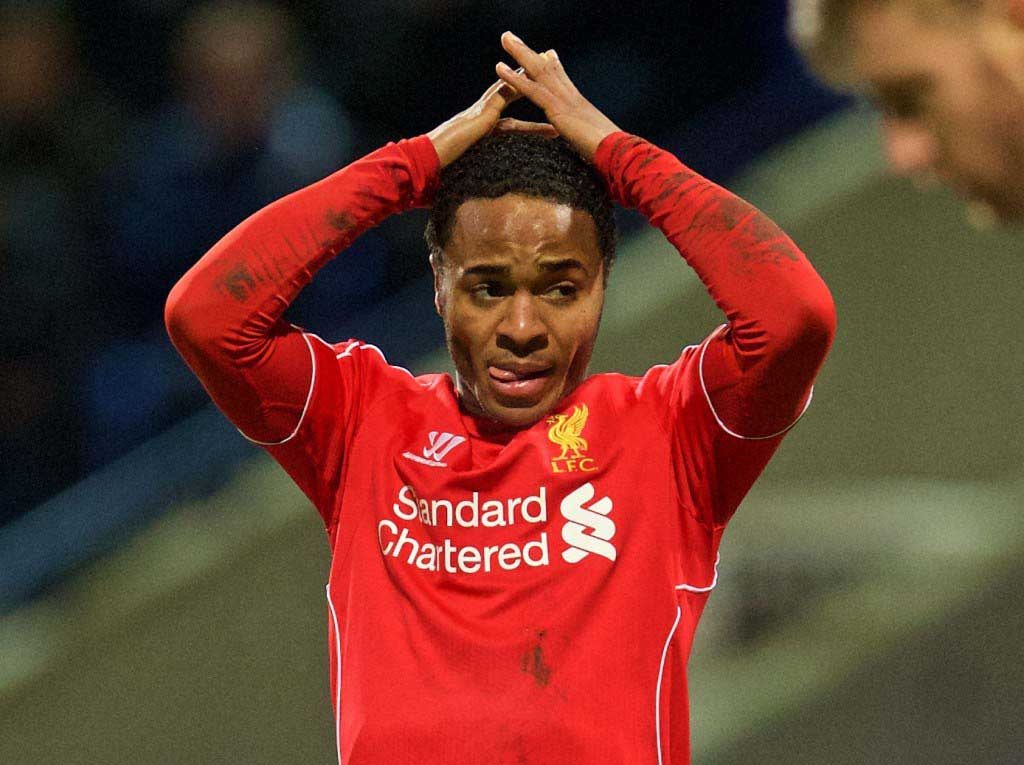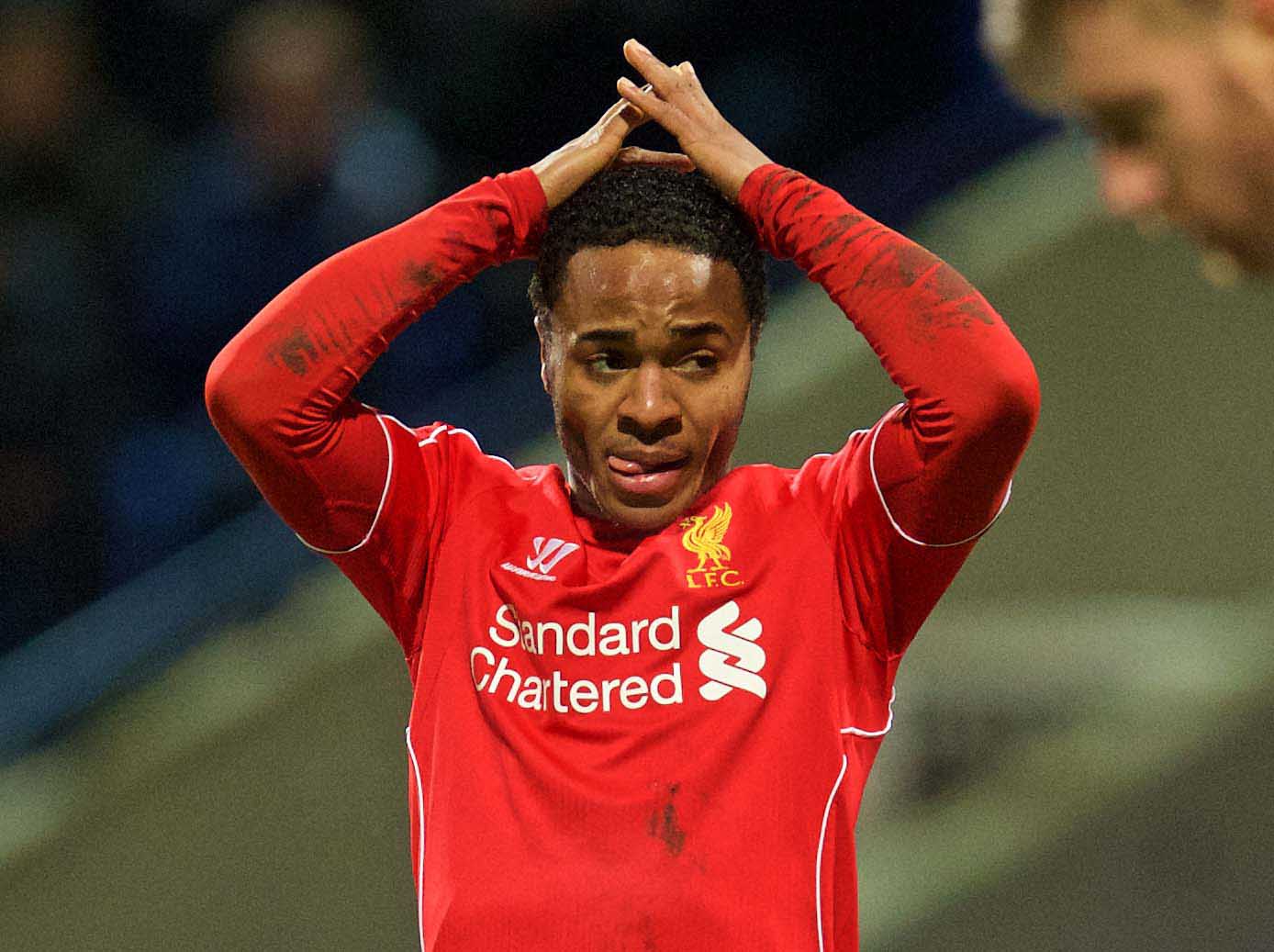 "RAHEEM Sterling, your agent's a knob."
It was a chant lost in the Anfield farewells to Steven Gerrard, but as Liverpool's number 31 toiled his way through one of his worst performances of the season in the match against Crystal Palace, it tumbled down The Kop from sections of the famous old stand. When a player – or his agent (or both) — dares to suggest the future is brighter elsewhere it never sits well with die-hard fans. It never will and why would it? Only a match-going Liverpudlian looks at Liverpool FC like a match-going Liverpudlian. Why would a player born in Jamaica and raised in Wembley think the same way?
But we must have blood. There needs to be fault. Liverpool through the prism of a Kop season ticket holder is football nirvana — why would you ever leave? It's the greedy player. The incompetent officials currently allowed to wear the club tie. Or the agent's a knob. Maybe it's all of those things. Whatever the balance of reason, a finger must be pointed somewhere. Football realities are hard to take. Who wants facts when they make grim reading?
QPR fans probably felt the same way when 15-year-old Sterling headed for Merseyside for an initial fee of £600k in February 2010. According to former Rangers chairman Gianni Paladini the club offered to buy Sterling's family a house if he stayed. He didn't. And instead, according to Paladini, the club settled for a clause that guarantees QPR 20 per cent of the sell-on fee should Liverpool flog the winger to Manchester City, Real Madrid, Chelsea, Arsenal or any of his other potential suitors.
Teenage Sterling was without a professional contract at the time and QPR were going nowhere in the middle of the Championship, changing managers more often than Brendan Rodgers changes his formations at Wembley.
Premier League Liverpool — managed by the European Cup-winning manager Rafael Benitez — came knocking with bigger promises, better contracts and higher ambitions. Manchester United, Manchester City, Arsenal and Fulham also coveted the kid but it was deal done, wave goodbye and Sterling was soon a pupil at Rainhill High School.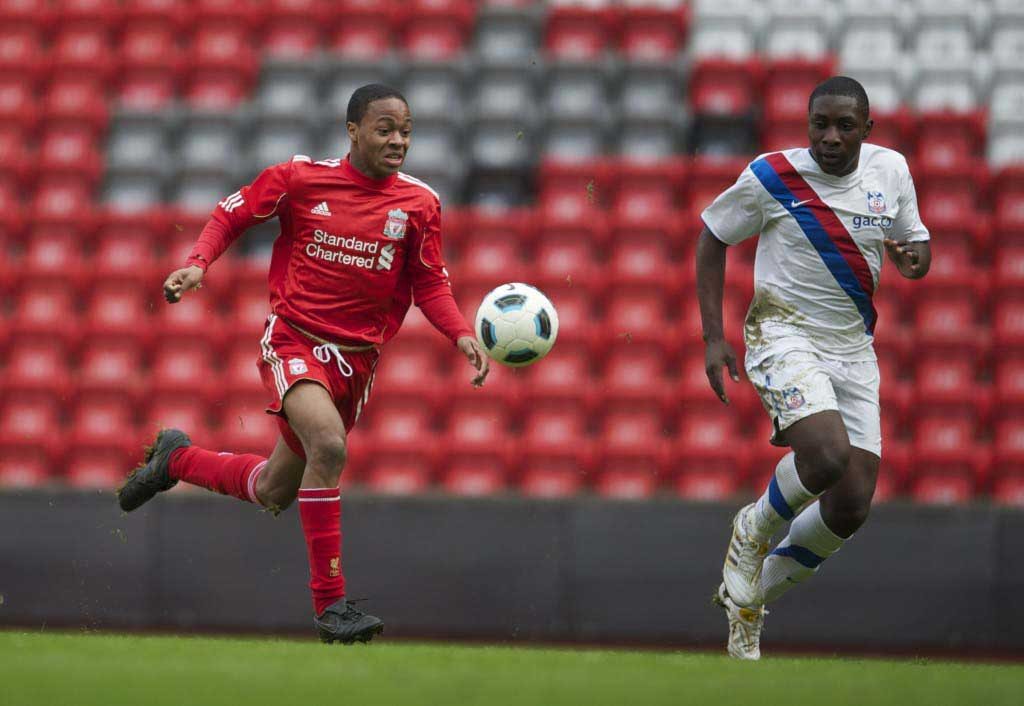 On a QPR message board discussing the move the first post in the thread (their caps not mine) 'Another Bright Talent Leaves QPR WELL DONE PALADINI' date stamped February 28, 2010, reads: "WHAT IS THE POINT IN HAVING A YOUTH SET UP?"
Another poster added: "How on earth can it be right that a player believes/is advised that he has a better chance of developing at Liverpool than QPR? First team football at QPR would be just around the corner. Not so at Liverpool. It is a damn poor reflection on the youth set up at Rangers that we can't show lads that the opportunity to shine is at Rangers, not the reserve and youth teams of others."
Sounds familiar, doesn't it?
The very same arguments are now being trotted out by Liverpool fans on the internet and Liverpool players past and present in the news. There's lots of sense in it. It may well be the case that if Sterling leaves Liverpool he is no longer a first-choice player among the star-packed squads he is being linked to. It may well be the case, too, that he – and his agent – are getting way ahead of themselves with all this.
Sterling hasn't won a thing. He is a potential match-winner rather than a proven one. He might make the difference but often he doesn't. Between him and Aidy Ward, he has alienated Liverpool fans, defied the club's wishes and created the image of the 'money-grabber' — one he is clearly aware of and was quick to refute in his unauthorised BBC one to one.
But then maybe it's not the case. Maybe Sterling proves the received wisdom wrong. Maybe — like last season when he was playing around Luis Suarez, Daniel Sturridge and Phil Coutinho — Sterling shines in the company of top players. Maybe he is swept up by the belief and confidence gleaned from looking around a changing room and seeing proven match-winners at the highest level preparing for action.
Too much focus has centred on what Sterling isn't. What about what he is? Sterling has 14 caps for England. He has played 129 times for the Liverpool first team and scored 23 goals. The facts speak for themselves, as do the clubs that are reportedly interested in signing him. But, some say, we'll just replace him with Jordon Ibe — a 19-year-old with 651 Premier League minutes and one assist to his name. How about we keep both? How about we stop the Anfield talent drain? Sterling's villainous casting due to recent actions shouldn't mean an end to the awkward questions.
So back to the finger pointing. Who's really at fault for this very public of break ups? Could it have been prevented? What are just stark of realities of football and Liverpool's position in the grand scheme of things and what can be attributed to the ambition, or lack of, of the current owners?
The thinking from many goes that Sterling's performances have dipped as his eye has strayed from the ball to the bank to the glittering trophies being chased by other clubs (and not so convincingly by Liverpool this season). To my mind at least, Sterling has been one of the few bright spots of the season, alongside Phil Coutinho, Jordan Henderson and, at times, Mamadou Sakho and Emre Can.
If Liverpool can keep him, they should. He has bags of potential. He has pace to burn. His finishing looked to be improving until late and he can have a defender on toast; the same one three times in the one attack some days. He's also, despite the constant shouts to the contrary, not afraid of hard work and able to play in a number of positions — handy when your squad isn't that deep on quality.
So have Liverpool done everything they possibly could to prevent the situation whereby they tell the world they want a policy that values youth above all else only to potentially lose their best youth talent of all?
https://www.youtube.com/watch?v=p5aYRIhRIjA
Just over a year ago, Liverpool beat Norwich 3-2 at Carrow Road to move five points clear at the top of the Premier League. Sterling scored two goals that day and assisted the third, finished by Suarez. After the game, Brendan Rodgers said: "He is the best young player in European football at the moment.
"At 19 years of age you don't see anyone better. His intelligence with the ball, his movement and he's scoring goals. His first goal was a wonderful strike.
"His pass for Luis's goal was like a top midfield player, so there's an assist, and his position for the counter attack when he broke away and obviously gets a bit of luck on the deflection but his overall performance he's shown so much maturity."
All that said then, did Liverpool pay Sterling accordingly? Like the "best young player in Europe"? Or are the fellas in the shorts and he fellas in the suits pulling in different directions again? It has been widely reported that Sterling was — and still is — on £35,000-a-week. About three times less than Glen Johnson. Is that fair?
Jamie Carragher was scathing of the actions of Sterling and his agent in again making a private stand-off a public matter. It was hard to disagree with his passionate stand on Sky and it made you wonder how much similar passion, pride and knowledge of the game is behind the walls at Anfield, Chapel Street, Melwood and Boston.
But it's also worth remembering another insight from Carragher's long-term team-mate and fellow legend Gerrard earlier in the season. Gerrard said at the start of February: "They need to sign him [Sterling] now. He knows what I want him to do. Not just him, Jordan Henderson as well.
"When I was coming through at Liverpool, every time you got within a couple of years left your contract would be renewed and there would no worrying or panic stage, but I see Henderson with a year left and I see Sterling — it is in the paper too much and I know there is no smoke without fire.
"So, for me, the message to the club is to get these done sharpish because these are the future of the club and I want to watch this team do well, in cup finals and challenging for the league."
It seemed sound advice. It wasn't heeded. Now this.
Football finance experts at Deloitte reported that the average wage for a Premier League player was £31,000 a week in the 2012-13 season. You can bet it's more now and that figure will continue to rise as the record £5.1bn TV rights sale begins to influence boardroom negotiations.
As things stand Liverpool are paying Sterling an average wage for the league when he is clearly one of the club's — and the league's — best players. So how is that a strategy that makes any sense? Like the brinkmanship taking place with other players at the club, it seems to be a recipe for disaster. And now, disaster we have. The captain retiring. The starlet departing. Maybe.
Then there is the issue of ambition. With the best will in the world, Divock Origi, Danny Ings and James Milner as summer recruits hardly set pulses racing — it's solid rather than spectacular. Maybe rather than definitely. Future, in the case of the first two, rather than now. Is it any wonder Sterling is questioning the direction of the club? Plenty of fans are. What's the difference?
One trophy in nine years. A title challenge last season that was the exception rather than the rule. Liverpool — in trying to keep Sterling and in trying to tempt the targets they have routinely missed out on — have to sell something to players present and future. The club doesn't pay top wages. The club can't offer Champions League football. So what is it? Just that you'll get a game? That we're famous?
It needs to be more than that. Our history is a great source of pride and rightly so. But most of the players Liverpool now try to sign can not remember a time when the club were the league champions.
All this doesn't excuse Sterling's behaviour though, or that of his agent. Contract negotiations shouldn't take place via the back pages of newspapers and some of the claims lapped up by sections of the media are laughable. The club hasn't protected Sterling from negative headlines? Well to be fair, he's had a good crack at making them all by himself, along with Mr Ward.
Six months of claim and counter claim has not been good for the morale of the club or for anyone involved, not least the player. Now what should be a 20-year-old potential superstar is being presented as damaged goods with a tarnished reputation. Talk of no way back is flooding the airwaves. The lad is selfish, cares little for team-mates, the manager, the coach or the fans. The new John Barnes is now the new Tony Daly, the new Scott Sinclair, the new Shaun Wright-Phillips or the new Jack Rodwell.
Sterling too, told the Sunday Times magazine he wanted a song from the Kop. He's got a song — it's just never really taken off. It's unlikely it ever will now — a kiss and make up looks unlikely if not impossible. Stranger things have happened. Ask Gerrard. But just in case. That song then, it goes: "When he goes running down the Anfield Road E I E I AY/He's the greatest little winger that we've ever been sold E I E I AY/ 600 grand oh what a fee / when he's skipping around Vincent Kompany / Raheem Sterling, number 31/ If you don't be quick he's away and gone."
Ironies abound. A song celebrating the price then warning about being quick or he'll be gone. Liverpool haven't been quick and chances are he's gone. Chances are we'll get a good price though. Will we celebrate that? A glance at how the Luis Suarez cash changed Liverpool fortunes suggests not.
The Sterling situation has been handled badly all round, from all sides, but the PR war to decide who is now the good and the bad requires balance among the bullshit. It's not just Raheem Sterling's agent who has been a bit of a knob here.
You want the blame and the finger pointing? Go on then. It's Ian Ayre's fault. It's Raheem Sterling's fault. Aidy Ward's fault. FSG's fault. It's Brendan Rodgers' fault. The players' fault. It's the historic failings and years of mismanagement. All the people involved in that — it's their fault as well. The Liverpool we want is not the Liverpool we have got.
The reality is that Liverpool is, according to the Forbes Rich List published earlier this month, the eighth richest club in the world. Which sounds mighty impressive. But when you consider four of the seven above are in the league the Reds operate in — Arsenal, Chelsea, Manchester City and Manchester United — then it's no wonder players increasingly consider Liverpool a stepping stone rather than a destination. And it's no wonder other clubs now see Anfield as a club to be plundered rather than a rival to be feared.
What must not be allowed to happen is that Liverpool compound that well-documented disadvantage with questionable nous and routine failure at all levels of the club. Football realities are hard to take. Preventable negligence even harder. It's then the finger pointing starts again.
Because us, the fans? We're not the knobs in all this.
TAW PLAYER SPECIAL: Raheem Sterling
[rpfc_recent_posts_from_category meta="true"]
Pics: David Rawcliffe-Propaganda-Photo
Like The Anfield Wrap on Facebook