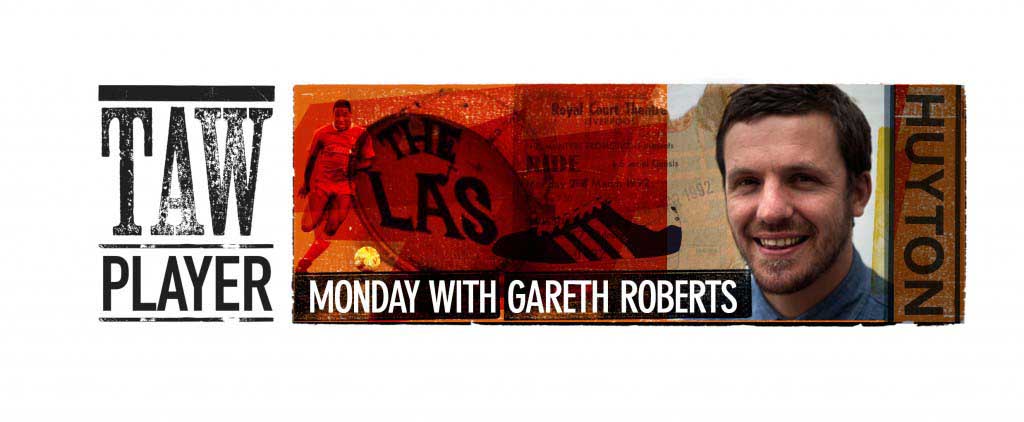 ABOUT 12 years ago a solicitor called Matthew Macefield tracked down Lee Mavers, the apparently elusive lead singer of The La's, to a semi-detached house in Huyton.
Intrigued by the myths and legends that surround Mavers, Macefield decided to write a book about his quest for answers, In Search of The La's. On finally finding Lee, the fan in him came to the fore with Macefield gushing with praise for his hero. Mavers, taken aback, replied, simply: "I'm just a man, la, just a person."
On Saturday we saw another Huyton genius, Steven Gerrard — just a man, just a person — trying his best to be what everyone from his home city wanted him to be: the superhero, Roy of the Rovers, Mr Liverpool. Again. Before kick off, as the he pulled on No.8 for the last time in L4, perhaps Steven glanced around the dressing room and privately bemoaned the lack of proven match-winners that would be joining him on the pitch. Again.
Thousands in the ground and millions worldwide willed a legend to dig out one more blockbuster, to rip the net one last time. In his 354th game at Anfield, Gerrard sought his 105th goal on home turf in the red shirt but it would not come. The passion and the will to win remain. The legs to cope with 90 minutes of Premier League football performing in the manner he will be best remembered for sadly do not.
So instead a shot that tested the keeper, a free kick over the bar and an effort so wild it prompted a well-natured chorus of "what the fucking hell was that?" from The Kop. No shame and no matter was the message. You're well in credit, Steven.
The story was written everywhere — in the mosaics, the banners, the songs, the standing ovations and the guard of honour. But Crystal Palace, like Jeremy Goss in 1994 on the last day of the standing Kop, hadn't read the script.
The expectation that has weighed heavy on Gerrard's shoulders for 11 years and 472 games as captain of Liverpool was too much to bear this time. The Scouse spirit that has flowed through his veins and driven him to inspire, lead and drag Liverpool to victories home and abroad wasn't enough on Saturday.
But when children and grandchildren are sat down to be told of all things Steven Gerrard his last game at Anfield won't be the first memory to spill from the many minds locked full of good times wrapped around Huyton's finest footballer.
Instead, it will be Dortmund and the UEFA Cup. Istanbul and the European Cup. Cardiff and the FA Cup. That goal against the Mancs. Olympiakos. Oh you beauty, what a hit, son. What a hit. That goal at Goodison. That hat-trick at Anfield. That goal-line clearance and the clenched fist in the derby at Anfield. Kissing the camera at Old Trafford. The barely believable strike against Marseille. The free kick against Aston Villa. And the rest. All the rest.
It will be your memories, your own favourite moments, all weaved around everyday life — that time when you did this and Gerrard did that. You've had 17 years of it. Take your pick.
The outsiders — the weird ones — mocked at the weekend but those outsiders don't matter. Look at the tributes everywhere. How the Crystal Palace fans stayed put to applaud him. Even the bizarre phenomenon of how Gerrard has been routinely abused up and down the country, even being sang about when he isn't there. They know. More importantly, we know.
Gerrard is one of us. The lad with the swagger. The lad from Ironside Road. The St Michaels pupil. The Whiston Juniors player. The kid at Cardinal Heenan. The frowning lad with attitude who took no prisoners. The lad who steamed into Paul Ince in training and told him to "fucking shut up" when he complained. The lad who did Kevin Campbell and Gary Naysmith and ran the length of Goodison Park with his tongue out and his hand to his ear. The lad who sat in the away end at Aston Villa among us and who would be there every week if things had turned out differently.
Debates about how good Steven Gerrard is compared to X or Y from other teams are for others — we know. Player of the Year on the right. Brilliant in tandem with Torres. A rampant right back, a charging ball of aggression in midfield. He couldn't get us over the line for the holy grail of the title but it wasn't for the want of trying. Those questions about his suitability as captain — too demanding, too aggressive, too quick to point the finger at team-mates? Those questions didn't exist last season. That was a captain. That was a man continually refusing to accept Liverpool were second best to anyone even if, ultimately, they were. It's the fuck you spirit Liverpool is built upon. You think anyone else could have done the job better? All the best.
In Man I'm Only Human, Lee Mavers sings about "dying to be free". Gerrard has talked about that, too. How simple family life has been impossible. How day to day there is no escape. Gerrard should enjoy his freedom in America away from the Merseyside goldfish bowl and the pressure of being Liverpool skipper which is etched into his features. God knows he's worked for it and earned it.
Gerrard isn't perfect. He was tempted by Chelsea and handed in a transfer request. He punched a fella in a bar in Southport. He slipped in a match against Chelsea and got sent off after 43 seconds against Manchester United. He doesn't love Rafa Benitez. He doesn't forgive him for substituting him. Maybe he wanted him to go. On Saturday Steven Gerrard was part of a side that lost a football match to a team Liverpool shouldn't be losing to. He didn't play particularly well in his final home game as captain.
"Just a man, la. Just a person."
But Gerrard also made sure his daughter picked up every scarf ("somebody's life" as a legendary former Liverpool boss once said). He refused to sign the LA Galaxy shirt offered by a fan in the crowd. He raised a thumb at the Kop's tongue-in-cheek mocking and he dealt with the media in his now customary statesmanlike way. Steven Gerrard knows what Liverpool is all about — the club, the city and the people. You can't buy that. And that's why he's talking about coming back before he's even left. He's taking his coaching badges. He's made notes on his bosses, recording the good and the bad. A manager one day? Don't bet against it.
Like Mavers, Gerrard is just a person. But like Mavers, to his adoring public, Gerrard will always be so much more. A Liverpool legend. Our legend. One of us. So hat's off to that feeling, I could not ask for anymore.
[rpfc_recent_posts_from_category meta="true"]
Pics: David Rawcliffe-Propaganda-Photo
Like The Anfield Wrap on Facebook