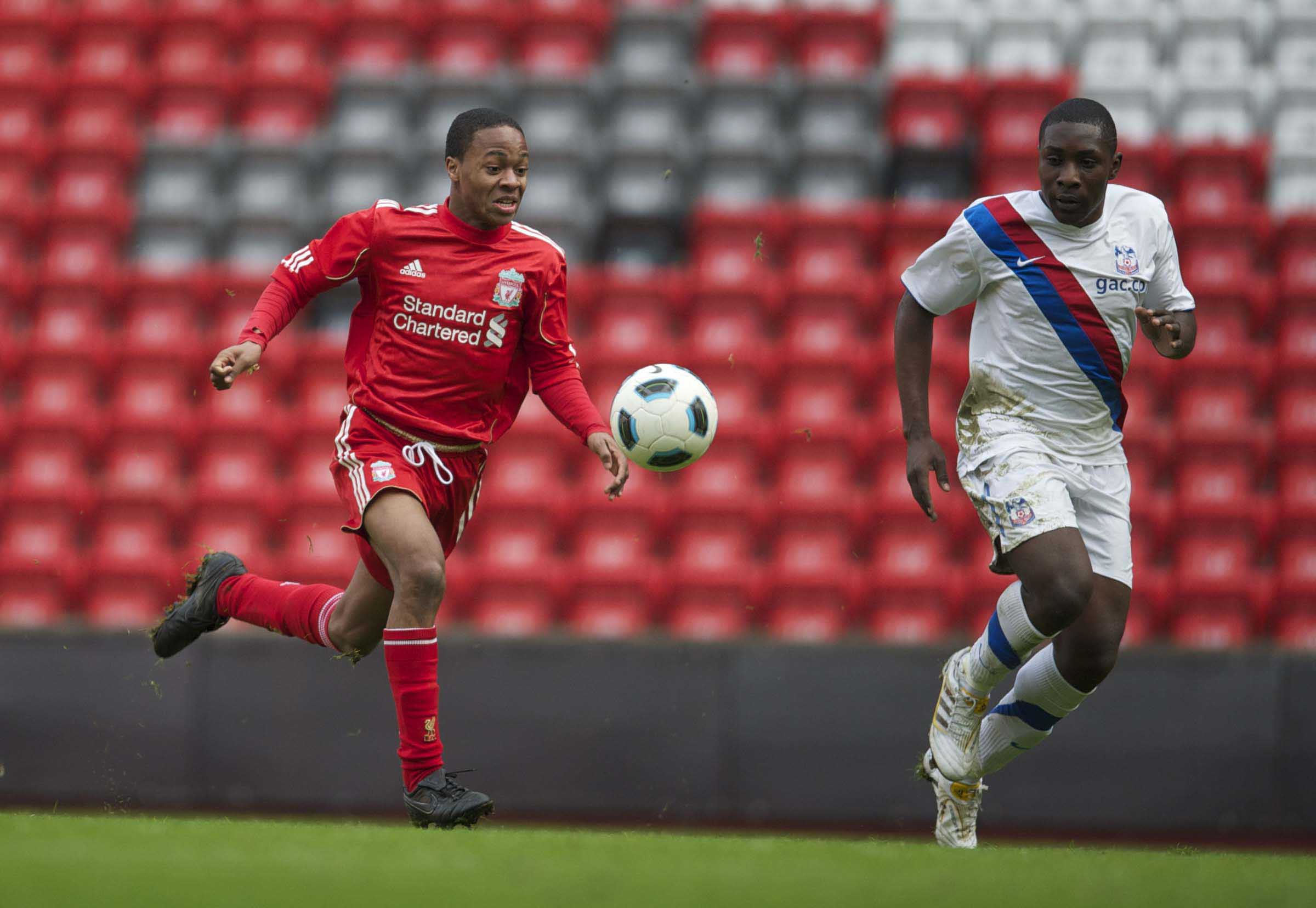 RAHEEM, lad, stop messing, writes MELISSA REDDY.
Throwback to five years ago, and Raheem Sterling — shy and self-conscious — was fidgeting around in his suit from Next as he waited to collect an award. He was 15, had no media experience, and was terrified of having to make an acceptance speech on stage. Last May, he was in the spotlight again after being named Liverpool's Young Player of the Year, but this time, the nerves were benched.
In an interview with me, Phil Roscoe the assistant manager of the club's academy, admitted that small shift was an important as the Usain Bolt strides Sterling was making on the pitch.
"I remember he was nominated as St Helens Young Elite Sport Performer of the Year, so we went to buy him a suit from Next for the ceremony," Roscoe detailed. "He won and because he was still in school, he did no media whatsoever, but he was so nervous about going up and collecting the trophy.
"I had a little flashback to that moment when he won the LFC award. I just think it's great to see a player develop on the field, but even more so, it's lovely to see them develop off the field. In my role, that gives me just as much joy as watching one of our academy players run out at Anfield for the first team."
This vignette is on repeat in my mind when those two menacing words — 'contract talks' — wait until I'm off the ropes just to left-hook me again. I analyse how far Sterling has come, the unbelievable support and platform he has received, how much he still has packed away in his top drawer and I can't fathom why we're all stood outside in the pissing rain, getting drenched for no reason.
"Liverpool is the best place for his development." Scan the press and those words are as popular as One Direction right now. Even those suggesting Sterling is right to hold off any decision to 'concentrate on football' agree that the forward will not get the extent of care and opportunity  he has in L4 anywhere else.
Yet, here we all are, looking stupid and soaking wet, trying to figure all this out.
£180,000 a week. One hundred and eighty thousand sweet, sexy pounds a week. That is the figure Sterling is apparently willing to drop the shoulder on should Liverpool count all the pennies and place them on table. That's the latest from the Daily Mail. Along with the Mirror, they claim it's not about the money for the attacker, but about concern he won't be a central figure in Brendan Rodgers' side.
You messing?
Are you FUCKING messing?
Stop messing!
The first and very important factor to note is how the storyline has shifted. Initially, the argument was that Sterling — as one of Europe's foremost talents — should command a fee in line with Daniel Sturridge's package of £150,000 a week. Real Madrid were knocking. Bayern Munich were at the door. Now, after a few stints in the wing-back role, the plot is one of mistrust in tactics and value. Arsenal have entered the imaginary race, with Manchester City ready and waiting to bulldoze in. Soon, Chelsea will be sat with iPad and a coffee 'monitoring the situation.'
This is what I'd term an agent-da. A news cycle dictated by the player's representatives to sound out potential suitors, to stir Liverpool supporters, to light a flame under the club's arse, and to play to the ego or pocket of their client. The recent stream of information has been very one-sided. Rodgers shared the official line: the trickster has been offered an incredible deal, no silly ransom money will be switching hands, and a decision will be made by Sterling in the summer. All the more extreme new developments to the situation reported since have not come from the club or those journalists on the Merseyside beat. That should tell you everything.
Raheem Sterling dangerously close to CONTRACT REBEL territory: pic.twitter.com/kAJNE97yiG

— Football Clichés (@FootballCliches) March 29, 2015
Liverpool will not make an offer for £180,ooo a week for Sterling to turn down. It smashes the highest wage bracket at the club and drops its pants in the face of everything they are trying to do financially and ethically. That money for a 20-year-old is, well, a bit Macaulay Culkin isn't it? Too much, too soon, too indulged, too too too…

The club's offer — around £100,000 a week — has already been viewed as excessive in some quarters, with Rodgers terming it "an incredible deal for a young player" and Liverpool's generosity will definitely not germinate to the farcical. To put the zeros into context: Harry Kane, the Premier League's breakthrough player this season, earns less than Sterling's current package, banking around £30,000, with Adnan Januzaj on the same fee. Arsenal's Alex Oxlade-Chamberlain sits on a reported £65,000 a week.
That £150,000 Raheem's agents were pushing for? It's more than both Alexis Sanchez and Mesut Özil — the latter a World Cup winner — earn over at the Emirates.
Please don't shout "GIVE HIM WHAT HE WANTS," it doesn't work that way. When Luke Shaw, at 19, was understood to be demanding £120,000 a week, Chelsea slammed the door. Jose Mourinho suggested the club would have been "dead" had they ceded to those demands. He argued senior players on a lesser package but with greater service to the club, would have questioned the basis of agreeing to such a salary, leading to an imbalance not welcomed at Stamford Bridge. Other talented youngsters would want the same benefits and bang their feet. When he's not throwing darts at Sky Sports pundits or imagining Loch Ness monster-size conspiracies, he speaks some sense does Jose.
Now that we've hopefully tackled how ridiculous the money aspect of all this is, what about Sterling's importance to the club and his ambitions then? You'd swear Sterling has been tied up hands behind his back, tape over his mouth at wing-back all of this season. If you check Twitter, or recent articles, you'd be forgiven for thinking that's actually been the case. It's suddenly gospel.
From the Daily Mail: "Sterling, who has turned down a number of offers from Liverpool, believes his best position is in the three forward positions and is becoming increasingly concerned about his position at wing-back." Increasingly concerned? We need to head back to stop messing avenue!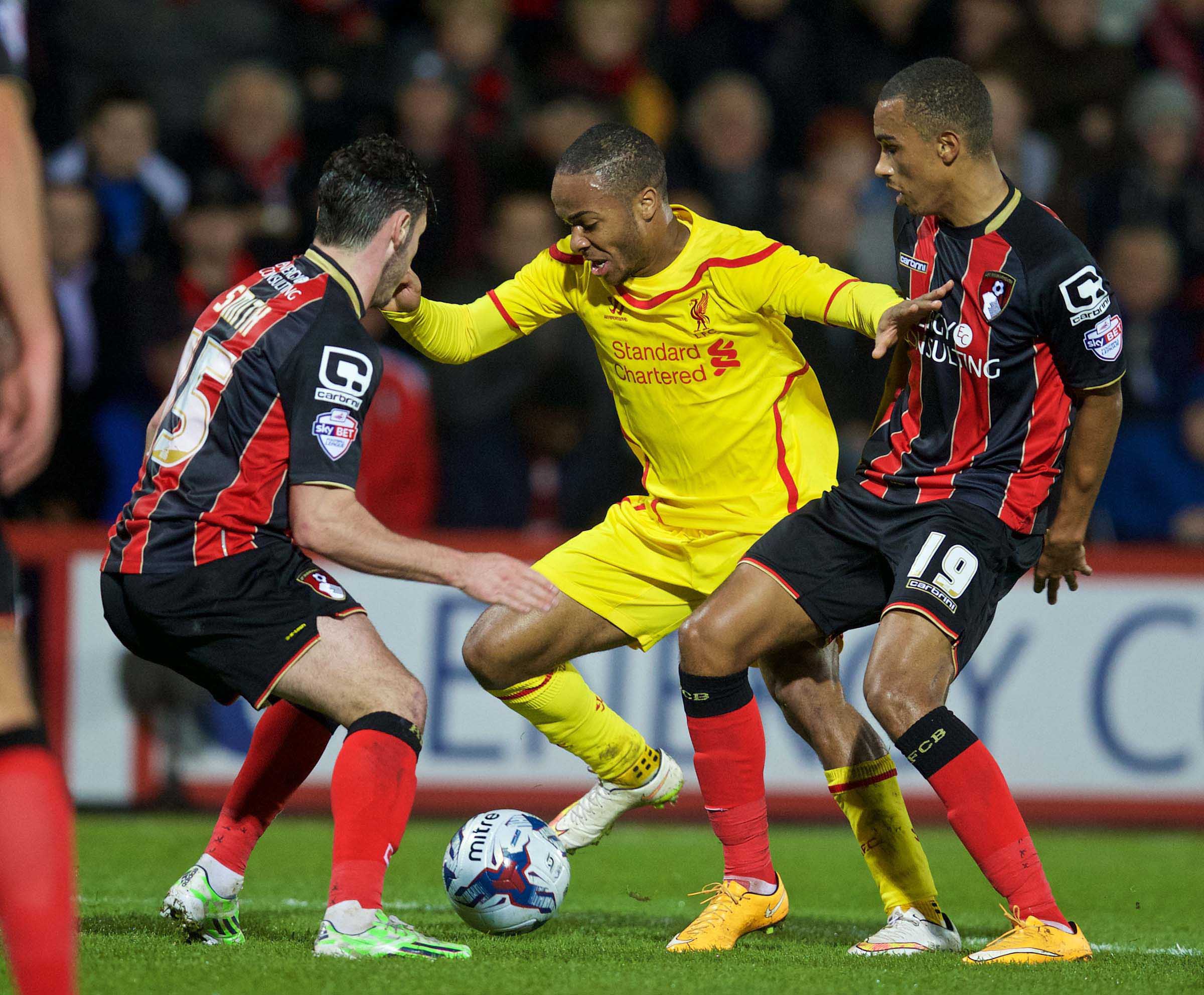 First: Sterling's tactical intelligence is the premier asset that sets him apart from most pacy young players. Yeah, they can run pretty quick and beat a man, but what else have they got? Well, Sterling's locker is spilling over and he needs to be very grateful to Rodgers, who could so easily have jailed him on the right flank. "It was clear in training that he didn't have to be pigeon-holed into a winger. When he played wide, he was very comfortable coming inside, so that was a good sign," said the Reds boss last year. "He has great instincts, balance and a reading of the game."
Sterling has played forward on both wings, at right back, at the tip of the diamond, as an auxiliary forward… Practically everywhere his skill set allows, and it is this excelled adaptability that will woo Europe's powerhouses — not an agent-da.
Jordon Ibe's unfortunate injury has meant that Europe's Golden Boy has been stationed at wing-back against Blackburn in the FA Cup, Burnley and Manchester United in the league. Like his gifted teammate, the idea is that Sterling's quick feet has more of the field to run into from deep. One of his other key selling points — his work ethic, is also summoned more in that role.
We'd all love to rather see Raheem in the forward positions — where he's been for the majority of the campaign, and hopefully those minutes Jon Flanagan got in the All-Stars charity match means he's dead close to Liverpool's starting XI. What Sterling wants has temporarily warmed the pine for what the side needs, but still his positional acumen — over most else — is held in the highest regard across the continent.
Again, he has Rodgers to thank for that. Sterling knows it too. "The manager has blooded a lot of young players like myself and Jordon. He puts you in at the deep end and it seems like at that moment you are ready," he said. "Every young player is getting a chance when they show they are working hard on the training pitch and that is credit to the manager for giving them the chance to shine at the highest level." 
Sterling's opportunities dwarf that of Kane and Januzaj. He's played well more than Shaw. Only 'Ox', who is a year older and had League One experience with Southampton before joining Arsenal, is in the same ballpark of appearances as the Reds ace. Opportunity is everything as a youngster and Raheem's practically been given the keys to the city.
Sterling's a great kid; polite and reserved, he still keeps in touch with all his old academy teammates and the staff. He excites the fans and is a treat for the technical team. It would be a shame for things to spin out of control due to poor guidance or misplaced priorities.
Rodgers previously stated: "Players are always replaceable. It doesn't matter how good they think they are." Sterling should sign the inflated offer already on the table while he's still a main character on a stage and in a spotlight that suits him. The grass is not always greener on the other side, it's greener where you water it.
[rpfc_recent_posts_from_category meta="true"]
Pics: David Rawcliffe/Propaganda-Photo.
Like The Anfield Wrap on Facebook