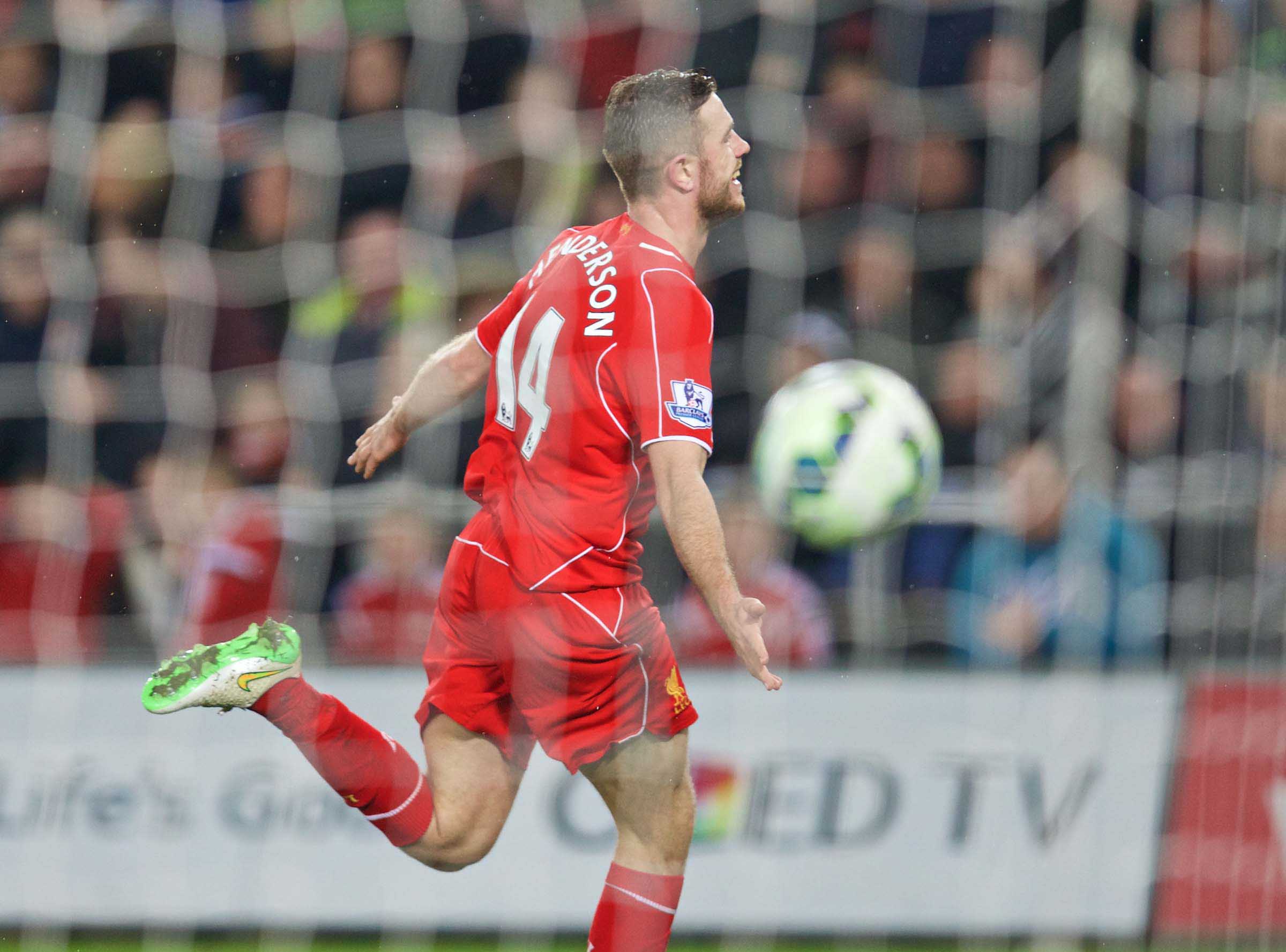 HALF time.
Half time and my Lord, my hand to God, Liverpool look a mile away. As though the game has come as an enormous surprise to the lot of them. A day out at the Gower and Colin Pascoe says: "Forget this area of outstanding natural beauty lads, we kick off in 60."
Only Joe Allen appears to be au fait with the whole enterprise. Only Joe Allen seems to understand there is a football match here and that they need winning. Joe Allen, looking around, presumably wondering why no one covers but him, no one takes care of the ball but him, the rest of them crabbing on the Gower Peninsula, having a great day.
The football match can't stop coming at Liverpool yet time and again Liverpool appear surprised. The goalkeeper sparked into life. Can given a torrid time. Henderson booked early, convenient his name has been taken because it could be the only evidence he's here; his double presumably elsewhere executing the perfect crime.
Liverpool's forwards are nowhere, Lallana swapped with Sterling which resulted in no apparent improvement. Coutinho constantly patrolled by Ki, cutting off the passing angle at every opportunity. Moreno steady and able.
This is half time. What it looks like. Sakho and Skrtel doing the defending. Mignolet keeping the goal. But this:
Swansea should have scored.
Swansea should have taken advantage.
Swansea should have more cutting edge.
When I bang on about goals, just imagine I support a Swansea and treble it. With penalty box threat this good side goes in two ahead of The Reds. Without it, I expect Liverpool to still win this game. They can't be this poor again and at some point Swansea tire.
That's half time. The score should be Liverpool -2. Instead they have parity they simply don't deserve.
32 – Since Christmas Liverpool have taken 32 points from 12 PL games, 10 more than Chelsea have in that period (from 11 games). Hunt.

— OptaJoe (@OptaJoe) March 16, 2015
Full time:
The Reds.
The Reds improved.
The Reds are f***ing mustard. Sort of. Sort of mustard. More horseradish but definitely, inarguably victorious.
If you take the game as a 45 minute game then The Reds got just about what they deserved. Just about. Through my teeth.
Joe Allen remained imperious. This run of games he is putting in is the essence of the business. Few can match it.
The change to put Gerrard on and change to 3-Gerrard-Pentagon-1 was tremendous. Liverpool got right in Swansea's face. Didn't allow them to get moving. Gerrard impressive, the lads in front irresistible. Like a magnet, not like a beautiful human.
Results change games. They change perceptions of games. Emre Can has still not conceded a league goal away from home playing in this three. Today's performance makes you go, er, OK, off that fact. Sakho on the other hand was magnificent. Not quite the full Joe Allen but almost there.
So many weren't brilliant. So many. But they won and second half they looked like winning was inevitable. That is the key thing about these boys. They have a switch they can flick and winning becomes inevitable. These lads.
When The Reds Are Jammy We All Are Jammy.
When The Reds Are Inevitable We All Are Inevitable.
When The Reds Win We All Win
Full time:
Swansea City 0 Liverpool FC 1.
Read: How we rated the players against Swansea.
[yop_poll id="39″]
[rpfc_recent_posts_from_category meta="true"]
Pics: David Rawcliffe-Propaganda
Like The Anfield Wrap on Facebook