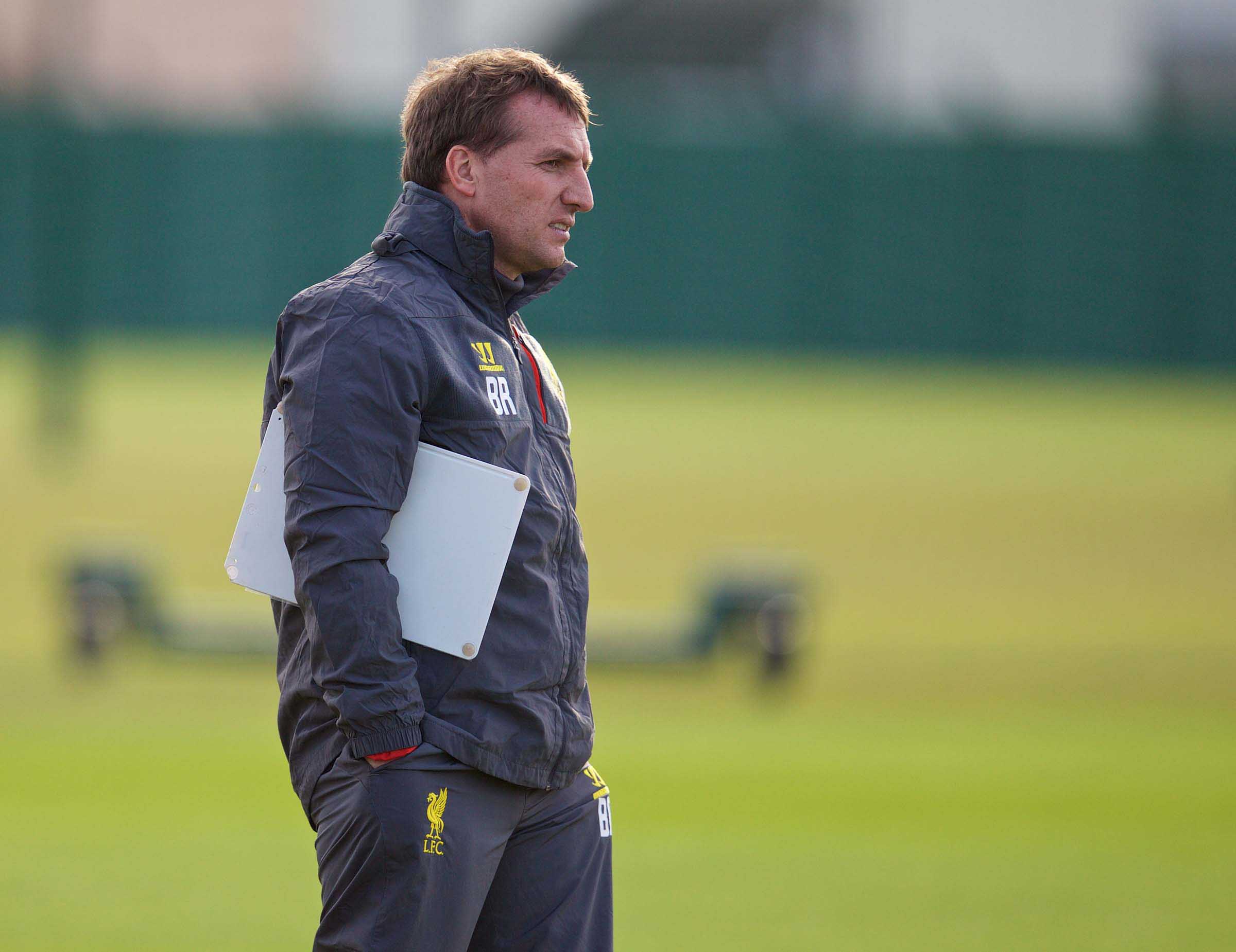 FIRST of all, Brendan Rodgers is NOT "a fraud". It seems madness that after a first defeat since December in the league many have reverted to levelling this at the manager once again.
Constructive criticism, discussion and analysis is fine, but some of the things thrown at the boss have been unfair. I think his tactical flexibility while in charge of Liverpool has been nothing short of sensational. He has been brave in trying different set ups and different formations and they have worked.
Rodgers switched to a diamond and he got it working last season, his side scoring 101 goals in the league and winning 84 points, finishing just two points behind Manchester City with a total bettered only once by Liverpool in the Premier League era and only four times by the Reds since three points for a win was introduced in 1981-82.
This season, he has turned things around with the 3-4-2-1 formation. He has got that working, too, with the form before the defeat to United at Anfield at title-chasing levels. I don't see how you can give him anything other than praise for that. He has got results with what are very much his own methods.
From the outside looking in, where my concerns lie about Liverpool at the moment is a possible question over the level of preparation for the players. Those concerns stem from what looks like a bit of confusion around the players' understanding of their roles, especially the front three and what they are supposed to do without the ball.
Against Swansea and Manchester United, the opposition set up exactly how I thought they would. It shouldn't have come as any surprise to Liverpool, yet Daniel Sturridge looked completely lost. When he was pressing no one else was. Then he would drop off when the two behind him were trying to press. Neil Atkinson has referenced on a couple of Anfield Wrap shows that in the ground he could see Coutinho pointing at other players and saying to the manager and his staff: "Where do you want me?"
It seems that either Liverpool are laying down great plans and the players don't know how to execute them, or the coaching staff are maybe not preparing them correctly pre-game when it comes to a plan without the ball. I think there is some confusion in the side in recent games and that's causing Liverpool to sit deeper than the manager would ideally want. In turn, that is then affecting the team with the ball.
If you think back to some of Liverpool's best performances in recent history, Real Madrid in 2009, or even Manchester City last season, I don't think of us rolling the ball out from the back and being like a Pep Guardiola side. I remember us being full of high intensity and being 100 miles an hour, winning the ball back quickly in the middle of the pitch and being quite direct, springing attacks and taking advantage of space.
Liverpool as a club has seemed like one that if it's great without the ball, it's great with it. It's been the club's identity for a long time. That hasn't been the case in recent games.
https://www.youtube.com/watch?v=3eywxh5L6W4
It can be difficult to get over your plans to a dressing room at times. What we can say with some certainty is that Brendan Rodgers didn't turn to his team before Manchester United and say let's give them 60-70 per cent possession of the ball. He will have wanted them to press and be on the front foot.
But if you want that, you have to sit in a team meeting and say 'you three up front, this is how you press'. They are then backed up by the midfield but the plan also needs explaining to the wing backs and the back three. If the attacking players are pressing high and aggressively up the pitch, is the plan to go one v one at the back? Are you accepting that if the opposition beat the press you are exposed and relying on recovery runs from midfielders?
Or, do you say to your front three, 'I don't want to be exposed at the back so we're still going to press but just not as high'? You've got to be clear what areas you are pressing in, who is doing it and when.
If the defence is deep, and the wingbacks stay deep but Sturridge presses high, the side is completely disjointed. It leaves the striker very isolated because when we win the ball back the two centre mids and the wing backs are 50 yards away — Liverpool haven't looked compact enough and the system doesn't look like it's working without the ball.
Against Swansea and United, Rodgers could have instructed Sturridge to sit on the opposition's holding midfield player and let their centre backs have it at 0-0. They aren't going to keep it all game, they have to come forward at some point or there will be a sloppy pass that offers an opportunity.
Then you might say to Coutinho or Lallana, 'you can keep an eye on their full backs'. That gives licence in turn for our wing backs to push higher and pressure the opposition's wide men and we are not exposed in midfield. The alternative is squeezing the wing backs up very high and playing a very high line but potentially going man for man at the back.
If some press and some don't, as we have seen, that spells problems. When you see players confused and looking around in games, asking questions about who they are picking up that has a knock-on effect to how you play when you do win the ball. If you're not in fifth gear without the ball, how do you get into it when you've got it?
When I last wrote something for The Anfield Wrap, I was praising the buy-in Rodgers had achieved with the formation change before the Manchester United game at Old Trafford.
At that time, it looked like a system that was getting the best out of most of the players on the pitch. On the whole the players were clearly happy.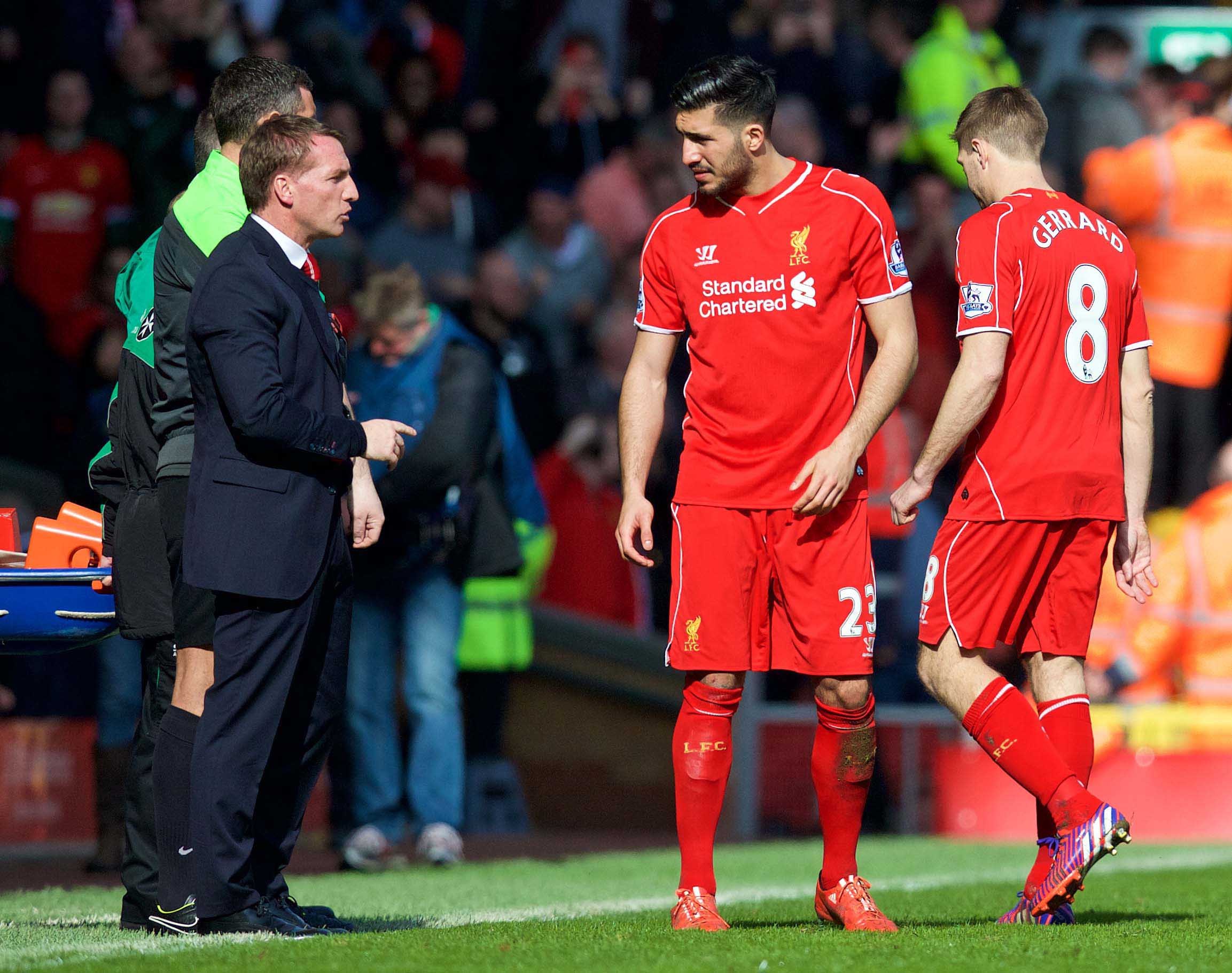 The problem you have after a bad result is that your players are leaving the pitch having chased shadows for 90 minutes and they will be thinking that either you as a manager didn't have the right plan, or that you didn't explain it well enough.
They will be walking into the dressing room and saying: "What's going on? I'm pressing here – where were you?" And another player might be saying: "Well I've got these problems!"
If that goes on for more than a game or two, you've got the opposite of the buy-in — you've got players maybe starting to question your methods. They could be starting to think 'our manager's not helping us'.
It's often just a case of some tactical tweaks. Off the ball problems should be easier to solve. I always say I can ruin your Van Gogh picture just by drawing a muzzy on it — see how much it is valued at then. To destroy a football game and be defensive is not that difficult. But if I say replicate that Van Gogh, do me another one? That's difficult. You want all your energies, and all the players' focus, on what they do with the ball.
The other factor is reacting to how the opposition set up. Is Rodgers saying to them, 'if they do this, we conquer it with that'? There is a lot of focus on 3-4-2-1 because of how the last few games have gone but this isn't system specific. It's something else that will get you buy in with the players.
On 3-4-2-1 specifically, it's the hardest system I have ever coached because it's basically the same system with and without the ball. Most other formations aren't — they change, they are fluid.
With 3-4-2-1 you have unique criteria for the roles. For your outside centre halves, do you have a full back who can play centre back, a centre back who is better on the ball than your average centre back or a midfielder playing in the back three?
For your wing backs, do you play a winger who has got an engine and can get back or a full back who isn't that great getting forward compared to an orthodox winger? Even your midfield isn't playing how it would in a 4-2-3-1 set up, the gaps are totally different. Normally, they are not roles any player has learned growing up; it is a demanding system and requires a lot of coaching. It creates a lot of questions about who squeezes the full backs and how bold you are. Do you leave your centre backs three v three? Sometimes you can't go too bold as you won't get that buy in from the players.
The other problem is teams playing one up front. You can be left with a centre back too many and that can leave you an attacking player down. Then you can have a situation where you aren't getting enough players into the box. If you look at Arsene Wenger against a side with one striker (particularly the bottom 13 sides in the league), he will keep two centre halves,a holding midfielder to cover and he will say to the rest that they can go to join in, go and attack.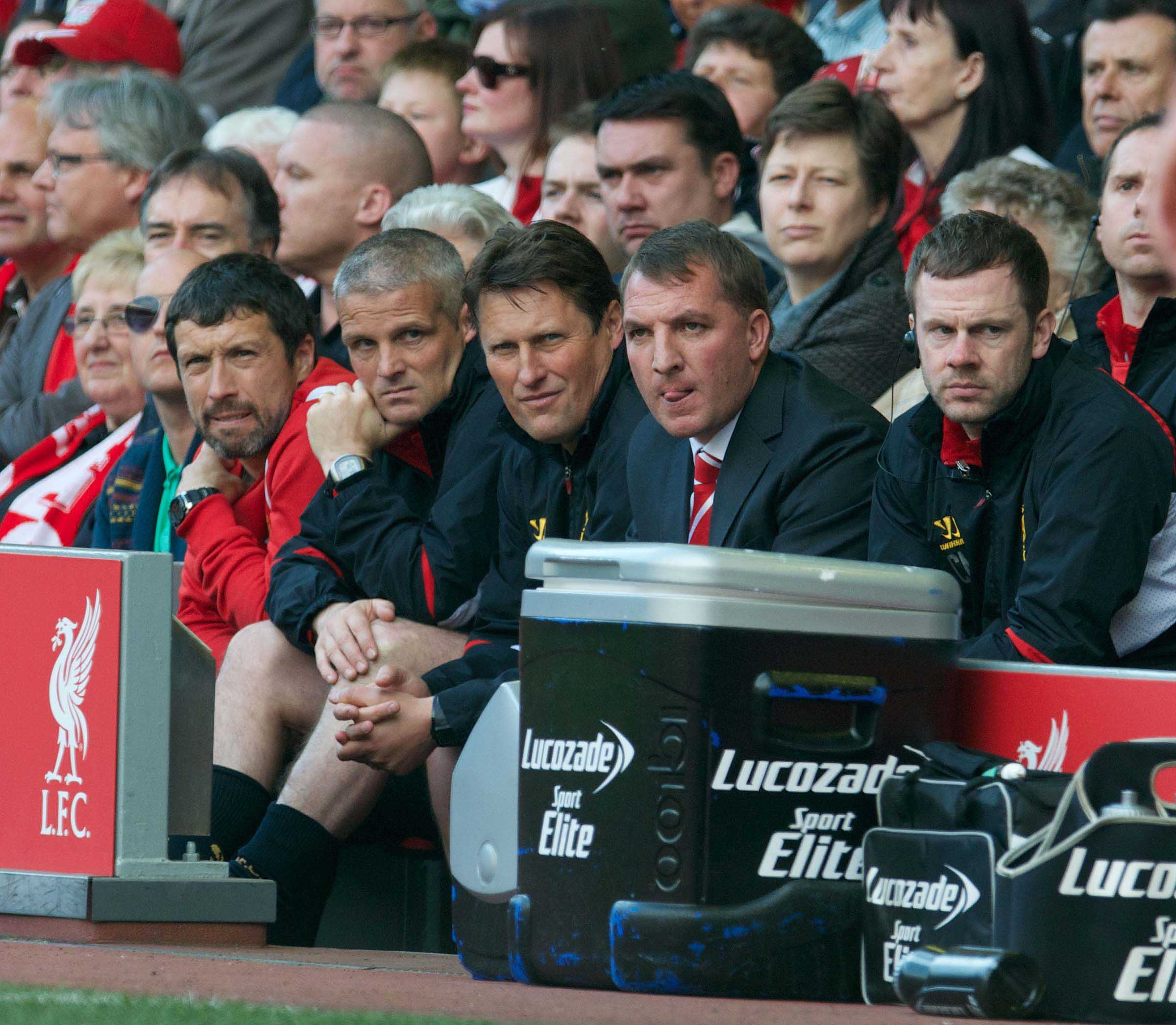 When I used 3-4-2-1 we kept four clean sheets in a row and we never looked like conceding a goal. But I also felt a goal was never coming for us. It never felt like we had a team on the rack. The weaknesses of the system are how you squeeze their defenders without leaving yourself exposed. With the ball you're an attacker light and in transition you can struggle to get people in the box due to how deep/far away the wing backs and centre midfielders are in transition.
The strengths are it's a fantastic system to use against 4-4-2, as we saw against Manchester City. And it's a good system once you are ahead in a match. It's also a surprise to most coaches to come up against it because it's so rarely used. Initially, at least.
But what we've seen recently to counter act it is wingers occupying the space between the outside centre halves and the wing backs, cutting out passing options, stopping five of our players by using only three, as Neil has correctly referenced recently. If a team presses you high you have to go more direct to your front three but when you're picking players for this system you're not normally picking players who like direct football because of the technical ability and fluidity required.
By playing the system regularly Liverpool are giving top coaches a lot of time to get the tactics board out with the staff and work out how to combat it.
The decision facing Rodgers and his staff now is what the Plan B is. 3-4-2-1 is Plan A. But they have to identify — and get the players to identify — the circumstances where they are struggling and need to turn to Plan B. They might say this is something they can't identify until 10 minutes in — that it will need a shout from the bench or from the leaders in the team. And then, when they recognise that situation, they change. So the opposition is putting three up top to squeeze us? Fine, we go direct to the two in the gaps, or to the frontman, and we've taken seven or eight of theirs out of the game. Or you hit deep opposition territory for 10-15 minutes. The team will then subconsciously drop, giving you space. It's what Guardiola did against Valencia regularly due to their phenomenal high pressing strategy and it was a very effective counter. It gave Guardiola's side space to play. Eventually.
Ultimately, the question for Rodgers is which players he wants to get the best out of. And the answer to that is probably his attacking players: Sturridge (when fit), Sterling, Coutinho, Lallana, Markovic.
At Arsenal I'd be tempted to go to a diamond. It would worry me going with the system Rodgers has favoured recently because they have technically good midfielders and forwards and full backs that like to bomb on.
It feels like everyone is down after United and down because we face such a tough game next and that's why I think there may be something in saying 'we go 4-4-2 diamond, and we hit these hard, we're treating it like a cup final'. You have to sometimes think what does your dressing room need and they might need a call to arms here. We are Liverpool. Let's remember that. No task insurmountable and we can win anywhere against anybody.
Arsenal will more than likely score, the form they are in. So we have to go there planning for scoring two goals at least. We have the ability to do it and maybe it is time to shock other teams again.
I think the focus has to be on getting the best out of the players that can make a difference. Getting the best out of Sterling is now a priority. Sterling in peak form helps us win games of football and will do those contract talks no harm. Sterling at wing back will do the opposite. It will be interesting to see if Rodgers thinks the same come Saturday at 12.45.
Sean is manager of Mold Alexandra FC in the Cymru Alliance Division and holds a Uefa B licence. You can follow him on Twitter at @Sean_Rogers
[rpfc_recent_posts_from_category meta="true"]
Pics: David Rawcliffe/Propaganda
Like The Anfield Wrap on Facebook