"Just because you are a character doesn't mean that you have character."
Winston Wolfe, Pulp Fiction, 1994
ONE of my favourite quotes from one of my all-time favourite films.
That Pulp Fiction is now both old enough to have a bevvie in even the most Conservative of US States and yet four years younger than Liverpool's last title win is both depressing and alarming.
It's also an astute truism.
Robbie Savage, El Hadji Diouf, Jason Cundy, Steve Claridge….you get the picture, all headline and no detail, all fart and no shit, a late Jack Wilshere tackle at 3-0 down and a fist pump to the crowd.
Look at me fellas, I'm 'The Man'.
Football's 'characters', the lads who'd cause murder, leg it and then throw the last dig when the fight's over, brag about it and bore you to death with some misquoted Cassius Clay or some fag packet Friedrich Nietzsche.
The lads who invariably, depending on the level of fuckwittery, end up either stranded at the end of a phone at Burton Albion to Jeff Stelling (AND THERE'S BEEN A GOAL AT THE PIRELLI STADIUM, WE CAN GO STRAIGHT TO JOHN SALAKO) or if they are #BANTZ enough, get a peachy slot on BT Sport, TalkSport or even, staggeringly, Question Time.
There is something else most of these 'characters' have in common aside from talking absolute twaddle, it's medals, or rather, the distinct lack of them — because winning things in football takes more than kidding the punters who pay your wages.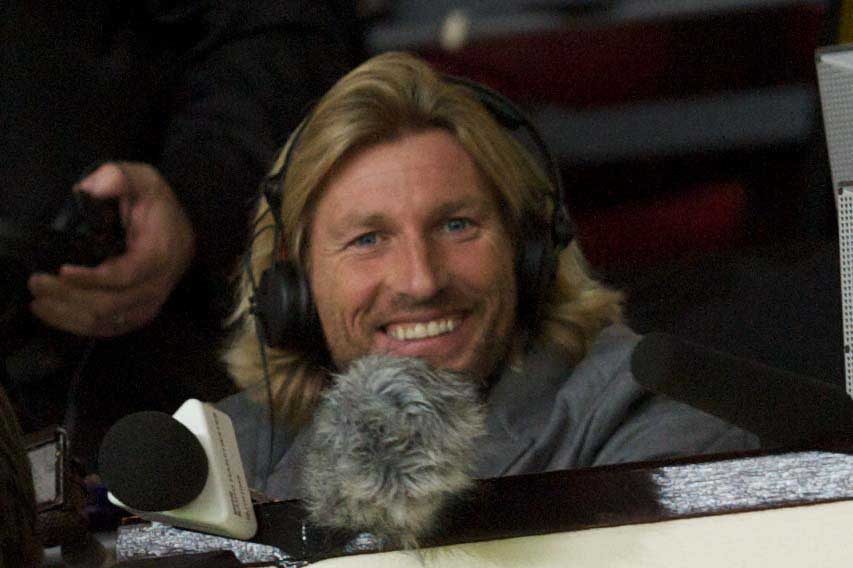 Character, it's not what you say, it's what you do.
I don't think it's any coincidence that the more cerebral of the ex-professionals, who are paid for insight, not opinion, are the ones that have achieved in the game without — apart from to those who watched them week in, week out — ever really standing out.
Gary Neville and Jamie Carragher, on the face of it, make strange bedfellows but have plenty in common.
Both underrated (Although Neville was deffo no Rob Jones) mainstays of teams that hoovered up medals, both happy for the brighter lights to shine and bag the headlines, to be diligent, to be aware, to have pride in everything they did, to leave every last drop on the pitch every time they stepped out whether it be Bradford or Barcelona.
Both had the self awareness and courage to call time on their own careers, to not be ushered out, to know that they had given everything, that they could go out on their own terms.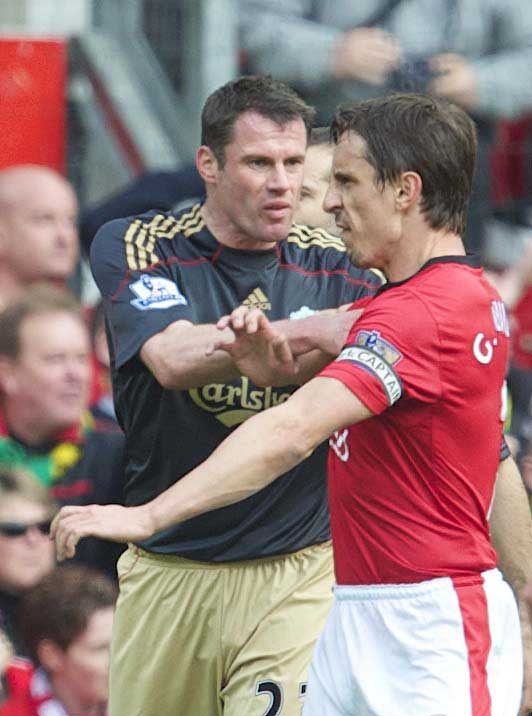 Character, it gets you over the line, but it can also pull you back from the brink.
When Liverpool trudged off the pitch after defeat to Crystal Palace on the 23rd of November it was our worst start to a season since 1992-93 and the knives were well and truly out.
New players weren't showing their worth, the team was unidentifiable from the previous season's version that smashed all before it; we were being asked questions and had no clue as to any kind of answer.
When yard dogs like Mile Jedinak are lashing free kicks in the the top corner, it's easy to think that the world has turned, it's all out of your control and blame the footballing gods.
It felt like the end, and had the players taken the easy option and absolved themselves of responsibility, it probably would have been.
They didn't.
And if Brendan Rodgers is to take the blame for a horrible start to the season — one that had most commentators proclaiming an unmitigated disaster, who sat alongside a significant minority of Liverpool supporters calling for the Northern Irishman's head — then he must take great credit for how he has turned the situation around.
Similar runs of poor form have proven to be terminal for previous Liverpool managers who had finished second in their previous season.
Both Houllier and Benitez's Liverpool sides, having came so close only to fall so far in a matter of months became riddled with self-doubt and self-preservation, never truly recovering to anything like their previous incarnations. Neither, it has to be noted, had to replace Luis Suarez.
Since that day in November, having taken only 14 points from 36, Liverpool have recorded 34 from a possible 45.
Some are so entrenched in their views about Rodgers that he will never receive recognition. It is their opinion that he has 'stumbled' on a solution after the Palace game, similar to how he 'stumbled' upon a way to get his Liverpool side of last season playing their most exciting football of a generation.
Not that I think he'd care, nor should he.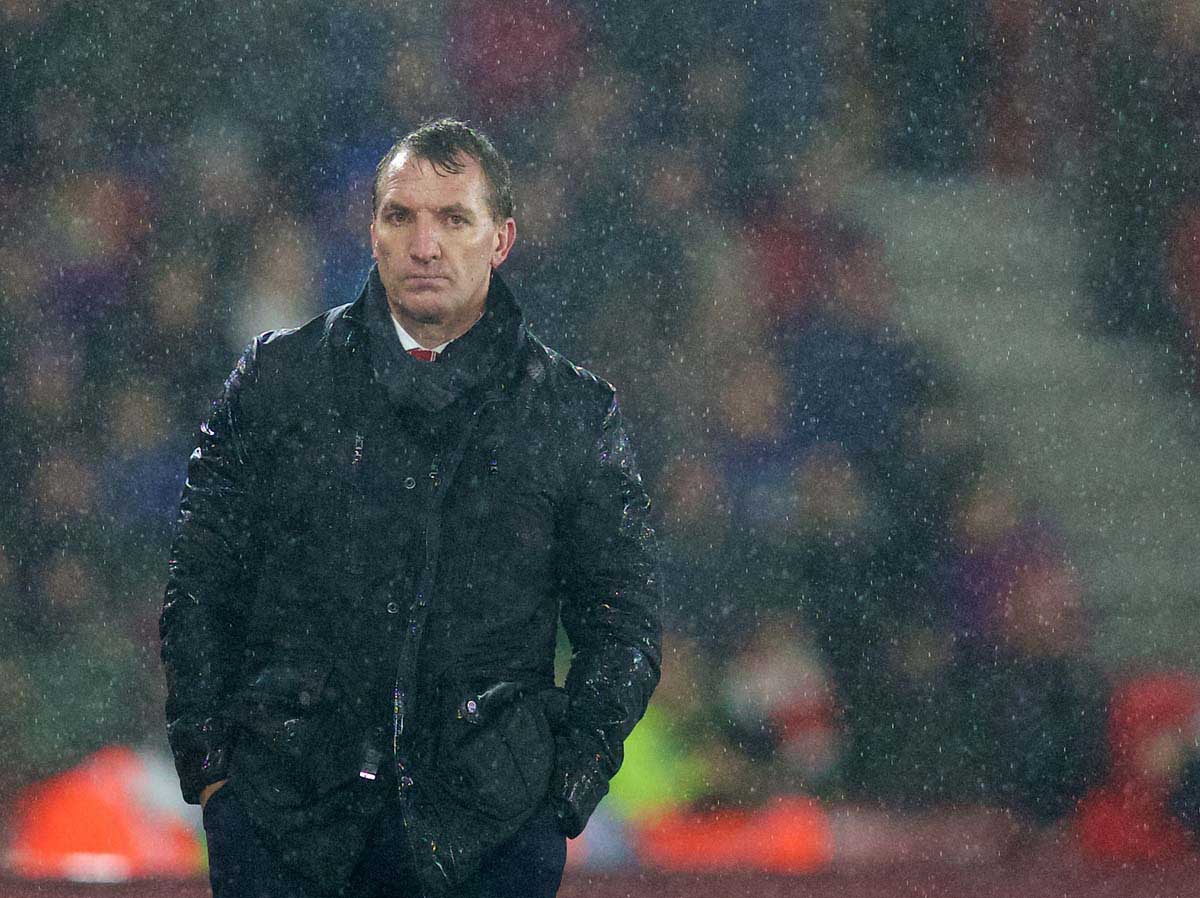 Rodgers and his Liverpool side have stared down the barrel of a gun and not only managed to keep their heads, but remarkably came out the other side stronger, tougher and seemingly more together than ever.
For all of his waffle and pseudo bullshit when cornered, Rodgers is an excellent coach with the courage of his convictions to innovate and try the unpredictable.
Character, the bravery to back yourself.
It is usually the case that when a team is 'in crisis' — and this happens quite often exponentially in relation to the size of a club's wage bill — players, staff and executives go to ground, hide away and have 'their people' brief 'those people', cry-arsing about 'dressing room unrest', 'squad harmony' and how 'that new lad with the hair doesn't like Phil Collins'.
More often that not, it's the much loved 'characters' who are the protagonists, these brave men shit-housing around, mugging off to Sky Sports News on how everyone should 'Get behind the manager' and how 'It's the players' fault' while at the same time sticking the knife in behind closed doors.
But instead of the slow death that typically accompanies such runs of form, the only noise was from outside the club, at least externally.
Form in football doesn't come overnight, and losing is a hard habit to break. It won't be smashed in 24 hours, it is small steps, little by little, with stumbles on the way. In the five games immediately following Palace we won two, drew two and lost one (at Old Trafford).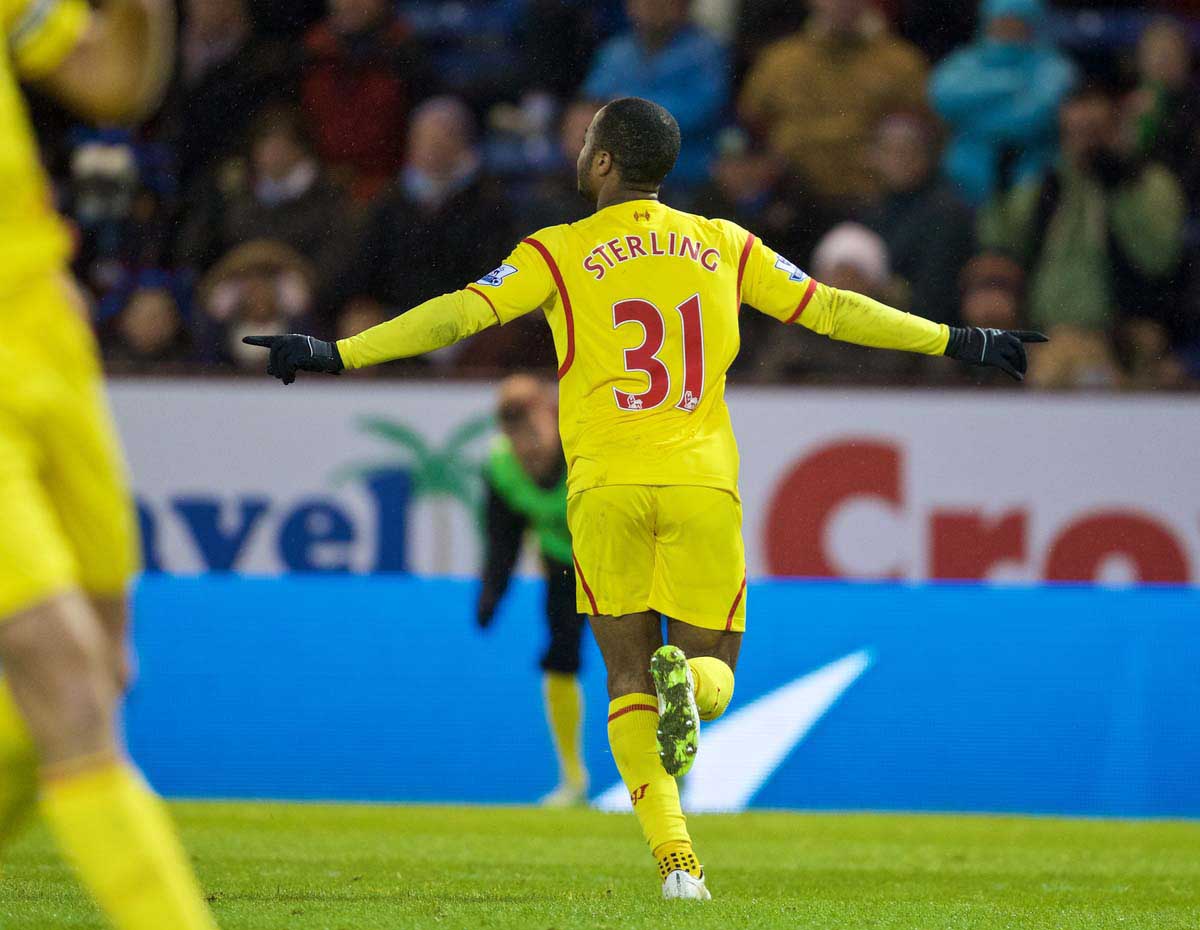 On any road to recovery, the marginal wins, the ground out, lucky, hard-fought, snarly wins are infinitely more important than the easy, stylish ones. They are the ones that turn a losing habit to a winning habit, that pave the way to steamrollering teams and being out of sight with 45 to go.
Hindsight is always 20/20, but the Boxing Day 1-0 win away at Turf Moor now seems like a massive result, one that in years to come may be seen as THE turning for this Liverpool team.
Injury to Dejan Lovren saw Mamadou Sakho return to the side for his first away game since being bombed out in September and subsequently punished for a walking out of Anfield having been left out the squad on Derby day. Brad Jones had replaced Simon Mignolet in goal and Burnley came in to the fixture in good form having just beaten Spurs at White Hart Lane.
The game was a walking excuse for a defeat — an easy one to hide in — and when Brad Jones hobbled off 15 minutes into the game and was replaced by Mignolet, the sense of inevitable collapse was palpable.
Somehow, we came through that game by the skin of our teeth, Danny Ings hit a post, Simon Mignolet had a bit of a flap and gave away the worst corner you'll ever see, but we came through it thanks to a goal from a 20 year-old lad from Jamaica with the world at his feet.
Burnley 0-1 Character.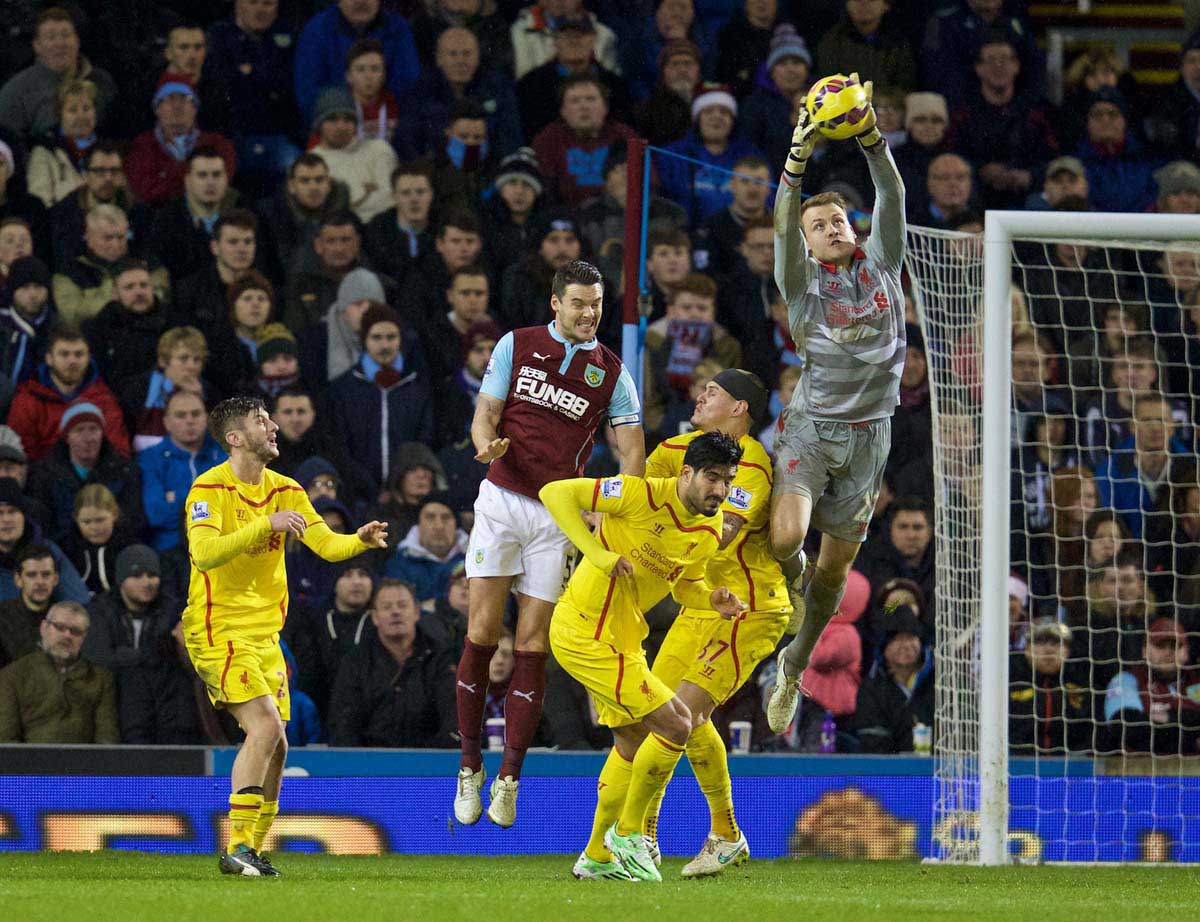 Since that win, Mignolet has rebuilt his game — gone are the nerves and hesitation, back is the assurance of a goalkeeper focusing on what he is good at instead of trying to force things that he isn't. The mental strength that Mignolet has shown, given the pressures around his position on the pitch and the extent to which his confidence was shot, can only be massively commended.
The Belgian might not be the long-term option, but he's given himself a fine chance.
The same can be said of Sakho — ungainly, unloved and out of the team, the recent tightening up at the back has coincided with the French international's return to the Liverpool backline.
The determination of Sakho, who has captained both PSG and France, to win his place back at the heart of the Liverpool defence should come as little surprise to anyone, but it seemed like a long way back for the 25-year-old Parisian only a few months ago.
It's easy to pigeon hole players sometimes and adhere to lazy stereotypes to fit a NARRATIVE (soz), but Sakho has also endeared himself well with the local community on and off the pitch, all done without the pomp, ceremony and stage management of a PR campaign, or of someone looking for attention. Rather just a footballer who grew up with little, and being aware of how fortunate he is, wanting to make a positive difference.
Small steps.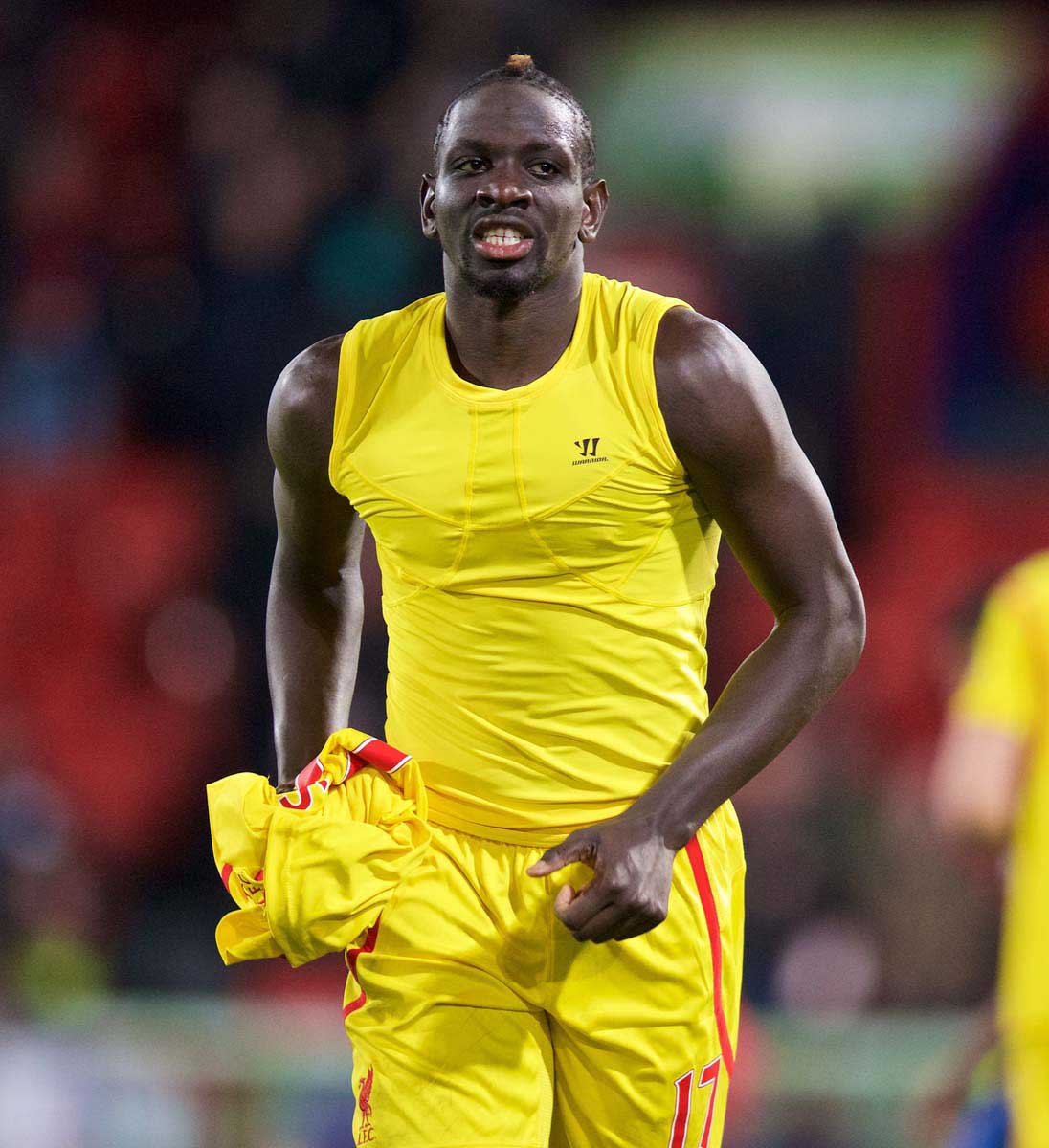 Much of the upturn in form was put down to the return of a rejuvenated Lucas Leiva, who after being consigned to the scrapheap for what seems like the hundredth time, brought a presence and nous in the midfield, a solidity in front of a new defence, and a calming influence on the young lads around him. Lucas has seen it all before, but no sooner had he bedded himself in, an injury in the Goodison derby took him back out.
Such a knock, as so often in the past, could have derailed a run of improving form, but the Reds refused to cede and Liverpool powered on. Emre Can, 21 years-old and discarded before a ball had been kicked this season, taking up the mantle of defensive lynchpin and midfield powerhouse, playing with a poise and calmness beyond his years.
It seems that everyone in this team has been put in the bin at some point, just as Dejan Lovren is now, and plenty would take the opportunity to take the slightest victory (Hello Stuey Downing) as a straw man, but not this team, it just gets on with it.
Jordan Henderson, Martin Skrtel,  and unbelievably both Raheem Sterling and Phil Coutinho, two of the most talented youngsters in European football, have all at some point have been judged to not be good enough, they've all had the 'Main Stand Groan' and the 'Kemlyn Moan', and more importantly, they've all refused to take any notice.
Daniel Sturridge arrived at Liverpool with massive questions hanging over him, justified or not, about his attitude, ego and work ethic.
Sturridge is undoubtedly his own man, yet the esteem that he is held in by his team mates is clearly evident — this deeply intelligent young man wants everything, he wants it now, but he also knows he can't do it alone and wants to bring everyone with him because the team, possibly for the first time in his career, trusts him and he trusts them.
Character, it has a point to prove.
This Liverpool team, it believes in itself, it still believed in itself when no one else did, it pulled together when most would have pulled each other apart, it ran to back to the fight, not away from it, it looked for answers, not excuses.
This Liverpool team might not win anything this year, it may not even finish in the top four, but the experience of this season has battle hardened a team full of technically brilliant young men whose talent can only improve, who will not hide, who know they can harness excellence in time, who have felt despair and not let it break them.
A team who have the collective nous know the only opinion that matters is the one of the lads sitting next to you.
Enough nous to ignore these 'characters', their cult of personality and their desperate, ill thought out and often contradictory opinions that depend on the size of the paycheck, these ex-pros who never had enough about them to make the most of their ability, achieving little other than the odd headline now and then, because in time, no one will remember them.
Not like they will Jamie Carragher.
Because character? It endures.
[rpfc_recent_posts_from_category meta="true"]
Pics: David Rawcliffe-Propaganda
Like The Anfield Wrap on Facebook