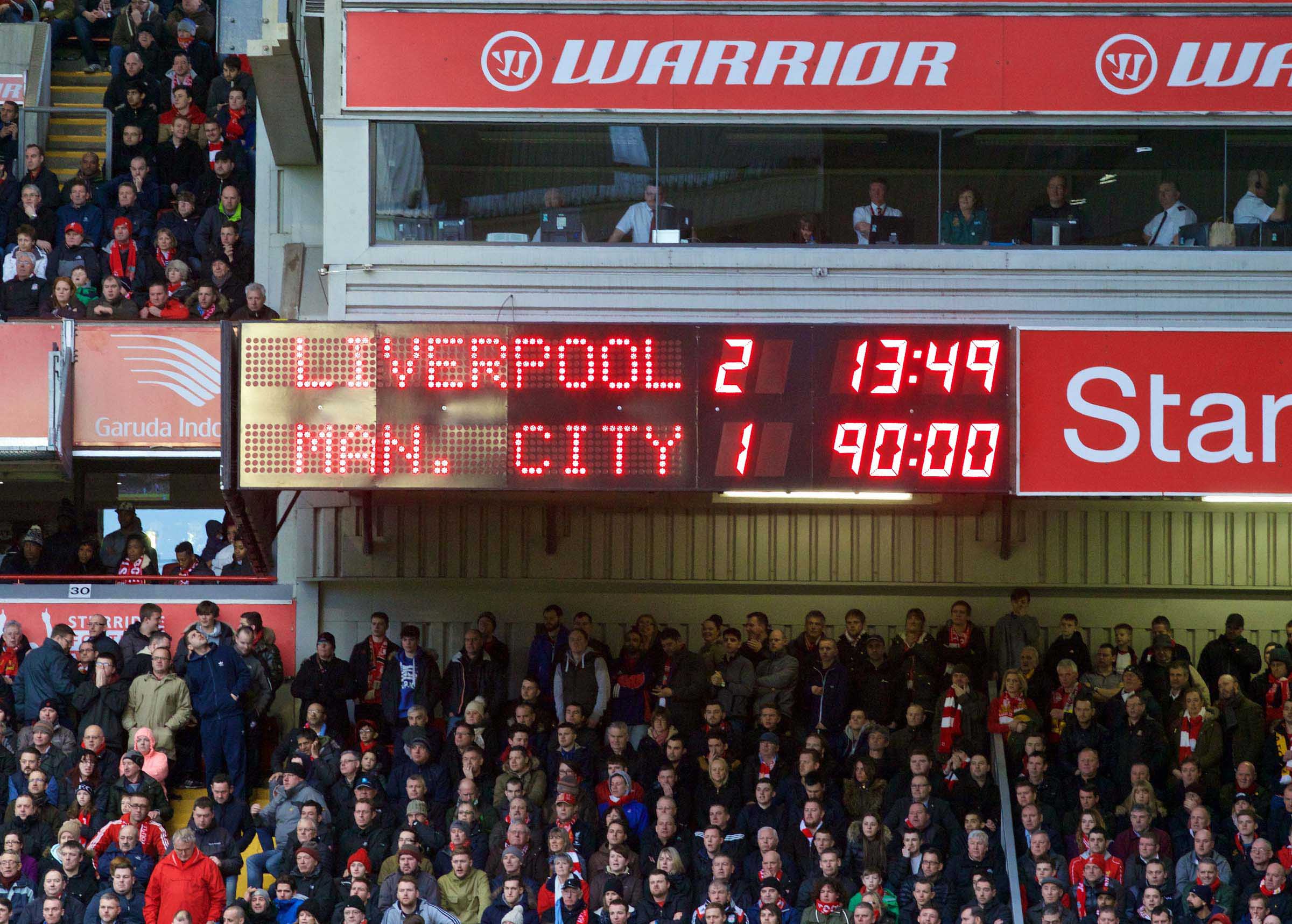 GIVEN the fact Liverpool doesn't operate the open cheque book policy Manchester City has enjoyed and profited from in recent years, the club should really be light years behind the boys in blue.
They're not. Instead, Liverpool Football Club is breathing heavily down Manchester City's neck. And while there have been obvious ups and downs, that has been the case for 18 months.
"You nearly won the league" was gleefully belted out from the corner of the Anfield Road housing the City fans yesterday afternoon.
Yes. Yes we did. And that should bother you. We're not going away.
The riches of Sheikh Mansour seem somewhat wasted on Manchester City in the same way a lottery jackpot is somewhat wasted on the bloke from the local biscuit factory who lives for the company and claims that the millions won't change him one little bit.
If it was all about the money, Manchester City should be streaking ahead of everyone in this country bar Chelsea. They should be right up there with the big names on the continent. But they aren't light years ahead of everyone else and instead somehow insist on making heavy weather out of being able to buy and sell whoever they want to.
If Liverpool and Brendan Rodgers had the benefits Manchester City enjoy where would they be? Maybe we would be the Roman Empire Bill Shankly dreamed of. We could be that "bastion of invincibility".
But there's no use in dreaming. Not of that. Not when Liverpool has a manager that has a vision which could make it all possible without the benefits that Manchester City enjoy. That could make it all possible against all the odds. And that would be so much sweeter.
This Liverpool sees angles that others don't. We are Keanu Reeves in the Matrix, while no matter how much they change and modernise themselves, a part of Manchester City will always be Kevin Reeves. They just aren't imaginative enough it seems. Not yet.
Yes, they are very much capable of throwing out some fantastic shapes on the Premier League's dance floor, but I don't get the feeling that they can create new shapes like all the great teams do. They've reached the bar but then failed to raise it. Just as Oasis are a tribute act to music's great and good City are a tribute act to football's great and good. They imitate rather than innovate, it seems. Now, already, talk is that Manuel Pellegrini will not see in the new season come August.
Meanwhile, Brendan Rodgers' Liverpool has created new shapes. It has adapted and changed. It isn't yet one of the great teams. But carry on along the path they currently travel and they will no doubt have a good go at becoming one. If this Liverpool is allowed to grow and evolve then the title is going to come home sooner rather than later. It must.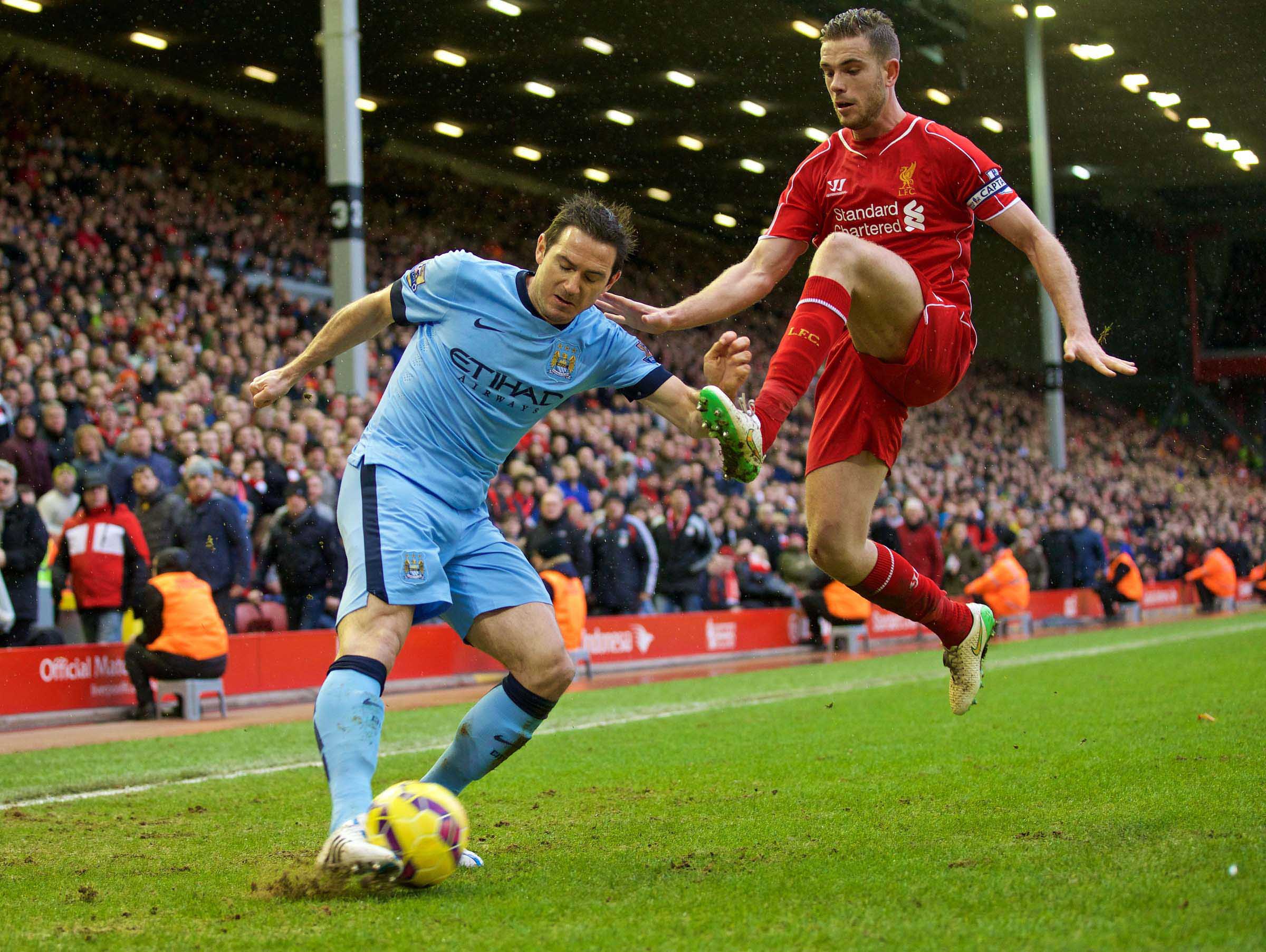 Maybe Rodgers might never see eye-to-eye with European club competition, it remains the big question mark, but domestically he is again suggesting he can be the ruler supreme. That would be just fine with me. Bill Shankly always declared the title to be our bread and butter. It's a dish I crave to see on the Anfield menu once again.
It was Marvellous Marvin Hagler vs Sugar Ray Leonard at Anfield on Sunday. Manchester City stood in the middle of the ring and hit us as hard as they could. They landed a blow. And came close with others. But instead of flinching, Liverpool danced and ducked, found the impossible angles and landed bigger blows, better blows. And landed them with style.
Manchester City are probably now busy trying to convince themselves and anyone who will listen that they should have won the game. But their Anfield hoodoo continues and Liverpool knows differently. Anyone who witnessed this game knows differently.
I love Jordan Henderson. Not even Nivea and bad TV adverts can ruin all that. I love the goal he scored to put us 1-0 up, I love the way he is maturing — transforming from the rabbit caught in the headlights with a big price-tag weighing him down to the man who will one day soon could hoist the title trophy high in the air to end more than a quarter of a century of waiting.
Jordan Henderson looks like a man who could lead us to the bread and butter. I love the way Jordan Henderson bows his head and puts his hands behind his back when being lectured by referees. "Yes, ref. You're absolutely correct ref." He disarms them. He'll save us from countless yellow and red cards in the coming years. No-one talks about Jordan Henderson's price-tag anymore. £16million in case you had forgotten. Money well spent.
Dejan Lovren did pretty well. Anything is possible for this Liverpool Football Club. Simon Mignolet was a little more hesitant than he has been in the last few games and he got told off for it by a man emerging from a shell. I said it at one point during the run-in last season, but this Liverpool are a band of mis-shapes, mistakes, misfits, raised on a diet of broken biscuits. We dance in a unique manner. We are a club empowered, we are a collective. No more talismanic figures please, just equal component parts — a collection of small cogs working in unison to turn the wheel full circle back to title-winning ways.
Philippe Coutinho hit a mesmeric winning goal. I have no stats to back up my opinion, it's just not my thing, but I feel confident of victory in games when we reach the 75-minute mark on level terms. By nature games slow down once they hit that point, partly due to energy levels understandably dropping and partly due to the game becoming more cat and mouse.
No one wants to make the late mistake that costs his team the three points, so the game slows down and that suits us. We have a team that sees the angles when the game is running at a million miles per hour, so when the game slows down those angles suddenly appear in flashing neon to players like Coutinho. Too often he hasn't been on the pitch when we reach the 75-minute mark. This time he was. A deserved rest followed by a deserved goal.
Arguably we scored the winning goal too early. Manchester City got a bit angry and tried to come back.
They blew the wind out of their sails and ran out of ideas eventually. They couldn't find — or even see — the angles we could. I don't envy Manchester City. I sort of feel sorry for them. Someday soon we're going to win the league.
And then they're going to believe us.
[yop_poll id="36″]
[rpfc_recent_posts_from_category meta="true"]
Pics: David Rawcliffe-Propaganda
Like The Anfield Wrap on Facebook