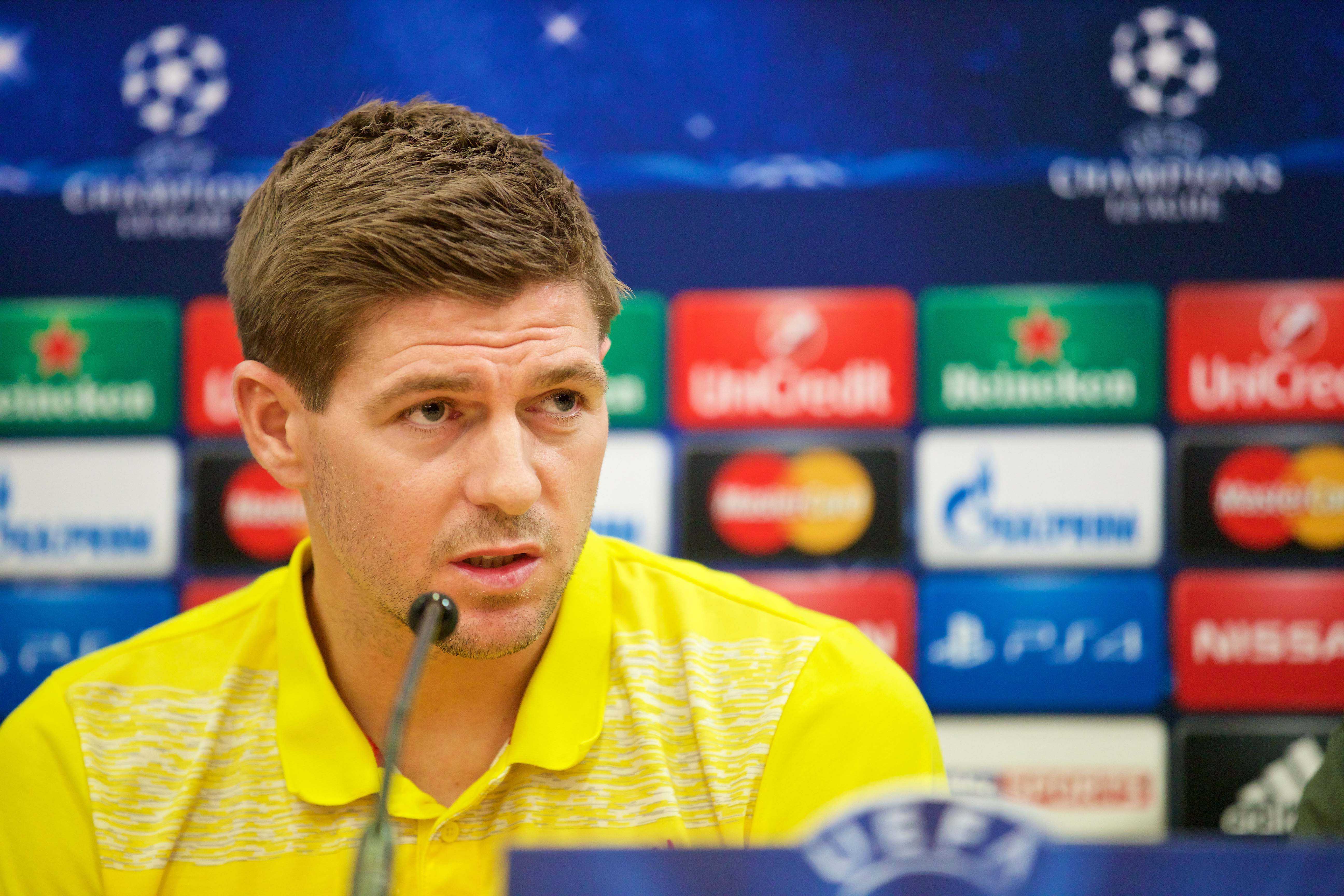 I'VE let the dust settle a bit. There have been hundreds of articles, quite understandably so, lamenting the forthcoming departure of Steven Gerrard for the sunnier climes of Los Angeles. The "Hollywood balls" are going home. The "quarterback" is jetting off to a place where the term actually means something. Liverpool's brightest star is swapping grey Mersey skies for a different "Galaxy". Well, that's enough clichéd shite to last you a lifetime.
Let me preface the rest of this piece by saying two things. Steven Gerrard was, and remains, a Liverpool great. There's no need for hierarchy; he's up there with the best I've seen — Dalglish, Barnes, Suarez, Rush, Souness.
For 17 years though, I've watched him, marvelled at him, been in awe of him, but since his formative years never really warmed to him — despite 696 appearances and 182 goals. Why, you might ask? I realise I'm in a minority and you might argue with some or all of what you read here.
Like most Reds I was blown away by the emergent Steven Gerrard; the raw prodigious greenhorn we loved for derby-match goal-line clearances, outrageous lunges, and provocative celebrations that instantly nailed his blood-red colours to supporters' masts. He wasn't fussy on Everton was he? What's not to like about that? To this day, I enjoy Gerrard most when he lines up against the Blues.
I loved his first Liverpool goal – a beautiful slalom through a mesmerised Sheffield Wednesday defence and concluding strike at Anfield that was so reminiscent of the great Emlyn Hughes. Old "Crazy Horse", all shimmying hips and dropped shoulders, had scored a mirror image of Stevie's goal at the same Anfield Road end some 25 years earlier.
I revelled in his progression, as the growing pains that stymied his early development gave way to the epitome of the modern footballer; all power, pace and energy but combined with the vision, subtlety and touch of so many Liverpool greats. The Treble season of 2000-01, under the watchful eye of his mentor and father figure, Gerard Houllier, ended with a trademark Gerrard hammer-strike in the UEFA Cup final. Falling over seats in delirium at Dortmund's Wesfalenstadion, I never envisaged a time when I would fall out of love with the new Scouse icon that was Steven Gerrard.
During Houllier's final year, Gerrard almost single-handedly dragged Liverpool to a Champions League place in 2004 before the madness that enveloped the Frenchman, in the wake of his heart problems, saw the Reds' board look elsewhere for new direction. In the days that followed the appointment of Rafael Benitez, Steven set off for the European Championships in Portugal to join up with England colleagues; Wayne Rooney, Frank Lampard et al.
No thought had been cast that Gerrard might have played his last game in a red shirt. We had seen Steve McManaman, another one off the local production line, abscond to Real Madrid under freedom of contract a few years earlier. Little did we know that Michael Owen — the little Welsh woollyback — was considering jumping ship without consideration of the new project under Benitez, but the last thing entering our heads was that the lad from Huyton's Bluebell estate might follow suit.
Gerrard — who had signed for the Reds at the age of 8 — was Liverpool's captain, so it came as a major shock, in the aftermath of the Euros, to hear that a transfer to the nouveau riche of Chelsea, and their new man, Jose Mourinho was all but done. Of course, there was a dramatic, last-minute change of heart and Steven stayed at Anfield. Huge relief was felt all round but it hurt, and it cast new light on our hero.
At this point, it's worth delving into the mind of Steven Gerrard. At the age of 17 he completed a self-assessment by Liverpool's academy top brass in which he admitted that while he felt he was "approachable" and "tried to get on with everyone", he also wrote "I do tend to worry about certain things." There's no doubt Steven is a worrier, and at times over the years his demeanour, on and off the pitch, has betrayed a man carrying the weight of the world on his shoulders. A deep-rooted insecurity — which would surface again a year on — that flies in the face of all his natural gifts, contrasted with a growing sense of his self-worth and if Liverpool couldn't fulfill all his dreams, then maybe someone else could. Hence the barely fathomable flirtation with Chelsea, the money-driven antithesis of Liverpool's traditional values.
Football being football, all was forgiven and the Benitez era began with Gerrard still in situ as captain and in the absence of the departed Owen, very much the Reds' shining light. A partnership in midfield with the newly-arrived Xabi Alonso took time to settle and Liverpool's form in the League and group stage of the Champions League was patchy at best. Progression in Europe came down to the final game against Olympiakos with Liverpool requiring a two-goal margin to qualify for the last 16 of the elite competition. On the eve of the game, Gerrard revealed to the press that "he didn't want to wake up tomorrow morning in the UEFA Cup."
Understandable sentiments perhaps, but given the uncertainty over his future during the preceding summer, words that came across as a thinly-veiled threat.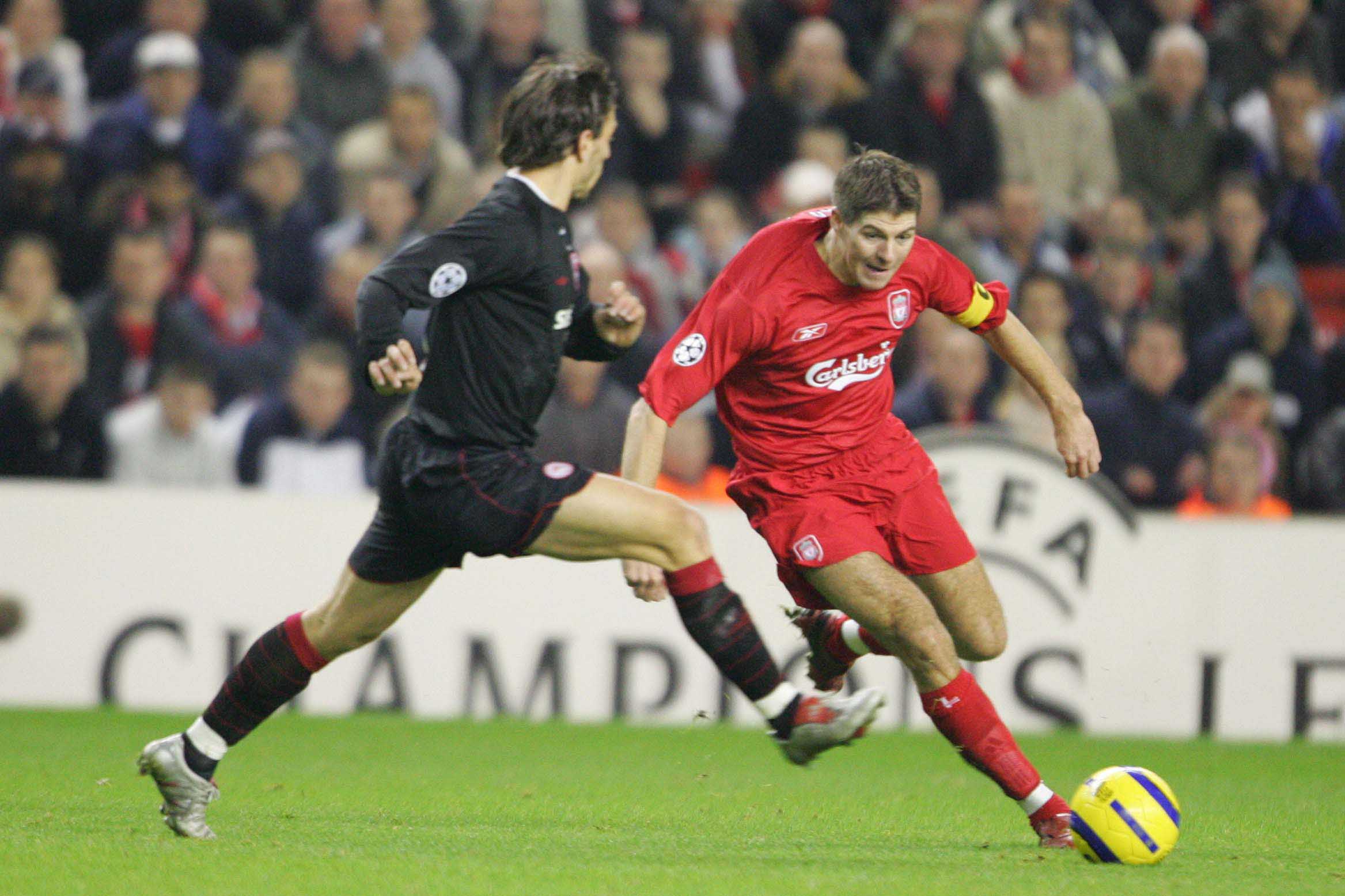 With the Greeks leading 1-0 at half-time, and a disinterested Gerrard trudging round in midfield, his pre-match "rallying cry" appeared to have fallen on deaf ears, least of all his own. It was left to the lesser lights of Florent Sinama-Pongolle and Neil Mellor to drag Liverpool back into the contest while Steven remained on the periphery of a second-half assault on the Kop goal.
With 10 minutes left at 2-1, Gerrard suddenly became interested to record one of the most celebrated goals — in both senses of the word — Anfield has ever seen. Crowds fanning out of the old stadium that night left with one name on their lips, but it had been a subdued 80 minutes from the Reds' skipper before that epic, clinching strike. History tells us that far from "waking up in the UEFA Cup", five months later Gerrard would wake up next to the European Cup.
It would be churlish not to acknowledge his remarkable performance in Istanbul when, after a chastening first half at the hands of Pirlo and Kaka, his headed goal and surge into the box to win the equalising penalty were catalysts to Liverpool's most famous victory. His manic celebrations on the podium, shaking old "Big Ears" to an inch of its life, were those of a Liverpool lad through and through and his tears of joy joined the rivers shed by thousands who had made the pilgrimage to the Ataturk.
Such was the euphoria and the adulation rightly afforded to Gerrard for his part in one of the great sporting comebacks of all time it is incredible, even with the benefit of hindsight that six weeks later Steven Gerrard would again be on the brink of signing for Chelsea. That he did was down in no small part to the muddling, complacent Rick Parry who failed to deliver a deserved new contract in the immediate aftermath. Gerrard sat at home, the sheen on the European Cup fading by the day, as paranoia and self-doubt encompassed his every thought.
Here was a man who 12 months previously considered an Anfield exit because the club appeared incapable of fulfilling his ambitions; not worthy of his prodigious talent. Now he was troubled that the same club, in the absence of an instant new deal, didn't want him and, by proxy, that boss Rafa Benitez didn't rate him.
Thankfully, the circumstances were rescued from the brink a second time. As soon as Liverpool became aware of Gerrard's impending exit the contract offer came and he duly signed but not before we had been well and truly put through the ringer. I found it ridiculous that Gerrard, in light of what had just happened in Turkey, could even for a moment feel unloved. Despite the board's procrastination it was absurd for him to think he wasn't wanted and yet his insecurities convinced him, albeit temporarily, that a move away was his only option. Where now was the Gerrard of 12 months ago, who threatened to leave because Liverpool couldn't realise his lofty aspirations?
Once again the fans, if a little humbled, put this treachery to the back of their minds. Benitez, conscious that Gerrard's marauding runs weren't best suited to his desire for the surest of midfield bases, deployed him on the right and what followed was a hitherto unparalleled season of Steven Gerrard whacking in 23 goals in 53 appearances. The last of these, to rescue the FA Cup Final against West Ham in Cardiff with a wondrous volley from 35 yards, rightly saw Liverpool's eventual penalty shoot-out victory acclaimed as the "Gerrard Final". A merited first PFA Player of the Year award duly followed.
A return to central midfield the following season saw a drop-off in Gerrard's goal-scoring output but he played his part his part on the road to Athens and an attempt in vain to reclaim Liverpool's European crown in the re-match with AC Milan.
The investment on arrival of Tom Hicks and George Gillett as owners saw the advent of Fernando Torres from Atletico Madrid and a new position for Gerrard as a roving second striker. Benitez remained unconvinced of Gerrard's preferred berth in the heart of midfield and masterminded an innovative role, devoid of defensive responsibility where he could operate at his destructive best. Gerrard struck up a telepathic relationship with the Spaniard and recorded 21 and 24 goals respectively in seasons 2007-08 and 2008-09.
Over these two years, Gerrard was unquestionably at the peak of his powers and arguably the best player in his position in Europe. Liverpool under Benitez had advanced from sporadic pretenders to perennial achievers in the Champions League and in 2009 it was tragic that a domestic haul of 86 points, conquered only by a relentless Cristiano Ronaldo-inspired Manchester United, didn't realise a longed-for League Championship. The Reds had delivered a brilliant campaign to match many that brought much greater rewards.
Gerrard, still striving for that elusive league winners' medal, probably felt the heartbreak keener than most. Consolation for him came with a second PFA award recognising his transition from midfielder to devastating attacker, but only rancour followed for Benitez as many fans confused strife off the pitch — a by-product of the grand larceny of Hicks and Gillett — with the frustrations of missing out on the elusive domestic crown.
The club's ailing financial health; debts brought about by the leveraged buy-out of the club by the American shysters masquerading as owners was a depressing backdrop to a subsequent season which saw the wheels fall off on the pitch to accompany the chaos behind the scenes. Throughout the period of Benitez's tenure, there appeared an uneasy relationship between Gerrard and the manager. His insecurities and sulking presence which contrast with the bombast of his self-worth clashed with the cold, critical Benitez and his endless, unforgiving pursuit of perfection.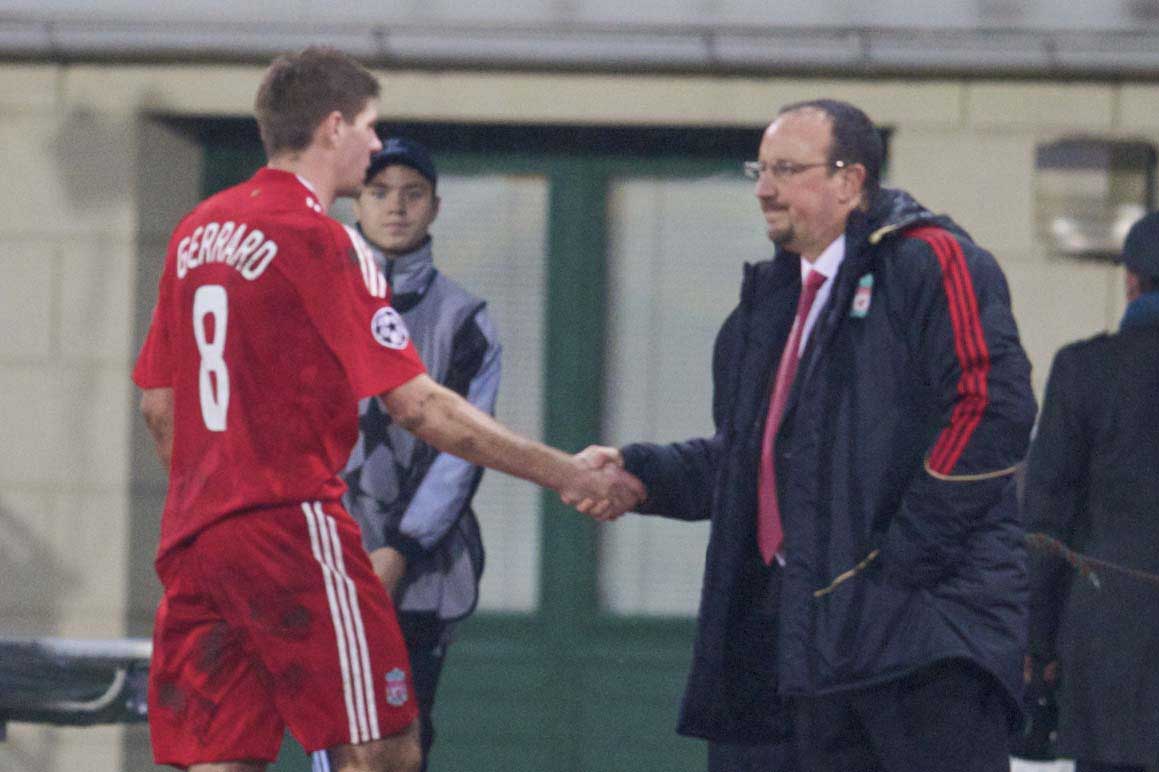 Gerrard railed against missing the occasional game through rotation and at times there were signs of open dissent at substitutions — most notably at West Ham in February 2008 when Lucas replaced Harry Kewell, and at Birmingham in April 2010 when a tiring Torres was subbed for David NgGog.
It was clear from the outside looking in that all wasn't well in the dressing room. Relentless cries came from the media — and in turn the fans — to return Gerrard to "his best position". A perfect media storm that threw the words "rotation" and "zonal marking" round like confetti allied with the toxic ownership situation concluded with the inevitable removal of Benitez from his post. To my mind Gerrard, who all but downed tools in Rafa's final season and put in a series of sloppy, lethargic, borderline-unprofessional performances was complicit in an episode, albeit relatively brief, that accompanied some of the club's darkest hours.
Roy Hodgson, as practically ordained by the London-based media, was the new man in charge and before you could say "apples and pears", here were Liverpool, reverted to a 4-4-2 formation with Steven Gerrard back in central midfield. During the Hodgson honeymoon (now there's an oxymoron if you want one) Gerrard suddenly ran around like a blue-arsed fly in support of the alien cockney in the dug-out and put in some sterling performances. I have to say I hated him for that, but the ravages of Hicks and Gillett had taken physical and mental toll of the playing personnel and it wasn't long before catastrophic results saw the "be more English" experiment abandoned in favour of more change.
Although Gerrard missed much of Kenny Dalglish's second-coming through injury, he was on hand to lift the League Cup as captain at Wembley in 2012 after another shoot-out success against Cardiff City. Dalglish's cup form which saw another Capital visit for the FA Cup final wasn't enough to save him from the chop and see Steven Gerrard preside over a fifth managerial incumbent during his Liverpool calling.
Brendan Rodgers' management, now into its third season, has seen the gradual dying of the light of Steven Gerrard's career, culminating in the announcement that he's off to pastures new. There is a certain inevitability to this but even so, when the news broke on January 2nd that he will leave the club at the end of the season it still came as something of a shock. At the very least, after 17 years, it will be strange not having him around. There's also a sense that Liverpool are losing the last of the great icons. There's no Dalglish – except in tenuous ambassadorial corridors – no Carragher, no Suarez, and no-one of real footballing repute in the management structure. One wonders how an ailing Liverpool, at the time of writing unlikely Champions League pretenders, will attract quality players beyond this season. At the heart of these concerns is replacing Gerrard in the team.
So, why is he leaving? Gerrard has conducted interviews with the club and the Liverpool Echo in which he clearly states that managed game time is a prime reason for not re-signing for Liverpool. He was offered a new contract and has turned it down. Gerrard also said that had he been offered a new deal in the summer he would have signed, which suggests he was offended by not receiving an offer earlier than November.
After the World Cup, when Gerrard took his leave from international football, he said he made this decision after talking with Rodgers to ward off the possibility of missing games for Liverpool if he was still playing for England. Now, it seems, the moment that managed game time, despite international retirement, has reared its ugly head; the "painful conversation" alluded to by Gerrard is the final straw. It seems that Steven Gerrard isn't willing to accept being rested, but that's not a new one is it?
If Gerrard really does back his ability to play every match, and not have his games managed, why isn't he seeking a move to the relatively slower pace of Spain or Italy? He's on record as saying there have been offers at home and in Europe, so why the flit to the footballers' retirement home that is the American League? He reckons he couldn't bear to play against Liverpool so that rules out a domestic transfer, but it didn't stop him nearly making such a move when we were desperate to keep him.
If anything Rodgers has made a rod for his own back by playing Gerrard, in the twilight of his career, over the past two-and-a-half seasons in every game — for 90 minutes. There have been ample opportunities, with Liverpool coasting (alright, not this season) when Rodgers could have subbed him. No slight on his reputation, just an opportunity for an ovation and intelligent care of ageing limbs. That he hasn't received the occasional rest or the hook on 70 minutes is madness, and blame must lie with the manager and/or the player. Thus, the first time his name didn't appear on the team sheet this season in a League game — at home to Stoke — it gave rises to hundreds of column inches. Prior to that his exclusion, along with a host of other regular starters, in Madrid became the story of the season.
The recent Swansea game at Anfield when he didn't appear might have been an eye-opener for Gerrard. Liverpool played with a pace and intensity and produced their best performance of the season. If this game sets a precedent to be repeated this season (and into next if he was sticking around) it's fairly obvious that being "just another player" doesn't really appeal, and there might be an element of protecting his legend in all of this. He wants to go out on his own terms and not ape the phased retirement that saw Ryan Giggs and Paul Scholes gradually disappear from the regular team sheet at Old Trafford.
Rodgers has made Gerrard a key ally since he came to Anfield, perhaps understandably since he arrived with a flimsy managerial CV. Although I believe he has overly pandered to Gerrard, so that the revelation that he won't play 90 minutes of every game when approaching 35 years of age is perceived as "painful" instead of common sense, Brendan deserves some credit for last season when Gerrard's performances post-Christmas were a joy to behold. Identifying the withdrawn midfield role, with most of the game in front of him and willing runners to excuse his lack of mobility was a masterstroke. The outlets Suarez, Sterling and Sturridge offered were a perfect foil for Gerrard's range of passing and a reminder of his supreme talents.
I felt for him at the end of last season. It was cruel that his mistake cost us the title. Instead of signing again in the summer, perhaps he should have called it a day then. Emotionally, it's something he doesn't seem to have recovered from and perhaps it's no coincidence that he performed so well at Wimbledon this week. Announcing that he's leaving might well have lifted some of that burden. A smile now creases the lips; something which can't be said of much of his time in a red shirt.
Suddenly, the FA Cup seems a great way to sign off. His goals at Wimbledon smoothed our rocky passage into round four and Wembley in May on his 35th birthday would be one hell of a place to say goodbye.