WHATEVER the individual take on Tuesday's team selection – and we had everything from bold and brave to stupid and silly – most agreed on one thing: It meant the intensity of focus on Brendan Rodgers would increase when Chelsea came to town.
It was always likely to be one of the most difficult games of the season. Given the opposing sides' respective starts to their campaigns, it was also one that Liverpool were likely to lose.
A defeat, the third of the week. is bad enough in itself as it means a start to the season that now reads as being a point worse than the record 'achieved' by Roy Hodgson in his first 11 league games as Liverpool manager.
That's not to say it's fair to bracket the two managers together, far from it. But while Rodgers undoubtedly increased his stock and banked some goodwill with Liverpool's so-near-yet-so-far campaign last season, it's not something that will last forever. Football moves fast. Positivity and plans can quickly spin down the plug hole. Ask Kenny Dalglish.
Rodgers knows this. He's knows he's under pressure. And he looks like a man feeling the weight of the suit. It's why he is pacing around his kitchen at 4.30am. Why he is reading match reports of a League Cup win over Swansea and questioning journalists about why they aren't more positive.
So why then unnecessarily ramp up the pressure on yourself in a game as big as Real Madrid away? If Liverpool had achieved victory in the lair of the 10-times European Champions, Rodgers' much talked about decisions would have been vindicated. As it was, a plucky performance interlaced with plenty of positives was never going to placate the masses. So to Chelsea then. Out of the good performers in Spain, who would start against Jose Mourinho's side?
After claiming the reaction from the media to his selection for the Bernabeu defeat did the players he picked a "disservice" and hailing them for performing "magnificently", Rodgers 'rewarded' them by bombing them out of the side and making just one change to the side that performed so poorly at Newcastle with Can replacing Allen.
Rodgers had claimed he was not resting players in Spain. His selection for the Premier League match said otherwise. What happened to the much-heralded meritocracy? Where is the future incentive for Kolo Toure, Javier Manquillo and Fabio Borini to knuckle down when their manager has sent them a message that even performing well against the European Champions in the continent's top competition counts for nothing?
And what of the other side to the coin? What message does it send to Dejan Lovren, Glen Johnson, and Mario Balotelli? That mediocre is good enough? That they are guaranteed starters? Simply putting it down to rotation when the team has lost one less league game in 83 days than it did in a whole season doesn't really wash.
It was clear standing on the Kop against Chelsea that Rodgers has chipped away at the feel-good this season and for many his substitutions in another defeat proved a step too far. Booing anything to do with your own team always feels at odds with what I'd regard as the job of a football supporter but others clearly think differently. Plenty vented their frustrations at the substitutions of Emre Can and Philippe Coutinho – Liverpool's two best players on the day – by jeering the manager, others stood silently, yet more described the manager in terms that would be music to the ears of a libel lawyer.
But when good performers are removed and a struggling Steven Gerrard remains, it's easy to understand. If the team selection in Madrid suggested Rodgers had finally found a way to answer those that say he has a blindspot when it comes to the skipper, Anfield four days later said otherwise.
I've tried to take on board the efforts to sugar-coat the start to the season, acknowledged the performance of other teams and how, despite everything, the realistic aims for the start of the season remain within reach.
But while, to me at least, it felt like we were approaching a crisis, it now feels like we're in one. Last season we lost six games all season. This time around we've lost five from 11. It can just as quickly turnaround, we know that – we saw that happen last season with the fantastic, and unexpected, run of form that propelled Liverpool to the top of the league.
The problem this time is there's little to hang a hat on. Daniel Sturridge? Fantastic, can't wait to see him in a red shirt again. The panacea to all our ills? Just can't see it. As painful as it is to write, there are issues all over the pitch: goalkeeper, defenders, defending, the disjointed and ineffective midfield, the captain, the forwards that don't threaten.
Perhaps most worrying of all is the spirit. We feel too nice, too weak – too willing to let 'here we go again' invade the collective thought process. The pressing from all quarters has gone, the pace of pass has gone, the belief has gone. Now it's in the stands too. In its place I see players taking the easy option; players confused by what they are being asked to do; players snapping at each other and sulking on the pitch.
There's always something to cling to: the coulda, woulda, shoulda. But while Liverpool were hard done to by a referee from Greater Manchester again, a draw with Chelsea would simply have veiled another unconvincing display.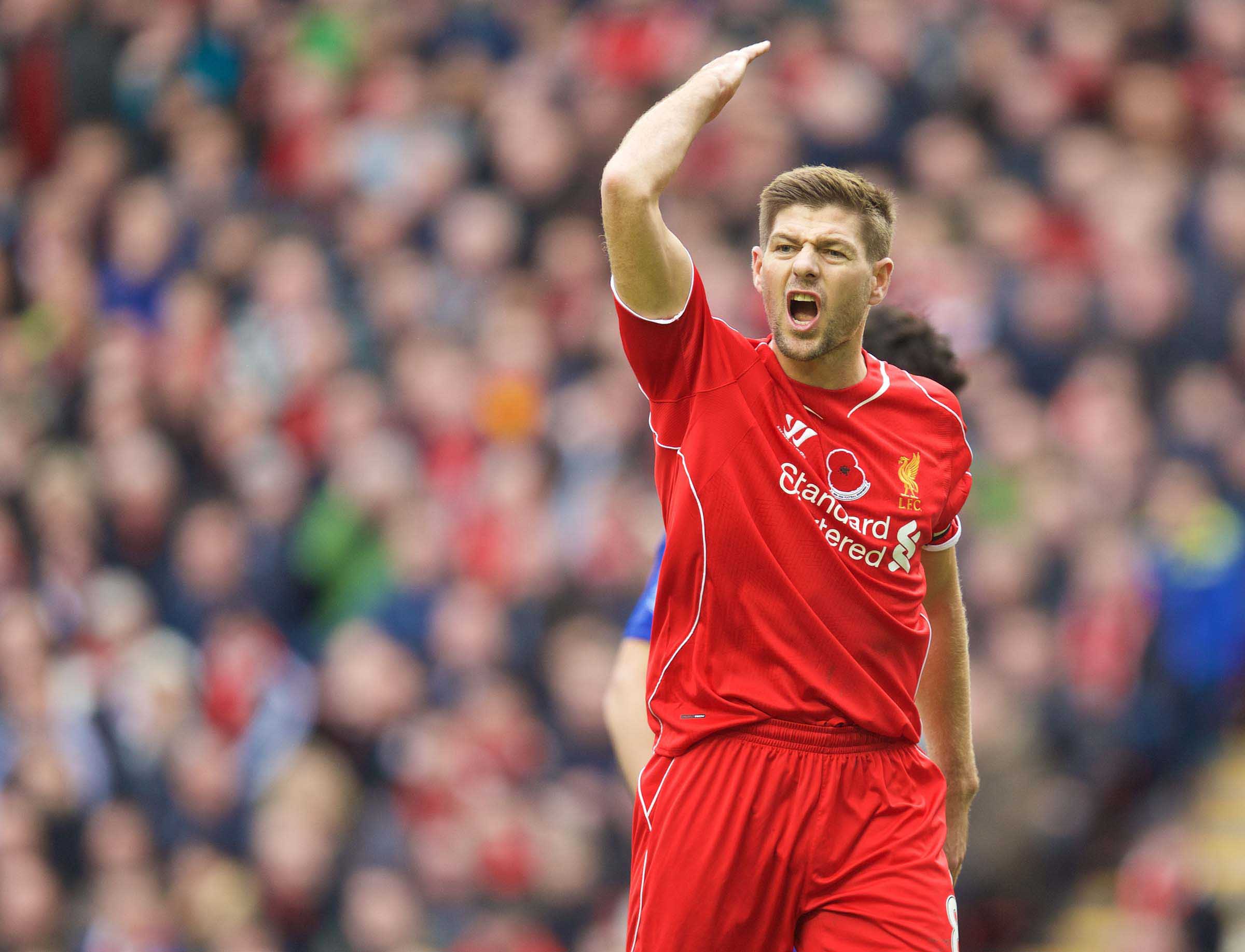 Liverpool had just one shot on target in the second half against Chelsea and have created just two open play chances in the box in the last two league games.
Yet still Balotelli – zero goals in nine league games – starts, and starts on his own. The result? Zero shots on target, zero shots off target, zero chances created. Peter Crouch blanked in 11 league games before he hit the net against Wigan. He was dropped first though and used as a substitute when it was clear he wasn't on his game.
Liverpool have kept two clean sheets in their last 17 Premier League games.
Yet still Gerrard sits deep and plays the 90. Still he is easily bypassed and looks frustrated. Still Lovren plays. Still the unwanted statistics about his defensive mistakes build up. Still the side concedes so easily from set pieces. A free header for Costa? The positioning on that still of the game that surely everyone has seen by now?
Liverpool have a goal difference of minus one now, a goals total half that of Chelsea's and a goal conceded column three times worse than Southampton's. Ah, but the Saints are going to tail off, lose momentum, sink down the league, right? Well maybe not. There's an 11 point gap between Ronald Koeman's side and Liverpool now.
In the meantime, Rodgers keeps offering very similar answers to the same questions on the pitch while the excuses are building up off it.
I want him to succeed, but this is now officially the biggest test of his career. Referencing injuries post-Chelsea had an air of desperation about it. He's spoke too this season about the age of the squad, about buying potential, about comparative budgets of Liverpool v others and about Steven Gerrard's contract situation.
Sometimes it's better to say nothing.
Most accept that the current malaise isn't solely down to Rodgers. The buying strategy, the wages offered and the negotiation procedure belong to a group. No matter, Rodgers is the public face.
That said, he may well wonder why – as scrutiny of his suitability for the job increases – that more questions aren't being asked of others at the club.
Gerrard said in a soundbite perhaps best avoided to the Telegraph: "I would love a Fabregas or Costa here, but I have to understand how the owners want to do it and accept I am a Liverpool player, not a Chelsea or Manchester City player. They [Fenway Sports Group] have gone on record saying they want to bring exciting young talent into the club. You can't just expect that to click overnight."
Paul Joyce of The Express (as good a source as any re LFC) reported this week: "Liverpool….have overseen yet another revamp of their domestic scouting operation after releasing a trio of their English based scouts.
"Michael McGlynn, the club's long serving assistant chief scout, Mel Johnson, who covered south east England, and first team scout Alan Harper have all departed in recent weeks.
"In a separate development, Paddy Riley has also been allowed to move to Aston Villa to take up a role as head of recruitment.
"The reshuffle means the influence of Michael Edwards, Liverpool's head of performance and analysis, Dave Fallows, their head of scouting, and chief scout Barry Hunter has been strengthened."
When pointing fingers increase by the week regarding Liverpool's recent transfer record should the club be strengthening the position of someone so key to it?
That Diego Costa scored the winner yesterday merely underlined that Liverpool have struggled to attract the best, the striker subject of a bid from the club before deciding to stick with Atletico. Until Chelsea came knocking.
It's not all about huge fees either, again, sadly, as Chelsea demonstrate. Courtois was £8m, Cahill £7m, Ivanovic £9.7m and Azpilicueta £7m.
I'd love to be cheerful about Liverpool but right now I'm struggling. I've read some people taking positives from the defeat. I saw a side giving the ball away, seemingly clueless against a high press at times, and struggling to play out in the way Rodgers orders. I saw a goalkeeper that can't kick. I saw a striker that maybe we could have bought score his 10th of the season after it was offered to him on a plate. If anyone should know about Costa, it should be us. He was given an easy ride.
Rodgers has said: "You have to be bold enough to make the decisions as a manager and that is why you are paid the money you are. If you make more wrong ones than right ones you will be out of work, it's as simple as that."
Sadly, I have to agree.
Bold is dropping big-money signings. Bold is experimenting with systems and abandoning philosophies in favour of achieving results. Bold is hooking Steven Gerrard, whether he likes it or not.
Pics: David Rawcliffe