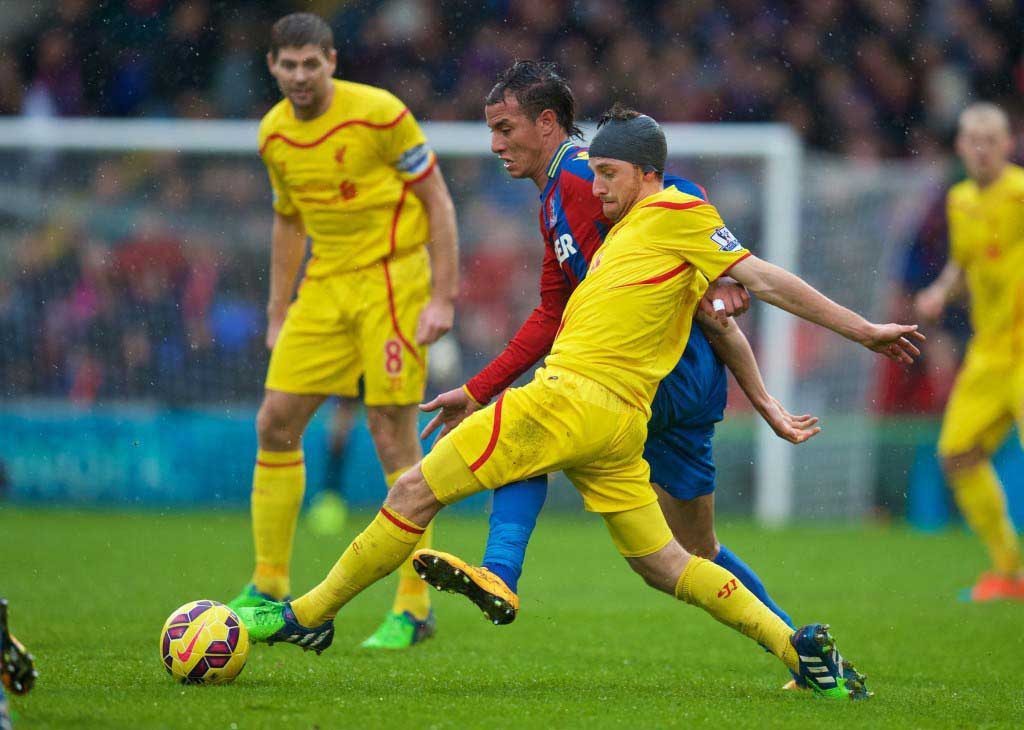 COLOUR me concerned. Everyone has their tipping point depending where on the scale of glass half-full-glass half-empty you are. That was mine. A fourth defeat in a row. Twelfth in the league. Four points from the bottom three. Has a team ever gone backwards so quickly?
Palace are not a good side. Their results this season and the league table before kick off was proof of that. Sadly, the same could be said of Liverpool but even so, surely we'd have too much for Neil Warnock's side? We're not great, no-one is claiming we're great, but this could and should have been a place to look for a turning point. On the back of a break to stew on what had gone wrong, this was a game to show fight, to show spirit, to show that while, yes, we're not great, that we're not *that* bad. That – at the very least – we can match opponents for effort and determination and then, maybe, the supposed quality we have will shine through.
You couldn't have asked for a better start. Movement from a striker at last. A clever ball from midfield at last. A goal from a striker at last. Nice one, Rickie Lambert. Sadly, it went downhill from there, for him and for Liverpool. Fast.
Unfortunately, it looks like we are that bad. And it's the same issues played on repeat over and over. Steven Gerrard can't play the screening role, yet he is continually picked there. It appears the manager believes him to be undroppable. Would he have made a better impact coming from the bench? Would his quality in the final third when legs are tired have told? Why wasn't he hooked ahead of Joe Allen who was probably the Reds' best performer? Why when HE made a mistake was he looking to blame others? There are no leaders in this side. There are plenty of mistakes though. And the skipper is providing his fair share.
As the season goes on Brendan Rodgers isn't answering questions, he's creating more.
14 – Only in one Premier League season (1992-93, 13 points) have Liverpool had fewer points after 12 games than they do this season. Slump.

— OptaJoe (@OptaJoe) November 23, 2014
What is really concerning is that nothing appears to lift this Liverpool side. An unexpected last-minute winner against Swansea. A deflected goal to put the team ahead against Chelsea. A 90-second opener against a struggling side today.
All of those things would be scenarios you'd expect a side to take something from; for shoulders to lift, for confidence to return. Not this team. Steve Peters is apparently still at the club. He must be on overtime. Because this side doesn't believe in itself one bit – it's weak. Heads drop too easy, it's bullied, it doesn't battle, it doesn't tackle. Everyone in the team is looking at each other to put the plug in as last season goes down the plughole.
It was all too easy that for Palace. And the situation Liverpool now find themselves in is boosting opponents. Most looked at today's game and the five that follow and thought that it offered an opportunity: Crystal Palace (a), Ludogorets (a), Stoke City (h), Leicester City (a), Sunderland (h), Basel (h).
Everyone of those sides will fancy their chances now.
Look at how Palace approached the second half in comparison to Liverpool. They knew they could cause us problems – they knew they could get at Liverpool. They did, they won it and this is now a nailed-on crisis for the manager. Make no mistake, if he doesn't turn it around – and quickly – a conversation about his future between Boston and Liverpool will begin. If it hasn't done already.
Rodgers doesn't know what his best team is. There are problems all over the pitch. The keeper had a shocker again and it's negligent that there isn't another option. Lovren doesn't deserve a place in the side no matter how much he cost. Kolo Toure deserves a start. That's where we are. Kolo Toure deserves a start.
At the start of last season – minus Suarez and with an injured Sturridge – Liverpool dug deep and ground out results. They defended well, battled, scrapped and got the rub of the green. That isn't happening now. So put the players in there who can do that. Toure did it in that run. Lucas did it in that run. Whatever you think of them they can do no worse than what we've just watched. Both played well at Real Madrid. Maybe they could have repeated the feat at Selhurst Park.
Rodgers has to stop making the same mistakes over and over or it will cost him his job. And if he plans to polish today's turd he's going to need a lot of Mr Sheen.