THIS weekend was the moment that belief degenerated into hope for me. I no longer have any degree of certainty that Brendan Rodgers turns this around. I still think the season is salvageable (have you seen the state of the Manchester United side that currently sits in fourth place?) and sincerely want the manager to reverse the team's fortunes but, if I'm totally honest, I have little confidence in that happening any more.
12.30 on Sunday was my own personal tipping point.
Watching this Liverpool side right now is akin to the movie Groundhog Day without Bill Murray; Repetitive, mundane, predictable, inevitable and no bloody fun whatsoever. Each time match day rolls around I hope for change. Then the team sheet is released an hour before kick-off and the realisation that precious little has altered and the same monotony will envelop us once more sinks in. Same faces, same approach, same mind-boggling decisions.
It's easy to say this after the fact of course, but was anyone really surprised by what transpired at Selhurst Park after they saw Liverpool's latest starting line up? I know I wasn't. There were no solutions offered up to the problems that have plagued the team this season. The comical centre back partnership remained intact still with a lack of a screener in front of them and Glen Johnson found his way into the first 11 yet again.
1.5 – Liverpool have conceded an average of 1.5 goals per game this season in the PL (18 in 12 games), their worst ever rate. Listing.

— OptaJoe (@OptaJoe) November 24, 2014
Ah, Glen. Can anyone explain why he was accommodated once more or why he was deployed on the left side? I'm assuming he didn't start at right back because Yannick Bolasie's pace would have torn him to shreds. Understandable. But why start him over one of the few summer signings who have actually impressed this season? Alberto Moreno has pace and gets the team up the pitch. Isn't playing without natural width in midfield – as Liverpool did on Sunday – generally offset by having at least one full back capable of offering an attacking outlet in wide areas? Moreno does that. Johnson doesn't. Not in 2014. He still meanders forward now and again, albeit with the threat of a sedated puppy. Yet he also requires constant protection even when he's matched up against a bang average winger like Jason Puncheon.
At least the man charged with supporting him did his job admirably before he was predictably hauled off for no discernible reason other than the fact that he isn't named Steven Gerrard.
Joe Allen was Liverpool's outstanding performer against Palace. He offered constant support and protection for Johnson on the left. He kept the ball. He moved. He pressed. He tackled. He created a great opportunity for Rickie Lambert. Then he got hooked while the skipper remained on for yet another 90 minute slog before undoubtedly being required to do the same again just 72 hours later in Bulgaria. Immaculate planning, that.
Everyone knows how much Gerrard is struggling right now and he had a stinker once more against Palace. Yet, despite Lucas and Emre Can being available from the bench and Allen impressing in midfield, the captain remained out there for the duration as Rodgers once again took the easy option of replacing the diminutive Welshman rather than the labouring club icon.
Speaking of easy options, one would have thought there was a pretty simple selection choice on offer at the heart of Liverpool's defence for Brendan Rodgers against Palace. The return of Kolo Toure at the expense of Dejan Lovren is seen by most as somewhat of a no-brainer. We've been at the point for too long now where Lovren's mere presence alone is basically costing Liverpool a goal a game. Toure impressed everyone in Madrid and yet hasn't even had a look in since. So much for that 'meritocracy'.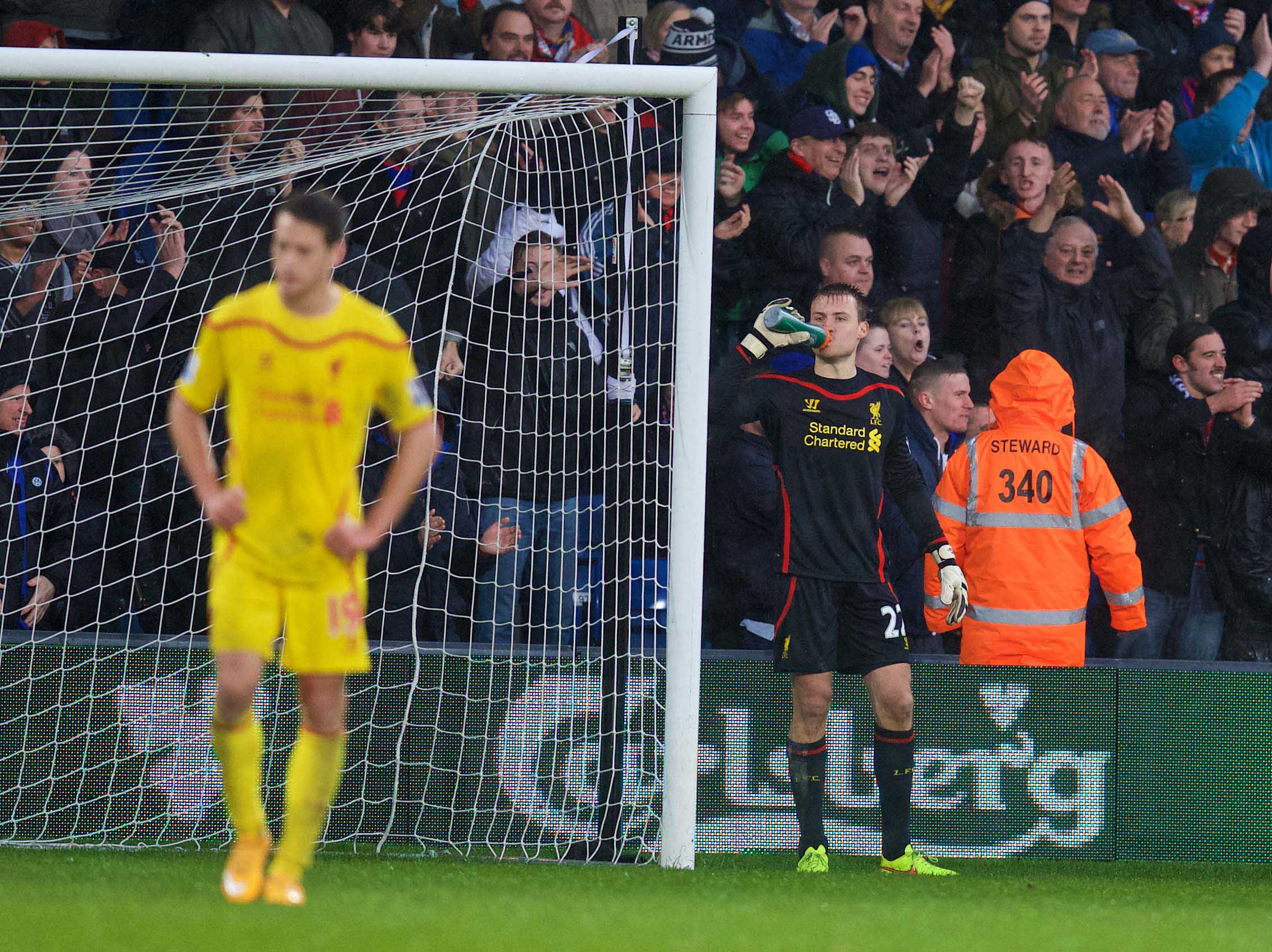 Toure again didn't get a second on the pitch in South London. Instead it was another game, another Lovren start and another crucial goal that could be chalked up to farcical 'defending' from the Croatian. At this point I can only assume that Rodgers was personally responsible for recruiting the former Southampton man this summer. That's the only possible reason I can see for the myopic approach he's adopting when it comes to the out of form £20m centre back.
Mamadou Sakho was brought in for a similar fee last season and hasn't received half of the backing and patience from Rodgers that Lovren has been afforded. The Frenchman may hardly been faultless during his time at Anfield but his replacement has made double the mistakes in a quarter of the game time. If Sakho's form had been as poor as Lovren's I'm certain that Rodgers would've bombed him out long ago yet, infuriatingly, the Croatian remains a fixture in the first team. Unless the manager is sticking by Lovren because he personally handpicked him as the solution to Liverpool's defensive woes this summer then I'm truly at a loss to explain the continued stubborn persistence with the player.
This isn't intended to simply be a hatchet job on Lovren, Gerrard and Johnson. Plenty of other players are underperforming also but the managerial approach to these three best symbolises Rodgers' ongoing resistance to change and my exasperation with his team selections.
All three men have been horribly out of form for a prolonged period of time now and yet they are constantly selected ahead of players who have performed relatively well when given a chance in their absence. It's not hard to imagine what the likes of Toure, Lucas, Can and Moreno were thinking as they watched Liverpool on Sunday when Lovren, Johnson and Gerrard all made it to the final whistle yet again.
If the preferential treatment to Lovren can be chalked up to him being a 'Rodgers signing' then the only possible reason for Gerrard's continued presence in the team that my brain can muster is arguably even more concerning.
Basically it seems to me to come down to the fact that this manager doesn't have the balls to drop or even substitute his club captain regardless of how he is performing. Gerrard isn't offering any protection to a defence that requires it in spades right now and his offensive weapons are no longer hurting opponents. Playing 90 minutes in virtually every game is doing him no favours whatsoever. He looks physically and mentally drained, devoid of confidence and belief. What harm could come from using him as an impact player from the bench for a while?
To be honest I'm sick of even thinking about what Liverpool could or should be doing when it comes to the deployment of Gerrard. It's something that people have been debating all season long despite the fact that we all know it's a futile discussion. Rodgers isn't dropping Gerrard any time soon and while the skipper isn't Liverpool's biggest problem, the fact that he seemingly has to play in this team irrespective of how poor his form is is damaging the team and putting the manager under more pressure.
Admirably, Rodgers acknowledged after the Palace debacle that his job will be on the line if results don't improve. While that is commendable it is only going to be of any real significance if it drives him to a new approach. Quite why he wouldn't make sweeping changes from here on in is beyond me. It's his head on the chopping block and maintaining the status quo is only going to see his reputation and job security diminish further. He's been eating his way through a sh*t sandwich for months now and yet inexplicably hasn't decided to order something else from the menu. He just keeps chewing and hoping it will eventually taste better.
I wrote a piece just a few days back stating that Liverpool had six winnable games in a row and could get their season back on track over the next few weeks. I firmly believed it possible if the manager made some changes. At 12.30 on Sunday my belief that improvement was imminent all but evaporated. It seems clear now that Rodgers isn't changing. He's doubling down. He's sticking by his underperforming players, ignoring alternatives and hoping these lads will magically rediscover their form. It's a hell of a gamble and evidence suggests the odds are well and truly stacked against him.
The manager is in a hole and he's only digging himself further into trouble at the moment. I suppose all we can do is hope, like him, that things somehow get better from here. But when 'hope' is all you have left to cling to you know you are in serious trouble.
Pic: David Rawcliffe