"I'm pretty certain he's the best footballer Dean Court – for sponsorship purposes now the Goldsands Ground – has ever seen. Literally – the oft-abused 'literally' – the best footballer that has ever played on this pitch. The supporters who turned up that day booed him all game." – Neil Atkinson, Make Us Dream, p.128.
ONE of the best footballers of all time is playing at Anfield next week, writes SAM WILLIAMS.
Not just one of the best footballers in the world. Not just one of the best footballers of his generation. One of the best footballers of all time. Ever. In history.
None of Pele, Maradona or Di Stefano ever played at Anfield. Neither did Zidane or Matthaus. Messi has and Cruyff did, but as teenagers and before their prime years. Messi was stifled by Alvaro Arbeloa in 2007, Cruyff scored twice in a 2-2 draw in 1966.
So, next Wednesday, Cristiano Ronaldo (that's former Manchester United footballer Cristiano Ronaldo) becomes the greatest to ever play at Anfield.
It's an uncomfortable truth and it doesn't feel right. But sometimes the truth hurts. He's played here before, of course. Most recently in December 2007 (see 'Carlos Tevez winner, Kop end').
But that was then, and this is now. Then he was 22 years of age; still learning, still developing. Admittedly, he was a pretty good 22-year-old. Just over 12 months after that game he was named the world's best player.
But now? This Ronaldo, the 2014 Ronaldo, is superhuman – a footballing Frankenstein's monster who plays, and looks, like he's the prototype of some grand scientific experiment to build the footballer of tomorrow.
Ronaldo has scored 269 goals in 257 games for Real Madrid. He is the record goalscorer for Portugal. Twice world footballer of the year in an era he shares, an era he bestrides, with Messi.
Two hundred and sixty nine goals in two hundred and fifty seven games for Real Madrid. Read that again. And again. It's just not normal.
Yeah, he's arrogant, egotistical, vain, narcissistic… So what? There are over seven billion people on this planet and he's officially better at football than every single one of them.
Surely you're allowed to be arrogant and egotistical and vain and narcissistic if you're the best, numero uno, better than everyone else in the profession you've dedicated your life to? All the best people are arrogant, anyway. Maybe not as overtly as Ronaldo, but they are. They have to be. And that's fine. It's misplaced arrogance that's irritating. Ronaldo's arrogance is anything but misplaced.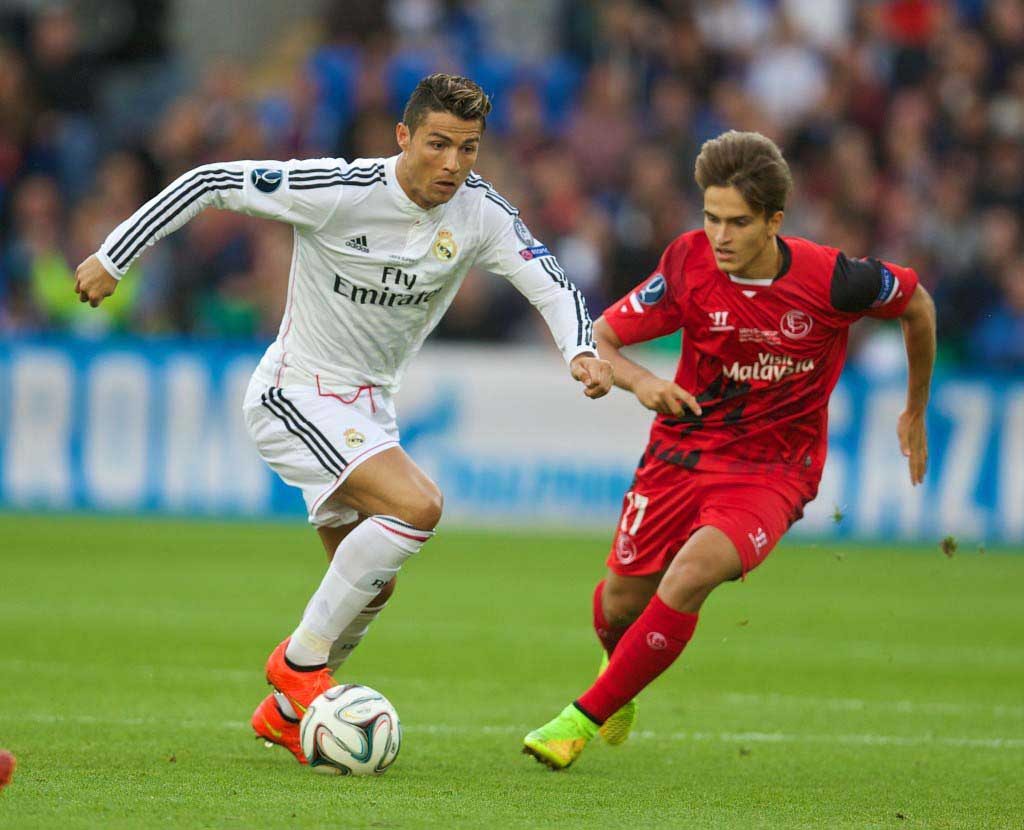 Listen to people who've worked with him. He's achieved everything he has through graft. Through the obsessive, bloody-minded desire to become the very best. That deserves respect.
Even Roy Keane loves him.
But back to next Wednesday. Liverpool versus Real Madrid. Anfield. Cristiano Ronaldo will get booed next Wednesday. His name will be booed when it's read out before kick-off. His every touch will be booed. He'll get booed all game.
Much like Luis Suarez at Bournemouth last season, in fact.
That prefix – the 'former Manchester United footballer' thing – will boost the volume and vociferousness of said booing. And obviously, he's not just any 'former Manchester United footballer'.
He's an icon there. A legend. A man they fly planes over grounds for (mind you, they do that for Steven Gerrard, too).
But he won't get booed because he played 35 miles down the road five years ago. Not really. He'll get booed because we fear him. Of course we fear him. Remember the 269 goals in 257 games bit? That's why we fear him.
But, regardless of his past, vocalising that fear with boos…that's a bit small-time, isn't it? A bit Bournemouth?
Statistics suggest (in fact they do a bit more than that – they instruct, they scream, they shout) that this is a man who will score next Wednesday. He's got 13 in six league games this season, 17 in 11 overall. Chances are he'll hurt us.
But if (or when) he does, let's think of him as 'Real Madrid footballer Cristiano Ronaldo', not 'former Manchester United footballer Cristiano Ronaldo'.
He's one who ticks that cliched 'we'll-tell-our-grandkids-we-saw-him-play' box. He's one of the greatest footballers of all time. Next week, he becomes the greatest footballer to ever play at Anfield.
Fear him, but fear him quietly. Enjoy him, respect him. After all, we're not Bournemouth.
Are we?
Pics: David Rawcliffe-Propaganda