WHERE do you start after that? Well, I'll begin with the mitigating circumstances. Sturridge is a massive, massive miss. As big a miss as the departed Suarez. Allen is out. Emre Can, though we know nothing of his aptitude, is out. Today, Skrtel was returning after a lay off. Lallana and Markovic have missed pre-season work and have looked off the pace; both deemed unworthy of starting at Upton Park.
I took a bit of a caning on twitter yesterday, for dimming the mood on a Friday night, in daring to suggest that I'm not feeling last season's vibe. Why so, people asked? The simple answer is that I haven't been impressed with this season's Liverpool; this year's production and its new cast. I was still expecting to beat West Ham, but underwhelmed by the prospect. No plans to go out and watch. A studied analysis from home; the equivalent of a visit to the GP with a niggling concern over your health. What exactly is wrong with them?
Well, injuries aside, with each passing match, it is evident there are a myriad of problems in attack and defence. Mignolet is currently a shambles. I thought he did well enough last season but his line-hugging style is beginning to cause havoc from set pieces. Countless crosses and corners which are obvious claims for even the most conservative goalkeeper are being left to centre-halfs on a wing and a prayer.
The defensive line is retreating further and further beneath our crossbar with the inevitable consequence we concede the most basic of goals. It doesn't even require a decent delivery to cause problems. No-one is taking responsibility in these crucial situations, least of all the man with the gloves. The rotating cast of big lads in front of him are compounding this by passing the buck, poor marking and a remarkable ability to get on the wrong side of their man. Lovren, in particular, has had a very shaky start to his Liverpool career. Twenty million quid and we looked more settled with Daniel Agger who was castigated for same type of errors Lovren has made.
On the sides, Moreno looks a good addition but loves a wander. Glen Johnson would be getting pelters for being out of position, albeit the young Spaniard at least offers some quality beyond a thrust into opposition territory. Manquillo looks OK, but I'd be keen to argue the case of John Flanagan, when fit, in terms of attacking threat and winning one-on-ones.
Steven Gerrard was woeful today. He can still offer quality with his range of passing, switching play beautifully with raking balls to stretch teams wanting to narrow our attacks. During the run-in last season, we dreaded a booking and a suspension such was his talismanic value to the team. His defensive work, mopping up in front of a back four was at times underrated. Not so this season. He's offering no more than a jog. He looks shattered five or six games in and is offering zilch defensively. But today and this was the nadir for me, regularly giving the ball 5 yards square to Lovren or Sakho to blam it forward. Gerrard has to take responsibility for setting us in motion, dictating a tempo; otherwise his declining influence defensively isn't enough to warrant a place.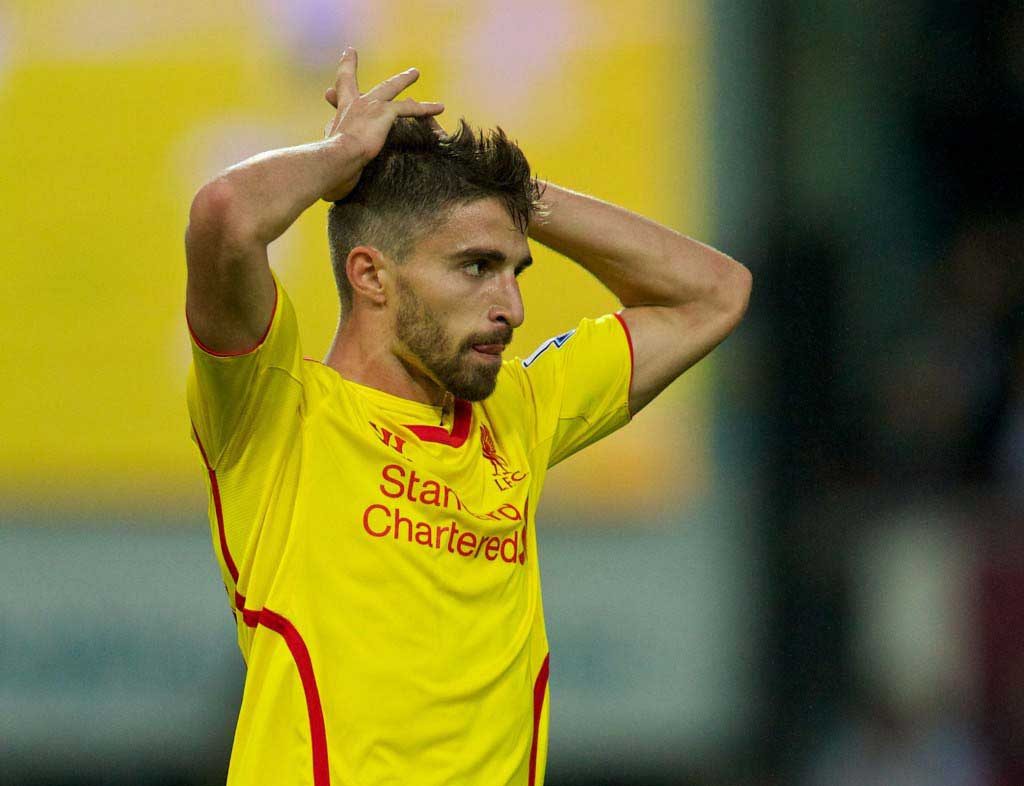 Lucas Leiva, slower and clumsier than ever, in the same midfield four as Gerrard compounds our lack of mobility. There were reminders of the worst of last season; Hull, Newcastle, Arsenal and Everton as the Hammers waltzed through us centrally with Gerrard and Lucas just watching and jogging, jogging and watching. It looked like a lack of effort; it's probably a case of the flesh not being willing, but the will looked absent too.
Henderson seems shackled and depressed by the problems in and around him. He's a very ordinary-looking player when the confidence drains from him. He's inclined to pass backwards and square, whereas he looks a different player when the adrenalin flows. To me he looks like a lad with the weight of the world on his shoulders. The required running and effort to compensate for others is killing him. Jordan Henderson needs a helping hand with the hard yards. And in the absence of the startlingly out-of-form Coutinho, a half-fit Lallana and unproven Markovic, it's unfair to throw the creative burden at Henderson when running his arse off to fight midfield fires seems his limit.
The second half was marginally better as West Ham sat back and ceded possession. We still created very little. What imagination we had came largely from the introduction of Adam Lallana. He'll only get better. I think we're seeing him at about 40%; the symptom of a disrupted pre-season. I see him becoming a fulcrum of the team as the season wears on.
In terms of thrust and a direct goal threat, Raheem Sterling remains a shining light. A finisher, a wide man, a probing central influence all in one. Intelligence, commitment, talent. Without him, things would be considerably bleaker. Fabio Borini possesses one of those three attributes. His movement offered us glimpses of hope today. He had 3 attempts, 2 on target but he lacks quality in his decision-making and finishing.
Balotelli remains an enigma. A quality finish in midweek and an involvement in today's goal. The lad has attributes, but they're at odds with last season's free-flowing style of play. Up front we were about pace, darting movement between the lines and between defenders. Balotelli wants to come short, hold it up, pop it off and amble his way into the box. He's an effective leader of the line; a traditional English target man but we're not suited to flooding the box in support with runners from deeper positions until a more sure defensive base allows the shackles off Henderson – or a returning Joe Allen.
Rickie Lambert, allowed only brief cameos so far, had made zero impact. Nothing more to add on this, I'm afraid.
To sum up, there's a big job ahead for Brendan Rodgers in the short and longer term. People said we'd need to take a step back this season; that we'd overachieved. We needed to cement our place in top four. All very reasoned stuff. But, we've gone backwards very quickly.
There are things that need addressing. The goalkeeper and defence need serious work on dealing with crosses; communication and a plan. The midfield, and in particular the role of the captain, needs tackling full-on. It is madness to play him in every single minute of every league and European game. Rodgers and Gerrard both need to admit this to themselves, they're equally culpable on this issue and it's damaging the present, and the players around him, while doing nothing to address the future.
We also need some players back. There was much talk of an improved squad. Suddenly we're starting players who were on their way out only weeks ago. It's far cry from last season in terms of style, substance, effort, and above all bravery. As I said at the beginning, I'm struggling to feel the vibe.