THAT is why Pepe Reina isn't here any more.
Simon Mignolet can be criticised for many things. The continued lack of improvement in his kicking is infuriating. His unconvincing juggling of crosses jangles the nerves. The lack of presence he exudes compared to his predecessor is obvious to everyone.
I recently wrote about how sad it was to see Reina finally leave Liverpool and mentioned in that piece how many supporters still argue that the Spaniard remains a better all-round keeper than Mignolet. It's a view that I can understand, but for this team and for this time, Mignolet, not Reina, is the right man for the Reds.
That shot from Morgan Schneiderlin? Pepe doesn't save that. I loved Reina, always will. But he doesn't save that. Not many keepers do. It was little more than a fingertip that resulted in the most minute deviation of the ball's flight. It was minuscule. But it won us three points. It was massive.
It's already obvious to me that we're going to concede plenty of goals this season. Hopefully not quite 50 like last time round, but you can be sure we will ship our fair share. Promising new full backs and the signing of Dejan Lovren aren't suddenly going to transform this team into a clean sheet machine. You could put Vincent Kompany and Pablo Zabaleta in red shirts this season and we'd still give up plenty of chances.
When a 34 year old is your primary defensive midfielder and he's occasionally 'helped out' by an increasingly beleaguered Lucas Leiva you're never going to be watertight defensively. What you need then, is a keeper who wins you points when opponents inevitably carve out their opportunities. Simon Mignolet, for all his faults, does this very well.
He proved he could do it early on last season. Jon Walters and Kenwyne Jones against Stoke: three points. Christian Benteke at Villa Park: six points. Clean sheet against United: nine out of nine. Momentum was built from those three gritty, uninspiring 1-0 wins that Mignolet starred in. That momentum ultimately carried us close to the title. The same early season pattern appeared to emerge on Sunday.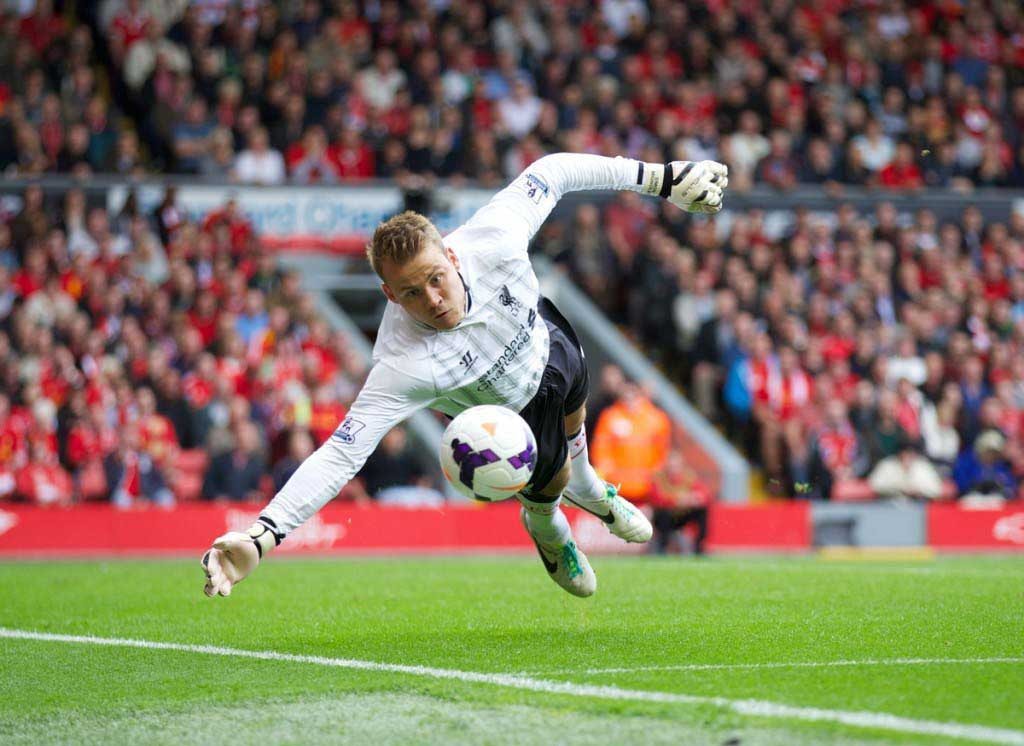 Let's be honest – we were pretty awful for most of our opening game. Lucas and Gerrard as a partnership didn't look any better than it did when Arsenal tore us apart at the Emirates last season. Coutinho was marginalised playing as the 10 in front of them. Glen Johnson continued to be Glen Johnson. Two moments of attacking quality ultimately won us the three points, but the only reason Sturridge and Sterling's goals were decisive was because of the Belgian at the other end of the field.
Mignolet made two crucial saves in front of the Kop in a second half where Southampton largely dominated proceedings. The first was a simple chance for Steven Davis. Yes, he fired it too close to the goalkeeper and with a lack of conviction, but it still required a smart stop low down to Mignolet's right. He held on to it, too.
The second save was so good that most inside the ground and even those watching on TV won't have even realised he touched the ball until they managed to catch a slow motion replay.
After a spot of pinball in the box, Schneiderlin unleashed hell with a close range half volley that sped towards the roof of the net. Mignolet somehow reacted in a matter of milliseconds. Amazingly, he made the faintest contact with the ball which then crashed off the underside of the bar and out to the relative safety of Shane Long's head.
At that moment, Mignolet punched the air, Anfield breathed a heavy sigh of relief and Southampton knew the game was up.
Raheem Sterling may have returned home with a bottle of Sky champagne for his efforts and Daniel Sturridge will grab the headlines for his goal, but it was Simon Mignolet who was Liverpool's match winner against Southampton, just as he was on the opening day last year.
And that is why Pepe Reina isn't here any more.
Pics: David Rawcliffe
[yop_poll id="3″]