I FELL into conversation on Facebook the other night with a Manchester United-supporting friend. Come on, don't look at me like that, lots of us have Manchester United-supporting friends; individually we're all fine with each other, it's just en masse that things become an issue.
Now I like this friend (obviously, that's how friends work) and we have a hell of a lot in common generally, it's just the footy that becomes a source of conflict. In fairness, I started this conflict. I knew what I was doing, I asked – in a faux innocent manner – if people could clear up an issue for me. Which one was Louis Van Gaal? Beavis or Butthead. I knew somebody would bite.
My friend pointed out that there'd be no laughing at the end of the season when the title was back – 'rightfully back' he claimed – in United's hands. I replied with the simple fact that nobody had ever jumped from seventh to first, only one team had ever moved from seventh to second and that said team would be making the jump to first this season. His reply 'we're talking about United, anything is possible'. This is obviously before yesterday's opening game quite brilliantly proved that theory.
We're not talking about THAT Man United though, I countered. We're talking about an ageing squad who still haven't sorted out their many midfield issues, we're talking about a board who splurged on a 19-year-old left back and appointed a manager who doesn't want to play with full backs, a manager who wants to go three at the back but, quite inconveniently, has three of the worst centre backs on the planet at his disposal. This, I said, was their version of our 90s, our Souness era. I was going to point out that Van Gaal may get them back into the top five but it's going to take £200m and a hell of a lot of work. I was going to but I could see a falling out and I like him so I pulled back.
It's not that we're writing you off he said, just that you'll have Europe to contend with.
It's not that we're writing you off.
We've been written off. Completely written off. By everybody. The team that stormed to second from seventh – which nobody has ever done, remember – is being told that it was a freak, an accident, a one off, unrepeatable. Being told that they'll struggle for the top four this year.
Good. Let's keep it that way.
Let's do this shall we?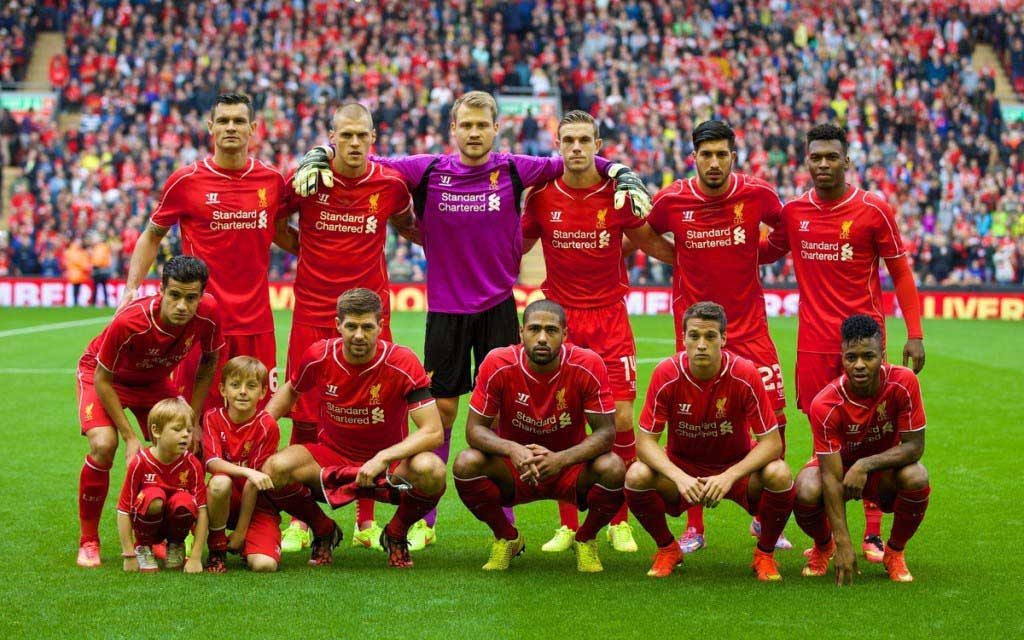 Mignolet
Manquillo
Skrtel
Lovren
Johnson
Gerrard
Henderson
Allen
Coutinho
Sterling
Sturridge
I think we'd accept that that's likely to be the starting line up for the opening game wouldn't we? (Give or take a surprise tweak or two and this rumour that went round at midnight that Lucas would start)
Yes we're missing Luis Suarez and any first choice 11 will look weaker without Suarez. Unless you're tactically astute enough to be able to set up your team to capitalise on the abilities of the players that you have. Brendan? Tactically astute? Yeah, I'll have that as a description.
The key is this; the bench isn't going to be Asapas, Alberto, Moses, Cissokho, Toure, Agger and Flanagan (no disrespect to the latter three but they're not game changers are they).
Let's get the currently injured out of the way shall we?
Lallana, Markovic, The Scouse Cafu and the one that can'y play today;
Moreno.
Those that will be there;
Can, Lambert, Agger, Sakho, Lucas, Ibe.
Options already. £60m worth of talent unavailable for today, almost undoubtedly another striker to come in (have faith) maybe two and a goalie if we believe the reports. Options everywhere. There never needs to be a point where Brendan looks at his bench as his forwards tire and goes "Nah, do you know what? Crack on lads."
But there's the madness question isn't there? Can we be as mad without Luis? Can we be as unpredictable, as chaotic, as unexpected? I've asked it myself. Phil Coutinho answered it with a little flick against Dortmund which would have been spoken about a hell of a lot more if it had been Luis. Raheem Sterling answers it more with every feint, every burst, every step over. Phil and Raheem are the chaos, are the magic, are the secret weapons.
And we're not even talking about the fact that Brendan's inverting his wingers.
Luis wasn't the madness. Everyone thought Luis was the madness. He wasn't. Luis brought the madness, Luis shared the madness, Luis gave everybody else the madness, the madness remains. It remains in the fact that everybody he played with believes in it. It remains in the fact that everybody who watched it believes it, that they took it and ran with it.
Martin Fitgerald asked a damn fine question in his damn fine 'Proceed With Total Abandon' piece. Who else turns up to say hello to the bus?
Luis wasn't the madness. We were the madness. All of us, every single one. Last time I looked, we were all still here. This season? This season it gets better. And better. This season is relentlessly glorious. Believe in that fact. We are Liverpool and we're getting more Liverpool by the second.
Let's go again then, shall we?
[yop_poll id="1″]