ACCENTUATE the positives, eliminate the negatives.
That's exactly what Liverpool did during the second half of last season. Brendan Rodgers' team was far from perfect during 2013-14 but – crucially – as the season went on he got them focused on what they could do rather than what they couldn't.
They imposed their will on games with an attacking brand of maniacal, front-foot football regardless of the opposition. Whether it was top sides like Everton or Man City visiting Anfield or middling teams like United and Southampton away from home, Liverpool played their way and asked opponents 'Can you deal with this?'.
The vast majority of teams couldn't. And that's precisely why we ended the season so close to being crowned champions.
It was curious and more than a little frustrating then, that on Sunday we abandoned that philosophy. Rodgers set his team out against Southampton in a way that didn't get the best out of his players. Two deep defensive midfielders worked great under Rafa Benitez when those lads were the mobile and tenacious Javier Mascherano alongside the serene and canny Xabi Alonso. With an ageing Steven Gerrard and an ailing Lucas Leiva though? Not so much.
You can easily get bogged down in the numbers game: 4-2-3-1, 4-3-3, 4-1-2-3, 4-1-2-1-2, blah blah blah. People switch off in the face of that stuff and understandably so. The fluidity of modern-day football renders such reductive terms as almost meaningless anyway and I have no desire to start banging on about numerical systems here.
But if last season illustrated one thing it was that this particular incarnation of Liverpool does not require a babysitter for it's captain regardless of the physical limitations being enforced upon him by Mother Nature and Father Time. Whatever the system, The Reds don't require two defensive midfielders on the pitch at the same time these days.
Lucas Leiva should play as a holding midfielder when Gerrard isn't available. Partnering them doesn't work. It rarely has in the past and it shows no sign of doing so in the future. It doesn't help either of them as individuals – one need only look at the amount of criticism they've taken this week (the Brazilian in particular). It certainly doesn't help the players around them, as we saw with Jordan Henderson and Philippe Coutinho on Sunday.
So why go with it in the first place against the Saints?
Well, perhaps the manager decided to pair them up in front of the back four against Southampton in an attempt to add solidity to a team that conceded too many goals last term. Maybe he saw Lucas as a more physical alternative to Joe Allen and decided that was what was required against the imposing midfield duo of Morgan Schneiderlin and Victor Wanyama.
In theory, I get that. In practise though, Liverpool were no more secure with Lucas holding Gerrard's hand than they were when the shape eventually changed and Joe Allen and Henderson played in advance of the skipper. The only team whose threat was diminished by the presence of Lucas and Gerrard appearing in tandem on Sunday was Liverpool. It meant one less body breaking forward. It meant one less attacking player offering for the ball when we had possession deep in our half. The high pressing that became the calling card of this team last season was conspicuous by it's absence.
I realise the season is only 90 minutes old and I'm in serious danger of exaggerating the faults with what was ultimately a crucial opening day win, but we've seen this Lucas/Gerrard approach in the past numerous times from Rodgers and it concerns me a little that a manager who has generally demonstrated an acute ability to learn from his mistakes continues to revisit this particular aberration.
I'm certain I wasn't the only one who groaned a little when the team was released prior to kick off and my dissatisfaction wasn't just down to the absence of the immaculately coiffured Emre Can. It seems to me that almost everyone knows that pairing Gerrard and Lucas together in midfield isn't the way to go these days. It's a negative tactic in my mind that shows we are more concerned with our flaws than with our qualities. The contrasting fortunes against Arsenal and Everton last season are perhaps the best examples of why seeing Lucas line up next to Gerrard unsettled me on Sunday.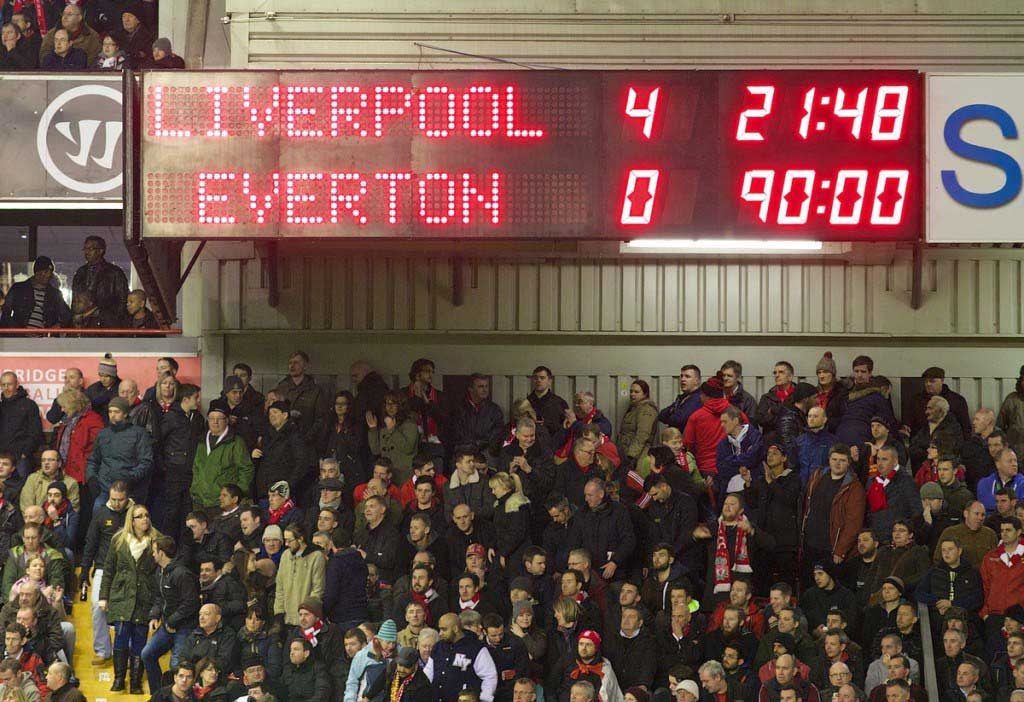 Last November we went to Goodison Park and played with two defensive midfielders to negate the threat Everton posed between the lines – particularly that of the in form Ross Barkley. Gerrard and Lucas never got near Everton's young star that day. Barkley drove at and beyond them time and time again. The Blues created enough clear-cut chances to win five derbies but somehow we got out of dodge with a point.
In the return fixture at Anfield in January, we lined up against an Everton team who many saw as favourites on the day with only Gerrard as a deep midfielder. Plenty of people I've spoken to since have admitted that they shared my personal concern before kick off that Barkley's athleticism would once again expose the (in theory) isolated Gerrard in our defensive third. We needn't have worried. Everton's young star barely got a kick because Coutinho and Henderson pressed Everton's midfield high and cut off the supply line. We decimated Everton and Gerrard strolled through the game.
Now let's go back to November again. The Reds travelled to north London to take on Arsenal who included Santi Cazorla, Aaron Ramsey and Mesut Ozil in their side on the night. In other words, three players who excel at playing in that gap between the opposition's midfield and defence. To combat this, Rodgers again deployed the Gerrard/Lucas axis.
It was no use.
Arsenal tampered with us like a cat who has cornered an injured vole. Mikel Arteta ran the game from deep as no one was closing him down and Ramsey and Cazorla bagged the goals in a comfortable 2-0 win for the Gunners.
Fast forward to February when Arsenal came to Anfield. They were top of the league and had the best defensive record in the country. We all know what happened next. Philippe Coutinho was put in central midfield alongside Jordan Henderson and the pair of them bullied Arteta, Jack Wilshere, Ozil and co mercilessly. Arsenal could barely muster an attack because every time they tried to play through midfield Coutinho and Henderson were in their faces. Gerrard was left alone to patrol in front of his centre halves and he barely broke into a sweat as he ran proceedings.
It's important to acknowledge that Gerrard is no specialist defensive midfielder. He didn't grow up learning that craft and his best days were spent as an attacking force, yet Rodgers' ploy of pairing two mobile lads (whether it was Allen, Henderson or Coutinho) ahead of him in midfield meant that it barely mattered as last season progressed. The two players in front of him masked his deficiencies.
You don't need Gerrard to have legs when Jordan Henderson is running a marathon for your team every week and Coutinho or Joe Allen is snapping at the heels of the opposition like a hyperactive Jack Russell.
Gerrard's influence as a match winner – that we relied on for so long – wasn't required in the latter stages of the previous campaign. He was free to concentrate on building play from deep rather than having to put out fires all over the pitch and bang in crucial goals from open play. No donkey work for him, just the ball at his magical feet and options ahead of him. It worked spectacularly well. Again, it was accentuating the positives and hiding the negatives.
We go to the Etihad on Monday and there is no tougher fixture that we will face domestically all season. Last time out we played brilliantly there against City on Boxing Day and came away with nothing. That could easily happen again. They're a bloody fantastic outfit who can beat anyone on their day.
My hope ahead of this match is that, regardless of the eventual outcome, Liverpool go to Manchester and do exactly what they did in that defeat last season. Lucas played the holding role alone in Gerrard's absence that day while Henderson and Allen went toe to toe with City's midfield in front of the Brazilian. They created chances, we created chances. It was a thrilling, open game that could have gone either way and demonstrated to the rest of the league that Liverpool could meet the best squad in the country head on and come out looking formidable, even in defeat.
The worry this time around for me is that we redeploy the same shape we utilised against Southampton. City are great between the lines, with Silva and Nasri wreaking havoc in particular, but I hope that fact doesn't persuade Brendan to start Lucas again. I'd much rather see Jordan Henderson and Emre Can (providing he's fit) or even Joe Allen going toe to toe with Yaya Toure and Fernando (or little Fernando who happens to be the older Fernando) as was the case in both of those wonderful games against City last season.
Sure, such an approach plays to their strengths as much as it does ours and would almost guarantee goals at both ends, but the alternative is to be cautious and full of worry about what they can do while simultaneously significantly reducing our own attacking abilities.
This Liverpool team hasn't been constructed to eliminate the threat of others by being defensive. It's been built to attack opponents and it challenges them to be good enough to deal with what we offer. Most can't. City are a team that can overcome us even on our better days because of their quality, but to my mind we stand a much better chance of being successful if we approach Monday's game, and the season as a whole, in the same proactive manner we did from December onwards last season.
It's time for another throw down between the two best English teams of 2014. It's time to abandon the caution of Sunday and go back to doing what we do best.
Monday is the time to once again start accentuating the positives and eliminating the negatives.
Pics: David Rawcliffe
[rpfc_recent_posts_from_category category="1″ meta="true"]
[yop_poll id="6″]