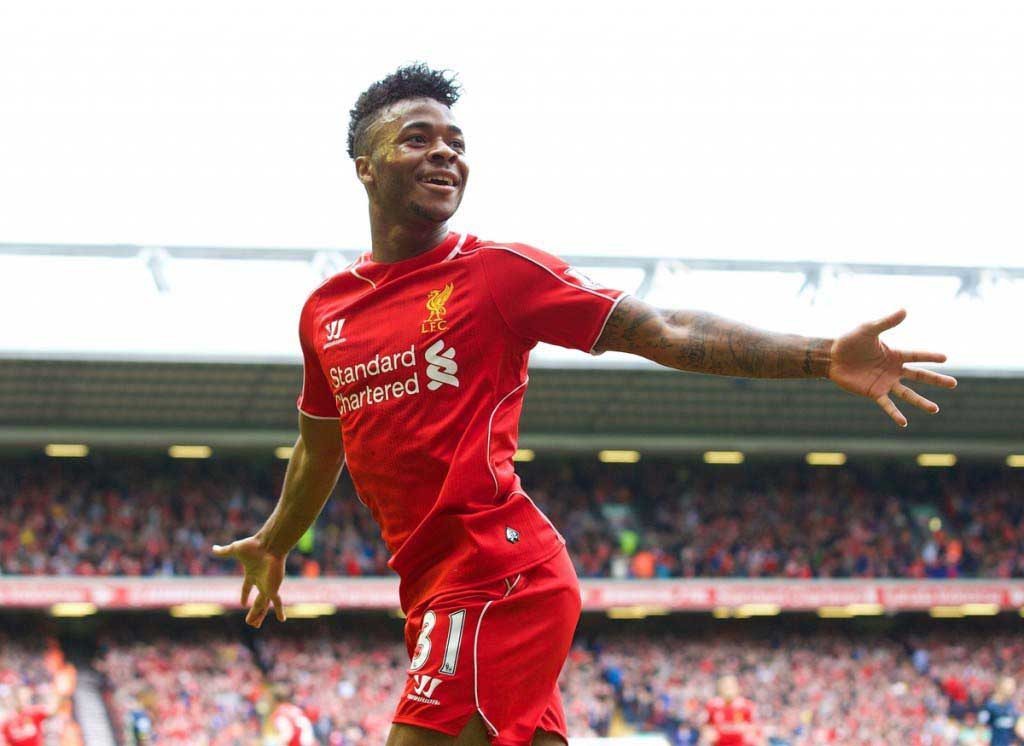 LIVERPOOL would bust lungs, strain muscles and push for victory like a sprinter at the Olympic Games with the finish line in sight and a record time on the clock. They would relentlessly square up to opponents in their own half – get in their faces, force them on to the back foot, take them out of their comfort zone, prompt mistakes and make goals inevitable. Just like last time. It would be more of the same aggressive attacking and pressing that became the trademark in a thrilling charge for the tape a few short months ago. Brendan Rodgers and his players would be desperate to stick two fingers up to the pundits that have written them off. Pin the previews up, Brendan. No-one's backing us. That's your team talk.
We'd win it early. We'd score three, four, five. They'd make a new BT Sport advert just about this game. It would be that good. The impromptu parties would start early to celebrate the best opening day in a lifetime. Players like Daniel Sturridge, Philippe Coutinho and Raheem Sterling would be racing down the Anfield tunnel, game face on, focused, switched on, bursting with enthusiasm, brimming with confidence – ready to show that while one £75million star has left, plenty more remain that are desperate to shine and create something brighter. Many hands make light work.
The roaring Kop that found its voice again last season, that would be ready, too. It would shout down the opposition fans, suck in the ball – it would be the 12th man again. The placid new-age 'entertain me first' fan? Gone for good. We've got our mojo back.
And Southampton? Southampton? A club minus their best players sold off over the summer? Southampton in crisis? Southampton taking to the field with a key player who wants out? It would be damage limitation and on to the next game for Ronald Koeman. Hungry Liverpool would devour them with the delicious football that did for Dortmund.
We'd watched Manchester United fall at the first hurdle on Saturday and Arsenal fail to convince later in the evening. Now it was our turn and we're putting on a show, telling the world, and shouting from the top of the Kop. Liverpool FC 30-1 for the title? It's a licence to print money, mate.
That's how it went in the pub. Unfortunately, neither Liverpool nor Southampton read the script. Liverpool won it, but it was far from convincing. Southampton didn't lie down and looked far from the nailed-on relegation certs so many suggested. Quite the opposite, in fact.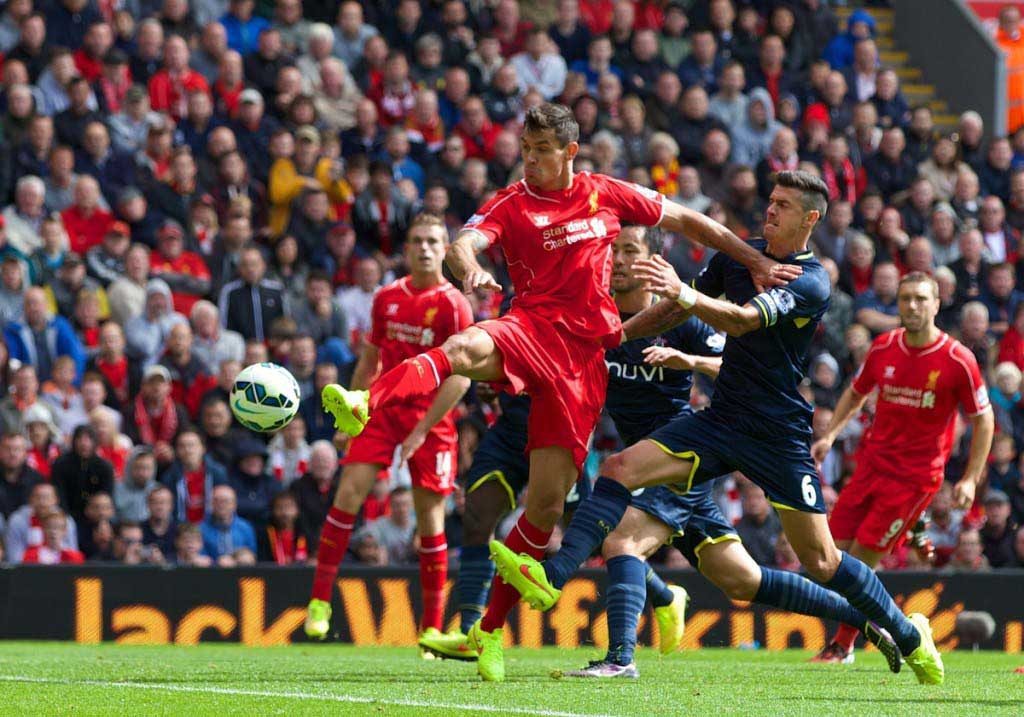 A win's a win. But it was a win aided by two huge slices of luck; first with the Steven Davis chance when a goal looked inevitable, and second when Simon Mignolet somehow reacted to brilliantly push Morgan Schneiderlin's powerful close-range half volley on to the underside of the bar and Shane Long inexplicably headed the rebound wide
So Liverpool joined United, Arsenal, Everton, Spurs, even arguably City, in failing to serve up the champagne stuff on day one. But they won. And they fended off the swarm of negativity that was all set to sting if Saints set off south with all three points from Anfield for a second season in a row.
For the Reds, it was remarkably similar to the dish served as last season's starter: Daniel Sturridge winning it at one end (a lovely poacher's goal by the way, true number nine stuff) and Mignolet bailing everyone out at the other. If the season unfolds in a similar manner to last, few will complain but Liverpool have a long way to go to scale those heights on the evidence of the first 90 minutes.
The worries began with the team news. Lucas and Gerrard have rarely convinced as a partnership and so it proved again today. Neither player came out of it well, and the team improved when Joe Allen replaced the Brazilian. The Welshman and Emre Can will both be confident of breaking up a twosome Rodgers is unlikely to turn to again after this game.
Liverpool, as we have come to expect at Anfield under Rodgers, enjoyed more possession (56 per cent) but Southampton managed as many goal attempts as the Reds (12) and will count themselves unlucky not to have taken something from the game.
Aside from the win itself, the three points and the old cliché of winning while not playing well (the hallmark of champions, don't you know) the 'highlights' for Liverpool could probably be summed up on the back of a beer mat: Jordan Henderson was Jordan Henderson; relentlessly fighting for the cause, playing a brilliant, brilliant through ball for Raheem Sterling and generally showing a will to win that seemed to be lacking elsewhere at times, particularly second half. He is a future captain in the making. More shouting, more goals – both of which he is capable of – and the armband is a done deal.
Sterling took his goal expertly, providing yet more evidence that a facet of his game that had been lacking in the past is fast improving to a level that Premier League defences will find hard to shackle. The 19-year-old scored nine last season. Easily into double figures has to be the aim for this campaign. He was the most potent threat of the attacking three, scoring one and assisting the other, but like Philippe Coutinho and Daniel Sturridge, the 19-year-old can and will do better. He was good. He even landed a man of the match award. But Sterling has more in his locker. Much more.
That he, and his creative team-mates, couldn't produce the Harlem Globetrotters stuff was in no small part down to the tireless work of Southampton's midfield – Schneiderlin, Wanyama and Davis worked incredibly hard to disrupt any attempts to find fluidity and it made for a dull spectacle from a Red perspective.
Sturridge was largely anonymous, and rather than thriving in the absence of Suarez, he struggled to make an impact. A couple of instances of decent hold-up play aside, scoring a  79th-minute matchwinner is the obvious positive focus as his thoughts turn to impressing against former club City a week on Monday. That said, a record now of 36 goals in 50 appearances is not to be sniffed at. He only managed one effort on target (out of three attempts) but he scored. And with stats like that, he's allowed an off day.
136.2 – Daniel Sturridge has a better Premier League mins-per-goal rate than Luis Suarez (138.8). Crucial.

— OptaJoe (@OptaJoe) August 17, 2014
Elsewhere, Dejan Lovren and Javier Manquillo enjoyed solid starts to their Liverpool careers. The £20million Croatian won most things in the air and rarely gave the ball away (completing 66 of 69 passes) while the 20-year-old on loan Spaniard shone defensively, winning six out of his eight tackles attempted. Martin Skrtel also looked solid, and his pairing with Lovren looks set for the long run, in the Premier League at least.
The same can't be said of Glen Johnson. It was a bad day at the office for the 29-year-old, a penalty area tackle on Ward-Prowse aside and his performance did little to quieten the growing ranks of vocal doubters inside Anfield. With Alberto Moreno now on board, and Manquillo's solid performance on the opposite flank, Johnson must be fearful of losing his place in the first 11.
Away from individuals, Liverpool's pressing as a collective didn't have the snap of last season, while the pass and move fluency that wowed Anfield just a few short months ago simply wasn't in evidence. The often-made comparisons with the 1988 side of last season will have to wait for another day while the atmosphere suffered accordingly.
The first day was more Pot Noodle than prime steak, but Brendan Rodgers' reaction said it all. It was about winning. The entertainment, the goals, the afternoons to remember and the nights to cherish – they can come later. Already, after just one game, 11 other Premier League clubs would gladly swap to be in Liverpool's position. Only Liverpool and Arsenal won at home on the opening weekend. The three points are in the bag, anything else can be worked on and improved.
It wasn't quite what was scripted, but it wasn't bad for ad lib.
Pics: David Rawcliffe
[yop_poll id="3″]